How To Outfit Your Vehicle to Carry Anything
From tips from professional #vanlifers to how to not to tie a surfboard on your roof.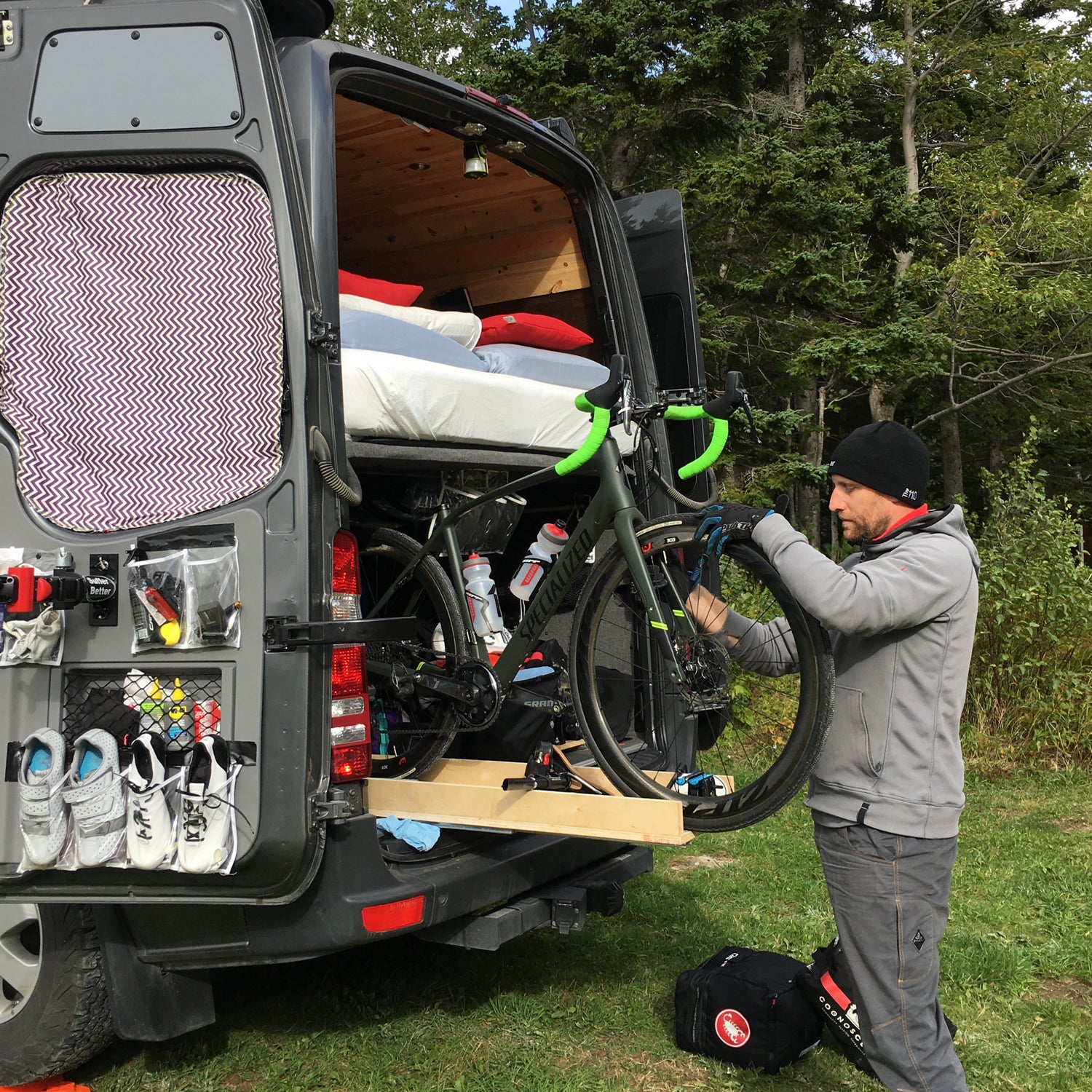 Heading out the door? Read this article on the new Outside+ app available now on iOS devices for members! Download the app.
Even the most humble commuter-mobile carries a wide variety of groceries, animals, people, and luggage. With a little bit of modification however, even the most average vehicle can expand it's capabilities beyond the regular trunk space. 
---
Pack 'n' Play
Dreaming of #vanlife? Follow these leaders. —M.F.
Jon and Pamela Robichaud, Marketing Consultant and Physical Therapist: Mercedes-Benz Sprinter, $42,495
Upgrade: A giant drawer to mount their bikes onto and then slide them out the rear doors.​​
The 16 Best Cars for Adventure

Whether you spend most of your drive time navigating urban streets or powering through rugged dirt, 2017's standout rides are all-access passes to wild adventure.
Pro Tip: "Establish roles," Jon says. "I'll do coffee and morning dog walks and set up and break down camp, while Pamela does dinner preparation and packs everything in the cabin." @roamingrobos @keeperjon
Dave Lefebre Bassmaster, Elite Fisherman: Nissan NV 3500, $33,800
Upgrades: A rack system with two nine-foot PVC pipes and locking end caps to hold 80 ­fishing rods, plus custom ­tackle-box racks.
Pro Tip: "My van's a rolling garage. I'm constantly moving stuff from boat to van and back again. I can't overemphasize how valuable it is to have a system for your gear." @lefebre8 @davelefebre
Tasha Rivard, Graphic Designer: Ford Transit Connect, $23,010
Upgrade: A memory-foam mattress cut into thirds to create a six-inch-thick bed.
Pro Tip: "When hunting for a place to park and sleep, aim for a spot with either no one around or tons of people around." @tasharivard
---
Pop-Up Lodging
Our favorite new automotive add-on rooftop digs. —M.F.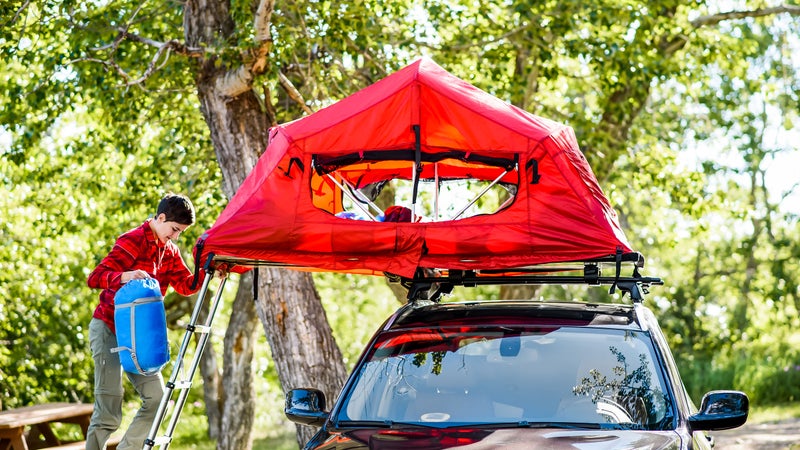 Best For: Going light
Yakima SkyRise: Yakima's first roof shelter fits on sedans and wagons without risking cave-ins. Its two- and three-person models origami into a smaller footprint when closed, reducing noise and drag while driving. $999
Best For: Multisporting
Tepui White Lightning Hard Shell: This clamshell design can be outfitted with its own roof rack to keep your gear stowed even while you doze inside. It'll accommodate only about 60 pounds of stuff with the tent occupied, so heavier items will need to come down until morning. $3,800
Best For: Roughing It
CVT Mt. Thielsen Standard Automatic: Supreme durability makes CVT tents big in the overlanding world. We dig this model because it doesn't cantilever out over the edge of your rig, but springs skyward and folds back down via a simple crank. $1,395
---
Rack It Up
Stow your gear like a pro —M.F.
Spread the Load
Set your roof rack's feet as broadly as possible, from fore to aft, says Yakima's Joel Grabenstein, and be sure to get load bars that extend widthwise to the edge of your rig. That's so the weight gets distributed through the frame and not to the thin rooftop sheet metal, which can dent.
If It's Long, Tie It Down
According to Thule's Chris Ritchie, high­way speeds create enough air pressure pushing up on a paddleboard or kayak extending over your wind­shield to rip a rack clean off your car (and even peel back the roof). To prevent that, tie the ends of the craft to the front and rear bumpers.
Broadcast Security
In addition to integrated rack locks, add the visible deterrent of a cable or U-lock to your bike. "You want to make it look difficult to steal," says Rocky Mounts founder Bobby Noyes.