How to Build a Green Van
From cork floors to wool insulation, here's what you need to build out an environmentally responsible rig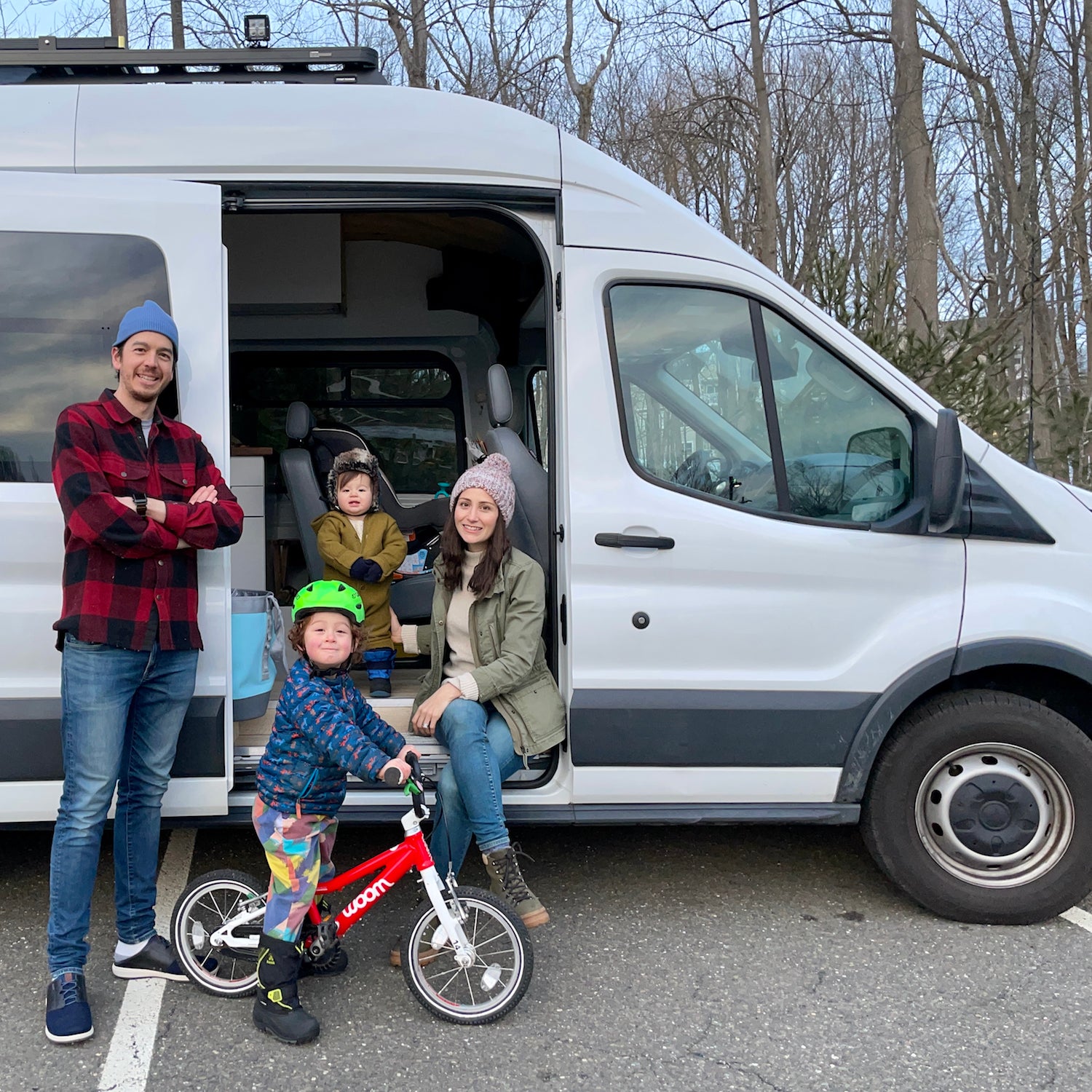 Heading out the door? Read this article on the new Outside+ app available now on iOS devices for members! Download the app.
My family and I bought a Ford Transit last spring, and it felt like a dirty secret. Despite being a relatively svelte RV, the typical Class B camper gets 16 to 20 miles per gallon and emits far more greenhouse-gas emissions than my Prius or bike, both my long-preferred modes of transit.
Vans are traditionally converted using toxic materials, such as foam insulation, chemically treated plywood, vinyl, and various other plastic parts. Surprising, right? Scrolling through thousands of #vanlife photos, one might have the impression that it's a vehicle for woke nature enthusiasts and families raising the next generation of Greta Thunbergs. Amid the pandemic, vanlife felt like a safe mode of travel, so my husband and I decided to free our two young kids from routine (or what was left of it) and transform a former Enterprise cargo van into an 85-square-foot home for weekend escapes and road-trip vacations. But I knew I would have a hard time enjoying the adventures—first to Acadia National Park in Maine and then to Siesta Key in Florida—if we didn't do the greenest build possible (and plant trees to offset each trip).
Although vanlife is booming, environmentally friendly builds are not. "It's very rare, but occasionally we have customers asking about using eco-conscious materials," said Brian Jagodnik, the marketing and creative director at Outside Van, a van-conversion company based in Portland, Oregon, that churns out 100 builds a year and is booked through summer 2021. I came across Outside Van on a list of 185 van-conversion companies in North America, of which only four mention being eco-minded. (Keep it up, Blue Ridge Adventure Vehicles, Atlas Vans, Off Grid Adventure Vans, and Vanbase.)
I drove our van, Egret, home from upstate New York to Connecticut and spent the next six months researching green builds, talking to experts, and working with my local builder, who has since overhauled his approach. "Now that I've become more aware of eco-options, I'll be able to offer them to my customers," says Ryan O'Connor, founder of Live a Little Vans. "Your build proved that there are eco-options available for every major component of a van build—insulation, flooring, lumber, paint, and stains, etc. In many cases, they perform better than traditional options without additional cost." He added that the type of person who is drawn to vanlife typically has a great appreciation for the outdoors and a tendency towards minimalism. "These concepts fit hand in hand with eco-conscious building," he says.
Here's how to get your green rig ready for the open road.
Buy Tree-Hugger-Approved Flooring 
If Frank Lloyd Wright had a van today, you can bet there'd be cork in it. The pioneer of green architecture was fond of using cork oak for the flooring in his studio, home, and at his magnum opus, Fallingwater. Besides its uniquely sustainable nature, high durability, and natural sound-inhibiting properties, cork's soft waterproof surface is as easy to clean as it is to assemble.
Amazingly, the cork tree actually benefits from the harvesting process. Extracting the bark of a cork oak is an ancient practice of self-regeneration that enhances its ability to absorb carbon dioxide. We sent away for 120 square feet (at $4.99 per square foot) of Ocean Oak panels from Amorim Wise, a 150-year-old family cork business in Portugal that works with big-box home-improvement retailers like Lowes and bills itself as "carbon-negative flooring." As Amorim's Vincent Circosta put it, "The tree breathes in more carbon than it takes to ship the product."
Source Lumber from a Sustainable Sawmill
Even the most well-intentioned builder may suggest using run-of-the-mill wood for ceilings, walls, cabinets, benches, and other interior essentials. Opt instead to work with small local sawmills, which are fruitful sources of beautiful salvaged wood (the black walnut countertops and dining table are my favorite pieces in the van). Sustainable sawmills are often more invested in preserving natural-forest areas and supporting urban-renewal projects, and they can turn felled trees into high-quality pieces you won't find at Home Depot.
Other options include reclaimed and Forest Stewardship Council–certified wood from a local lumberyard or a modular bamboo conversion kit from a company like Adventure Wagon that's compatible with Mercedes Sprinter and Ford Transit vans.
Go Wild on Insulation
Wool not only makes for great performance wear, but it's also the ideal camper insulator for its ability to retain warmth, reduce energy loss and noise, and resist mold and mildew. It's also installed in walls with relative ease. A biodegradable and renewable resource, wool also offers long-term sustainability and sequesters atmosphere-derived carbon dioxide. Unlike popular synthetic-insulation alternatives like Thinsulate, foam boards, and spray-foam kits, wool is noncarcinogenic, formaldehyde-free, and naturally flame resistant.
We used Havelock Wool, which sources its 100 percent wool product from New Zealand, manufactures in the U.S., and partners with local distributors across the country. Through the Center for Green Building, we ordered four bags (at $135 per bag) of R7 Wool Batt insulation. Buying wool from a local farm would minimize the environmental impact even further.
As for the floor insulation, we ordered cork rolls from Manton. Tyler Reith of Greenhome Solutions recommended cork for its thermal, vibrational, and acoustic-insulating properties. According to Reith, cork is far better than extruded polystyrene (EPS) or extruded polystyrene (XPS), which are found in commonly used rigid insulation sheathing and "toxic to humans and animals and horrible for the environment," he says. "Many foaming agents used in XPS contain hydrofluorocarbons that can be 1,430 times as potent a greenhouse gas as carbon dioxide."
Pick Eco Paint
Find a nontoxic, 100 percent natural and biodegradable paint that will help you breathe easy, such as Benjamin Moore Natura waterborne paint and Sherwin-Williams Harmony, which promise zero emissions and no volatile organic compounds. To stain cabinetry and finish walls, ceilings, and countertops, we used tung oil from Real Milk Paint ($24.99 for 32 ounces), which dries faster than raw linseed oil (another green option) and is nontoxic and food safe.
Expand Your Cabin (Not Carbon) Footprint
Get creative with your layout to eliminate the need for a bigger and less fuel-efficient RV. Flarespace is a Denver-based company that makes body panels, or flares, to extend the width of your van. By allowing for a sideways bed configuration (up to 81 inches long), the flares open up usable space like a real work of magic. With Egret, having an extra two feet was a game changer and inspired us to maximize the tiny footprint with other clever van hacks, like a Vancillary headliner shelf and Scopema swivel seats paired with a removable Lagun dining table.
Shop Secondhand for Almost Everything
Starting with the van, when you purchase a used model (ideally with some warranty left), you'll extend the vehicle's life and get more distance out of the manufacturing footprint—not to mention save a ton of money. Besides, sourcing pre-loved items for your used van is half the fun of a build. Because a growing number of people believe that buying new is never sustainable, there are more upcycling hubs than ever before. With my own build, I found just about everything I needed secondhand: the mattress (Craigslist), the passenger seats (eBay), the gray-water tank (Facebook Marketplace), the vintage rug in the kitchen (my parents), and a foldable camp chair (a thrift shop in Hudson, New York).
Be Equipped to Go Off-Grid 
One way to tap into vanlife's full potential is to stay longer in one destination (call it the Slow Driving movement), which reduces mileage and curbs the carbon footprint. Slowing down makes a lot of sense. Gas prices are expected to reach $3 a gallon in 2021, and drivers are projected to collectively spend $45 billion more on fuel this year compared to 2020, according to the driving app GasBuddy. A solar-powered lithium-battery solution, like a Goal Zero or a combination of Battle Born Batteries with Renogy solar cells, can empower off-the-grid adventures. For our setup, I avoided the hazardous lead-acid battery and gas-guzzling generator and landed on Goal Zero's Yeti 3000X power station ($3,200) and two Boulder 100 solar panels ($250 per panel), which I mounted to Front Runner's Slimline II roof rack ($1,575). We harnessed the sun to run power-hungry devices like a computer, toaster oven, and refrigerator, and let the trip's relaxed pace take on new luminous dimensions.