Indefinitely Wild
How to Carry Stuff on Your Hitch
Tents, cargo, and tools don't belong on top of your vehicle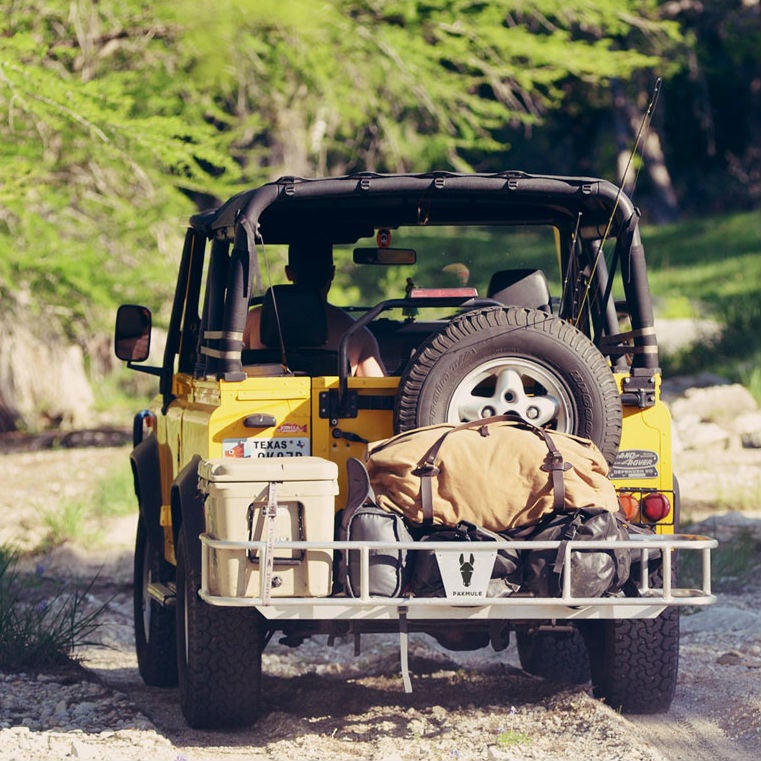 Heading out the door? Read this article on the new Outside+ app available now on iOS devices for members! Download the app.
Putting big, heavy stuff on your roof reduces your fuel economy, impairs your handling, and can lead to even more problems off-road. And even then, essentially all roofs are only capable of carrying 150 pounds. So why not carry stuff on your hitch instead? Those can hold several hundred more pounds (depending on your vehicle's tongue weight rating), and place big, awkward objects behind your vehicle, out of the airflow. Here's how to carry virtually anything, without carrying it on your roof.
General Cargo: PakMule ($795)
Ever wanted to add an open-air pickup bed-style platform to the back of a closed SUV or capped truck? This is the solution I use to add cargo capacity to our Ford Ranger, Toyota Land Cruiser, and 4Runner.
The PakMule's innovation over other hitch racks is simple: quality. Where rival products are made from cheap, rust-prone, heavy steel, the 42 pound PakMule is made from light, strong, TIG-welded aluminum. And it's all made here in the United States. Its hitch mount is generously long and precisely sized for a two-inch receiver, so it doesn't rattle or wobble as you drive. It also comes with a screw-in, locking hitch pin, both for theft prevention and to reduce movement even further.
At 69 inches wide, 28 inches deep, and eight inches tall, the original-size PakMule is nearly the full width of all our vehicles, which maximizes storage space. I use mine to haul my gigantic Yeti 210 when I go hunting, along with firewood, camp chairs, water bottles, and other odds and ends that are too big, too bulky, too smelly, or too dirty to go inside the vehicle. It can handle loads up to 500 pounds.
Depending on what you're carrying, you'll be able to retain the ability to open the tailgate on most SUVs and crossovers. The PakMule rides above the height of your receiver, so off-road it shouldn't reduce your departure angle much, if at all.
Probably the best part, though, is the tangible quality delivered by the round aluminum tube and welds. This thing looks and feels like it belongs on even an expensive vehicle like our Land Cruiser.
Off-Road Equipment: Rig'd UltraSwing ($1,100)
Ever watched jealously as someone with a fully built-out overland vehicle pulled open their swingout to reveal a built-in picnic table? Traditionally, swingouts had to be built into aftermarket rear bumpers, meaning you were adding a ton of weight and cost. But, the Rig'd Ultraswing plugs right into your hitch and is designed to carry a large spare tire, auxiliary fuel cans, that picnic table, and much more.
Weighing only 70 pounds (before you add all the stuff you want to use it to carry), the Ultraswing is capable of adding a ton of practical utility in a package you can bolt on and off as you need it. Remove it for daily driving and access your trunk unencumbered. Add it for a camping trip, and you'll have a place to store all those essential necessities (there's a Hi-Lift jack mount, too) in the most convenient, practical location.
The Ultraswing will be a particular boon to owners of Subarus and other, similar crossovers that lack space to stow a full-size spare. It gives you that spare, again in a package you don't need to haul around every day, back in civilization.
And, because it includes a hitch receiver on the swingout, you can use the Ultraswing to mount other hitch-mount accessories like a bike or ski rack, all while gaining the ability to swing those things out, away from your bumper, so you can open your tailgate.
Rooftop Tent: Rubicon Expedition Products ($1,200)
Those gigantic bundles of canvas that people insist on mounting to their roofs have numerous problems. Not only is an 18-inch tall pile of canvas unsightly, but carrying a 200-plus pound wad of the stuff on top of crossbars, on top of your roof rails, puts so much weight so high up that it raises your vehicle's center of gravity by a perceptible amount. Even if you drive a relatively low vehicle like an unmodified crossover, you're going to be able to feel how much more your vehicle leans in corners and how unstable it becomes at highway speeds. You'll also feel the hit in your wallet; not only are giant bundles of canvas stupidly expensive, but they can destroy your fuel economy.
Those are all problems that Rubicon Expedition Products has resolved with its Hitch Tent Rack. It's basically just a frame that you bolt a standard rooftop tent to, that then plugs into your two-inch receiver, and can be folded up vertically so you can drive with it. If you already have a rooftop tent, you can purchase just that frame, or they'll sell you a tent/frame package if you're starting from scratch.
Folding legs combine well with a hitch mount's ease of removal. If you're storing the tent in your garage, just back up to it and slide it into your receiver before you leave for a camping trip. One you arrive at camp, back up to your spot and drop off the tent.
Rubicon has solved one problem plaguing all rooftop tents: because those legs support the un-hitched tent at the height of your bumper, rather than your roof, you no longer need to climb up and down a rickety, slippery ladder every time you go for a midnight pee break. But, the company obviously can't address one other drawback of rooftop tents: even mounted closer to the ground, they are still terribly bulky and ridiculously expensive for a shelter that ultimately isn't that spacious or comfortable. My radical rooftop-tent-on-the-ground design remains a superior solution for virtually every car camper. And you can even carry that on your PakMule if you need more space inside your vehicle.
Need a Hitch? 
U-Haul sells and installs hitches for virtually any vehicle that doesn't already have one. Get one with a two-inch receiver, and you'll be spending only about $150. This is money well spent; hitches like these also make ideal recovery points.