Indefinitely Wild
The Electric Jaguar I-Pace Can Go Off-Road
Plus, it's $10,000 cheaper than a Tesla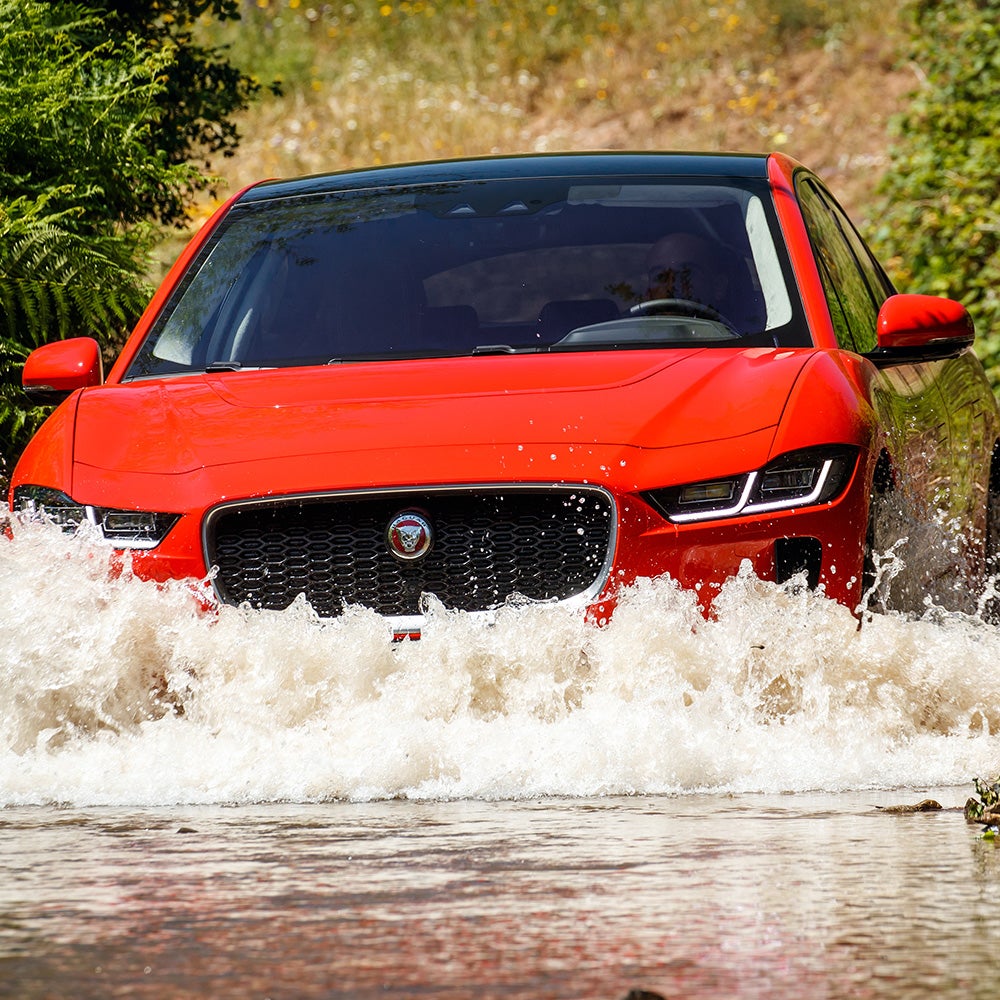 Jaguar Land Rover(Photo)
Heading out the door? Read this article on the new Outside+ app available now on iOS devices for members! Download the app.
This Jaguar I-Pace is the first competitor from a legacy automotive brand to challenge the Tesla Model X. Is it better? I'm excited to report an emphatic yes.
What Is It?
The I-Pace is a practical crossover SUV with plenty of usable interior space, standard all-wheel drive, plenty of power, a 20-inch wading depth, height-adjustable air suspension for when the road gets rough, and an all-electric drivetrain with a range of 240 miles.
It's about the same size as the BMW X3, Audi Q5, or Volvo XC60. I think it's better-looking than the aforementioned, and with mind-bending electric power and a zero-to-60 run of 4.5 seconds, it's way more fun to drive.
More important, the I-Pace is the first real competition for market innovator Tesla, with the Jaguar besting the Model X on range, battery capacity, and zero-to-60 times. With a starting price of $69,500, the I-Pace is more attractive and ten grand cheaper.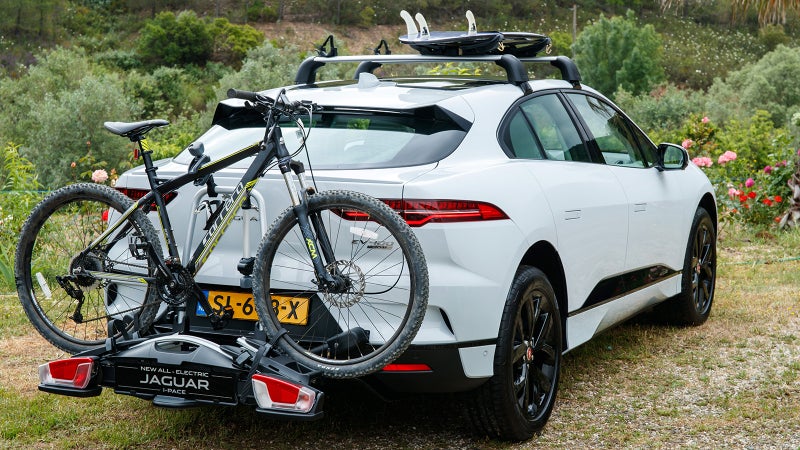 Who's It For?
Electric vehicles still target early adopters with plenty of disposable income, but at the rate the technology is progressing, we're not sure how long we'll be saying that. Right now, the biggest limitations are range and charge time. Provided you're not doing hundreds of miles per day, this really only becomes an issue on longer road trips.
A 100kW fast charger—the kind that will soon be popping up on every street corner and coffee shop—means you'll be able to charge the I-Pace from totally flat to 80 percent in just 40 minutes. If you're looking to charge at home from your 220-volt outlet, you'll be able to bring your I-Pace from flat to full in about 12 hours.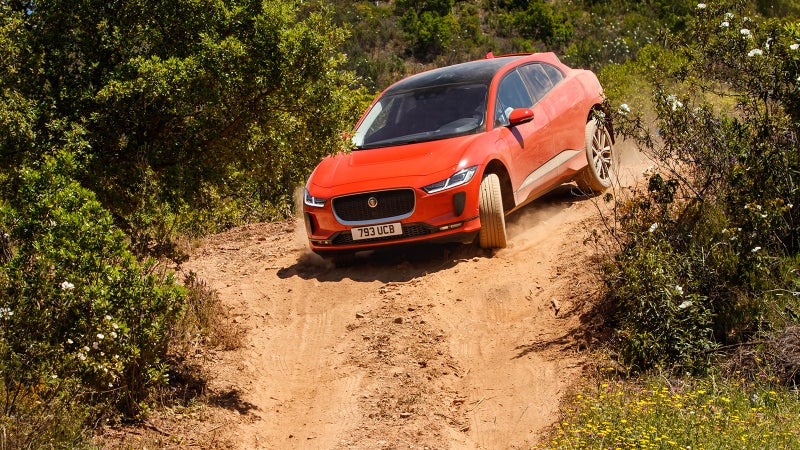 Design
You wouldn't know that the I-Pace is electric unless someone told you. But that doesn't mean the Jaguar design team didn't take advantage of the benefits of electric motivation. The vehicle's slim, cab-forward profile might not share the tall SUV silhouette you're familiar with, but the lack of internal combustion engine and bulky powertrain gives you the same space in a more svelte package.
The front trunk and flat floor, plus the rear storage area you'd expect, offers room for five adults and their luggage, with room left over for the dog. While Jaguar's I-Pace has roughly the same footprint as the F-Pace SUV, its interior room is comparable to something a class size larger.
In addition to those features, Jaguar's design team produced a good-looking vehicle. It isn't a fashion statement for those looking to tell the world that they're saving the environment. It's an aggressive, practical, and attractive car.
Driving It
I'll admit that I had doubts about an electric vehicle from Jaguar, a company that historically hasn't had the best luck with electronics. But after driving the I-Pace through a stream just moments before arriving at a race track, those worries disappeared.
Electric vehicles drive differently than those powered by an internal combustion engine. There are no gears, and the 394 horsepower and 512 pound-feet of torque are available almost instantaneously, making the I-Pace leap forward much more sharply than you'd expect and without any of the noise. Also odd: Regenerative braking tries to recharge the batteries whenever your foot isn't on the accelerator. That means if you take your foot off the pedal, the vehicle will begin to slow and come to a complete stop. Both take a little getting used to.
Inside the I-Pace's floor are 90kWh of batteries, making the center of gravity incredibly low and allowing the vehicle to corner totally flat. The sophisticated all-wheel-drive system can also eliminate understeer. An SUV without body roll or understeer? These are just two reasons electric cars are going to replace internal combustion before you know it.
Comparing apples to apples, the I-Pace handles way better than Jaguar's E-Pace, which we reviewed here.
The I-Pace is a slippery car—its coefficient of drag, at 0.29, is the same as the smaller Nissan Leaf—but I was unimpressed by the amount of interior wind noise that invaded the cabin. Also, don't get the optional 22-inch wheels. The beefier tires on the smaller wheels go a long way toward insulating you from bumps and potholes on-road or off.
Off-road, the I-Pace surprises with 20 inches of wading depth—the same fording capability of a Jeep Cherokee Trailhawk. The all-wheel-drive system, paired with the electric motor's instantly tailorable power delivery, easily finds the wheels with the most traction, but outright grip is limited by the low-rolling-resistance tires, spec'd to maximize range rather than off-road ability. The skateboard-like chassis may have just 5.6 inches of ground clearance, but it's totally flat on the bottom, with no diffs or exhaust components dangling down where rock or roots might catch them. It's like the entire underneath of the car is a giant skid plate.
Jaguar Land Rover is staying tight-lipped about whether this platform will spawn an even more off-road-oriented SUV, but given the high cost of R&D associated with this all-new vehicle and the company's propensity to share platforms between its two brands, we'd hazard a guess that an electric Land Rover isn't that far off. A little more clearance and some meatier tires—that could be a seriously capable vehicle.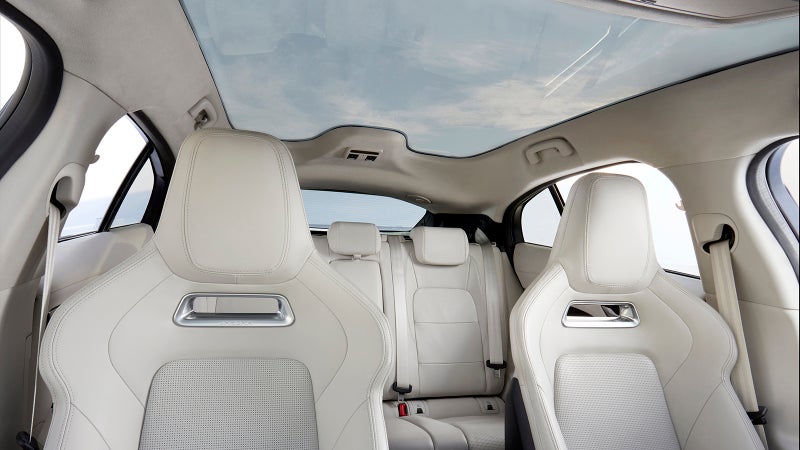 Likes
Exterior dimensions of a midsize SUV with the interior space of a larger vehicle.
Outstanding on-road handling and performance.
Off-road, it's the most capable mainstream electric vehicle yet.
Dislikes
Louder inside than we'd like.
Not enough electric charging stations yet available.
The 22-inch wheels ruin ride quality.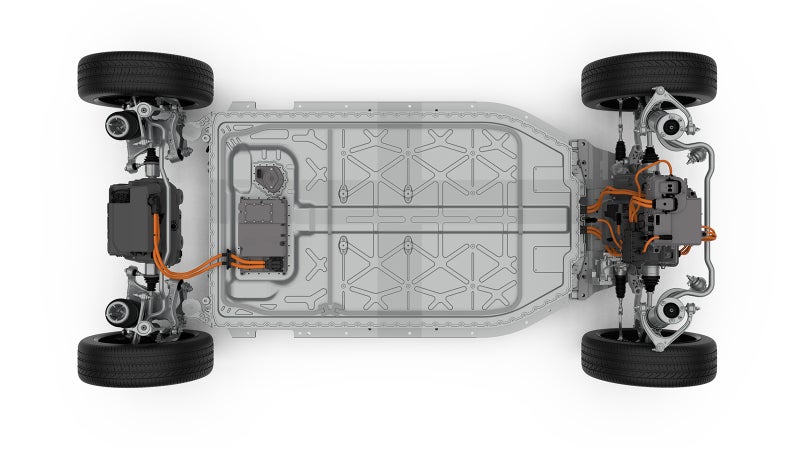 Should You Buy It?
If you want an electric vehicle with a modicum of off-road ability, then the I-Pace is the only game in town. Even if you plan to stay on the road, it's a nicer looking, more practical, more affordable vehicle than the competition from Tesla—and it's cheaper. Aside from its low-impact credentials, this Jag is just a really good car.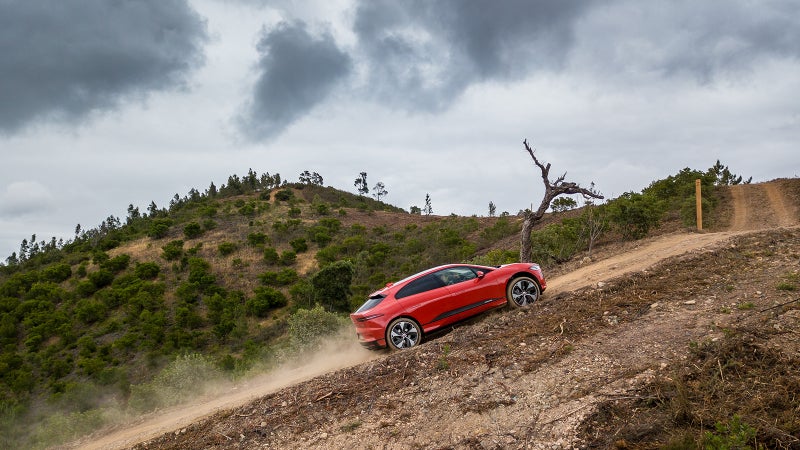 Lead Photo: Jaguar Land Rover
Trending on Outside Online