Jeep's New Renegade Is the Best Starter 4×4 Money Can Buy
It drives with the confidence of a Wrangler but offers better gas mileage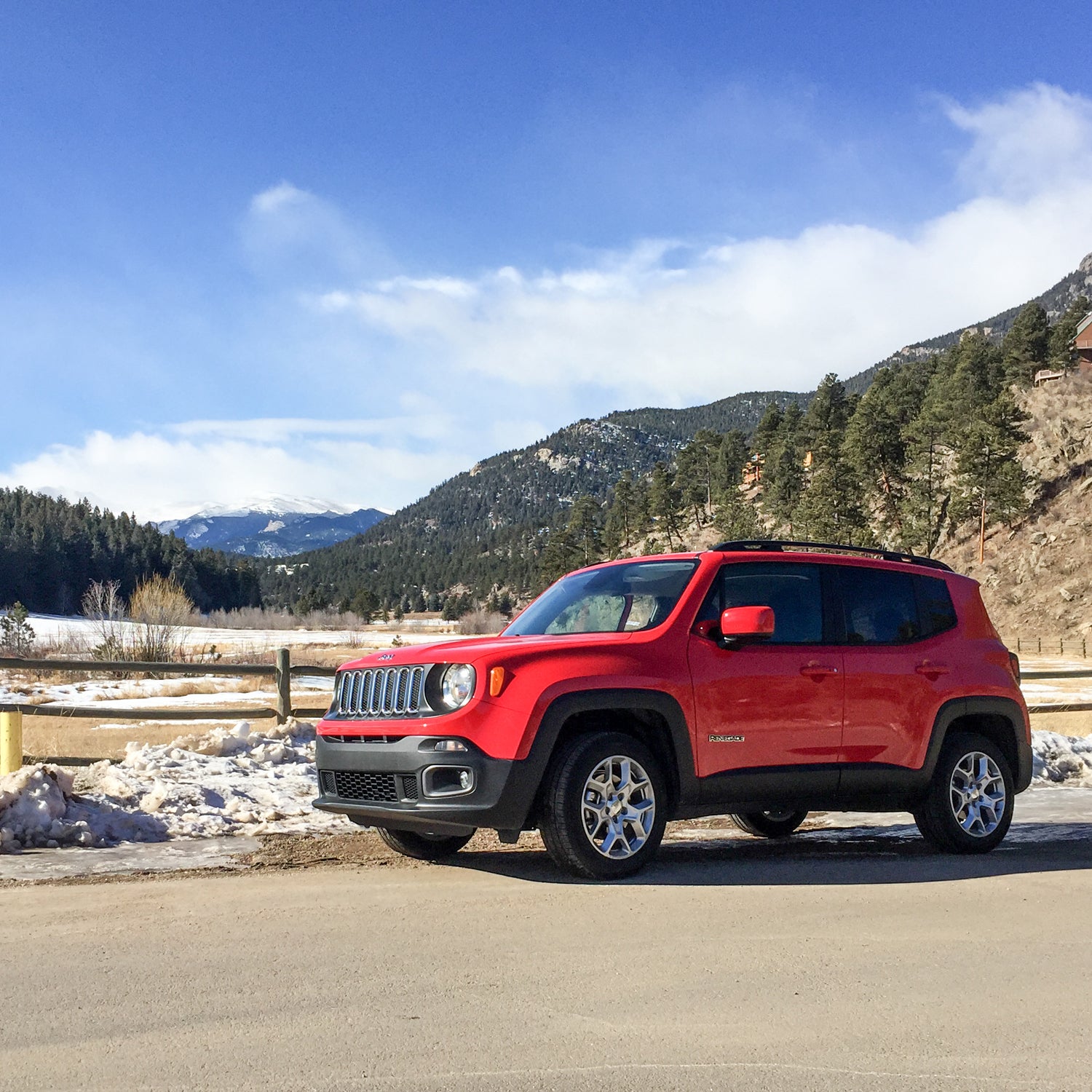 Heading out the door? Read this article on the new Outside+ app available now on iOS devices for members! Download the app.
The Renegade is like a gateway drug for Jeep buyers. Once you experience how it drives and its off-road abilities, you'll see why other, burlier Jeep models are so popular.
---
The Takeaway
The Good: The Renegade is a solid, budget-minded 4×4 with the soul of a Jeep. The rear seat and cargo space are larger than you'll find in a much bigger SUV costing twice as much. The nine-speed transmission is geared for fuel economy—on the highway, it delivers 30 miles per gallon.
​The Bad: In our tests, the combination of the 2.4-liter engine, the nine-speed transmission, and Colorado's high altitude left the Renegade lacking in oomph. Drop the vehicle into four-wheel drive and it slows down even more. In dense city traffic, fuel economy drops into the low 20s. Inside, a USB port and a touchscreen radio interface with Bluetooth connectivity and backup camera bring the Renegade's electronics into this decade, but we were surprised to find no heated front seats, a feature we felt should be standard.
​The Verdict: Thanks to its four-wheel-drive prowess and respectable highway mileage, we think this is a great car for city dwellers who like to play in the mountains. It's not a bad commuter, but it will also get you up to the ski hill in ten inches of snow or through sloppy mud on the way to your camping spot. It falls short on the long-haul drives—a comfortable road-tripper it is not.
---
Specs
Price: $23,295; $26,980 as tested
​Engine: 2.4-liter inline four-cylinder
Drivetrain: Nine-speed automatic, 4WD
 EPA Fuel Economy: 24 mpg combined; 21 mpg city/29 mpg highway
---
The Engine
The 2.4-liter engine pumps out 180 horsepower, which would be plenty in an econobox sedan or hatchback, but it turns the bricklike Renegade, tricked out with the additional weight of the four-wheel-drive drivetrain, into a slow but steady vehicle. On a 70 mph sprint up I-70 into the mountains, the engine had to drop into fourth gear and rev up to 4,500 RPMs just to keep up with traffic. That said, the smallish engine and nine-speed transmission turn the Jeep into a mileage champ: on an 80-mile round-trip into the mountains and back on freeways and highways, we notched 30 miles per gallon. 
What the Renegade lacks in interstate mojo, it more than makes up for when the road turns to hell and you have to—or want to—slow down. Its lack of power means less chance of spinning out the wheels in sand, snow, mud, and muck. To further help you with those adventures, Jeep outfitted the Renegade with a terrain-mode dial underneath the radio that optimizes the four-wheel-drive system for snow, sand, or mud. It's an advanced feature that distinguishes the Renegade from other economy-minded, pint-size SUVs like the Nissan Juke and Mazda CX-3. 
---
The Ride
If you had to place the Renegade between the legendary off-road monster Wrangler and the luxurious, air-suspended ride of the Grand Cherokee, we'd say it falls closer to the Wrangler, with a relatively harsh ride that inspires confidence when you're off-roading.
On our test, we switched into "snow" mode and blasted over snow-packed roads with no problem. The four-wheel-drive system held its grip better than we expected, even doing donuts on an icy turnout. Off-road, the Renegade's small size allows it to go where few new four-wheel-drive rigs can go these days. It's actually smaller than the iconic Wrangler.
There are sweeter driving rigs than the Renegade and SUVs that get better gas mileage, but there really isn't one that can tackle off-road this well and at this price.
---
Cargo
Inside, high ceilings (even in the second row) make the Renegade feel like it has more room than it does. People six feet and taller will love it. Cargo capacity tops out around 50 cubic feet with the rear seats down, which is competitive with other vehicles in its class.
One issue: a lot of that cargo room is vertical, not horizontal. That's ideal for hauling dogs and houseplants but makes throwing bikes and skis in back more difficult than it would be in, say, a Subaru Outback. We did love the hidden tray underneath the floor of the rear cargo area that was perfect for stowing muddy ski boots so they didn't muck up everything else.
---
Buying Advice
The Renegade Latitude 4×4 falls into the same one-quiver category as the Subaru Outback, thanks to respectable gas mileage and off-road performance. It's not as zippy as the Outback, and the gas mileage isn't quite as good, but it rides more like a Jeep than a sedan, which some people will appreciate. And it has more comprehensive four-wheel-drive options, which come into play when you're deep in the muck. 
Trending on Outside Online