Indefinitely Wild
The New Ford F-150 Raptor Is Going to Be Insanely Quick and Capable
So capable, in fact, that Ford plans to race a virtually stock 2017 model. That's a massive vote of confidence in the performance of the new truck.
Nick Nacca(Photo)
Heading out the door? Read this article on the new Outside+ app available now on iOS devices for members! Download the app.
Ford will enter its upcoming 2017 F-150 Raptor performance truck in the grueling Best in the Desert off-road racing series—a move that conveys an utterly insane amount of confidence in a production vehicle. 
Composed of legendary races like the Mint 400, Laughlin Desert Classic, and Vegas to Reno, Best in the Desert is a six-race, off-road series that tests the mettle of purpose-built race rigs. Entering a vehicle that's very nearly identical to the one that will hit showrooms is as ballsy a move as you'll see from a major auto manufacturer in this age of liability concerns and economy-focused messaging. Should the truck be able to complete the races, much less score points in them, it will be an unmatched feat of endurance, toughness, and sheer speed. 
The 2017 Ford F-150 Raptor is an all-new vehicle based on the thirteenth generation (or 2015 on) F-150. Like the first generation Raptor (based on the 2009-2014, twelfth generation F-150) it's designed for one purpose: To be the fastest street-legal off-road truck you can buy from a showroom, complete with a manufacturer's warranty. 
When we say virtually stock, we really mean it. Only a handful of additions were made to the truck.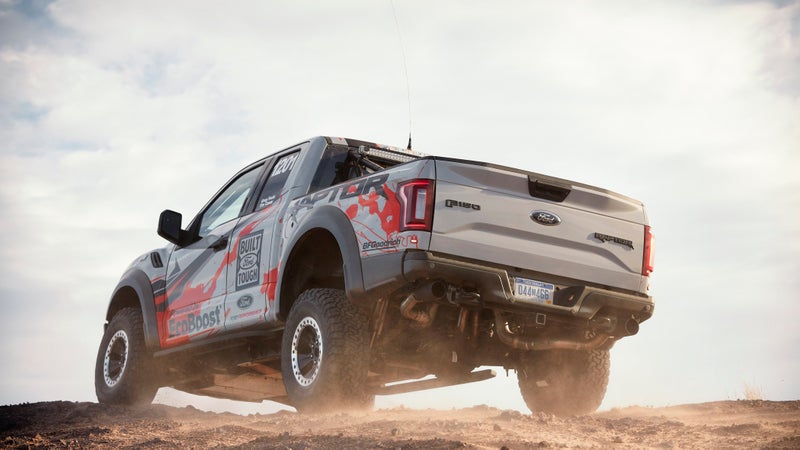 A steel tube roll cage has been welded into the stock cabin to satisfy safety regulations. That added a couple hundred pounds of weight, so the spring rates were increased to suit. The standard bucket seats were replaced with MasterCraft race seats (which protect the racers' spines through big impacts) and five-point harnesses. Some of the races take place at night, necessitating aftermarket LED light bars. A fancy GPS navigator, digital dash, and data logger were also added to the cabin to allow the team to follow race-provided directions and to track their performance. 
Perhaps the biggest change, though, is also the most revealing of how close this vehicle is to stock. The Raptor's new three-inch diameter Fox Racing internal bypass shocks have been swapped for otherwise identical external bypass items. "Going external allows us to make adjustments to damping rates between each race," Ford trucks communications manager Mike Levine explained to us. "Otherwise, they're the same shock."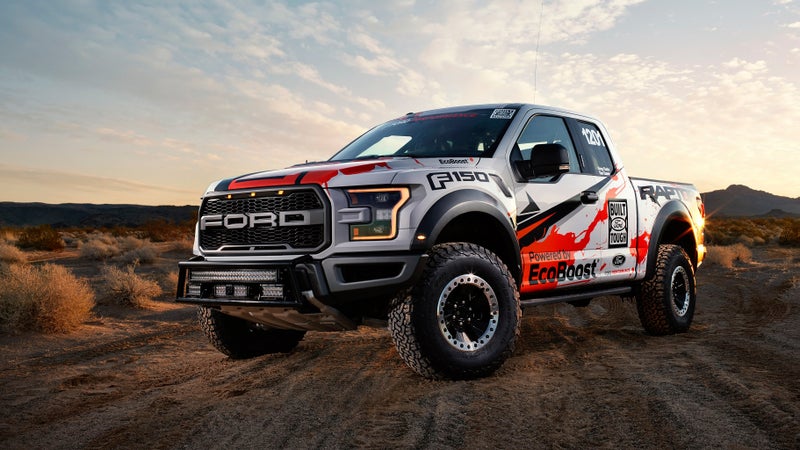 When the original F-150 Raptor debuted in 2009, it was the 2.5-inch Fox Racing internal bypass shocks that lent the truck such an unprecedented level of off-road performance. Roughly equivalent to what a $10,000 spend in the aftermarket would have netted you, the purpose-designed suspension enabled the Raptor to romp across the desert at 100 miles per hour with perfect stability and control. And the total truck only cost a a couple grand more than an equivalent "civilian" F-150 FX4. 
Now weighing 500 pounds less and fitted with .5-inch larger shocks, that capability should be even better. "The suspension now has to do less with more," says Jamal Hameedi, Ford's global performance vehicle chief engineer. (The Raptor is his baby.) 
"As much more capable than the first generation Raptor was over the regular F-150 it was based on, the 2017 Raptor will be over the first generation Raptor,"  he says.
In addition to the upgraded suspension, the 2017 model (both the one you'll be able to buy later this year and the one being raced) benefits from a new 10-speed transmission with paddle shifters, a 3.5-liter, twin-turbocharged V6 motor that shares its block with the forthcoming Ford GT supercar, a unique-to-the-Raptor frame that, like all other new F-150s is now fully boxed for strength, and a track width that's now six inches wider than the regular F-150's.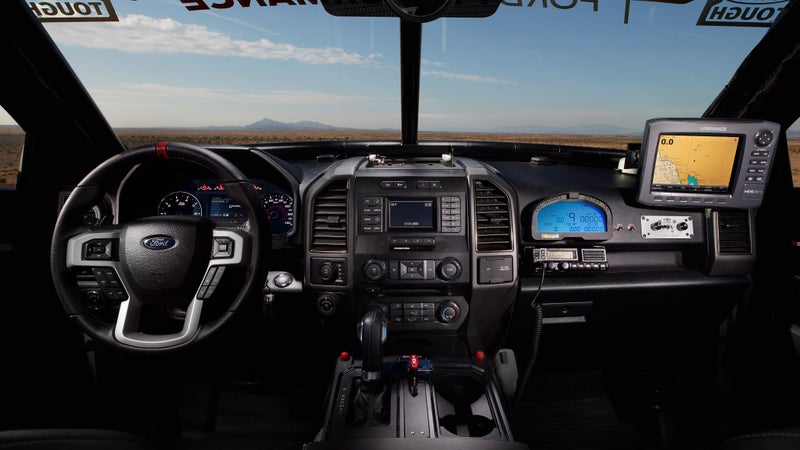 Just how fast will this new truck be? With the launch still several months away, Ford remains cagey. They've stated that it's a full 25 percent faster than the previous Raptor around its 62-mile off-road test track in Anza Borrego, California, but the company hasn't yet released hard performance figures. So we pushed Hameedi for more information. 
"You know how people were putting superchargers on the first generation Raptor? The new one can keep up with some of those," the engineer reluctantly admitted. Both Roush and Hennessy bolted superchargers to first generation Raptors for consumers. 
With the new Raptor having at least 450 bhp and 450 pound-feet of torque, which tuner truck will it keep up with? Pushed further, Hameedi said, "The Roush, the new Raptor will keep up with that." And that should mean a 1/4-mile time in the 13 second range. That's nearly as quick as the new Ford Mustang GT.  
The Raptor's first race is this weekend, in Parker, Arizona. 
Lead Photo: Nick Nacca