An Ode to the 1961 Land Rover Series IIA
British practicality makes for an unstoppable truck
Heading out the door? Read this article on the new Outside+ app available now on iOS devices for members! Download the app.
As a kid, Sean Gorman lusted after the 1961 Land Rover parked next to his grandparent's house in the mountains above Boulder, Colorado. In fact, when he was 16, he told the owner he'd buy the truck if it ever went on sale. Four years later, it was his. "I took that thing all over Colorado," he says. "It was my only car for years." 
He drove it to the top of 14,177-foot Mt. Bross and spent the night just to see if he could "The wind kicked up to 40 to 50 miles per hour that night and every pinhole and crack in the vehicle was like an air jet slicing into the truck," he recalls. His biggest adventure: solo-climbing 14,131-foot Capitol Peak near Aspen in the middle of winter, arriving back at his truck during a snowstorm exhausted and cold only to end up stuck and snowed in. "I spent two days and nights inside of it freezing my ass off, but I eventually made it out."
Over the years, the Superior, Colorado-based Gorman, who now makes his living as an off-road vehicle expert and expedition guide for events all over the world, has never endured a breakdown and never rebuilt the engine or transmission in his Series IIA. He's driven it all over Colorado and Utah and even down to Baja. "I just keep putting oil in it and it keeps running," he says. "It doesn't go fast enough to break things." 
Now that he's 38-years-old, Gorman claims that he owes his career to the Land Rover. He started working on it himself, which led to a job at the Boulder Land Rover dealer, which led to working for Land Rover directly, which led to his current gig as a go-to guide in the car industry for anything off-road. "In some respects," he says, "buying this thing is ultimately responsible for taking me around the world."  
---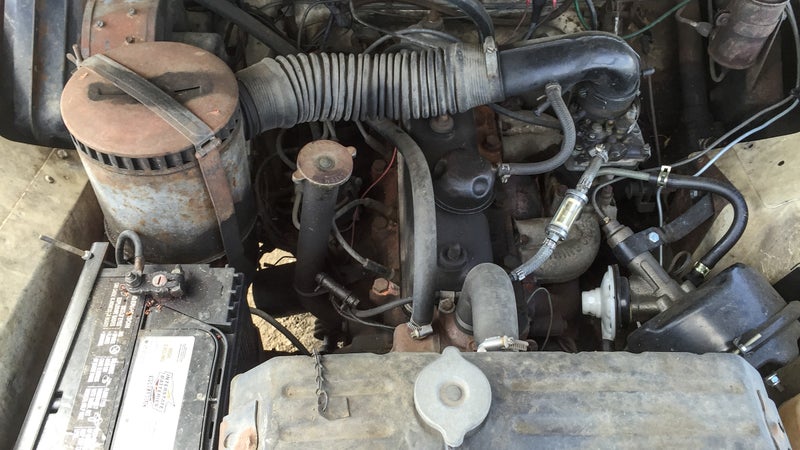 The 1961 featured an in-line four-cylinder engine that put out "maybe 80 horsepower when it was new," says Gorman. The cylindrical air intake canister (left) doubles as an oil bath filter. It's designed to be cleaned easily without the need to replace an oil filter. "Every once and a while, I pour the oil out, dump some gasoline into the cylinder to clean out the sludge at the bottom, put the oil back in, and it's good to go," Gorman says.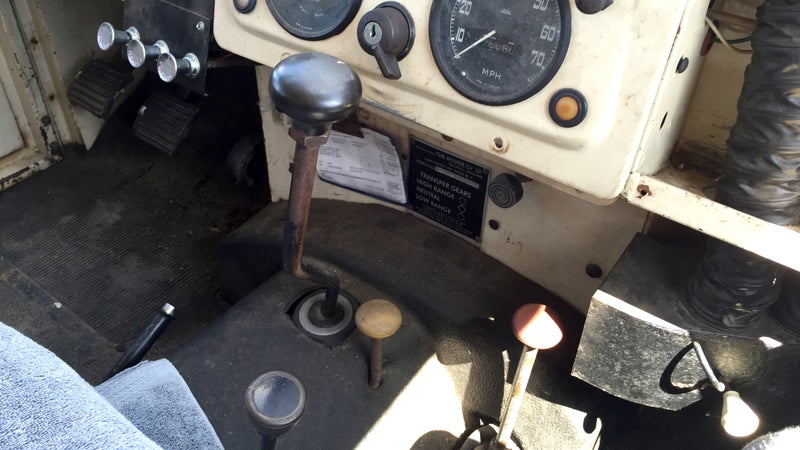 To engage the 4WD, you simply push the yellow lever down—no need to get out and manually lock the front hubs. The red lever accesses four-wheel low gearing. The smaller black shifter is the overdrive gear, which helps the Land Rover reach a top speed of 70 miles per hour. One thing's missing: a syncromesh transmission. Gorman admits that it took him a few weeks to finally figure out how to downshift without grinding the gears. He says that he's still working on mastering the technique. 
Land Rovers of this era came with a removable hand-crank to start the engine in case the battery died. "The first winter I had it, the starter went dead, so I did hand-crank starts for five to six months before I finally fixed it," Gorman says.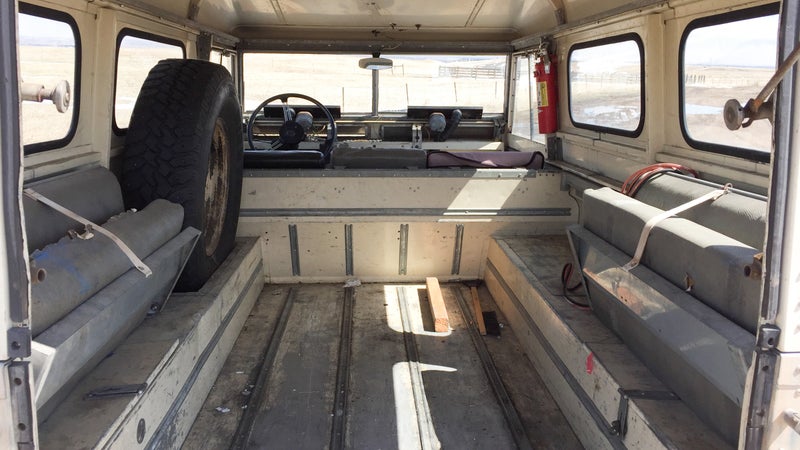 From the front seat to the back, the Series IIA is essentially a pick-up truck with a roof. Gorman and his dog have spent, by his estimate, more than 40 nights camped out in the back at various trailheads around the Rocky Mountains and Baja.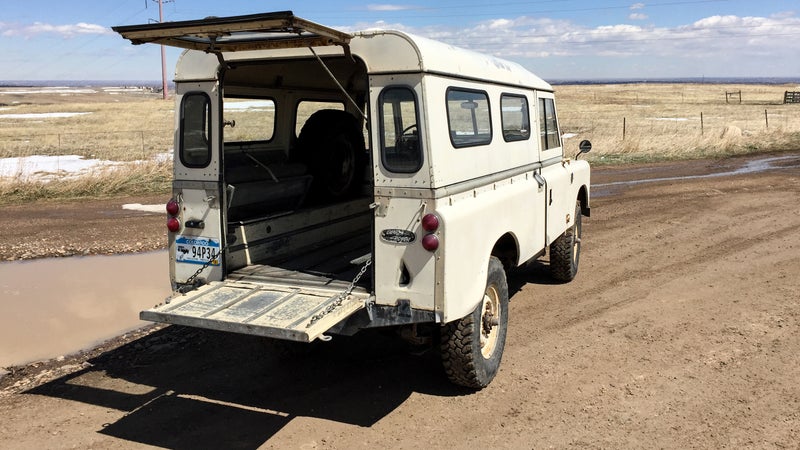 The top hatch and rear gate were designed to stay open while driving.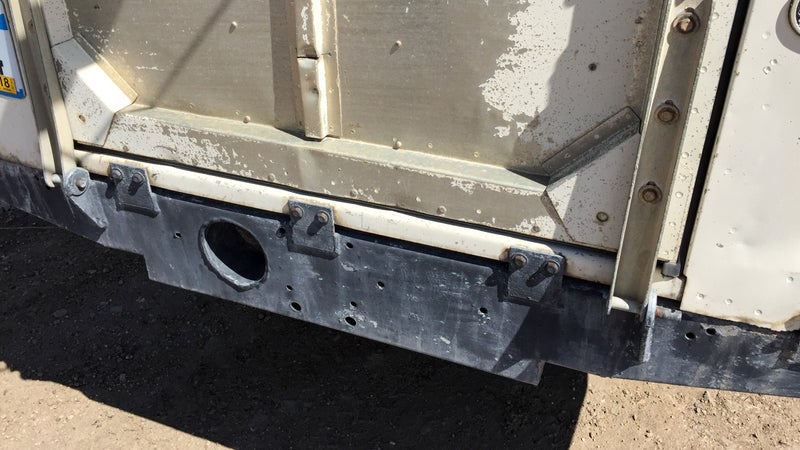 The circular hole in the rear bumper is an access point to the rear transfer case. With a series of aftermarket attachments, owners could hook up their Land Rovers to an irrigation pump or other farm and ranching implements. It could also be harnessed to power a rope tow at an impromptu ski hill.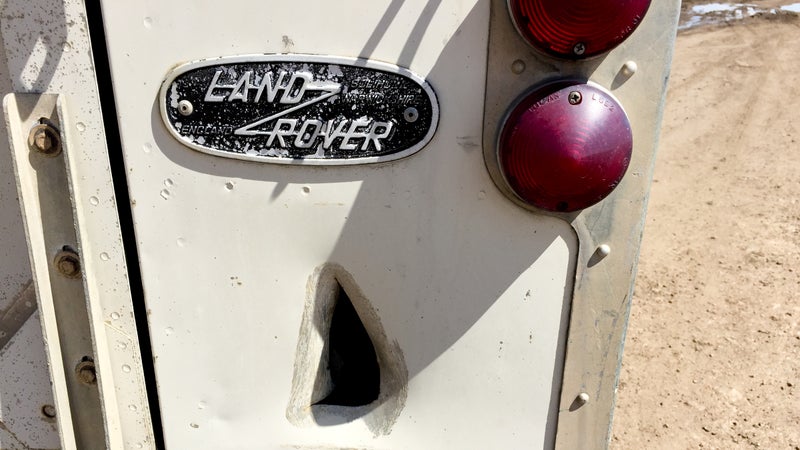 The "rhino hole," as owner Sean Gorman calls it, was created by original owner when he slid down a rock-strewn incline and into a tree branch.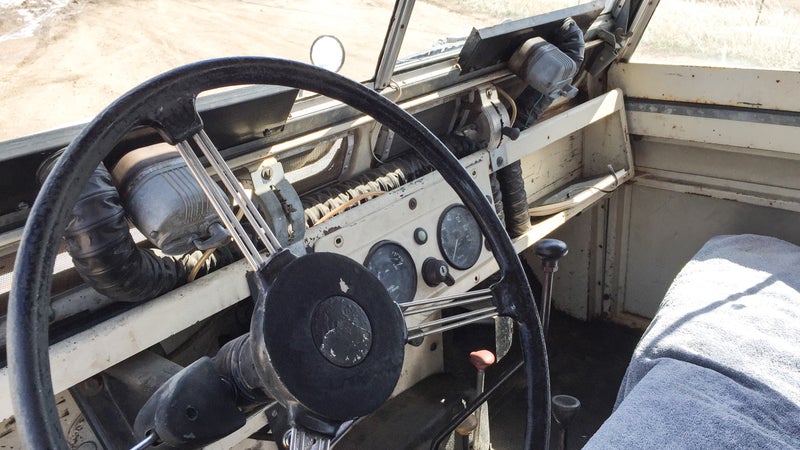 No power steering, no safety features, just basic transportation. Gorman only put in power disc brakes last year.