Indefinitely Wild
Five Off-Road Vehicles to Look Forward to in 2021
Each of these brings genuine innovation, making 2021 an exciting time for adventuremobiles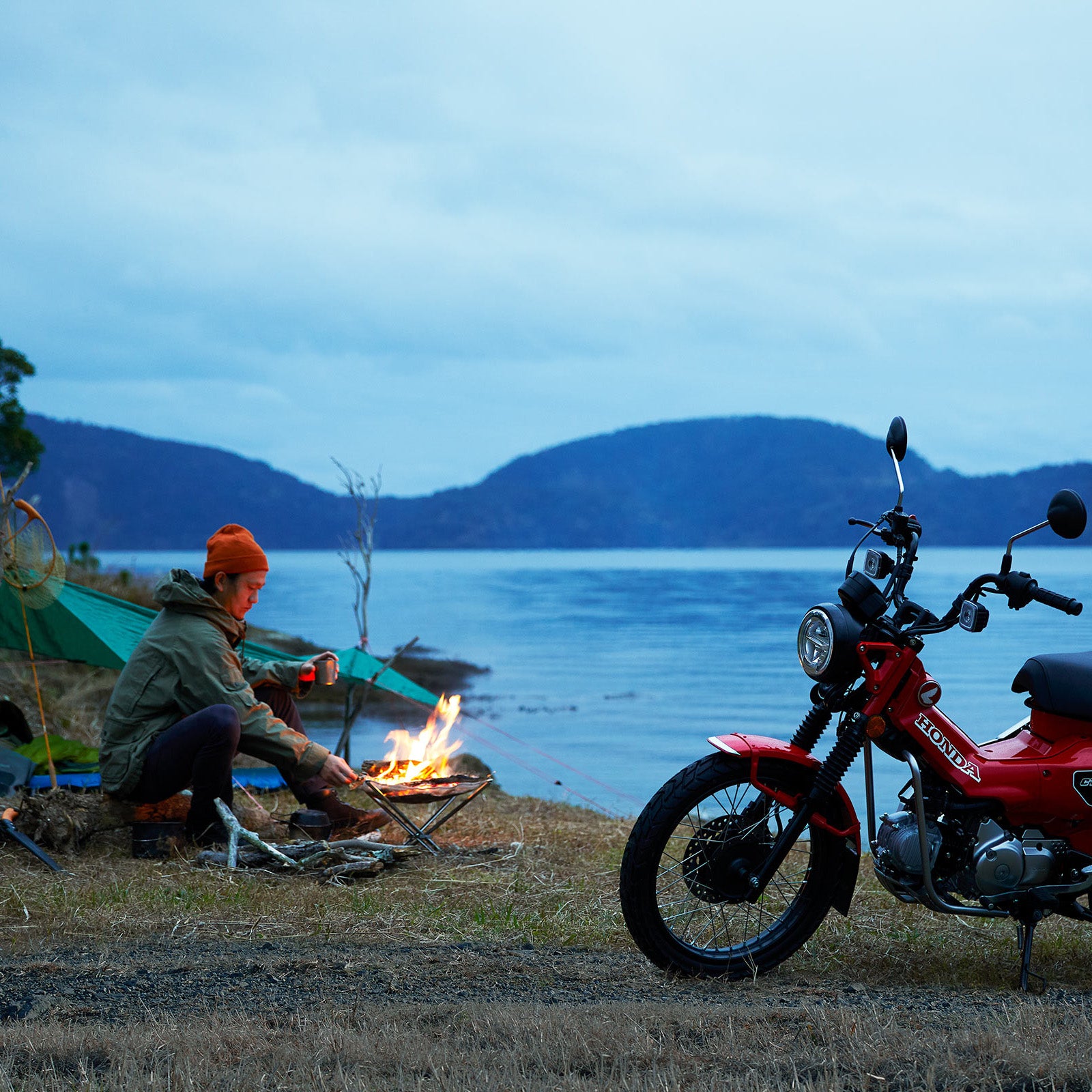 Heading out the door? Read this article on the new Outside+ app available now on iOS devices for members! Download the app.
This year is going to be a banner year for adventure vehicles. Crossovers are finally getting actual off-road ability, trucks are becoming even more capable, and some of them might even go electric—at least for short distances. Here are the five brand-new off-roaders I'm most excited about for 2021.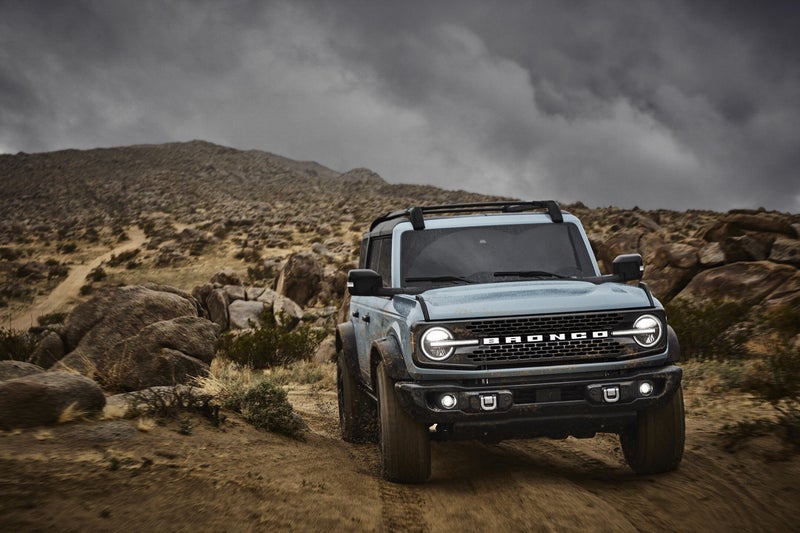 Ford Bronco
The thing about off-road capability is that it's easily quantifiable. Angles determine the size of obstacles a 4×4 can clear. Gearing makes it possible to climb up and down steep stuff. Differentials (and now electronic traction aids) determine which wheels are driven. Articulation keeps those wheels on the ground. For as long as I can remember, it's been the Jeep Wrangler (or its CJ predecessors) that had the steepest angles, the shortest gears, all of the locking diffs, and the greatest amount of articulation. No longer. The new Ford Bronco now bests it in every single one of those metrics. 
Yet the really exciting thing about the Bronco is not only that it will out-Wrangler the Wrangler, but it will do so in a package that performs in areas other than the Rubicon Trail, too. Independent front suspension—that still features more articulation than the Wrangler's solid axle—will endow the Bronco with good ride quality, more capable on-pavement handling, and the ability to travel in a straight line at highway speeds. Powerful turbocharged motors will return strong fuel economy without losing performance at altitude. The ten-speed automatic transmission that gives the rest of Ford's truck range better performance and fuel economy than the competition will do the same thing in the Bronco, but there will be a seven-speed manual offered alongside it for those who want a purer driving experience. 
Best of all, the Bronco will be accessible to more drivers. Ford's suite of electronic off-road driver aids is the best in the business. Pushing a few buttons and turning a dial will be enough for even novices to safely drive farther off-road than they've ever gone before. If you're shopping for a midsize SUV next year, make it this one. Prices will start at $30,000 when the Bronco reaches dealers next summer.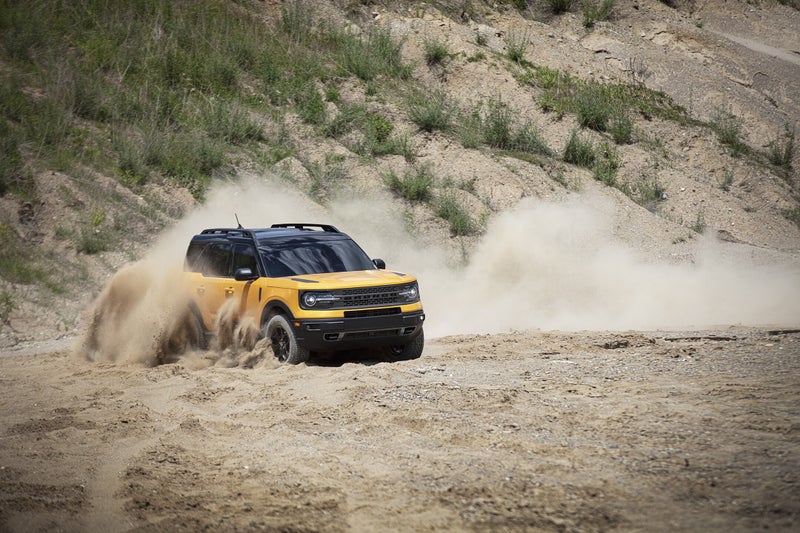 Ford Bronco Sport
A four-wheel drive vehicle like the Bronco Sport's bigger brother, equipped with locking diffs front and rear, is capable of driving all four wheels in slippery conditions, maximizing traction. All-wheel-drive vehicles, like pretty much every other crossover, send all of their power to a single wheel (the one with the least traction) when things get slick. Since traction is the primary challenge of driving on dirt, snow, or anything else that's not paved, all-wheel-drive crossovers can't go farther off-road than it takes to get a quick Instagram shot.
That won't be true of the Bronco Sport. This economical little unibody crossover, which is about the size of a Subaru Forester, is fitted with true four-wheel drive and available with a locking rear differential. When it encounters slippery conditions, it can lock together the speeds of the front and rear axles, then, with that diff, also the speeds of both wheels on the rear axle. That means this thing is going to be genuinely capable both off-road, and in winter conditions—a first for the modern crossover space. 
But the advantages of four-wheel drive don't stop there. Whereas all-wheel-drive crossovers waste energy driving the front and rear driveshafts and axles at all times, the Bronco Sport is fitted with a part-time system that nominally drives only the front wheels. The energy saved will translate to better fuel economy. If you live in a city but are looking for a plucky little adventuremobile that can, you'll want the Bronco Sport, which starts at $26,820. 
Whichever Electric Pickup Truck Actually Reaches Buyers This Year
After years of exciting concept vehicles and a whole lot of empty promises, it seems like 2021 might be the year a fully electric pickup truck finally goes into production. 
Will that first-ever electric pickup come from Ford, GM, Rivian, Tesla, or one of the half dozen or so other brands making wild performance claims? Your guess is as good as mine, but my money is on GM, with its Hummer EV. Being the largest automaker in the U.S. endows the company with a lot of advantages. It already owns factories, distributors, and testing facilities. It can afford to employ the best engineers and designers on the planet. And expensive hurdles that represent major barriers to smaller brands, like crash testing, aren't big obstacles to a brand of this size. 
I'm also encouraged by the fact that GM is being realistic about its first electric truck. Innovation and even batteries are extremely expensive, and it's going to take plenty of both to create an e-truck that consumers actually want to buy. But at $112,595, GM can afford to get the Hummer EV right. It's hard to imagine how smaller companies, or ones that have never before sold a single vehicle, will be able to combine practical ranges, strong performance, fancy interiors, and quality components into trucks they say will be more affordable. 
Three words of caution: manage your expectations. This inaugural generation of electric trucks looks to be pretty sexy, but a lot of questions remain about practicality. A sponsored driver for Rivian, for instance, reported that a near production prototype she entered into a navigation rally a few months ago struggled to travel farther than 50 miles on a charge in some off-road conditions. Concerns over that limited range prevented her from airing down to appropriate off-road tire pressures, and the truck's fancy air-suspension system became so stiff at extended ride heights that she broke suspension components. As the high prices indicate, expect these first electric trucks to serve primarily as vanity vehicles for people who own more than one car. The time will come when electric 4×4's will become practical for off-grid adventures—but we're not there yet.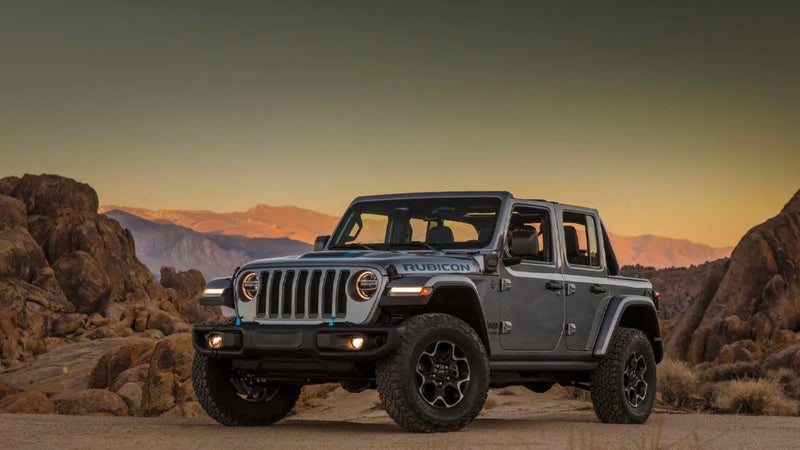 Jeep Wrangler 4xE
If you want to go off-roading while minimizing emissions, a much more realistic rig might be the new Jeep Wrangler 4xE. A plug-in hybrid, it combines a two-liter turbocharged internal combustion engine with two electric motors for a total output of 375 horsepower and 470 pound-feet of torque. In the EPA's combined test cycle (which does not include off-roading), Jeep estimates the 4xE will return 50 miles per gallon.
The 4xE should benefit from the exceptional low-speed torque that electric motors produce, and the drive system will operate through a traditional two-speed transfer case, so you can still employ both low- and high-range gears and otherwise operate the Jeep normally off-road. This applies even in fully electric mode; Jeep representatives say you'll be able to get up 25 miles of range when that mode is engaged, meaning you'll be able to complete many technical off-road trails without burning gasoline. 
Better yet, sales should start during the first quarter of 2021, and prices begin at $47,995.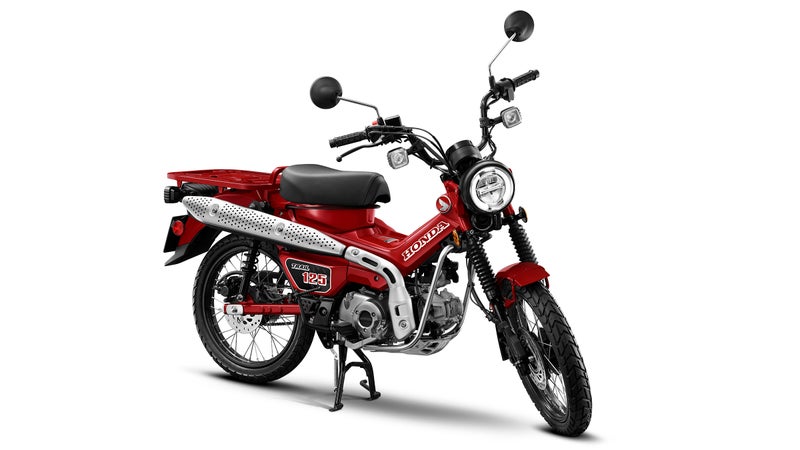 Honda Trail 125
Fifty miles per gallon not good enough for you? This friendly little Honda can travel up to 112 miles on a single gallon of gas. And that's good, because the fuel tank can only hold 1.4 gallons. 
Beginning in the late 1940s, Honda built itself into the biggest motorcycle manufacturer in the world by reinventing the category away from gigantic, intimidating machines for tough guys and into bikes that were small and friendly for everyone. Today's motorcycle industry has again erred in the direction of excess, so there's some symmetry in Honda returning to its roots with the Trail 125, which costs just $3,899 and weighs only 259 pounds. 
With a top speed of around 55 miles per hour, you're probably not going to want to ride this machine across the country. But with an automatic clutch, a low seat, and dimensions so slim that you can touch your knees together while riding, you can use it to explore local trails or just run errands around town. No matter how much riding experience you have, it's a cinch to handle. Best of all, you can easily load it into a truck or carry it on a hitch receiver mounted to any vehicle. This may just be the perfect 'round-camp ride for vanlifers, RV drivers, or virtually anyone else. One of those buyers is going to be me. 
Trending on Outside Online