Indefinitely Wild
Outdoor Enthusiasts: These Are Your Winter Tires
The Cooper A/TWs are the only all-terrain tire fitted with a true winter rubber compound
Heading out the door? Read this article on the new Outside+ app available now on iOS devices for members! Download the app.
When it comes to winter driving, we've already established that tires matter more than AWD or 4WD, or lack thereof. And we learned that studs are an outdated technology that is no longer relevant for the vast majority of conditions we face here in North America.
But when it comes to tires, which will work best for you this winter? If you drive a 4×4 and go off-road, I think I have the answer: the Cooper Discoverer A/TW is the only tire available that is fitted with both an off-road carcass and a true winter compound. 
After work yesterday, I threw the dogs in the back of my old 4Runner and headed to a popular trailhead that sits seven miles up a rough dirt road. This being November in Montana, that road was covered by about eight inches of fresh snow. I slowed down, engaged four-wheel drive, and proceeded up the path without issue. 
While hiking the dogs, it began snowing. And when I eventually got down off the mountain and back to the paved road, that was covered by about two inches of fresh snow. So I left four-wheel drive engaged and drove the twelve miles back to town. Traffic there was moving a lot slower than usual, which I credited to what little rush hour we get here in Bozeman. It wasn't until I watched the truck in front of me nearly spin out trying to accelerate slowly away from a stoplight that I realized the roads were covered in sheet ice. On the way home, I watched as other drivers skidded into each other, failed to negotiate a roundabout, and generally created chaos. 
I navigated without incident one tricky downhill descent to a stop sign, which was covered in the tell-tale dashed skid marks anti-lock brakes create, exposing the slick ice under a thin layer of fresh snow. I corrected a brief slow-motion slide as I turned left. Just after I'd straightened up, a flash of lights in my rearview mirror caught my attention, and I saw a full-size pickup skid through the stop sign, then do a 360 in the middle of the intersection.
Pedestrians on the sidewalks were dropping like flies, as they too skidded on the slick ice. 
In these most-challenging of winter conditions, I had to drive slowly and carefully, but I didn't experience the trouble navigating stops, starts, or corners that I saw nearly every other driver struggle with. And that's because I was on tires fitted with a rubber compound that remains pliable at low temperatures. They also have a micro-porous construction that wicks away the thin layer of water created by the weight of your tires passing over ice. It's those two factors combined that enable modern studless winter tires to find grip even on bare ice. And this winter, you should be on true winter-compound tires, too—even if you drive a truck.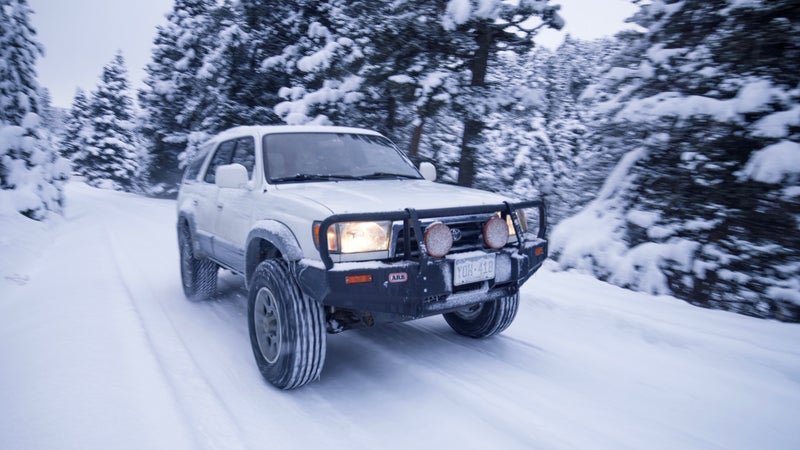 Doing that has traditionally been a problem. Most people who use their trucks to support outdoor activities run all-terrain tires like the BF Goodrich K02. While tires like those are fantastic on dirt, rocks, and even on wet roads, their rubber compound isn't optimized for cold conditions. Many drivers fail to understand that, largely due to the confusing three-peak mountain snowflake symbol displayed prominently on the sidewall of many all-terrains. That symbol is awarded by the U.S. Tire Manufacturer's Association to any tire that demonstrates acceleration on snow that's 10 percent greater than a reference all-season tire.
You can probably spot the trouble there: A 10-percent improvement isn't great. Plus, that reference tire is now decades old and wasn't exactly a good snow tire to begin with. That makes the three-peak mountain snowflake essentially meaningless. 
I ran all this past Woody Rogers, Tire Rack's head of tire testing. Since he's doing the testing fo the largest online tire retailer in the country, he has experience driving on virtually everything out there. His job is to deliver objective buying advice to consumers. "Those A/TWs are unique," he told me, going on to explain that they were developed for drivers in northern Canada, where many need a tire that's capable both off-road and in winter weather. "There are not a whole lot of drivers in the Lower 48 who have that requirement," he continued, but I beg to disagree. 
Because all-season tires aren't able to operate optimally below about 45 degrees, proper protocol is to swap those out for true winter tires in the fall and take them off in the spring or early summer. Not only are you exposed to weeks of snow-free driving on either side of winter (dictating a tire that, if used off-road, can grip rocks and mud, and strongly withstand punctures), but if you want to drive off-road through deep snow, you also need a tire that can be aired down to significantly lower tire pressures than you can use on-road. And, of course, a tire that can deal with the unpredictable conditions that define winter driving. Who's to say that you won't encounter bare rocks or unfrozen mud pits just because it's January? 
To create a tire capable of handling all that, Cooper took the carcass from its popular A/T3 all-terrain and equipped it with true winter compound rubber. It then modified the A/T3's tread pattern to include deeper, wider voids, more siping (the squigly lines), and a unique jagged edge for the tread blocks, which helps the A/TW better retain loose snow. While a winter tire needs to be exceptionally good at clearing water and slush, the best grip in snow is achieved when a tire's tread actually fills up and hangs onto snow, providing snow-on-snow grip. 
Of course, moving the needle in the direction of winter performance does come with trade-offs. Rogers tells me that, compared to normal all-terrains, the A/TWs can't handle as heavy of loads and will wear extremely quickly in hot weather. So, I'll pull them off next May and replace them with a summer alternative. Until then, no matter what surface I'm driving on—bare highways, rocky trails, deep snow, or as my experience last night demonstrates, bare ice—my tires are able to handle it safely. Can yours? 
Trending on Outside Online