Revamped, Not Re-Invented, The 2016 Toyota Tacoma Is Still The Best Yet
Our love affair with this iconic truck only got stronger after a week behind the wheel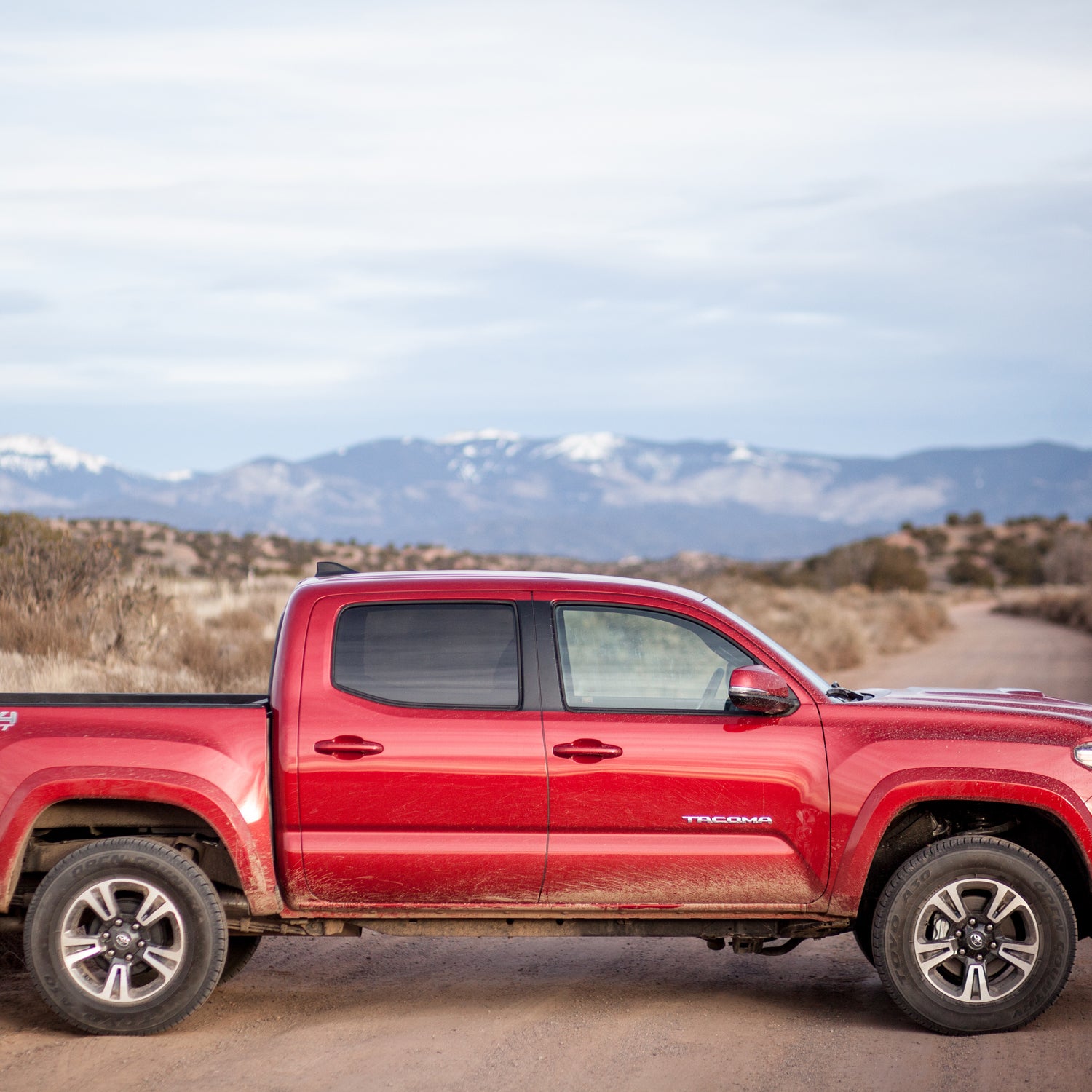 Jakob Schiller(Photo)
Heading out the door? Read this article on the new Outside+ app available now on iOS devices for members! Download the app.
The 2016 Tacoma makes us want one more than ever. Here's why.
---
The Takeaway
The Good: The 2016 Tacoma is more aerodynamic, which equals better fuel efficiency. The new engine is more powerful and smoother, and the interior gets a materials upgrade, making the truck feel more like a car. And because this a Tacoma, the truck also gets important off-road improvements that make it even more capable in the muck.
​The Bad: Even with better fuel economy—24 mpg on the highway—it's still not great, and not even close to the most fuel efficient model of the 2016 Chevy Colorado Diesel, which gets a whopping 31 mpg hwy.
​The Verdict: We suspect Toyota will keep working on those fuel numbers, but for now, the Tacoma is still an amazingly reliable midsize truck that will go nearly anywhere and now does it more comfortably than ever.
---
Specs
Engine: 3.5-liter V-6 with 278 horsepower
​Fuel Economy: 19 mpg city, 24 highway; 18 mpg city, 23 mpg highway as tested
​Price: $23,300; $35,290 as tested
---
The Ride
We tested the new Tacoma for a week around Santa Fe, New Mexico, driving hundreds of freeway miles, up to the local ski area in six inches of new snow, and down the state's infamous washboard dirt roads. In every scenario, it performed like a truck—plowing through snow and over dirt—but drove like a car. My two-year-old daughter instantly fell asleep in the backseat on the freeway because it rode so smoothly, thanks in part to the new 3.5-liter V-6 with 278 horsepower that hums along at 75 miles per hour and the new double-pane windshield, which is significantly quieter than its predecessor.
You'd never tell someone that you're buying a Tacoma because of how it drives on the road, but that was a big selling point for me. If I'm going to invest in a full-time car, I need something that will haul people comfortably. Inside, features like Bluetooth connectivity made it easy to play podcasts and jam music, and the upgraded seats were comfy for longer trips. The backseat of the double cab isn't as spacious as what you'd find in a bigger sedan, but it was fine for hauling adults up to the ski area, and there's plenty of space for installing notoriously finicky car seats.
Off-Road Capabilities
We drove the TRD Sport, so there were no locking diffs, or trick, self-driving off-road gadgets, but it did benefit from revamped suspension, which now has much higher quality dampers that help the truck float over rattly washboard, even at high speeds. Driving through deep sand in an old New Mexico arroyo felt like driving on a normal dirt road. There was no loss of traction, and the ride, once again, felt smooth. Thanks to steeper approach and departure angles (29 degrees and 23 degrees, respectively), the front and rear won't rub when climbing steep grades. That Toyota was able to improve those angles, even while adding fuel economy, is particularly impressive. 
Other Improvements
This new 2016 model still rides on the same chassis as the second generation truck, dating all the way back to 2004. But, it improves on that positively legendary vehicle in three important ways. The new engine, now a 3.5-liter V6, has significantly more outright power and torque than the old 4.0-liter, but is also more flexible, and more fuel efficient. Those traits are boosted by the new, 6-speed automatic transmission, that is now much better matched to the engine's abilities. Not only is the truck a more willing performer, but a more economical one too. And the interior, positively ancient in the old truck, is replaced by something that feels not only modern, but also luxurious. 
If you dent the bumper on a climb, or even in an accident, it's now a three-piece construction and therefore simpler to replace. Inside, the new truck comes with a GoPro mount to film your adventures. We love the optional SR Utility Package, which gives you a double-cab truck without the rear seats for tons of inside storage space. We also dig the sleeker look. This truck is definitely skinnier than what you're used to.
Buying Advice
We've called the Subaru Outback the ultimate adventuremobile, but the Tacoma is right there, too. The fuel economy isn't as good. Ultimately, it's a truck, with a bed, that drives a lot like a car. Plus, the build-out options are great, and it beats the Outback in really nasty terrain. 
Lead Photo: Jakob Schiller
Trending on Outside Online