Testing Winnebago's Electric RV Prototype
The Winnebago eRV2 is a promising new camper van slated for launch in early 2024. We took it for a five-day test drive to find out how practical it was for weekend trips and longer jaunts.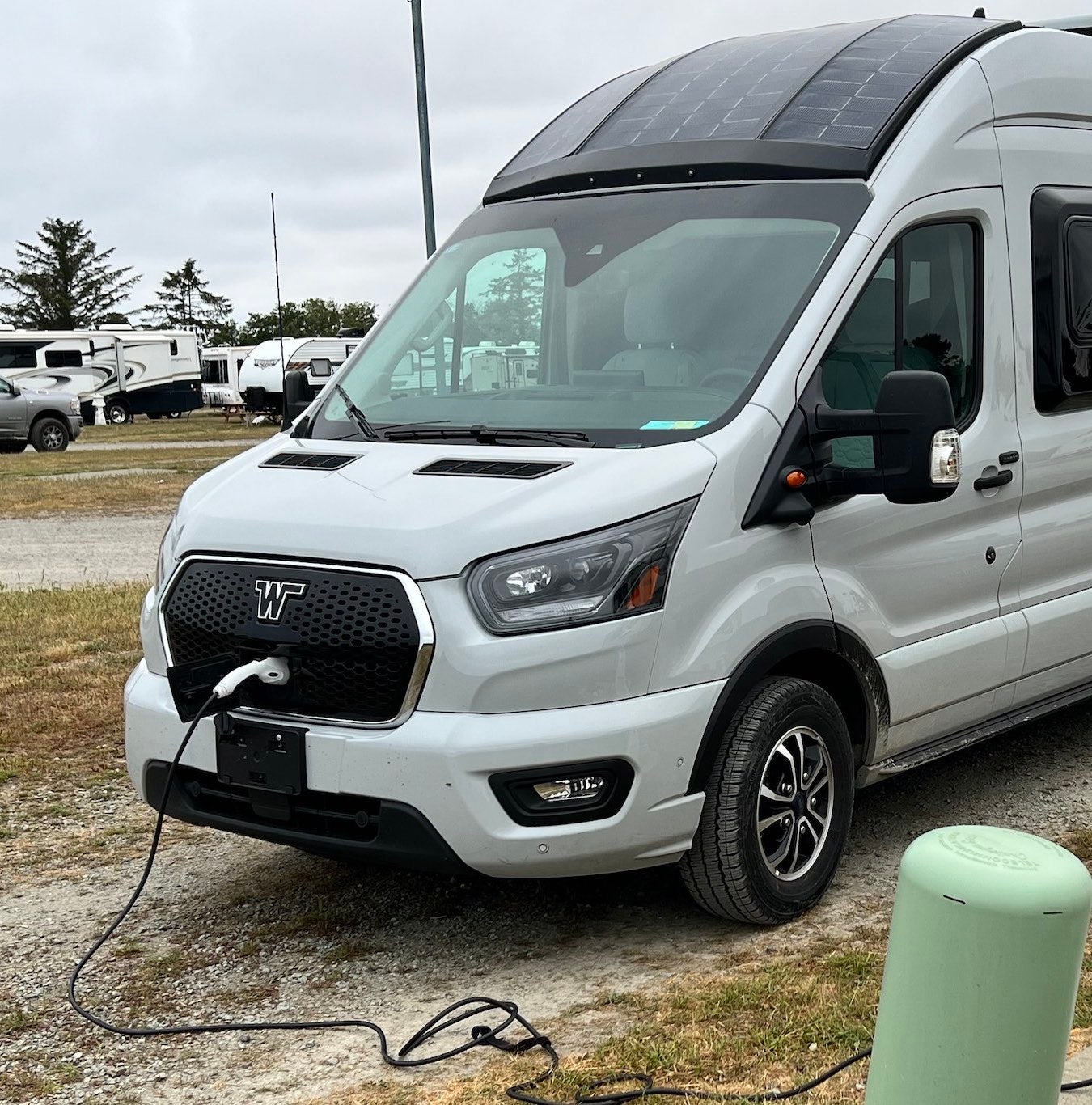 Robert Annis
Heading out the door? Read this article on the new Outside+ app available now on iOS devices for members! Download the app.
Minutes after Winnebago introduced their electric concept camper van in 2022, I began hounding the company to let me take it for a spin. Thankfully, after unveiling their latest prototype, called the eRV2, earlier this year, they finally relented and agreed to let me borrow it for a five-day test drive in California.
How We Tested the Winnebago eRV2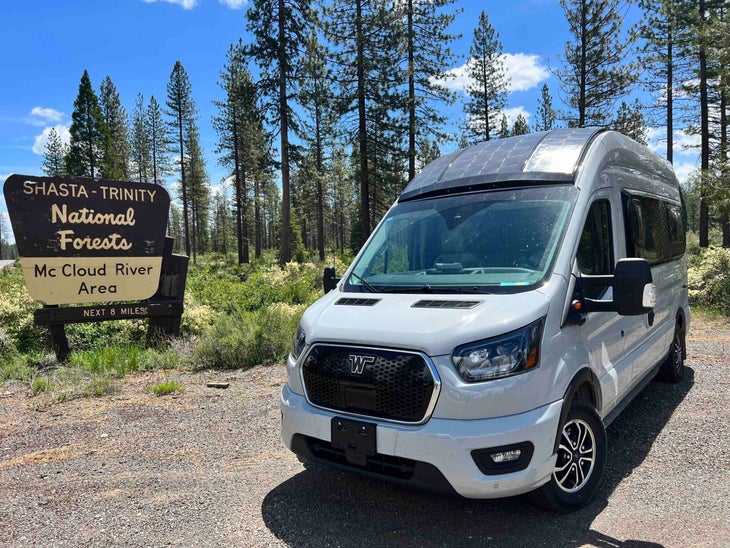 The state has the most charging stations of any other in the country, so I chose to test the eRV2—which will likely be available to consumers early next year—north of the Bay Area, believing it would likely have the best ratio of chargers to gorgeous scenery. I wanted to test the range of the vehicle, the amenities, and the overall comfort to see if it was a practical vehicle for both weekend road trips and extended jaunts. Here's what I found out.
Charge Anxiety Is Real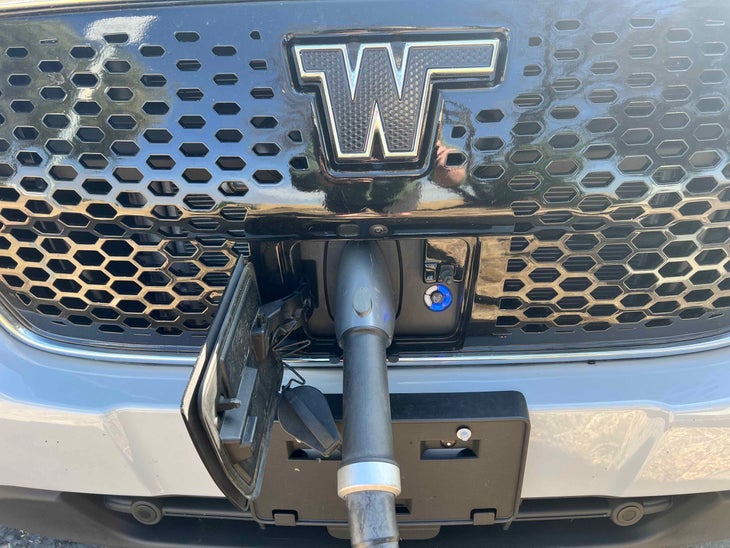 Let's address the massive elephant in the room right off the bat. Built on Ford's eTransit platform, the eRV2 that I drove had a claimed range of about 108 miles. That distance quickly shrinks if you speed, accelerate too quickly, or travel uphill for long distances. If you keep the cruise control to 55 MPH, you might be able to stretch it … a little. Because charging slows to a virtual crawl after you reach 80-85 percent, you're left with an effective range of between 80 and 90 miles (at best) during the bulk of your driving day. Think about it like this: for every 90 minutes you drive, you need to spend around 45 minutes at a fast charger before you can get going again.
If I were a betting person, I'd wager the model going into production early next year will have an expanded range, perhaps approaching 175 or 200 miles. A Winnebago rep said the company hopes the chassis battery will allow for at least three hours of travel time before needing a recharge. But that still might not be enough for most RVers in the middle of the country, especially as the infrastructure struggles to catch up to the demand for EVs. (Ford recently committed to switching to the Tesla charging standard going forward, so that may positively impact charging times, finding fast chargers, and so on.)
And what if you don't have the fast-charger option? When the charger I navigated to in Lakeport, California, was out of order, I had just a ten-mile radius to find an alternative. With no other good options, I plugged into a charger at a nearby community college, but it was very slow. It took 2.5 hours to boost the van back to a 32-mile range, which was exactly enough to get me to the next fast charger. I wanted to build in a little cushion, but my desire to get back on the road won out over common sense. Driving over a mountain pass, I watched the projected mileage drop as the elevation increased. I've never been good at math, but using simple subtraction at the midway point, I realized I would likely not make it and might be forced to call the Winnebago help line for a tow. Luckily, the regenerative braking system worked well on the downhill, and I made it to the next charger with a few miles to spare. But I wouldn't want to have to relive that nervousness every day.
Which brings up a very real problem: range anxiety. Half the fun of a road trip is taking unexpected side trips and detours. Why don't we check out that cool state park we heard about 20 miles off this exit? Let's head toward that trailhead 10 miles down this dirt road. Given the range issues above and current dearth of charging options, those unexpected moments may be fewer and farther between (which is, of course, an issue with any EV at the moment). You're no longer meandering from Point A to Point B; you're navigating from charging station to charging station. My nervousness skyrocketed as I entered parts of Redwood National Park with little or no cell signal, which meant I couldn't access PlugShare or mapping apps to find nearby chargers.
Both of these factors could lead to a change in the way you recreate outdoors. I love dispersed camping in national forests and BLM land, but while in the eRV2, I was mostly seeking out campgrounds with electric hookups so I could charge overnight using a 50- or 30-amp outlet so as not to burn additional daylight the next day.
Exploring the Interior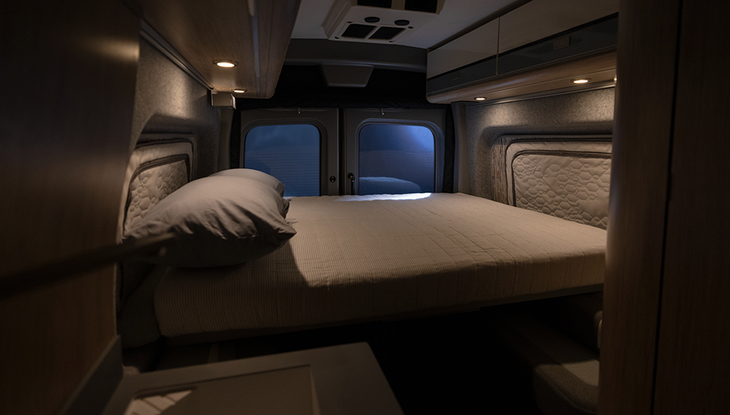 The battery on the inside of the van, however, had plenty of juice. With 500 watts of solar panels on the roof and an approximately 270 amp-hour Lithionics battery bank powering the back of the van (as well as a 35-gallon freshwater reservoir), you can spend several days comfortably camping without hookups. A smart monitor tracks both energy and water levels, as well as controls the LED lights and internal climate controls. (You can also access the data from the Winnebago Connect app on your smartphone.) I was lucky to have great weather and sunshine during my trip, so the eRV2 rarely dipped under 90 percent of the house battery, and I only felt the need to top it off once at a campground.
The fit and finish of the eRV2 cabin feels almost like the interior of a high-end spa, minus the masseuse. The clean lines and gorgeous light wood interior reflects the "Japandi" fusion of Japanese and Scandinavian design principles.  Most of the materials used—like the Chilewich flooring and various seat fabrics—are made from recycled or sustainable materials. The living-space layout echoes most camper vans, with the galley, bathroom and bed/sitting area flowing into one another.
The galley was nicer than my kitchen at home, and included a removable convection stove that can be used either indoors or outdoors thanks to a folding table accessible from the outside of the van. The mini-fridge was surprisingly roomy, holding all my perishables, as well as a dwindling 12-pack of California-brewed IPAs. A slide-out pantry compartment would have been a welcome addition, as I was forced to stow groceries for my five-day trip in whatever cabinet or compartment space I could find.
On that note, storage throughout the van was lacking for more than a few days on the road. I would have loved a dedicated drawer or cabinet for a laptop, tablet, and other work gear (while charging it at the same time), as well as more conveniently located outlets in the living space. Likewise, there were no hooks to hang jackets or hats, but those can easily be added by the end user.
Like many other camper vans, the rear sitting area transforms into a bed, although I kept the bed setup for the majority of my test drive. (It takes less than ten minutes to transform the space, and that number will assuredly drop lower the more times you do it.)  The driver and passenger seats swivel 180 degrees, allowing me to work and eat at a slim fold-out table behind the seat. The van only seats two people, so it's designed to only sleep two as well. I imagine Winnebago is planning a more family-friendly version in the future but they wouldn't confirm that.
The eRV2's small bathroom contains a removable cartridge toilet and shower. The toilet holds about three days of waste; when it's full, the entire toilet must be removed so you can separate the bottom half to dump it. I timed my showers with dumping the tank; while the toilet was removed, I utilized the extra space to get myself clean. (It was a tight space even without the toilet; for a larger gentleman like me, it would be next to impossible to shower with it in.) When I was finished and dressed, I replaced the toilet, which was surprisingly painless.
On the Road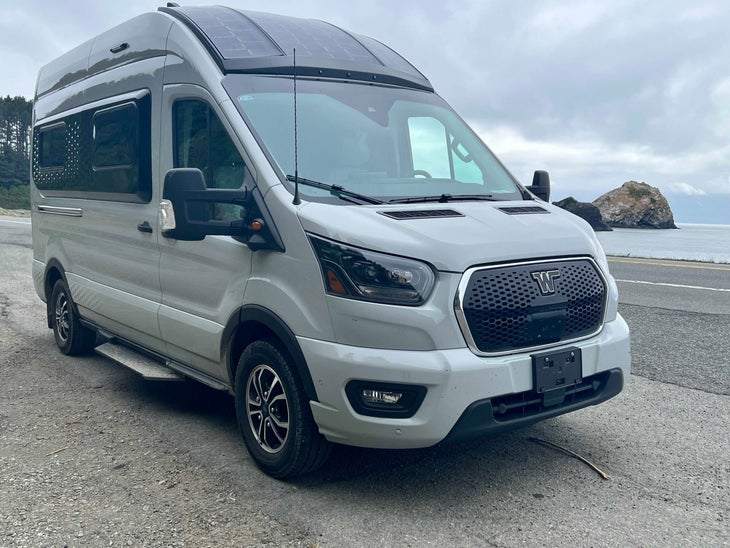 Behind the wheel, you'll never mistake the eRV2 for a sports car, but it handles extremely well for a large van. On my way out to Redwood National Park's Fern Canyon, it conquered a small stream crossing and crater-filled gravel road with aplomb, while the expansive cockpit offered great views of the road and California's amazing natural scenery. After nearly a week of use, I went from absolutely loathing Ford's dial shifter to merely disdaining it (I want the gear shifter either in the steering column or between the seats, just like it's been for the last century, dammit!).
Looks-wise, it's much like most other vans on the market now. You'd be hard-pressed to know it was an electric van unless you saw it charging at a station. And when you're charging, you will be answering questions: I talked to dozens of fascinated folks while charging—there's definitely strong interest in electric RVs.
Will It Be Worth the Cost?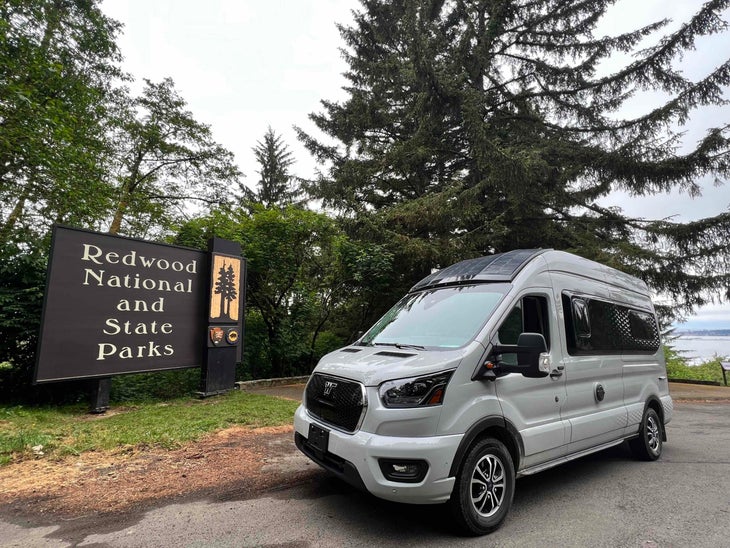 During my five-day trip, I often pondered if the pros of this new electric Winnebago outweighed its significant limitations. This was on my mind as I reached the Whiskeytown National Recreation Area, where I was struck by the number of fire-scarred trees stretching out for miles in front of me.
The Carr Fire ravaged the area in 2018; five years later, some life has returned to the surrounding mountains, but it remained a sobering reminder on the deadly hazards of climate change. The point was driven home even more when I crossed into Lassen Volcanic National Park, which saw nearly 70 percent of the park sustain serious damage during the 2021 Dixie Fire. Seeing the charred remnants of those forests made me reexamine some of my thoughts about the eRV2. This wasn't just a shiny new toy, but a much-needed first step toward a fully electrified future. But is it good enough for consumers to take that step now?
When the eRV2 goes into full production next year, who will buy it? Winnebago representatives refused to give an estimated MSRP on the upcoming production model, but given the prices on their current line-up of RVs and the premium placed on electric vehicles, I'd guess the bare-minimum price would be $175,000 and could easily surpass $200,000. So that may limit the market to well-to-do weekend warriors living in metropolitan areas throughout Colorado, Utah, and, of course, California, who have a wealth of camping and outdoor options practically in their backyard. People, in other words, who need only to drive 90 minutes to their planned camping spot, top off at a charging option near the destination, camp for a few days, then head home.
By jumping in this early, Winnebago has a massive head start on the rest of the RV industry, and for that, I applaud them. This is the direction we need to see. But we're probably at least five years away from an electric RV with a mileage range palatable to most users and a robust enough nationwide infrastructure.
Lead Photo: Robert Annis