7 Van Upgrades That Are Worth the Money
Our writer learned to invest in these the hard way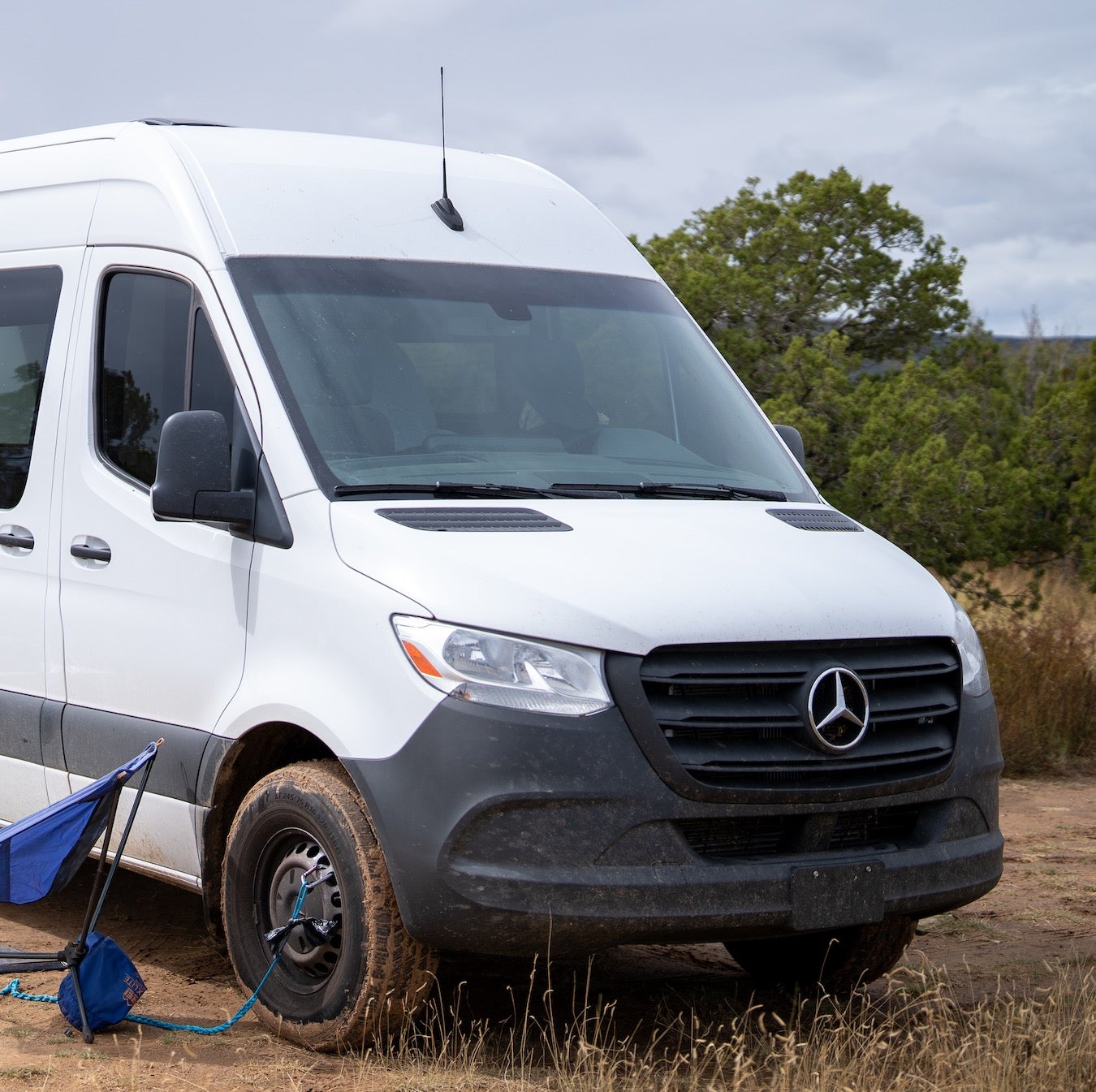 Bryan Rogala
Heading out the door? Read this article on the new Outside+ app available now on iOS devices for members! Download the app.
Before I became a van guy, I was a truck guy with a chip on his shoulder about over-the-top adventure vans. So when I finally caved and bought my first cargo van, I was hellbent on keeping things simple. I hastily cut window coverings out of cheap insulation from Home Depot. Instead of buying an awning, I tried to park near trees (a futile strategy in the desert where we live). I cooked meals on a $20 butane burner that almost exploded multiple times.
I've since accepted my new identity as a van guy. So when I replaced my first van with a brand new Sprinter, I decided to go all in. These are the upgrades I should have made the first time.
Better Suspension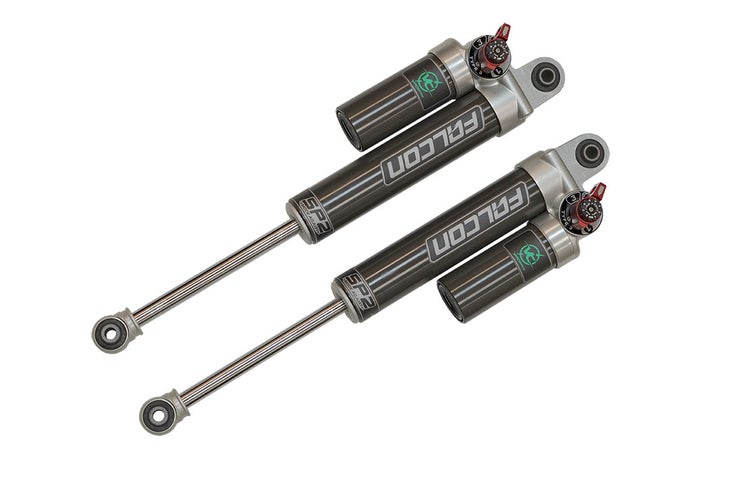 Last summer, during a trip to Montana, I drove a 30-mile stretch of tooth-rattling washboard road on the Sprinter's stock suspension. It was a special kind of hell. That was before I upgraded to the Van Compass Stage 2 suspension system ($1,215), which mates Sumo Springs—essentially beefed-up bottom-out bumpers that add much-needed support to the front end—with adjustable Falcon piggyback rear shocks.
On the firmest setting, the shocks, which can be adjusted tool-free on the fly, inspire surefooted confidence on the interstate and dramatically reduce body roll on winding mountain backroads. In the middle setting, which I use around town, the ride is comfortable, but supportive. And when the pavement ends, the softest setting takes the edge off of square-edge rocks and rough washboard. The best part? I was able to install the whole system in one afternoon, in my driveway, with just a few wrenches and sockets.
On-Board Air Compressor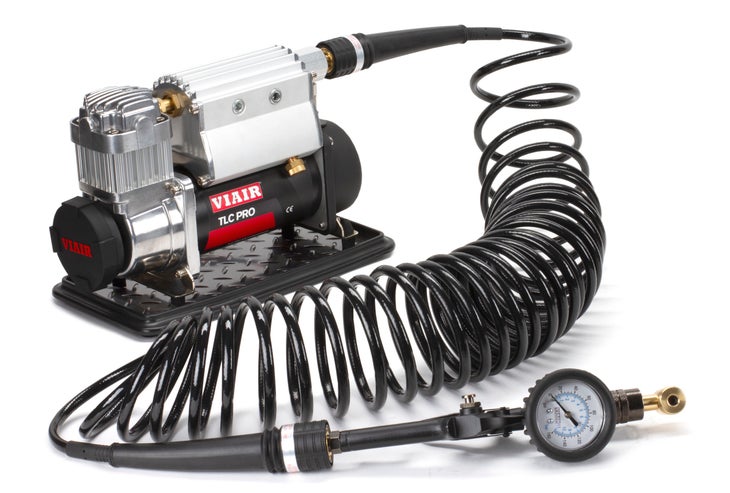 Airing your van tires down is easy, and it hugely improves off-road traction and ride quality. Limping along in search of a working air station after hitting pavement again is the hard part. The Viair Bike TLC Pro ($450) makes the latter process easy, too—its powerful compressor has enough juice to inflate all four of my rig's tires from 25 to 45 PSI in about ten minutes (Sprinters are specced with 245/75 R16s; Viair rates the TLC Pro for use on tires up to 35 inches). And because the compressor charges a small reservoir to 150 psi, it can seat a tubeless mountain bike tire, too. The TLC Pro is portable out of the box (it comes with a rugged canvas storage bag) but I opted to hard-mount mine under the hood with a no-drill bracket. The included shop-style inflator, presta and schrader valve adapters, and a 30-foot coil are high-quality and impressive so far.
Insulated Window Coverings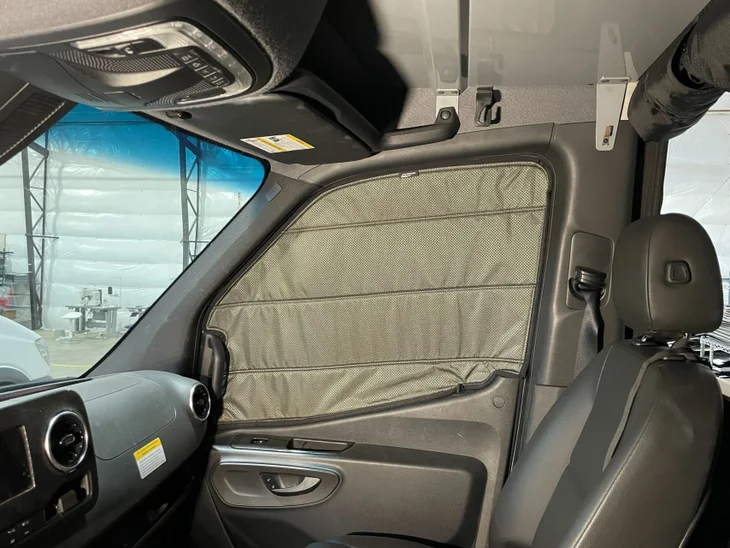 I opted to install lots of windows in my new van for more natural light and better views. But all that glass comes with two big drawbacks: heat transfer and a lack of privacy. These window covers fix both of those problems by sandwiching lightweight aluminum-faced insulation—capable of blocking up to 97 percent of radiant heat transfer—between two layers of durable ripstop nylon. But that's not their best trick: the magnetically mounted covers are stitched such that they fold up accordion-style and stow in place with integrated snap-button straps. Translation: no valuable storage space is wasted when you want to let the light in. They're available for just about every possible window configuration (vent fans included!) and for most cargo van makes, models, and years.
Proper Back Seat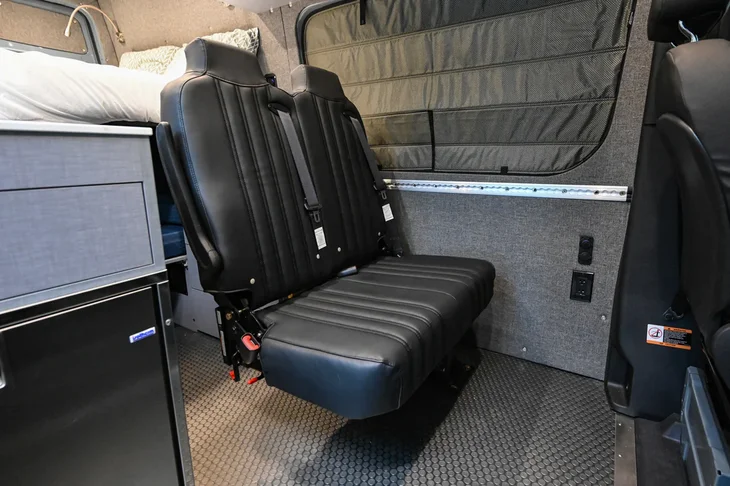 I started my hunt for the second van with my sights on a crew configuration, which sports a factory-installed rear passenger seat. I quickly learned that finding one would be nearly impossible (Mercedes produces far fewer crew models than cargo or passenger configurations). But a proper back seat was non-negotiable for me—my wife was pregnant at the time—so I looked into other options. Ultimately I designed the floorplan around a seat that's there when you need it and not when you don't.
With the flick of a couple of levers, the Hide N' Go Seat ($2,750) from Alpine Van Works shape-shifts from folded flat against the wall to a full back seat with three-point belts and child safety restraint attachment points. Alpine ships the seat, which meets Federal Motor Vehicle Safety Standard 210, with two beefy steel mounting plates and all of the necessary hardware needed to install it (the process took less than an hour).
Sliding Door Screen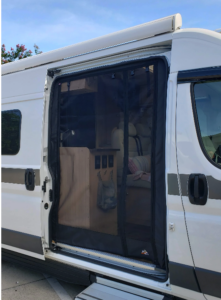 One reason I think vans make the best adventure vehicles is the huge sliding door. When it's open, you get the kind of seamless indoor-outdoor living space that home-renovation TV hosts are constantly going on about. There's just one drawback: bugs.
This integrated sliding-door screen from Bugwall ($349) is the solution. It's simple if a bit finicky to install—the nylon margins tuck under the sliding door's weather stripping and are held in place with tiny metal clips (the tricky part). Once in place, though, it couldn't be more intuitive: just push your way through the magnetic screen, which closes automatically behind you with a satisfying snap. When bug season ends, you can either unzip and remove the screen entirely or roll it up and store it with the integrated straps. An added bonus is that it's great for keeping our dogs in or out of the van while maximizing airflow.
Chunky A/T Tires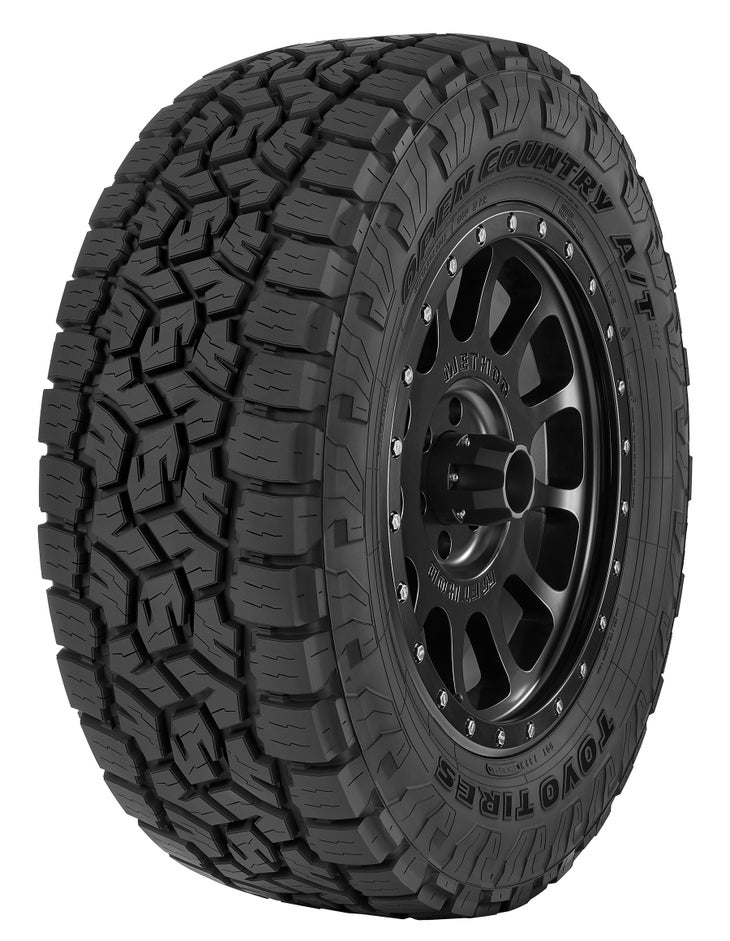 I know my two-wheel-drive van will never go rock crawling. But it will cruise countless miles of remote gravel and rough two-track far from the nearest town—not somewhere I want to find myself with a sliced sidewall or no traction. That's why I ditched my van's OEM rubber for a set of Toyo Open Country A/T III's (from $163 each) right away. They've since driven everything from steep, loose gravel to sand, slush, and packed snow, with more than 2,000 highway miles. I expected that the aggressive tread pattern and generous siping would deliver great traction across all of the aforementioned road conditions (they did), but I also expected a noisy highway ride and spongy high-speed cornering. That's where the Open Country's surprised me—cruising at 75 MPH, they weren't any louder than the stock tires and they felt nearly as supportive on winding mountain roads.
An Awning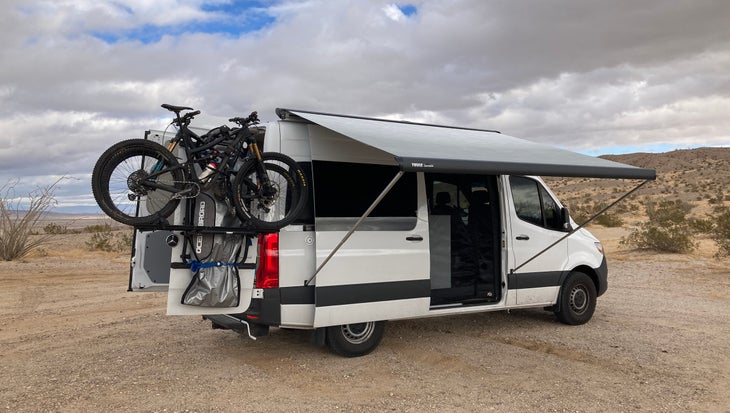 It only takes one hot afternoon of camping with a friend who's rig has an awning to realize that the luxury of shade is worth whatever dent it leaves in your wallet and your van's MPGs. Because I learned that lesson long ago, I installed a Thule Hideaway ($1,300), which deploys in about a minute to create more than 80 square feet of protected outdoor living space. The result? We spend way more time hanging out and cooking alfresco because we no longer have to retreat indoors from afternoon sun or rain showers. To me this is a big win because, after all, being outside is kind of the point, isn't it?
Lead Photo: Bryan Rogala