Indefinitely Wild
Is the Tesla Cybertruck for Real? 
Tesla's first electric pickup is even more outlandish than we could have expected
Heading out the door? Read this article on the new Outside+ app available now on iOS devices for members! Download the app.
Tesla CEO Elon Musk has a history of making big claims about his cars. And that was on display last night at the unveiling of the brand's most audacious vehicle to-date: the Cybertruck. Demonstrating what was said to be "armored" glass, an assistant managed to shatter the truck's window with a rock. 
But Musk's over-the-top impulses might be taking away from what actually promises to be a truly revolutionary vehicle. And I mean that in more ways than just the styling. 
That angular body—already massively controversial in truck nerd circles—is actually the exposed stainless steel monocoque frame of the Cybertruck. That promises to be enormously strong, incredibly safe, and resistant to dents and corrosion. It should also prove to be very lightweight, which is good because those angular lines are disguising the dimensions of what's actually a very large vehicle.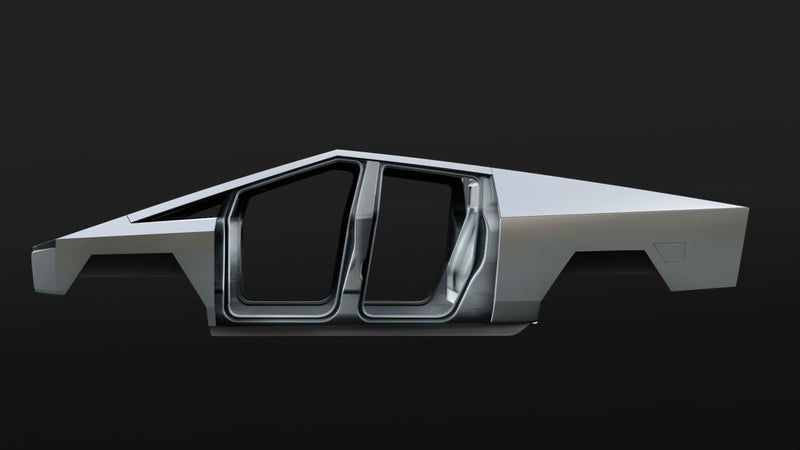 Production on the first versions of the Cybertruck won't begin until 2021, and last's night's reveal was thin on details like exact size or weight. But Motor Trend suggests that the truck's wheelbase is at least 150 inches long, and we know the bed—err "vault" in Teslaspeak—is 6.5 feet in length. So this thing is at least as large as a full-size truck like a Ford F-150. 
Its capabilities should far exceed that F-150 though. With a maximum towing capacity of 14,000 pounds and a payload of 3,500 pounds, it looks like the Cybertruck will be able to perform the work of something like an F-350. All from a vehicle that will be able to accelerate from rest to 60 miles per hour in just 6.5 seconds in its least powerful, two-wheel drive form, and which can drop that time to less than 2.9 seconds in its most powerful, all-wheel drive spec. 
Musk claims that the basic two-wheel drive truck will start at $39,900 and be able to reach 200 miles of range on a single charge. The current price for a maxed-out, three-motor, all-wheel drive Cybertruck is $69,900. That version will be able to travel 500 miles. Those prices are actually very good—the average transaction price for a full-size truck is currently $50,000. But Tesla has a troubled history with delivering vehicles at the the prices and on the timelines it hypes.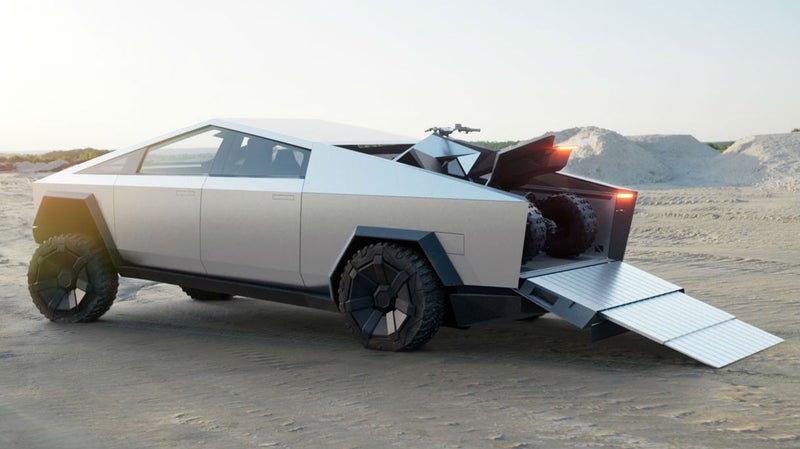 The weight saved by the monocoque body helps nearly everywhere. Less vehicle weight equals more payload. Less weight equals faster acceleration. And less weight equals more range. This is especially important when you factor in how heavy batteries are. Tesla's smallest car—the Model 3—has a battery pack that weighs over 1,000 pounds. But at least that weight can be carried as low as possible. 
Because electric vehicles are free of the fixed mechanical layout of an internal combustion engine powertrain, they're able to be remarkably spacious. It looks like the Cybertruck takes full advantage of that. It features a front storage unit, a two-row, six-seat cab that looks incredibly open and spacious, and that 6.5-foot "vault." There's also under-vault storage akin to that of the Honda Ridgeline, and there appear to be gear lockers in the rear buttresses, a storage location akin to the Rambox. 
So far, so Tesla. But this is the first vehicle the company has designed with off-roading in mind, and it looks like Tesla has taken that requirement very seriously. Those tires are large 35×12.5-inch all-terrains. The entire underbody is flat and combines with the six inches of adjustable ride height to deliver 14 inches of maximum ground clearance. The 35 degree approach and 28 degree departure angles are very good. The entire lower body is wrapped by steel rock rails and off-road bumpers. There's an off-road light bar integrated into the top of the windshield.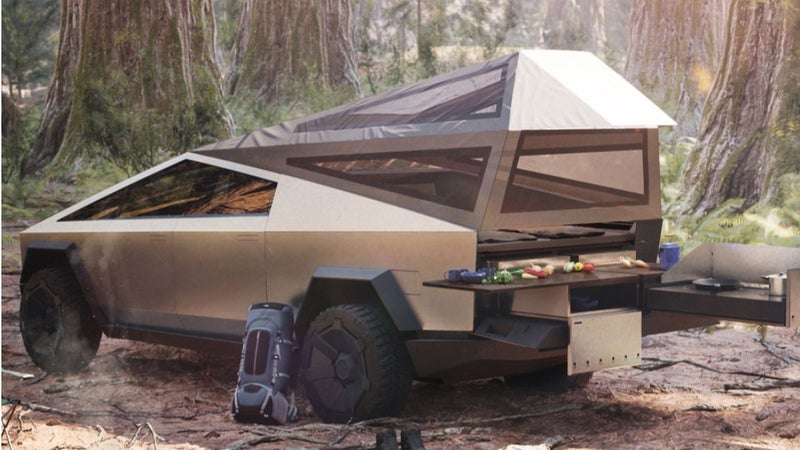 Tesla has also released a rendering of a Cybertruck equipped with a sort of bed topper. Assuming it's equipped with the same climate control system as other Teslas, this will be able to form a heated and cooled camper. 
What Tesla hasn't yet talked about are the traction-finding capabilities of its all-wheel drive system. With the ability to power each wheel individually, electric trucks like this one promise to surpass the capability of four-wheel drive by actively proportioning power to the wheels with the most grip. I look forward to finding out more about this capability as the vehicle moves closer to production.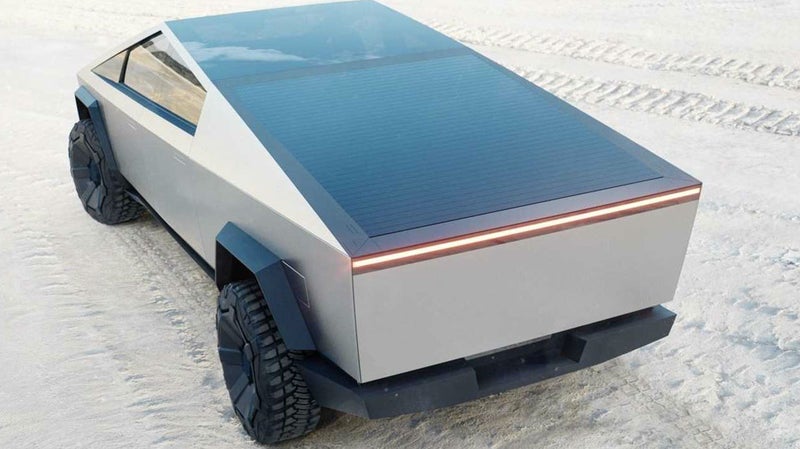 The big question mark hanging over this very early reveal is: How much will reach production—and when? The Cybertruck is possibly Tesla's most audacious vehicle yet, and also the most outlandish. Can the company really bring a truck that looks like this to market at the performance levels it's claiming, at the prices it says it's targeting? This Tesla fan certainly hopes so.