Tested: Range Rover Evoque Convertible
A $70,000 4WD SUV convertible? Yeah, it's weird and yeah, it's niche. But if you like to go far, far into the backcountry in comfort and with the top down, this is your rig.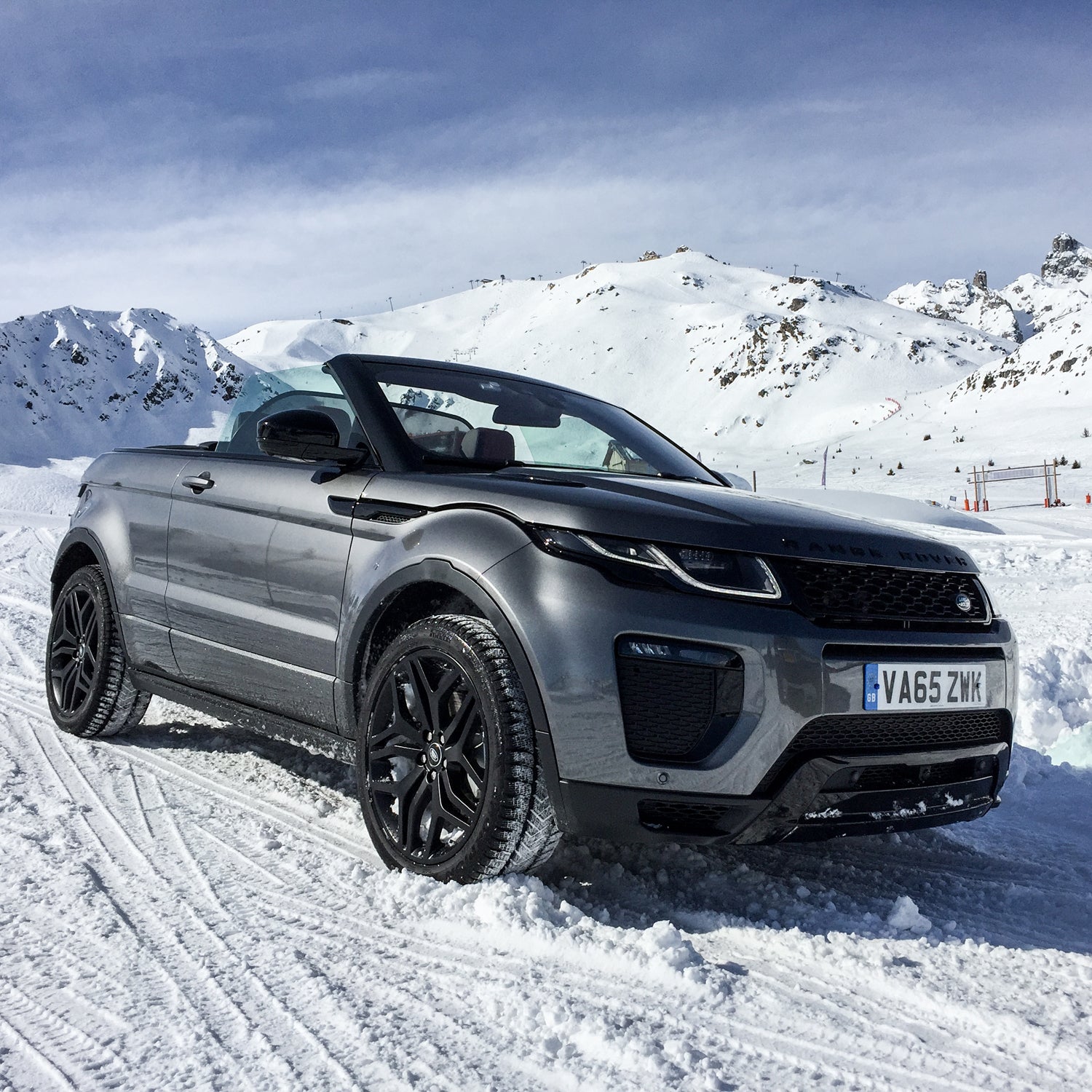 Heading out the door? Read this article on the new Outside+ app available now on iOS devices for members! Download the app.
We recently drove the Evoque Convertible for two days in the French Alps and can see why 2,000 people have already pre-ordered one of the beasts. 
---
The Takeaway
The Good: Range Rover has created a luxury convertible that stays true to the company's off-road heritage. On paper it sounds ridiculous. In the real world it's pretty damn fun.
​The Bad: That price tag. A Jeep Wrangler tricked out for that price could go farther, carry and tow more toys, and still leave you with enough cash to buy a case of craft beer and a YETI cooler. 
​The Verdict: Off-roading with the top down just became a luxury experience. Instead of the spine-shaking suspension and auditory punishment of a ragtop Jeep Wrangler, the only other off-road convertible around, this Range Rover purrs down dirt tracks and interstates.
---
Specs
Price: $50,500 base/ $68,820 as tested
​Engine: 2.0-liter, 4-cyl. turbo, 240-hp
​Drivetrain: 9-speed automatic, On-demand 4WD
---
The Ride
A turbo-charged 2.0-liter turbo engine pumps out 240 horsepower, so the car rips on pavement. The convertible version (versus the regular Evoque) hauls about 350 extra pounds of steel and aluminum, heft that translates into a reassuringly solid feel. And unlike the low-slung perspective delivered by almost every other convertible out there, the Evoque convertible rides high, creating a whole new topless experience.  
There is a problem with the removable top: with the roof up, I felt like I was driving in a cave. A depressing, cramped cave. Sight lines in the rear are especially compromised due to the wide swaths of fabric and a tiny rear window. It was so dispiriting to drive with the roof up that we kept it tucked away and cranked up the heated seats and heated steering wheel (both are excellent) even as it started to snow and the temperatures dropped below freezing. So…if you plan to drive this car with the top up most of the time, consider another vehicle. 
---
Off-Road Capabilities
This car doesn't look like it could handle anything but pavement, but that's definitely not the case. Switch the terrain selector from "road" to "snow/sand/gravel," and the vehicle locks into 4WD. That all-wheel switch, plus eight-plus inches of ground clearance, a listed wading depth of 19.6 inches, approach and departure angles of 19 degrees (front) and 31 degrees (rear), a downhill-assist function, and a massive skid-plate of armor for the engine and transmission turn this convertible into a legit Range Rover SUV rather than a car-based crossover.
In France, we used the downhill-assist function to help the car tip-toe down the side of a mountain outside Albertville via a boulder-strewn, muddy forest track—a place no other convertible outside of a Jeep Wrangler would dare drive. On top of the ski station at Courchevel, elevation 6,200 feet, the Evoque's 20-inch alloy wheels with Pirelli Scorpion snow tires turned a groomed ski run into a rally-car course with high-speed turns and small jumps on snow—something no Wrangler driver would be comfortable doing. But in this Range Rover, you can, and we did.
That said, the Wrangler still definitely wins in the real rock-crawling category. The Evoque doesn't have any 4WD-low gearing, so you're not going to see one out competing with Jeeps in Moab. But that's not a deal-breaker, as few people need those gears, even when traveling on many U.S. Forest Service roads in the backcountry.
---
Buying Advice
This car is made for a very specific buyer—not for the general adventurer. First, there's that price. Plus, it's small. The trunk sacrifices a lot of space to the folded roof so it can only hold two carry-on pieces and a messenger bag. And toys? A convertible means no roof rack, so skis and bikes need to be thrown onto a separate hitch rack. A pass through the rear seats will hold just one set of skis. Snowboard? You're not invited. 
That said, for the people who want to adventure with the top down—in the summer or winter, as this car is much more pleasant to drive al fresco—this is a significantly more comfortable alternative to the Wrangler and still plenty capable when things get dirty or wet.
Trending on Outside Online