Indefinitely Wild
7 Tools No Adventuremobile Owner Should Leave Home Without
How to turn unexpected problems into easy solutions the next time you go off-grid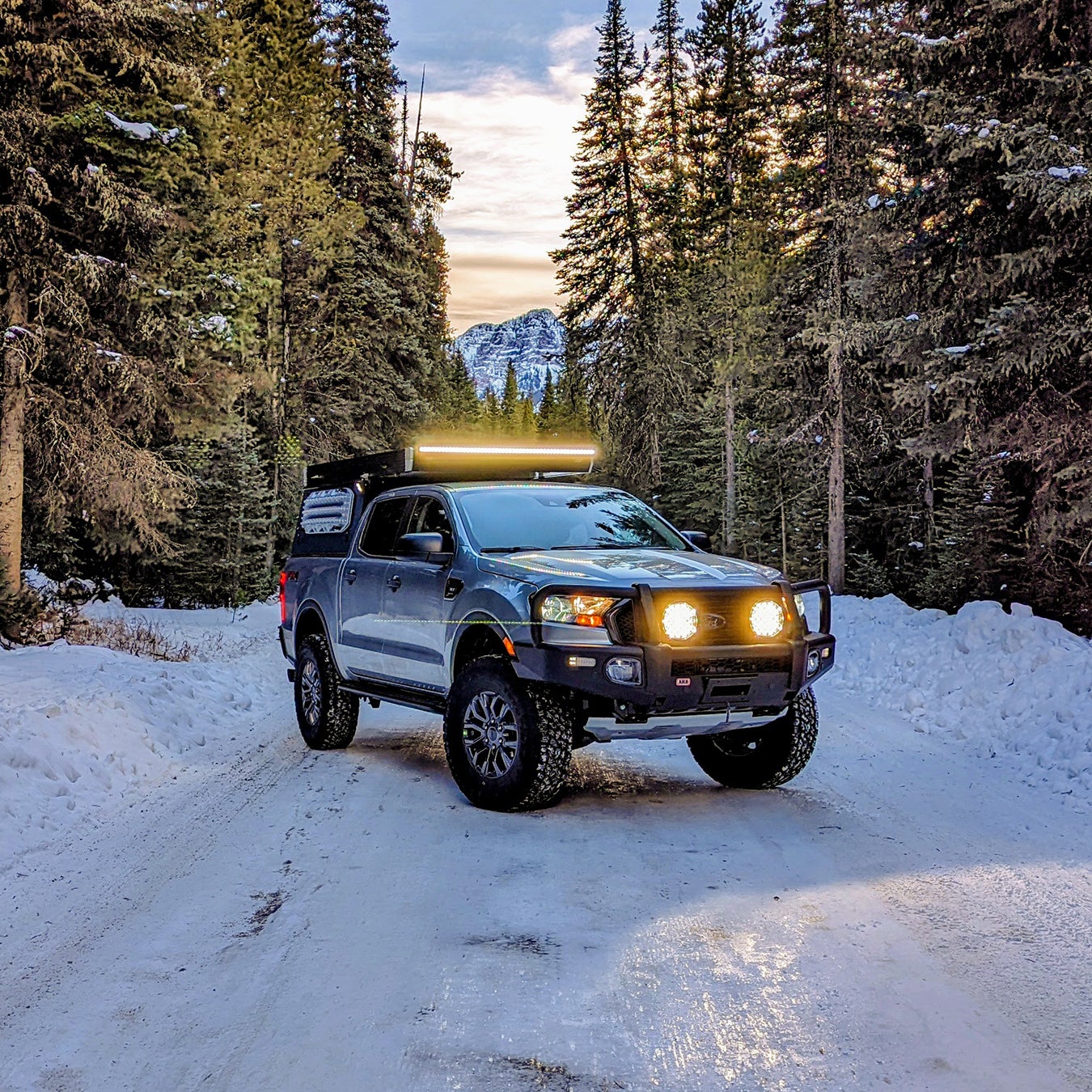 Wes Siler
Heading out the door? Read this article on the new Outside+ app available now on iOS devices for members! Download the app.
If you're going to use your vehicle in inclement weather, remote areas, or off-road, plan on running into trouble. Fortunately, that trouble gets easier to navigate the more prepared you are. Here are seven things to keep in your vehicle at all times.
Tire Repair Kit
Tires are the most essential and the most frequently damaged component on any car or truck. But repairing a flat tire is quick and easy, and the equipment required to do so is cheap. 
Why shouldn't you just rely on your spare tire? Many vehicles now come equipped with only a space saver spare tire, which will be smaller, lighter, and provide less traction than a regular tire. If you have to mount one, then you'll need to reduce your speed, avoid challenging terrain, and return to pavement as soon as possible—where you'll need to drive straight to a tire repair shop. And that shop could be far away, closed for the night, or may not have a replacement tire in stock. You'll have to deal with a real hassle, and likely the end of your trip. 
Even if you do have a full-size matching spare tire, as any adventuremobile should, it's still possible to get two flat tires at once, or two flat tires during a single trip. You can't rely on the American Automobile Association (AAA), or a similar roadside rescue service, because outside of major metropolitan areas, they may take several hours to reach you—or you may not have cell phone service to call them. The equipment required to repair a tire yourself costs a fraction of an annual membership with AAA, and takes only a few minutes to use. 
I use and recommend the $38 Boulder Tools Heavy Duty Tire Repair Kit. About the size of a coffee table art book, it'll fit onboard any vehicle, and I show you how to use it in the video below.
Onboard Air
You'll also need a way to inflate a flat tire after you've plugged it. That's where an air compressor comes in. If all you're doing is preparing for that inevitable flat, a small, cheap option, like this $18 Slime-branded item, will get the job done. But it'll take a long time to fill even economy car tires. 
If you need a source of air to use more often, so you can adjust pressures as you go off-road, then back on, or if you're using plus-size truck tires, spending up to a quality compressor or compressed air tank will save you tons of time. On my own truck, I rely on a Power Tank (from $500), which uses compressed carbon dioxide to deliver the absolute fastest inflation times possible, plus the ability to re-seat tires that come off the wheel.
Maxtrax
Don't fall for the cheap prices promised by knock-offs. Genuine Maxtrax employ a proprietary fibrous nylon polymer that flexes to avoid cracking, and will stand up to years, if not decades, of repeat use. 
Should your vehicle get stuck in sand, snow, mud, or pretty much anything else, all you need to do is shove a pair of Maxtrax under your wheels, then drive out of the obstacle. 
Easier to use and exponentially safer than any other recovery method, Maxtrax belong in every adventuremobile. They're available in three versions—MKII ($300), Extreme ($500), and Mini ($200). The normal MKIIs are appropriate for most drivers of SUVs and trucks. Extreme's are fitted with metal teeth to better withstand very hard use. And minis are sized to fit in the trunks of small crossovers, like the Subaru Crosstrek.
Snatch Strap and Shackles
If Maxtrax aren't enough to free you, then you'll need to solicit the help of another vehicle to tug you out. But with one multi-thousand pound vehicle pulling on another one, this gets dangerous real fast. 
Rather than a chain or tow strap, which don't stretch and therefore create very high momentary loads, an elastic snatch or kinetic strap or rope will help reduce forces and actually make it easier to get the vehicle unstuck. The built-in stretch in the straps or ropes enables the pulling vehicle to move slowly, which stretches out the strap, and spreads forces across a longer time period. The strap then contracts, which is what actually tugs the vehicle out of the obstacle. 
I prefer steel shackles over the soft items for their much higher breaking points and imperviousness to abrasion and cutting. In my own truck, I carry a $50 pair of Gear America Mega Shackles, along with the brand's $180, American-made kinetic recovery rope. 
Recovery Points
But there's a big problem with relying on a snatch recovery. Many vehicles don't come equipped with proper recovery points from the factory. And if you don't have those recovery points, it's unsafe and unwise to venture into places where you may get stuck. 
I should carefully note that tow and recovery points are not the same. Towing a vehicle creates far lower force than pulling a vehicle out of a deep or sticky substance. Do not attempt to employ those little screw-in-tow eyelets as an off-road recovery point. 
Fortunately, you can add proper, strength-rated (read: safe) recovery points to many popular trucks. Australian 4×4 accessory maker ARB makes a wide selection, and since its products are produced in compliance with Australia's high safety standards, you know you can rely on them. You can even buy rated recovery points for some Subarus now. 
Even if you can't fit your vehicle with appropriate recovery points, there's still hope. Any two-inch hitch receiver will be strong enough, and you don't even need a shackle to use one. Just insert the pin through one end of the strap (inside the receiver), and you'll be good to go. Of course that means your vehicle can only be recovered rearwards, but it's better than nothing. 
A Real Jack
The little scissor jacks that are included with most vehicles may be enough to perform a tire repair on a stock vehicle, on a hard, level surface. But even then, they're not as stable, safe, reliable, or easy to use as a quality bottle jack. Add weight or large tires to your vehicle, and you may find that scissor jacks will break the first time you attempt to use them. 
While the aftermarket is full of a variety of tough-looking solutions that promise all sorts of novel uses, the safest, easiest way to lift a vehicle's wheels off the ground will always be with a simple bottle jack like this one from Pro-Lift for $43. Just look for one designed to lift at least half your vehicle's Gross Vehicle Weight Rating (printed on a sticker inside your driver's door jamb), and that's short enough to fit under your vehicle's frame, control arms, or axle, even with a totally deflated tire. Pairing that bottle jack with a set of extensions and braces from Safe Jack ($109) will help it better interface with your vehicle, while one of these generic jack bases can add both height and stability.
Full-Sized Shovel
I use my shovel to dig fire pits, extinguish campfires, and create poop holes on nearly every camping trip. And if you ever get stuck, getting unstuck—even using any of the methods described above—is probably going to involve some digging. 
Don't rely on one of those tiny, folding entrenching tools. A proper full-sized shovel will multiply the force you're able to apply without it breaking.
Any quality shovel from any home improvement store will more than get the job done, starting at around $20. But they take up a lot of room. The DMOS Delta Shovel collapses into itself and folds, but paired with a mount, does so at a positively ridiculous starting price of $510. But I do have to admit, it is a very useful tool that takes up very little room on my truck.
Lead Photo: Wes Siler
Trending on Outside Online