5 Truck Camper Additions Worth the Money
These upgrades will make your experience better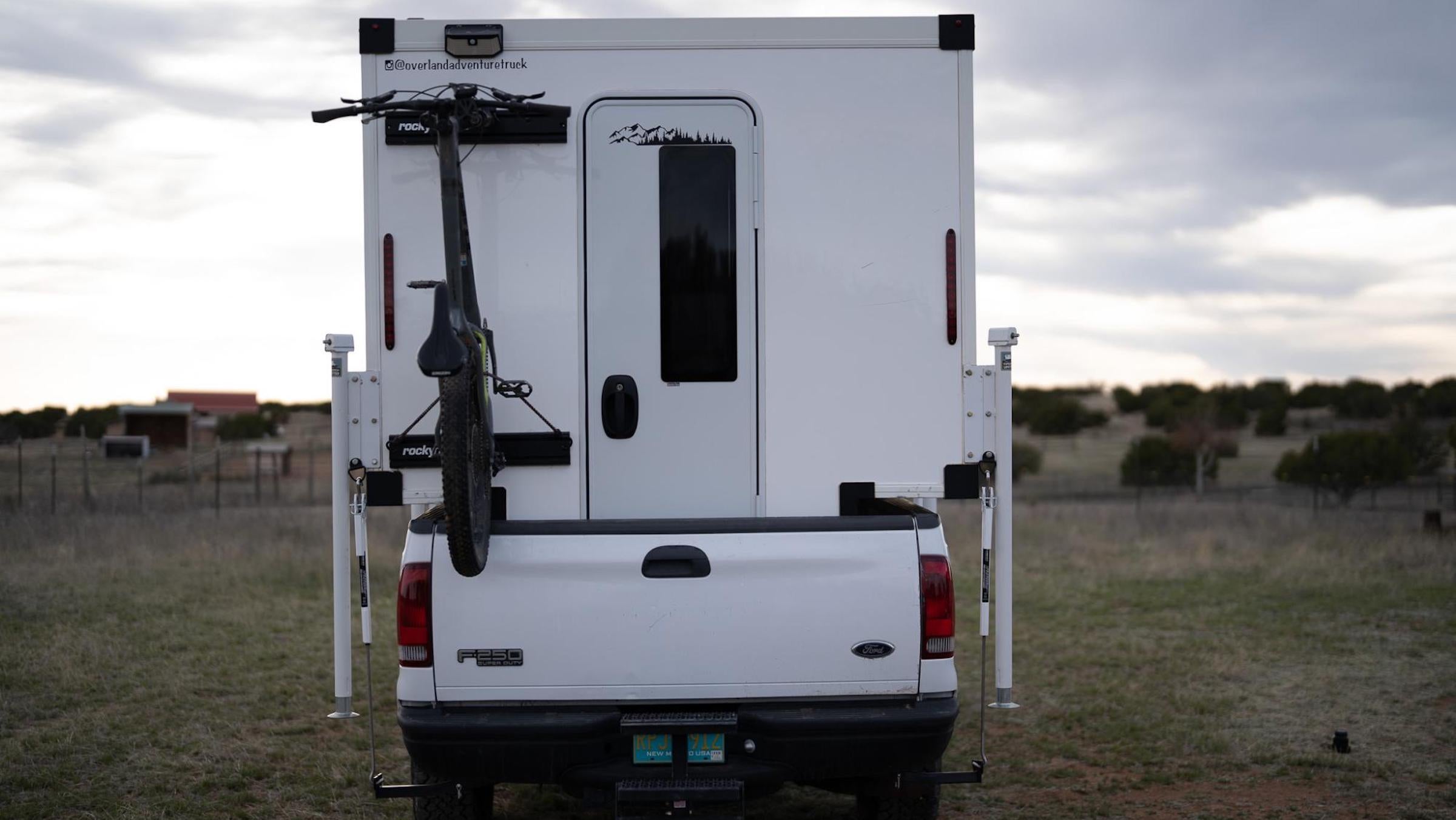 Bryan Rogala
Heading out the door? Read this article on the new Outside+ app available now on iOS devices for members! Download the app.
If you've ever worked on a big project like renovating your home or building your own adventure rig, you know this secret: the task is never really done. I "finished" building my DIY Total Composites Truck Camper last year, but have since made some modifications and added some accessories that really transformed the rig's livability, and will be sharing those here. Bonus: it just so happens that all of the upgrades I've made will work on whatever rig you own, be it a trailer, pop up camper or a van. Check them out below.
Rocky Mounts 24 Inch VanTrac ($70)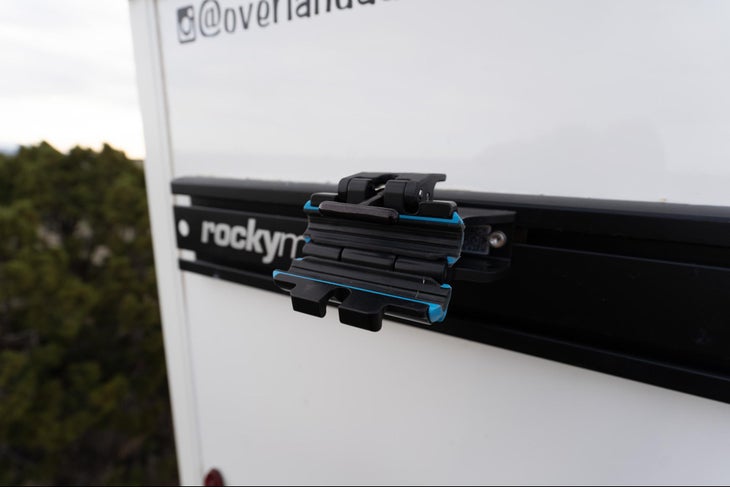 I designed the interior of my camper to be roomy enough to haul a bunch of gear, so I often just threw things like skis, bikes, or coolers inside. But, you can never have enough storage, and moving things out of the way in your living space gets old, so I looked for a solution that would allow me to mount ski and bike racks to the outside of the camper. But, the Total Composites shell is made from foam sandwiched between two thin layers of fiberglass, so you have to be careful about how you attach things.
Enter the VanTrac system. Rocky Mounts designed these for use in a camper van or truck bed, but I found they worked wonderfully on the outside of my camper, too. It's basically a single extrusion with parallel T-tracks for easily attaching fork mounts. Screw it into your van's floor and you've got a secure way to store bikes—you can even mount them offset or at an angle handlebars don't interfere with each other. Because the VanTrac is fairly wide, I was able to glue it to the outside of my camper using the same adhesive the camper is constructed with. I mounted two, 24 inch tracks on the rear wall of the camper and then used their locking DropTop fork mounts to hold my bike in place.
It's a super simple accessory, but it has a ton of different applications thanks to the T-track. I mounted ski racks in the winter to hold my planks vertically, and then quickly changed them out for bike racks this summer.
Campo Van Modular Hanging Bags (from $159)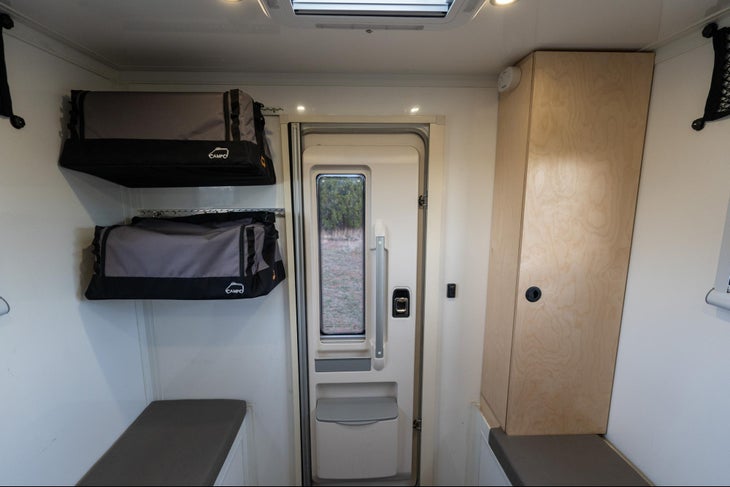 Truck campers notoriously have minimal storage, and after using mine for a while, I found I needed more than the existing cabinets and netting provided. Sure, I could have built more cabinets, but that would have added a lot more weight and taken a lot of time, so I went with hanging bags from Campo Vans instead. I first used these during a trip in my buddy's Sprinter van, but found them to work great inside my truck camper, too. I glued some l-track to the rear wall, and hung two of the medium bags from that.
I like the bags because you can easily pop them off the wall thanks to their mounting hooks, and bring them inside to pack. And the rigid bottom gives them structure, even when they're not full. The medium bag can easily fit a week's worth of clothes and personal effects (depending on how you pack).
Moonshade Awning ($395)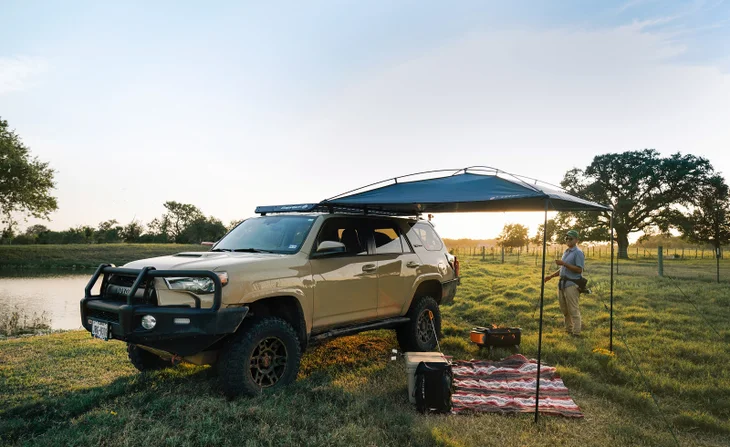 Awnings are an overland accessory that are both amazing and a huge pain in the ass. They're usually heavy, they easily get damaged by the wind, and I've yet to find one that's easy to put away. That said, they also provide a ton of extra living space and are incredibly nice to have when you're trying to get out of the sun or light rain.
My camper presented a few challenges when it came to installing an awning. I couldn't just bolt one to the side because of the aforementioned composite construction. And, because it's hard-sided, installing one on the roof corner extrusion would leave it 12 feet in the air, which meant I'd need a ladder to deploy it. After some looking, I found the Moonshade, which proved to be a tidy solution.
The Moonshade weighs just eight pounds, packs down into a carry bag the size of a small tent, and doesn't require a roof rack. It provides nine-by-seven feet of shade, and sets up quickly. I chose it specifically because it can be attached using suction cup anchors, which means it'll stick to anything smooth. I attached those anchors to the side of my camper (much lower than the roof), and had everything set up in minutes. It held up just fine in mild wind, and did a great job of keeping me and my stuff dry during a late afternoon monsoon one day. It's also a hell of a lot cheaper than most other overland style awnings on the market, and it'll work with whatever rig you've got.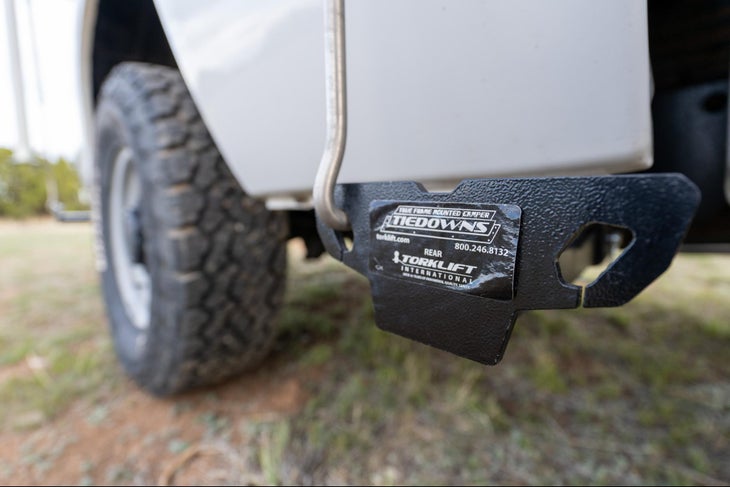 Alright, so this one is specific to truck campers—but if you own one, I guarantee this will be the best modification you make. Over the winter I got tired of taking the camper on and off the back of my Tundra, so I did what any logical human would do and bought another truck, just for the camper. I also I decided to switch up the camper's mounting system, and went with frame-mounted tie downs and Fastgun turnbuckles from Torklift.
The tie downs are made specifically for your truck model (and are priced accordingly), so I was able to bolt them onto my 1999 F250's frame in a little over an hour. They effectively tie the camper into the truck's frame to create an incredibly secure mounting location. I was then able to use the Fastgun turnbuckles to attach the camper to those mounts. The Fastguns are rock solid, yet still allow you to take the camper off the truck in minutes if you need to—way faster than fiddling with traditional turnbuckles or even the ratchet strap system I had on my Tundra.
But best thing about this system is how secure it made the camper. There was always a bit of movement when the camper was on the back of my Tundra, which once caused some damage to the bed of the truck. Once this Torklift setup was installed on the Ford there was absolutely no movement, and I haven't once worried about the camper shifting in the bed. The peace of mind alone is worth the expense, but once I factor in how easy the Fastguns make mounting the camper to the truck, I'm a complete convert.
BUY TURNBUCKLES NOW BUY TIE DOWNS NOW
Solar Lights ($33 for two)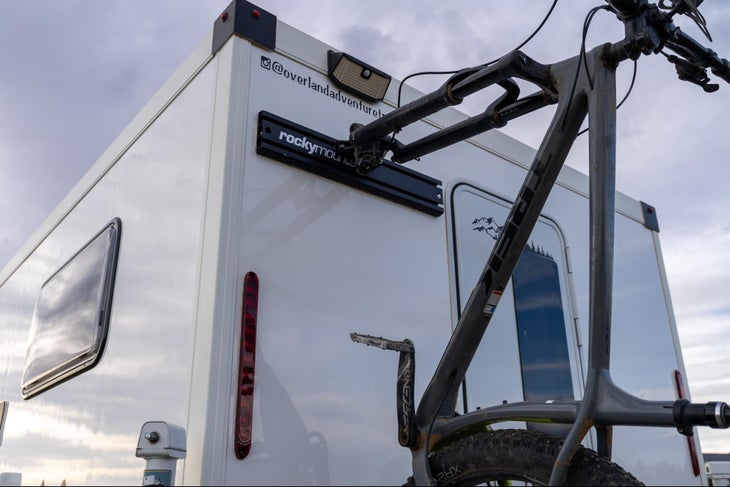 My last mod is an incredibly simple one, but it's one of the best. I wanted to add some outside lighting to the camper, and found this solar-powered, motion-activated light on Amazon. I toyed with the idea of installing a more permanent solution and wiring lights and switches, but thought I'd try this first, and I'm glad I did. The light is incredibly bright, and can be left in the on position or switched to motion-activated mode. It gives off way more than enough light outside the camper at night, and I didn't have to wire anything. Note: make sure you turn off the motion sensor if you plan to drive at night, or you'll blind people behind you.
Lead Photo: Bryan Rogala
Trending on Outside Online