Winter Rig Rentals for Socially Distanced Ski Trips
This season you're going to want an adventuremobile you can post up in at the base of the ski area. Here are some good ones.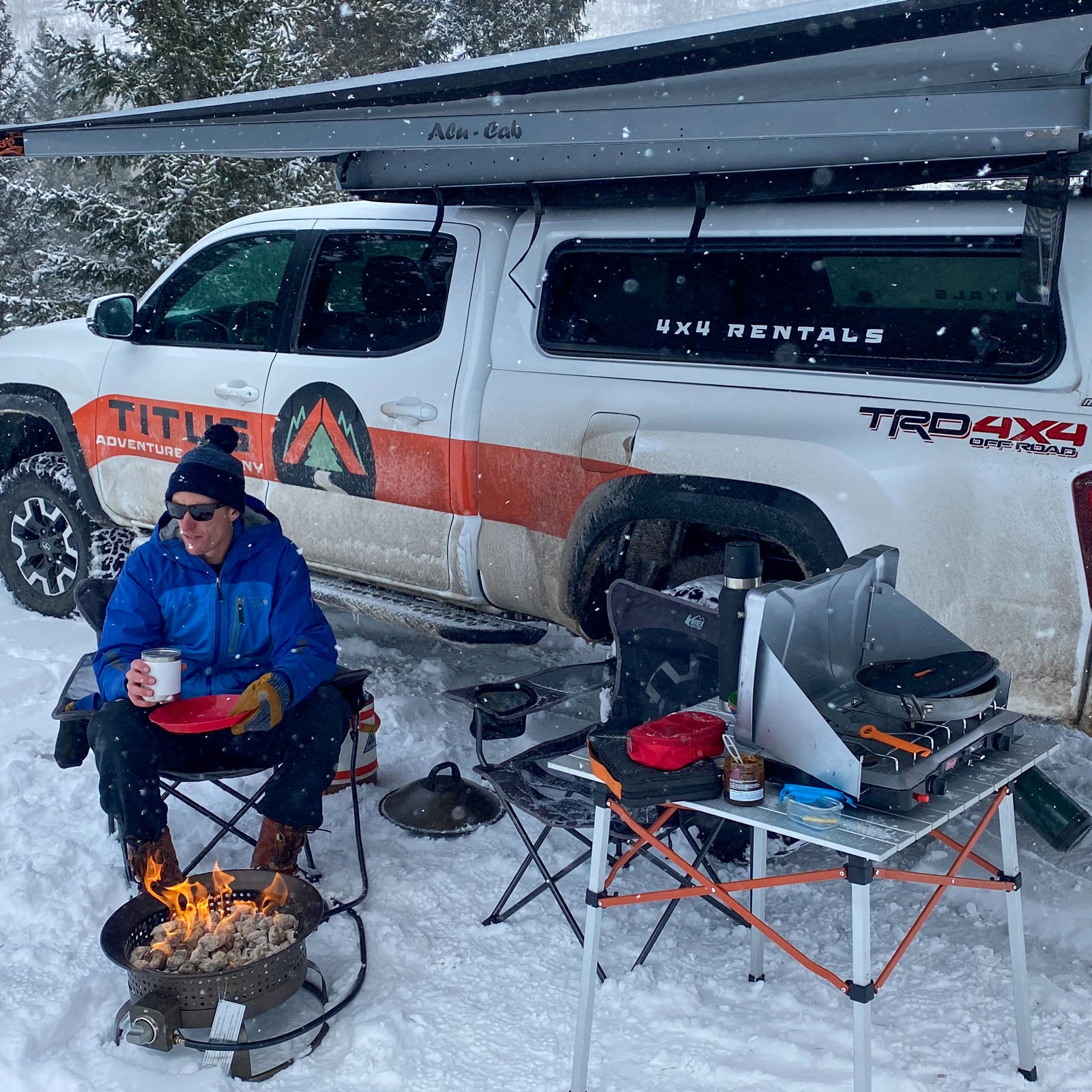 Heading out the door? Read this article on the new Outside+ app available now on iOS devices for members! Download the app.
Still hoping to take a ski trip this winter? It's possible, but it'll be different from what you're used to. Instead of flying somewhere, you'll likely pick a spot that's within driving distance of home. Rather than piling into a crowded ski lodge for hot chocolate or heading to a bar for nachos and shared pitchers of beer, we'll all be turning our cars into mobile, socially distant mini-lodges. The truly dedicated might even rent a winter-ready camper vehicle that doubles as both a hotel on wheels and a midday lunchroom.
Whether you're planning to sleep in the parking lot or are just looking for a car that'll help you get to the mountain comfortably and safely every day, there are tons of options to choose from—trucks, vans, RVs. What's right for you depends on how far you're going, who you're traveling with, and what your needs are. Here's a primer.
Trucks
If you require four-wheel drive to get where you're going, and don't care about deluxe sleeping arrangements, take a truck. They're easy for most people to drive, compared with, say, a 30-foot-long RV. The downside: there's not a ton of living space. Even the most luxurious camper-top setups tend to be minimalist in terms of sleeping amenities. Most will include a basic kitchen and a bed or two but often won't have a toilet or an indoor shower. If those items are critical for you, consider a van or an RV instead.
In Denver, Titus Adventure Company rents out a fleet of four-wheel-drive Toyota Tacomas (from $145) with snow tires, caps, and rooftop tents. An ice scraper, a snow shovel, and a ski rack come with the car. New this year is the Mobile Ski Lodge package (included in the price of the vehicle), stocked with camp chairs, a propane fire pit, Yeti cooler, and stove, so you can set up for après in the parking lot.
In Jackson, Wyoming, Teton Backcountry Rentals rents four-wheel-drive GMC Sierras and Chevy Silverados (from $239) that can sleep up to two or four people in a full cab-over pop-up camper, with an interior kitchen and bed. You can add on winter gear rentals, like an avalanche safety kit (from $38), splitboards (from $60), or touring skis (from $40). Or check out Explore Rentals, in Bozeman, Montana, which has Toyota Tacomas and Chevy Silverados (from $108) outfitted with camper tops and optional rental items, including camp tables (from $3), coolers (from $2), cookstoves (from $6), and Patagonia outerwear (from $10). 
Vans
Vans are best suited for those who don't mind sacrificing a bit of driving capability for more creature comforts. You'll have some room to move around and store your gear, as well as insulation to help you sleep comfortably in most temperatures. Plus they're sleek—you can be part of the #vanlife culture, if just for a weekend. Still, space is limited. While some vans are designed with sleeping arrangements for up to four people, most are ideal for two. And not all such vehicles are ready for snowy passes and subzero nights. If you're renting a van, make sure it has all-wheel or four-wheel drive, insulated walls, snow tires, and a heater that isn't just the engine. 
A good place to start is Outdoorsy, a peer-to-peer site that lists vans (prices vary widely) equipped with ski racks and diesel heaters and has inventory everywhere from Vermont to Utah. In Seattle, Cascade Adventure Vans offers converted Sprinter vans (from $205) with adjustable double beds that sleep up to four and roof racks to store overflow gear. On the East Coast, Vermont Adventure Vans rents an array of four-wheel-drive vans (from $250) with insulated walls and a 300-watt solar system to charge things like your interior lights and refrigerator. 
The Eurovans from Denver-based Rocky Mountain Campervans (from $165) aren't four-wheel drive, but they do come with studded snow tires in the winter. The company also offers half-day rentals if you just want to go out for the afternoon. Roam America, out of Portland, Oregon, has four-wheel-drive Ford Econolines (from $228) with a pop top to sleep in. Perks include trip-planning services, coffee supplies, camp chairs, lanterns, and a deck of cards for no additional price. 
Wandervans rents vans in a range of sizes (from $99), all equipped with snow tires and chains, from Salt Lake City; Boise, Idaho; Portland, Oregon; or Spokane, Washington. (Vans in Salt Lake City and Boise also have 4WD options.) The interior is spartan, with just a sink and a bed, but you can add on a cook stove (free), a propane heater (from $34), or a portable toilet (from $38). 
RVs
If you're traveling with kids or more than two people, or if you're spending an extended amount of time on the road, an RV may be your ideal match, since these big rigs offer the most room to spread out. They're also some of the only vehicles that definitely include an indoor shower and a toilet. But remember: pipes can freeze in the winter, so make sure your heating and water systems are prepared for low temperatures (ask the company you're renting from) or opt to run them dry.
You should also be comfortable driving a hefty RV, especially in snowy conditions, and plan to scope out a place to park a rig of this size. In particular, look for a site to plug in (or bring additional power sources, like a generator). Do your research on campgrounds or RV parks that are open year-round near where you're headed. Again, the rental company or individual owners should be good resources.
Outdoorsy and RVshare are your best bets for peer-to-peer RV rentals, with pick-up locations across the U.S., and Cruise America rents RVs from 126 rental dealers across the country. If you're headed to ski-area RV lots in the Pacific Northwest, NW Adventure Rentals has winter-ready rigs from Seattle and Portland.
Other Things to Know
Again, make sure the vehicle you're choosing is ready for snow and winter conditions. Does it have all-wheel or four-wheel drive or come with chains or snow tires? Is it equipped with a ski rack, a roof box, or room to stash your gear inside? Does it offer essentials like proper insulation, a window scraper, and a shovel? (A carbon-monoxide detector is good to have for safety as well.) If you're not comfortable driving a big vehicle through inclement weather or over mountain passes, there are campers that can be delivered to a campground or RV lot directly. (Outdoorsy is one company that offers this service.) 
If you'll be winter-camping overnight in the vehicle, do some research on where you're allowed to park. Some ski resorts permit overnight RV camping, or you can find private, year-round RV resorts in close proximity to the ski hill you're headed to. And before you go, read up on what the mountain of your choosing is doing in terms of its COVID precautions and if advance reservations are required.
Corrections:
(03/29/2023) An earlier version of this story listed Wandervans's stove as a $37 add-on, but it is actually free. We regret this error.
Lead Photo: Courtesy Titus Adventure Co.