Indefinitely Wild
The Volvo XC40 Is the Perfect Car for Normal People
Design, luxury, and practicality—all for $600 per month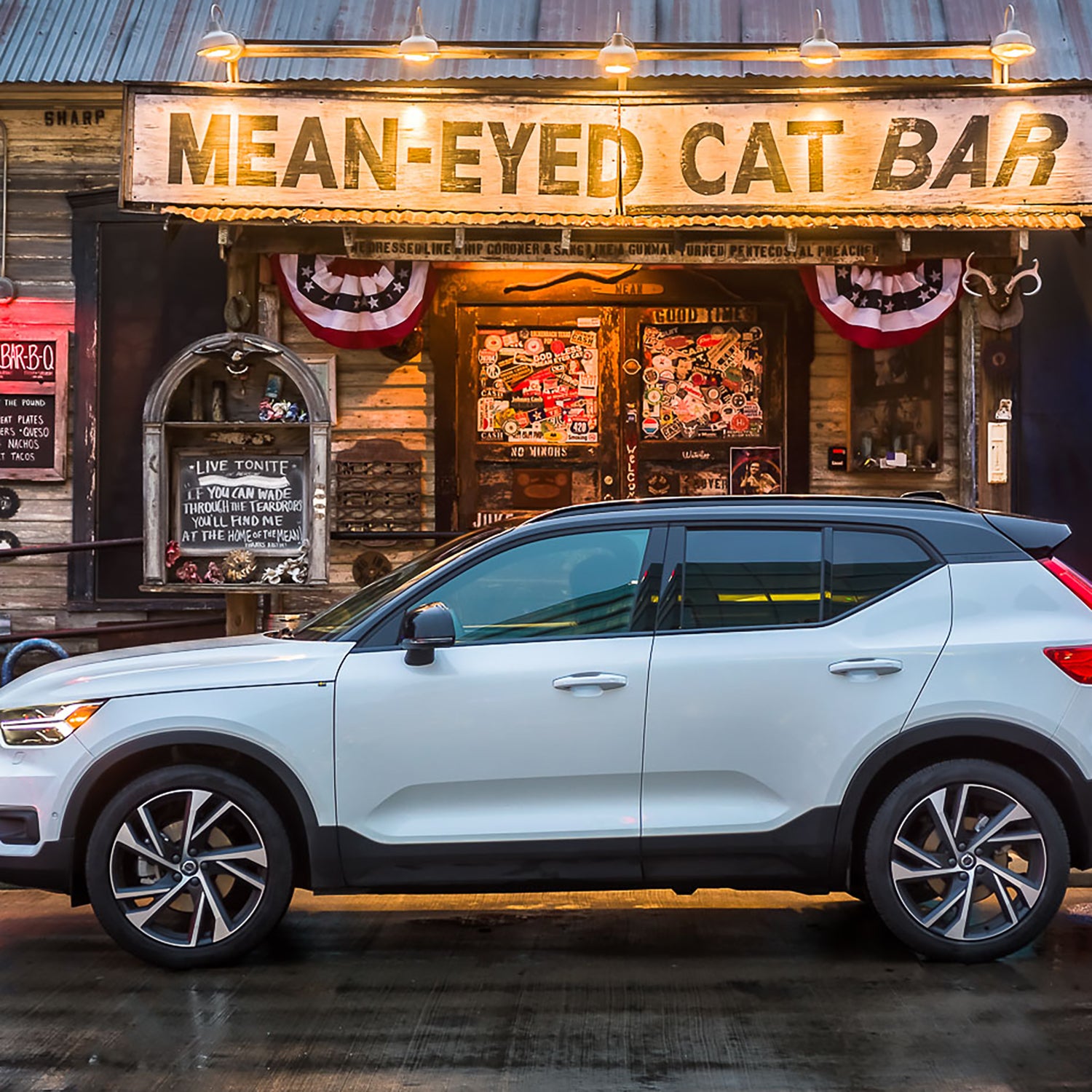 Heading out the door? Read this article on the new Outside+ app available now on iOS devices for members! Download the app.
We're enthusiasts of lifted trucks and fast sports cars, so you might be surprised to learn that our favorite vehicle of 2018 is this compact Volvo crossover. It's the most unique, useful, comfortable, and just plain creative vehicle we've driven in a long time.
What Is It?
The XC40 is an all-wheel-drive compact luxury crossover. Think: the BMW X1, Audi Q3, Mercedes GLA, Lexus UX, Infiniti QX30, Hyundai Kona, Lincoln MKC, Jeep Renegade, Mazda CX-5, Subaru Crosstrek, Cadillac XT4, Acura RDX, Jaguar E-Pace, and probably half a dozen others we're forgetting at the moment. The category is enormously popular right now. 
Thing is, most of them are pretty similar, with phoned-in designs, mediocre driving experiences, and plastic-y interiors. But the XC40 stands out. With this car, Volvo tried to give normal people the perfect car for everyday use. We think they've succeeded.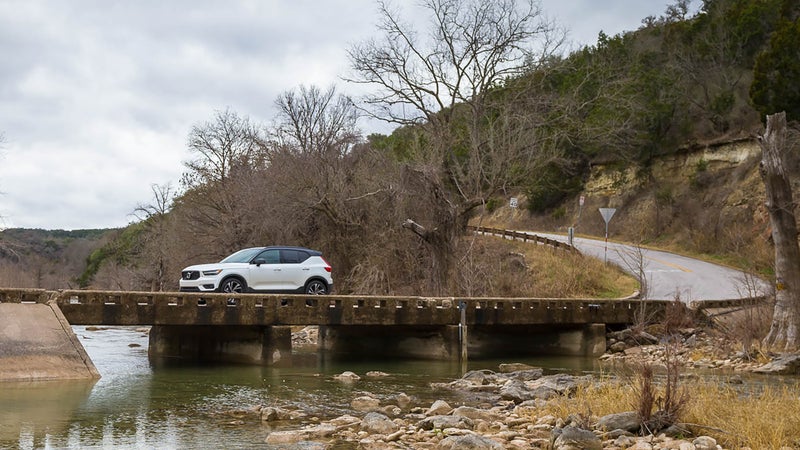 Who Is It For?
In short: People who need the small dimensions of a compact car for city parking, but also want a spacious interior for hauling people and stuff; people looking to make their commutes as comfortable as possible; people who value comfort, appreciate good design, and want a vehicle they can be proud of.
It's also good for people who are sick of the traditional car-buying process. While you will technically be able to negotiate a finance plan for the $36,000 vehicle with a person in a polyester suit, write a check every month to an insurance provider, and figure out all your oil changes and tire swaps yourself, Volvo would much prefer that you simply avoided all that hassle by subscribing to a $600 per month autopay plan instead.  
With zero dollars down, that amount includes every fee associated with leasing the XC40—with the exception of gas. It takes care of your service, your consumables (tires, brake pads, and even windshield wipers), your repairs, and even your insurance. With an annual allowance of 15,000 miles, that strikes us as a very good deal, especially for people who live in expensive insurance markets like New York, San Francisco, and Seattle. The subscription will last for two years, but drivers will have an option to swap cars after just a year, with a two-year renewal.  
Driving It
The XC40 is almost soothing to drive, while still providing you all the tools you need to compete on today's congested streets. Where other crossovers try to fool you into thinking they're sporty by spec'ing stiff suspension, the XC40 has the ride quality of a large luxury sedan, combined with the kind of clear outward visibility in all directions that disappeared on many other cars decades ago.
That's all backed up by a punchy 2.0-liter turbocharged four-cylinder motor that pairs well with the eight-speed automatic transmission to deliver oomph when you want it, and refinement and fuel economy (23 MPG city/31 MPG highway) everywhere else. It's faster to 60 miles per hour than an equivalent Porsche Macan, but back off the throttle, and it's far smoother and quieter than cars this size have any right to be.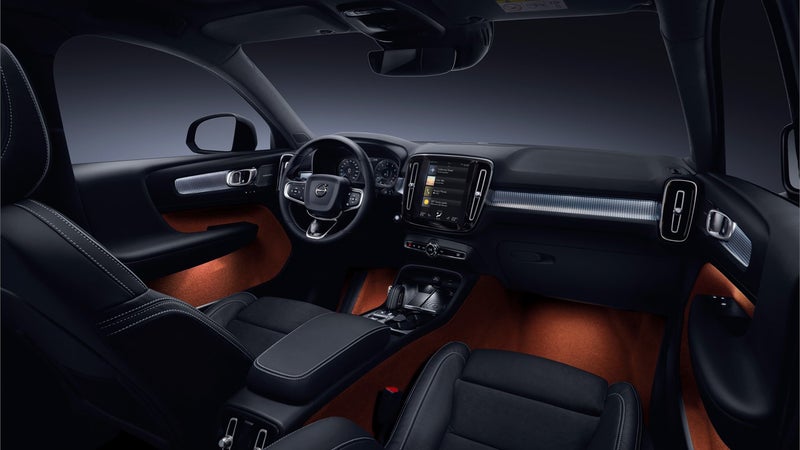 Design
The XC40's exterior is strikingly unique, the best expression of Volvo's newfound confidence. And the interior is delightfully practical.
Climb inside, and clever, unique features abound. Where most other cars tack on small door pockets for items like wallets and bottled drinks, Volvo has molded into the XC40s doors huge wells, that can easily swallow a purse, or large laptop. Need to charge your phone? Throw it in the large central cubby, where there's a big, flat capacitative charging platform. The carpet is a hard-wearing, synthetic weave that looks like it's been borrowed from a floor mat, or the water and dirt-shedding floor of a ski lodge, and should work equally well at getting rid of all the crap you track inside.
What you're going to notice first, and use most often, though, is the nine-inch touchscreen mounted vertically in the dashboard. It has a physical home button, just like an iPad, and works in a fluid, intuitive manner that's very Apple. In an intelligent assessment of who its subscribers will be, and how they actually use their cars, Volvo has prioritized access to features like Spotify and Wikipedia.  
The back seats are comfortable, and spacious, thanks to their upright position, and fold flat at the push of buttons, mounted just inside the tailgate, creating a large-for-the-class load area. Oh, and you can open that simply by kicking the bumper, if your have the key in your pocket.
Likes
Striking looks.
Simple subscription model eliminates ownership hassles, at a good price.
Useful interior offers a great experience every time you use it.
Intelligently designed to provide practical solutions to everyday problems.
Smooth ride.
Fast acceleration.
Good fuel economy.
Feels special.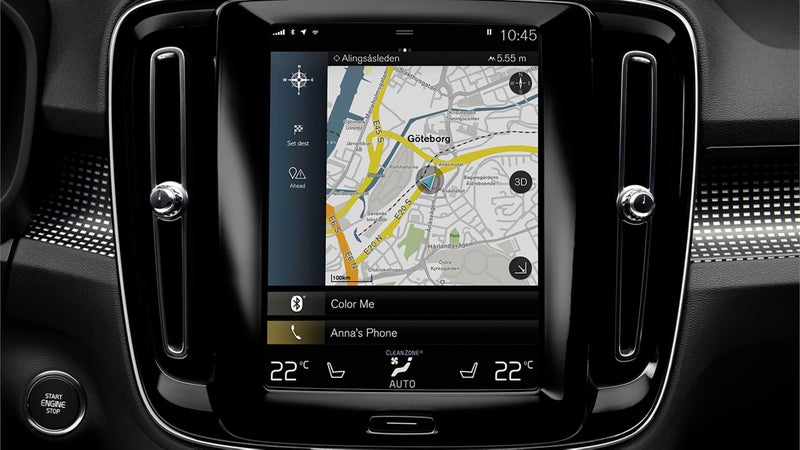 Dislikes
Twitchy steering is out-of-sync with otherwise relaxing drive.
No hybrid powertrain.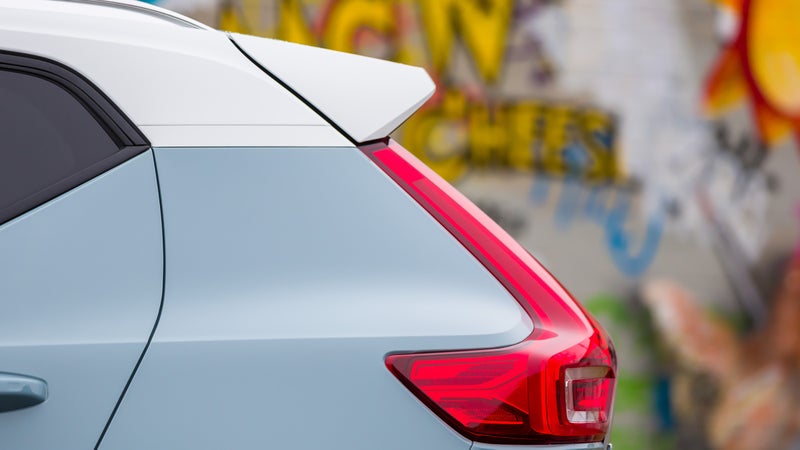 Should You Buy It?
No, but we really think you'll enjoy subscribing to one. Volvo has created a normal car for normal people that is remarkable in every aspect—from the way it looks to its functionality to it payment plan. Unless you need significant off-road capability, three rows of seats, or want a dedicated sports car, then this is probably the best vehicle you can not-buy right now.