Indefinitely Wild
The Kawasaki Versys-X 300 Bike Is Ideal for Beginners
Want to ride around the world? Start here.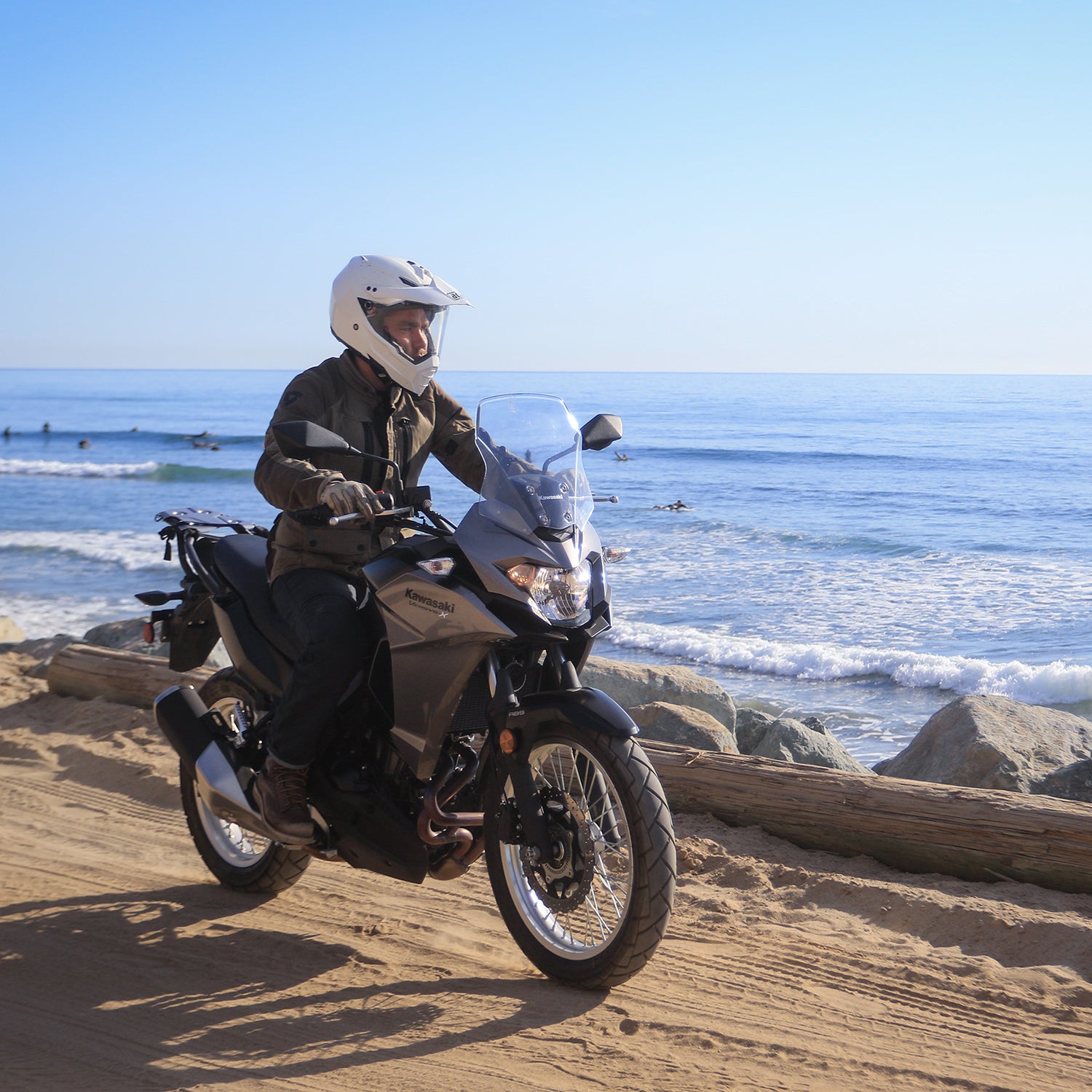 Heading out the door? Read this article on the new Outside+ app available now on iOS devices for members! Download the app.
The new Kawasaki Versys-X 300 aims to deliver capability both on the highway and off-road, enabling learners to start pursuing their round-the-world, dirt-track dreams.
What Is It?
The adventure bike is basically the Swiss Army knife of the motorcycle world. Machines like the archetypal BMW R1200GS are as adept in city traffic as they are traversing sand dunes. But they can be hard on beginners, as they're usually quite heavy, powerful, and thus difficult to handle at low speeds—like when you're cruising along a forest road. 
Enter the Versys-X 300. Borrowing the small, trusted 34-horsepower 296cc parallel-twin from its Ninja 300, Kawasaki built this bike to be light enough for new riders. Weighing just 386 pounds with a full 4.5-gallon fuel tank, the Versys-X 300 comes in hundreds of pounds lighter than its competitors. 
It's got the tall, narrow tires, long-travel suspension, and upright riding position of the larger adventure bikes, but it's got a less aggressive 32-inch seat height and costs just $5,399—about $2,000 cheaper than any other bike in the class.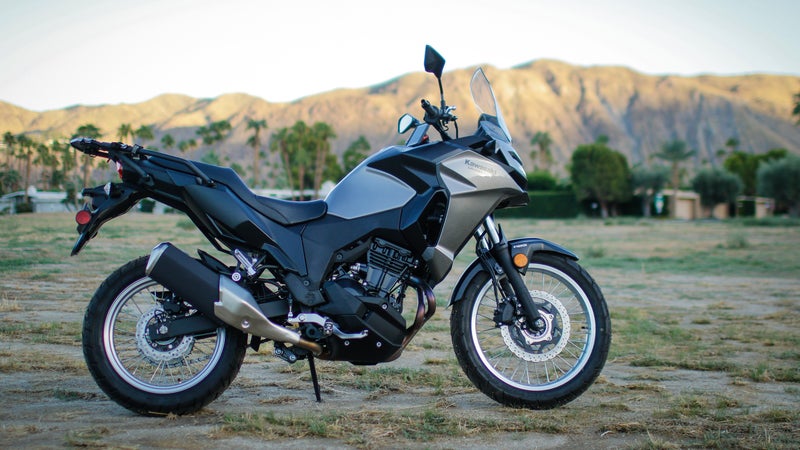 Take a few years to learn on one of these, and you'll be ready to handle something with a larger engine.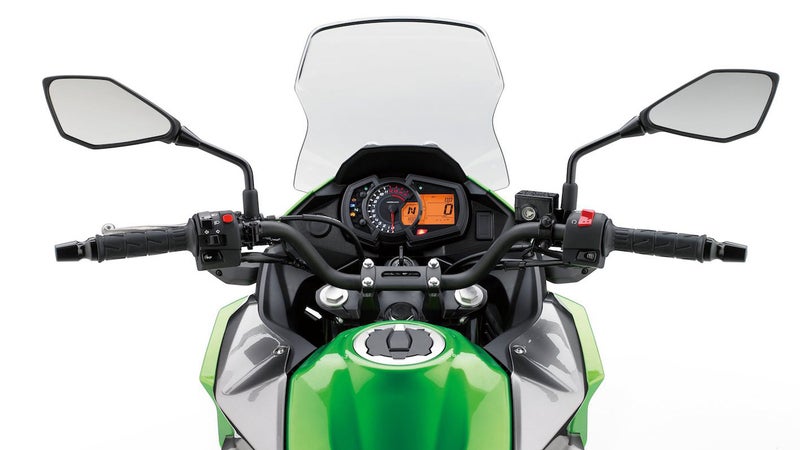 Design
The Kawasaki isn't a handsome bike, but it is utilitarian. The narrow 19-inch front wheel is intended to guide the bike through loose gravel and sand, while also rolling easily on asphalt. The five inches of suspension soak up moderate bumps. The wide handlebars make it easy to comfortably stay in control. The big windscreen diverts wind blast over your shoulders. The large seat is ideal for two. The low pegs allow your legs to stretch out. It's also got the crash bars, hard luggage, and LED spotlights that make adventure bikes so popular and versatile. 
The Versys-X has one thing other adventure bikes do not: slim dimensions. At just 34 inches wide, you'll have a much easier time riding this thing in city traffic.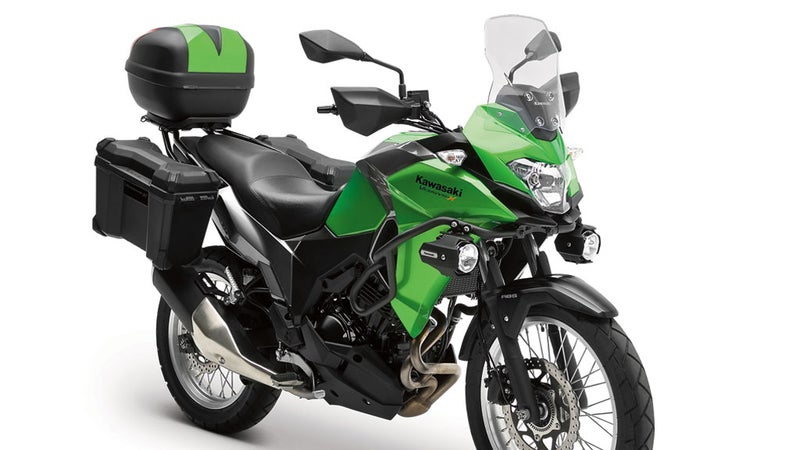 Riding It
I expected 34 horsepower to feel gutless, but in such a light machine, it's more than enough to hustle down a dirt road or keep up with highway traffic. The liquid-cooled, counter-balanced twin engine revs smoothly. 
That light weight paired with the wide handlebars means the Versys-X changes direction quickly, but it's also stable once banked over in the corner. The combination is very confidence inspiring—a hallmark of any good beginner bike. 
Perhaps the biggest surprise is how good this little bike is on the highway. Sure, the engine revs manically (I often looked down and was surprised to see 12,000 RPM on the tachometer), but the chassis remains planted even at law-breaking speeds. (The bike's top speed is just about 100 miles per hour.) The screen and fairing did a good job keeping me out of the wind. 
Like other adventure bikes, the stock tires are ultimately the ride's biggest limiting off-road factor. Swap them for knobbies, and there'll be no reason the Versys-X can't go anywhere a BMW can.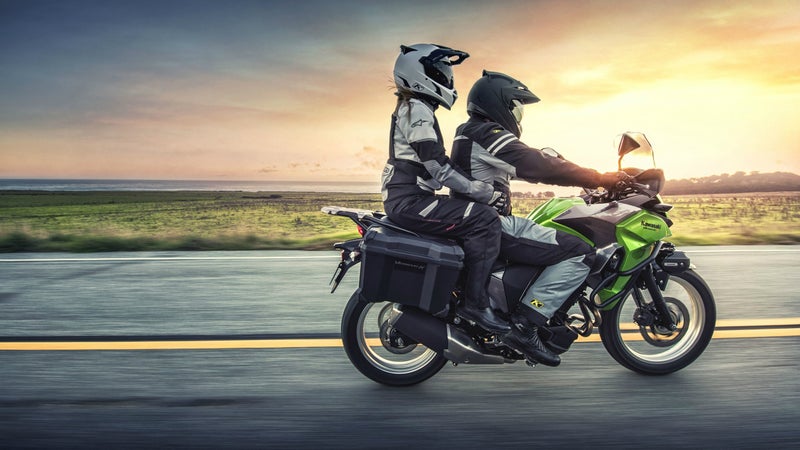 Likes
Low seat height and light weight make the Versys-X incredibly friendly.
Twin-cylinder motor is modern, smooth, and plenty powerful.
Genuine all-day comfort is something machines costing three times as much don't always get right.
Spoked wheels deliver genuine knobby tire choice.
Dislikes
Non-switchable ABS is intrusive off-road, and is a $300 option.
Color options are limited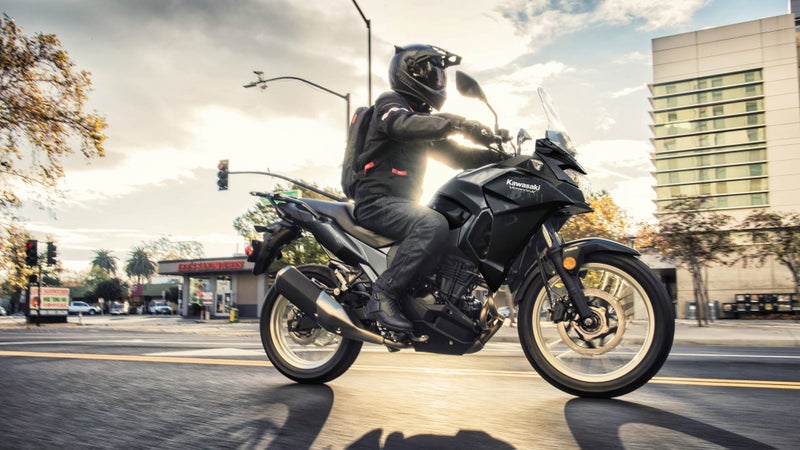 Should You Buy One?
This little bike is the best way to start exploring the world on two motorized wheels—it's inexpensive, comfortable, and just powerful enough.