Indefinitely Wild
We Hit 100 MPH Off-Road In the All-New 2017 Ford Raptor
The best off-road truck ever just got much better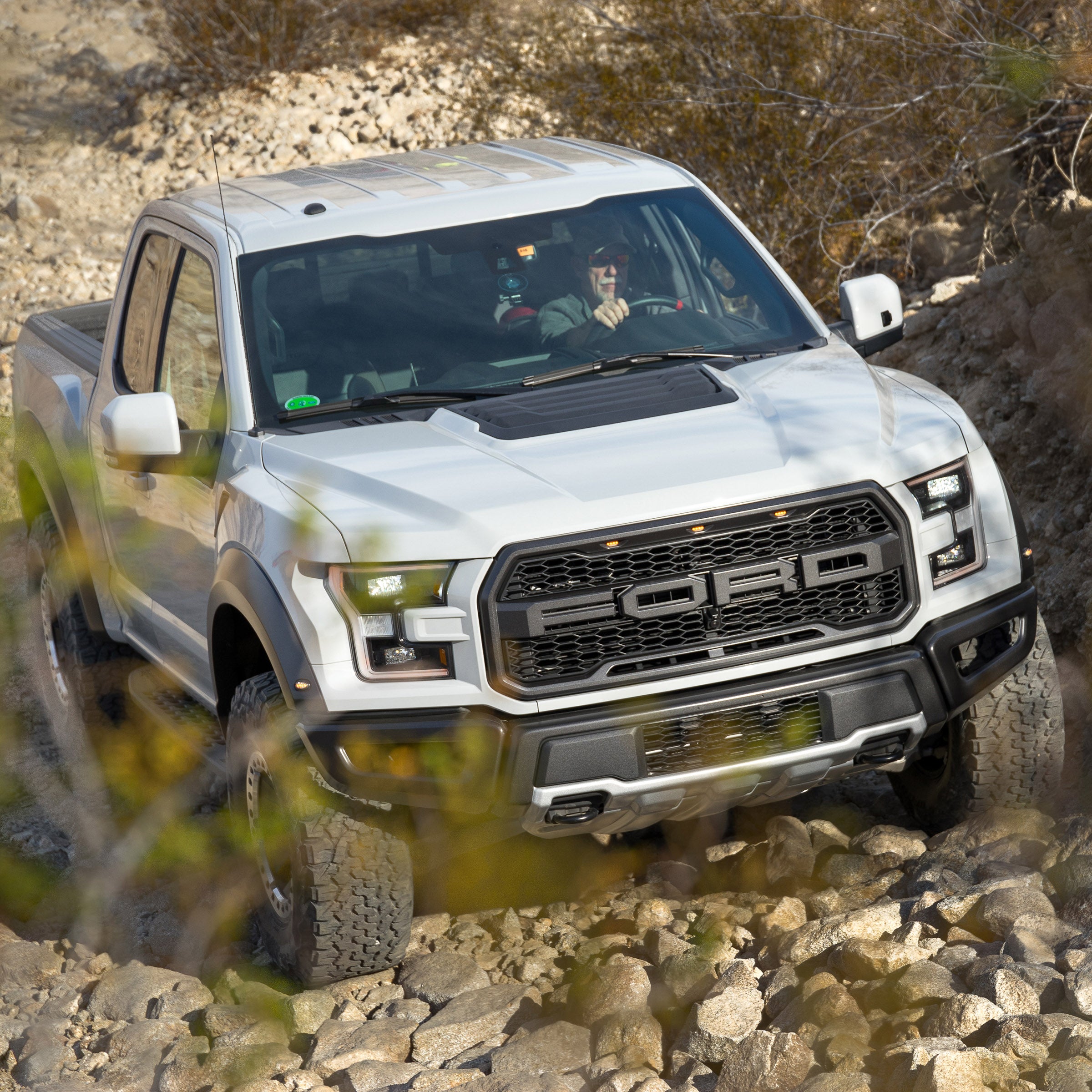 Heading out the door? Read this article on the new Outside+ app available now on iOS devices for members! Download the app.
You'll be familiar with the Ford Raptor from the first generation, launched in 2010. That was already the fastest off-road production truck ever made, but its unexpected sales success enabled the company's Special Vehicle Team to double-down on this new model, starting from the ground up to build something that's wholly new, vastly more capable, and even more user-friendly. 
How good is the new Raptor? A showroom stock model, upgraded only with the required roll cage, fire extinguisher, navigation equipment, and auxiliary lighting, just completed the most grueling off-road race in North America—the Baja 1000—then drove home.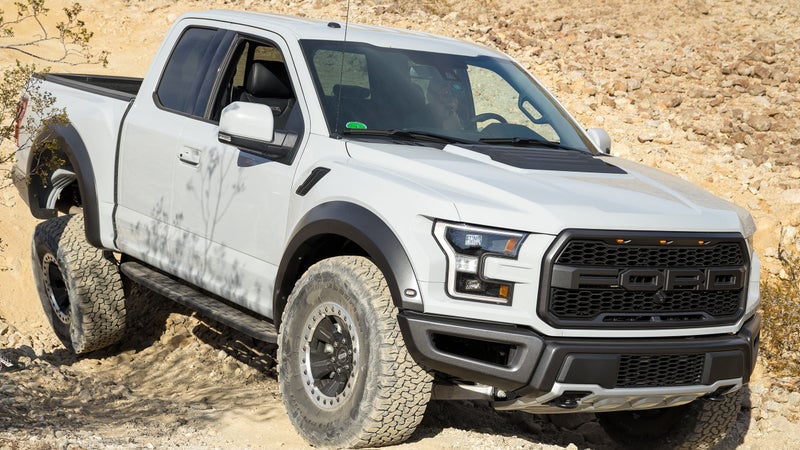 What Is It?
Beginning with the lighter, more fuel-efficient new Ford F-150, Ford has comprehensively rethought the pickup for performance off-road driving. It's six inches wider and two inches taller than the stock vehicle. The frame is reinforced to handle high-speed impacts and redesigned to facilitate increased wheel travel. The all-new motor shares components with the upcoming Ford GT supercar. The nine-stage, internal-bypass Fox Racing shocks don't just bring 13-plus inches of travel, but also allow the Raptor to land jumps, glide over whoops, and even boost handling on paved roads. A dedicated 10-speed transmission works to keep the 450-horsepower engine in its powerband, while also increasing fuel economy. There's even a new transfer case that's capable of operating not only in two-wheel and four-wheel drive, but unlike any other pickup, it works as an all-wheel drive vehicle, too. 
The 2017 Ford Raptor isn't just the fastest off-road truck ever ever available with a warranty. It's also the easiest to drive off-road, the smoothest riding on one, and the most capable winter weather road vehicle ever made. That you can get all that starting at just $49,520 makes the Raptor something of a miracle.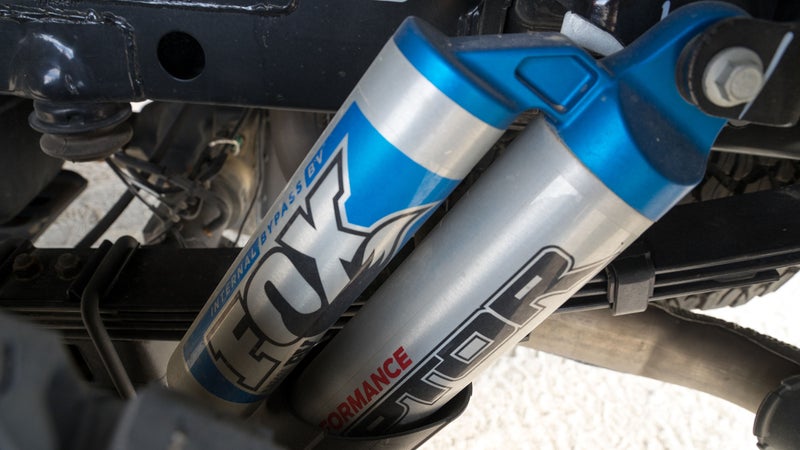 Who's It For?
Don't be fooled by the Raptor's image. While its in-your-face styling, and dramatic off-road capability will strongly appeal to truck enthusiasts, this vehicle's capability makes it applicable to a wide range of potential customers. 
Are you a skier? The Raptor's winter-rated BF Goodrich tires combine with its ability to operate in AWD to make it the most snow-friendly vehicle on-sale today. And you'll have plenty of room for skis, boards, and any other winter toy in the huge bed. And you'll be cosseted by the plush suspension on the drive up to the mountains. 
Are you a mountain biker? The Raptor isn't just more capable off-road than any other vehicle sold today, it makes driving across technical terrain exceptionally safe, and exceptionally easy. You won't have trouble reaching a trailhead in this thing. 
Are you an overland 4×4 type? As a large pickup, the Raptor may lack some of the extreme angles and the live front axle of a Jeep, but it'll get you up and over rocks with much better ride quality, and much more space for people and camping gear. 
Do you need your off-road rig to do double duty as a commuter? Not only does the Raptor return a respectable 15 miles per gallon (city), and 18 miles per gallon (highway), but on the road it rides like Lexus, and handles like a BMW. 
Do you have a family? With 43.6 inches of rear legroom, the SuperCrew variant is significantly more spacious inside than even a Mercedes S-Class or BMW 7-Series. 
In short, the Raptor is the best companion for outdoor recreation you could ever hope for. And if you get tired of camping, you can always take it desert racing.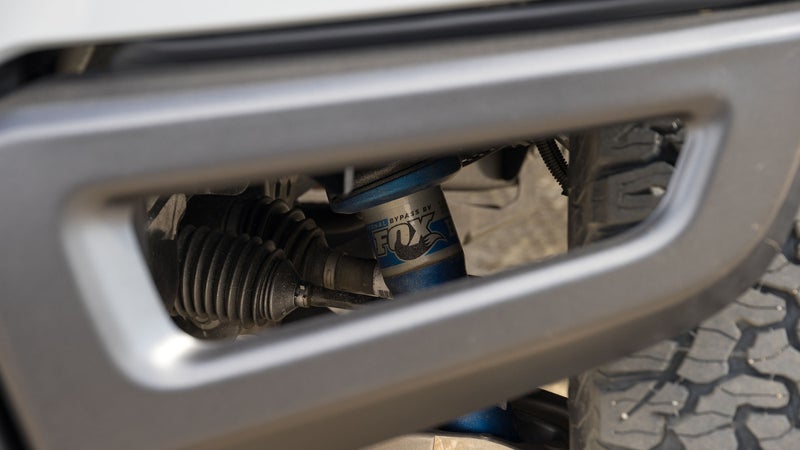 `
Design
The 2017 Ford Raptor is much more than the typical appearance package we've come to expect from modern "off-road" trucks. Over 400 changes were made compared to the standard F-150: Ford did not cut any corners when it designed this truck. Even unseen parts like the brake lines were re-routed to further boost available wheel travel. 
The Raptor's 3.5-liter, twin-turbo V6 shares nothing with the standard EcoBoost motor. At 450 HP, and 510 Lb.-Ft. of torque, it develops 39 horsepower and 76 pound-feet more than the previous Raptor's 6.2-liter V8, while also dropping significant weight.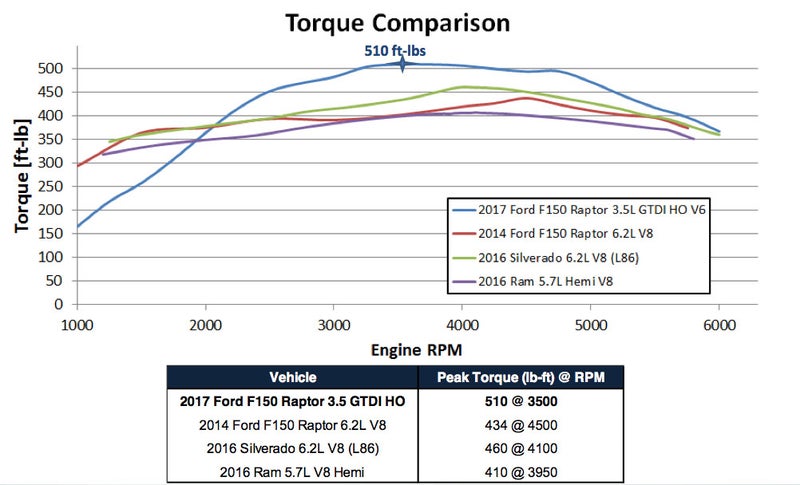 Worried the smaller motor might lack low-end oomph? It doesn't: peak torque actually arrives 1,000 rotations per minute lower on the new, smaller motor. And that's before you even get to the ten-speed transmission; all those gears allow both lower and taller gear ratios than the six-speed it replaces. 
Of course, the heart of the Raptor remains its incredible suspension. Ford has again partnered with Fox Racing to develop a no-compromises, racing-spec shock of the kind it would cost tens-of-thousands of dollars to replicate in the aftermarket, on any other vehicle. The three-inch diameter shock bodies contain nine-stage, internal bypass damping, that alters the rate of piston travel depending on the conditions the Raptor finds itself facing. In short, it will land huge jumps, cancel out washboard, and also provide responsive handling on smooth roads. There's nothing even close to suspension this good available on any other stock vehicle. It also delivers a very impressive 13 inches (front) and 13.9 inches (rear) of wheel travel, further boosting ride quality, and articulation off-road. 
The Raptor is available in two versions: SuperCab, and SuperCrew. The latter has four full-size doors, but also increases the wheelbase from 134.2 inches, all the way up to 146, potentially compromising the truck's ability to cross steep obstacles. In return, it increases towing capacity from 6,000 to 8,000 pounds. Both models are fitted with modest 5.5-foot beds, with 1,000, and 1,200 pounds of capacity respectively.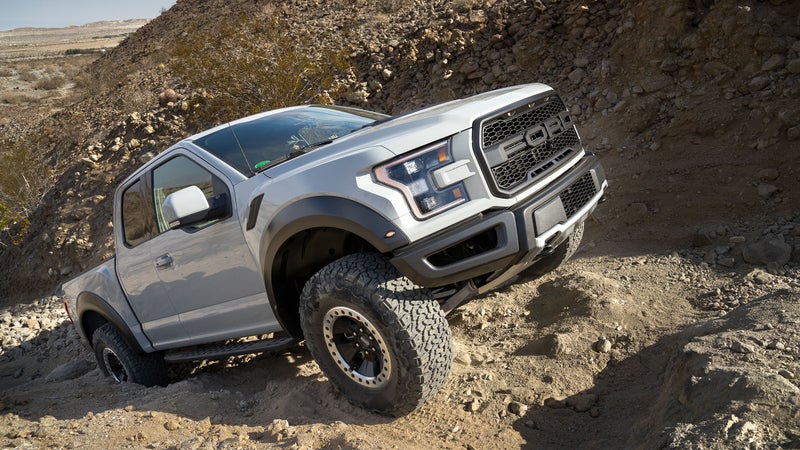 `
Driving It
We tested the new Raptor in California's Anza Borrego desert, across a mix of high-speed sand, and low-speed rock crawling. 
While the truck is obviously extremely capable, what's surprising is that it's also forgiving of driver error and easy to correct when things start to go wrong. Big brakes shed speed quickly when you realize you're going too fast, and the phenomenal suspension will soak up mistakes you make with ease. 
Making things easier on the driver is Ford's new Terrain Management System. We've seen similar electronics on other off-roaders from several brands for a decade or more, but here they combine with the Raptor's sophisticated drivetrain to make its many configurations easy to access. Rather than puzzling through throttle and steering response rates, traction control, and stability control settings, high and low gear ranges, and the rear differential lock manually (you can still do that if you want to), Ford merely asks you to dial in the kind of driving you're doing, then the truck handles the rest for you. This works particularly well in Sport and Weather modes, which additionally employ the truck's AWD system when the rear axle begins to slip. 
(Make sure you read our 4WD vs AWD explainer to fully understand the difference between the two drive systems, and why having both on the new Raptor is so beneficial.) 
The real winner here is the Raptor's Baja Mode, in essence, a sport-mode for off-road use. It was my preferred jack-of-all-trades for everything the Raptor is built for—going fast in the desert. It engages four-wheel drive high-range, and locks the Raptor's clutch-controlled center differential. It turns the Raptor into a surgeon's scalpel, allowing you to dissect terrain at your own will at any speed, ensuring that the Raptor's engine is loaded in the right gear and ready to fire. Need to lift the front end for some incoming whoops? The throttle is right there, without delay. Ford put a lot of work into the driving experience of the Raptor, this is where it shows the most.
It almost makes the Raptor's performance too accessible. When you're off-road, the margin of error is already dramatically smaller compared to the pavement, but when you're hitting the desert with speed, it's miniscule. The constantly changing environment throws obstacles at drivers faster than they may be prepared to deal with. Ford would be wise to offer some kind of performance driving program for customers of the new Raptor. We easily hit 100 miles per hour on a smooth sandy track. That kind of speed is dangerous on perfectly paved roads. Off-road? It could kill inexperienced drivers. 
Wide and long, the Raptor maximizes stability at high speeds, but those expanded dimensions become problematic on tight, technical trails. This isn't the best vehicle for those intending to spend time rock crawling; for that you'll still want a Jeep Wrangler. 
The suspension also demonstrates some limitations on rough roads. While it's a magic carpet at higher speeds, and larger impacts, simple off-road bumps don't appear to be enough to wake up its shocks. 
With those limitations understood, the Raptor's spec sheet is otherwise ideal. On any other vehicle, stock components are limited, and require replacement for heavy use. But on this Ford, you won't need to add anything other than maybe some auxiliary lighting. The 35-inch BF Goodrich K02s are the best tires in the business, and the wheels they're mounted on are bead lock ready. You couldn't buy better suspension in the aftermarket. There's even strong, easily-accessed recovery points tied into the frame, as well as robust skid plates to protect mechanical components from high-speed impacts.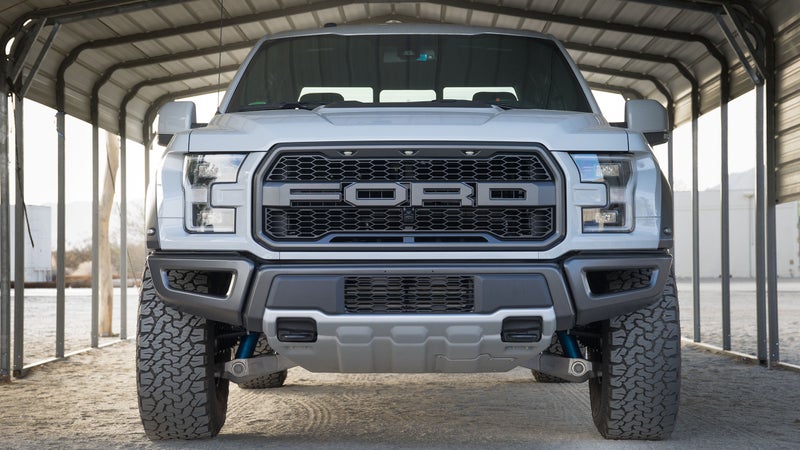 Likes
Even money-no-object, you couldn't make a vehicle this good in the aftermarket. Not only is it capable, but it's easy-to-drive, and even returns decent fuel economy.

The Raptor retains 87.8 percent of its value after two years.

Unmatched high-speed off-road performance. There's nothing else like this. Period. 

Swanky, spacious interior outdoes many luxury cars. 

10-speed transmission, and paddle shifters make the most of the engine's massive performance.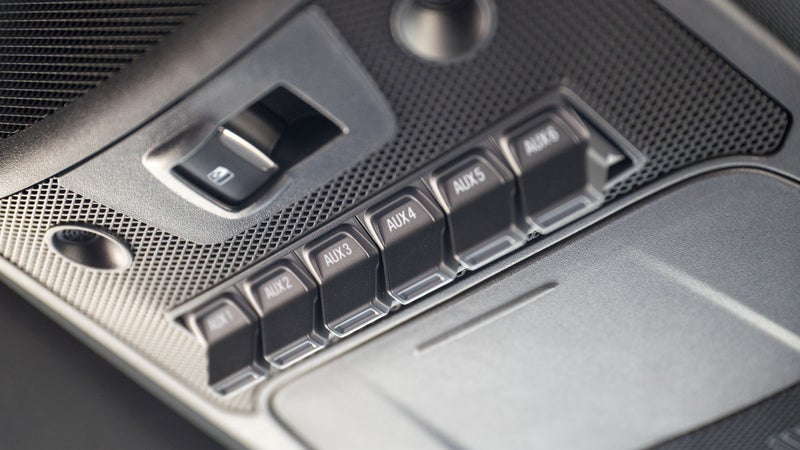 Dislikes
Needs an eight-foot bed option; you won't fit a motorcycle in the back of a Raptor unless you keep the tailgate down.

This thing's a mile wide. Parallel park it in a city and you'll block half the driving lane. 

Performance driver training should be mandatory for Raptor customers. 

The energy drink-swilling image will be a bit much for some, bro.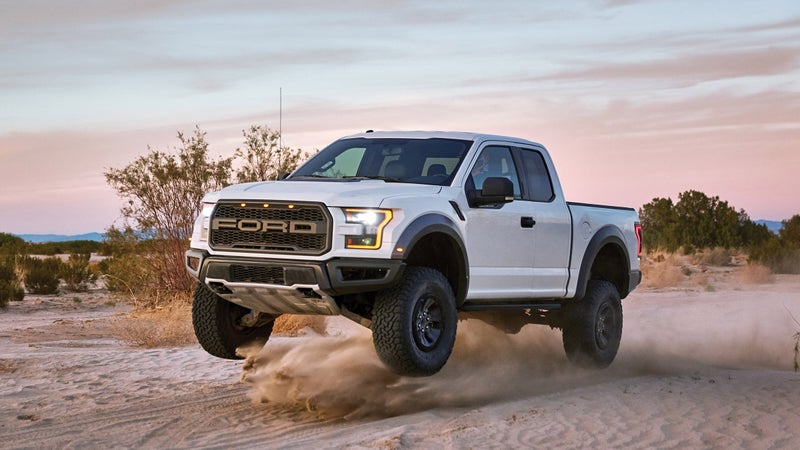 Should You Buy One?
Don't be mistaken: this isn't just an F-150 with a new grill and some aftermarket shocks. And it isn't just an incredibly fast desert racer either. This new Raptor is incredibly easy to live with, reasonably frugal, very luxurious, and obviously exceptionally capable. 
The best off-road truck you can buy? We think it's the best truck there is, full stop. Not only will it handle all kinds of terrain, and extreme weather, but it's smooth, quiet and civilized on the road, too. 
Should you buy one? I know I'm planning to.