Gear Guy
What Gear Should I Carry in My Car at All Times?
Everything you need for adventures, or mishaps, on the road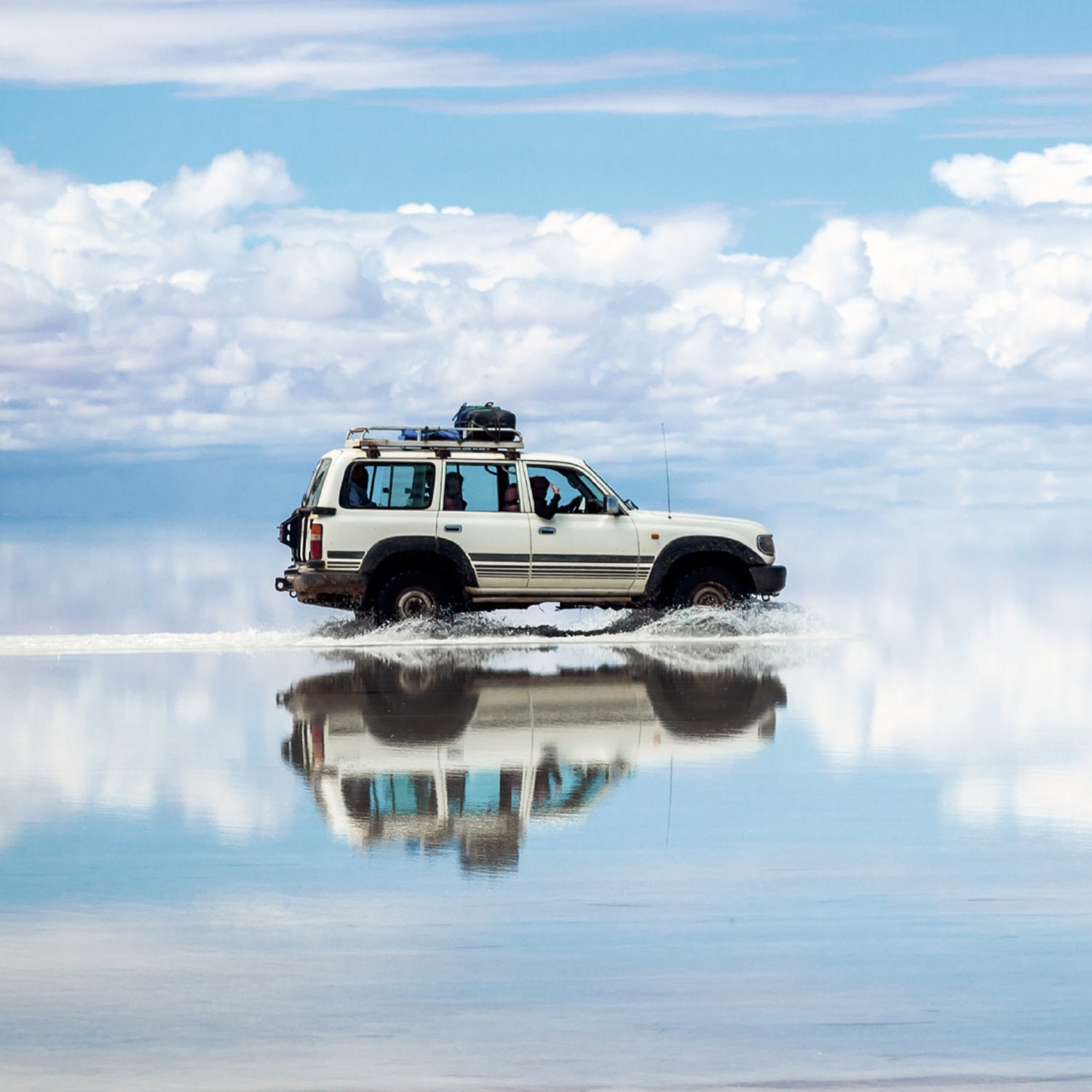 Onfokus/iStock(Photo)
Heading out the door? Read this article on the new Outside+ app available now on iOS devices for members! Download the app.
You might assume that, as Outside's Gear Guy, I drive a Tacoma or Outback. You'd be mistaken. My ride is a 2000 Toyota Camry that my grandma bequeathed me when she turned 90. While it doesn't have four-wheel drive, it still gets me to the ski area (with chains on), and the gas mileage is awesome. I also have a trunk full of outdoor gear that keeps me prepared for any adventure. Here's what lives in there at all times.
---
Black Diamond Dirt Bag Glove ($45) 
If you've ever put chains on your car, you know it's nearly impossible to do without bomber gloves. I like Dirt Bag gloves because they're made from leather and won't tear while messing with metal and ice. Sure, $10 work gloves will do, but these add a little insulation for really cold days and pull double duty on the hill if I forget my ski gloves. During summer, I use them to collect firewood at camp and handle hot pans in the fire.
---
Auto Trac Self Tightening Traction Chain ($100) 
I like these traction chains because they're relatively inexpensive and easy to put on (just make sure to practice at home before heading into the mountains). They stay in my car year-round so I don't forget them once winter rolls in again.
---
Rand McNally Road Atlas ($15)
The best adventures go beyond cell towers, so I bring a paper road atlas to ensure I can always find my way. Tip: Kids love to play with the maps.
---
Touring California and Nevada Hot Springs Guide ($20)
What's better than a roadside hot springs soak after a long ski tour or backpacking trip? Absolutely nothing. There are similar guides for the entire country.
---
Sleeping Bag x 2 (Approximately $600)
I'm married, so I carry a Sierra Designs bag for me and my wife in case we get stuck somewhere or need to bivouac on a friend's floor after too many whiskeys. I store the bags in their storage sacks, not compression bags, to maintain loft.
---
Dr. Bronner's Toothpaste ($7) and SoFresh Toothbrush ($4)
I stash toothbrushes like a squirrel collects acorns. I can go days without a shower but feel like I'm about to go crazy if my teeth are grimy. We like this toothbush and toothpaste from Dr. Bronner's for its sharp, minty bite. 
---
Gold Bond Extra Strength Medicated Powder ($9) 
This is a summer must. Throw a handful into undies to prevent itching and chafing pre-shower.
---
Jetboil Sumo ($140) 
This stove lives in my car in case I get stuck somewhere, but it's also nice to have a fresh cup of coffee before a morning run. Like all Jetboils, the Sumo puts out a lot of heat: 1.8 liters of water boils in under five minutes.
---
GSI JavaPress ($45) 
The GSI JavaPress lives in my trunk for that extra cup of coffee after I leave my house. There are a lot of presses to choose from, but I like this one because the BPA-free plastic body is nearly smashproof, so I don't stress when it gets buried under a drysuit and kayaking helmet. Tip: Put your ground coffee into the press the night before to save a little time and ensure you don't forget it. 
---
Top Ramen ($2 for 12) 
Yes, there are more delicious and nutritious freeze-dried foods out there. But I still chow on these three-minute easy-to-eat meals with their dose of salt—nice after a long day of exercise. Three packets live in my car at all times. 
---
Probar Bites ($24 for 12) 
I can get hungry even during an hour-long drive. To prevent my blood sugar from slipping, I always carry a couple packets of Probar Bites, just in case. These are nice for longer drives, too, because they keep me going so I don't lose time stopping to eat bad gas station food.
---
Reliance Aqua-Tainer Water Container ($20)
With a four-gallon capacity, this container holds enough water for short off-the-grid car camping trips or more than enough to fill up water bottles before a day hike at the trailhead. Just don't let water sit too long or it will take on the taste of plastic.
---
Oboz Wind River II BDry Hiking Boots ($185)
Dealing with car problems in the snow or rain sucks if you don't have the right shoes. These waterproof high-tops keep the elements out and work just fine if I set off on an impromptu hike.
---
Patagonia Down Sweater ($280) and Salomon Fastwing ($77) Hoodies 
These are two more must-haves for bad-weather mishaps and spontaneous adventures. My Patagonia Down Sweater is still humming after nearly a decade of abuse. The Fastwing rainjacket packs down to nothing, and the price is right. 
---
Princeton Tech AMP 1L with Bottle Opener and Cone ($18)
When I need to rummage through my trunk at night, I turn to this little gadget, which hangs from the latch and puts out enough light for me to find buried tools. Bonus: It doubles as a bottle opener.
---
Lighter, Duct Tape, Toilet Paper, Everyday Carry Knife, Hand Sanitizer, and Small Container (About $30)
I carry a similar packet of gear in my daypack. Bottom line: These items always come in handy. From roadside potty breaks to slicing salami for lunch to fixing your rearview mirror, this gear should have you covered.
Lead Photo: Onfokus/iStock