Indefinitely Wild
Why the Subaru Outback Is the Ultimate Adventuremobile for City Dwellers
Need a car to help you go skiing, camping, kayaking, mountain biking, or just carrying dogs and people from A to B? We think this Subaru is the best you can buy.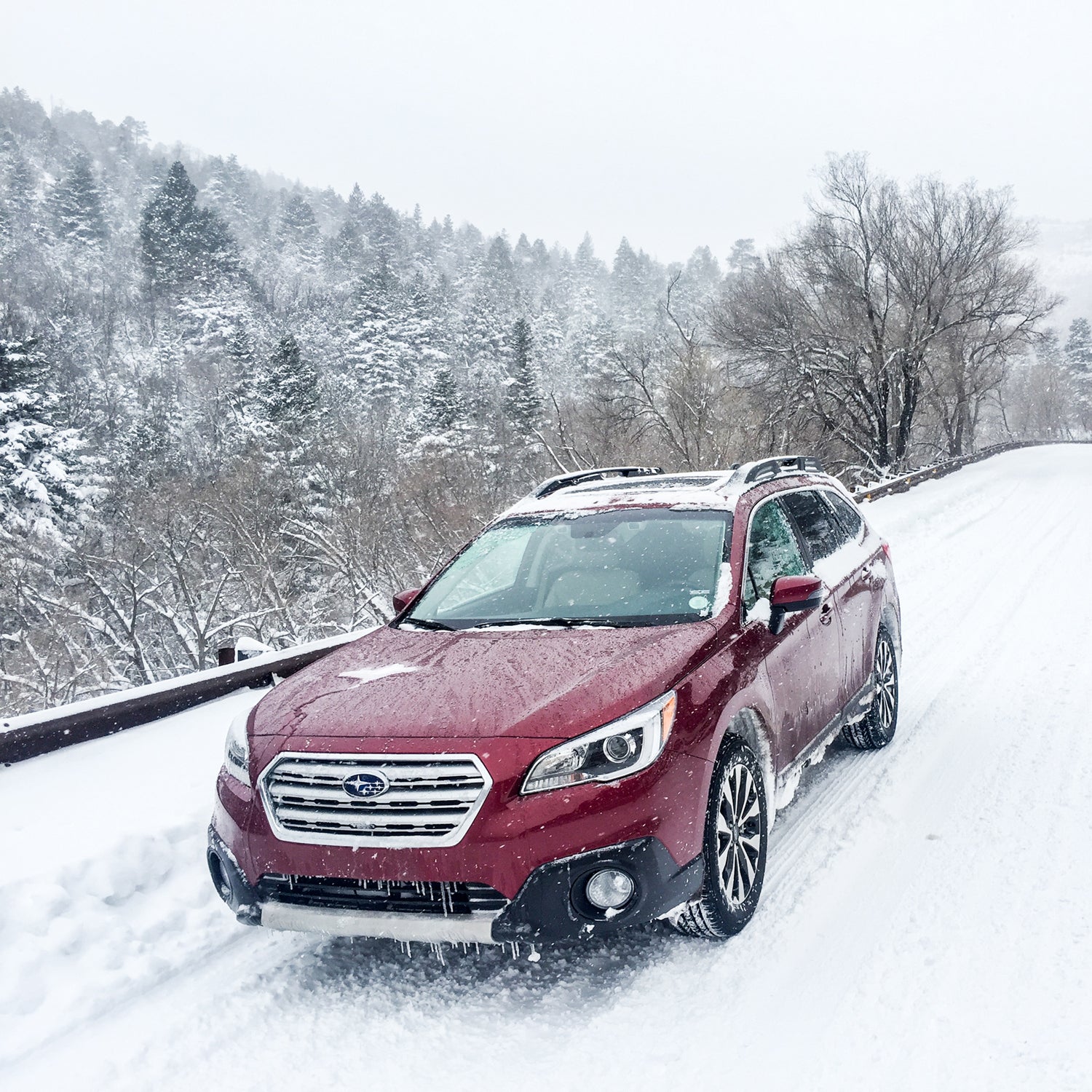 Heading out the door? Read this article on the new Outside+ app available now on iOS devices for members! Download the app.
Name a car other than the Subaru Outback that gets 29 miles per gallon on the highway, has more rear-seat legroom than a Mercedes E-Class, is a top-rated safety pick by the National Highway Traffic Safety Administration, and is as capable crossing a snowy mountain pass as it is traversing a washed-out dirt road. You can't.
Key to understanding the Outback's ability is understanding its unique all-wheel-drive system. Where virtually every other car fitted with an AWD badge is just a two-wheel-drive vehicle that can send a little torque to the other axle when the main wheels begin to spin, Subaru's actually drives all four wheels, all the time, constantly apportioning torque as needed for what the vehicle happens to be doing.
That means even with traction control switched off, you'll almost never encounter wheel spin. Where other AWD cars freely spin up their front or rear wheels before engaging the other axle, the Outback just drives forward.
And it is a car, not a truck. It's quiet and fuel efficient, makes excellent use of clever packaging to offer TARDIS-like interior space, and does all that in a package that's easy to parallel park. It's also safe: the Outback achieves a five-star safety rating from the National Highway Traffic Safety Administration. With the aid of whiz-bang driver aids like adaptive cruise control and automatic emergency braking, it's one of the safest vehicles you can put your family in this year.
But the big advantage over body-on-frame SUVs? Weight. At 3,593 pounds, the Outback weighs 600 pounds less than the supposedly sportier two-door Chevy Camaro. Why does weight matter? It's the enemy of every single performance metric you could ever want from a car: fuel efficiency, acceleration, braking, handling, off-road ability—you name it.
The Outback is able to make do with a relatively unpowerful 2.5-liter, four-cylinder motor that produces just 176 brake horsepower and 174 pound-feet of torque. That may sound weak on paper, but the motor is a boxer configuration, with its four cylinders mounted in a horizontally opposed fashion, and it develops all that torque starting low in the rev range. So it's peppier than the numbers make it sound.  The CVT transmission that was inadequately programmed in previous Outback generations is, from 2015 on, able to make the most of the engine's limited performance: you'll never be left wanting in normal driving conditions at elevations below about 10,000 feet. If you live in Colorado and need a little more torque for high-altitude towing, a 3.6-liter H6 is available in limited numbers. Other drivers shouldn't bother: the 2.5 is just fine everywhere else.
The Outback is also cleverly packaged. Partially due to that longitudinal boxer—which is only two cylinders long—there's a huge amount of legroom in a relatively compact vehicle. The Outback is only an inch longer than the much more expensive Mercedes E-Class luxury sedan, but it has 2.3 inches more rear-seat legroom. I'm 6'2″ and can cross my legs back there. Heck, the Outback is nearly three inches narrower than the Chevy yet provides comfortable seating in back for three adults.
Also unlike most other modern vehicles, you can actually see out of the Outback. It foregoes modern styling trends to offer a tall greenhouse (the space on the vehicle made of glass). That, combined with the notably thin A-pillars (Subaru makes them stronger, not just thicker, to pass current crash standards), leaves very few blind spots. Forward vision is better in the Outback than any other current vehicle that's not a mid-engine supercar, where the engine is behind you.
All that adds up to a vehicle that's friendly, easy, and safe to drive in the city; economical, comfortable, and quiet on long road trips; and surprisingly capable off-road. I bought the 2015 model a year ago and put 16,000 miles on it. For the 2016 model (which we also tested for a week; see above photos), there have been no significant changes.
Of course, the Outback isn't perfect. The tires Subaru somehow saw fit to put on as standard are absolutely terrible. They blunt steering response on dry roads, have no grip in the wet, don't work in the snow at all, and are puncture-prone on dirt. This, combined with the 18-inch wheel size you're stuck with if you want leather seats, necessitates some creativity to find rubber that adequately matches the Outback's capability. First, you'll need to find a 17-inch wheel for acceptable all-terrain tire choices. You can order those at your dealer at time of purchase or go aftermarket with something like the Method Race Wheels MR502s, which I own. Those have the added benefit of pushing the wheels outward by 38 millimeters, better filling the wagon's arches.
Tires in sizes that will fit the Outback are challenging to find. Yokohama makes a road-biased all-terrain that's popular in the forums, but I found the Maxxis Bravo 771 A/T to be a better complement to the Outback's capabilities. For around $120, you get a tire that's light but strong, which leads to both sharper on-road handling and much improved off-road grip and puncture resistance. They're so good that I think Subaru should fit them to the Outback as standard. Lately, I've been running a set of the new BF Goodrich K02s in 245/65-17. A hardcore truck tire, they grip off-road and in the snow, but they're noisy on the road, and their weight of 40 pounds per corner affects fuel economy. The Bravos are going back on next week.
If you're using the Outback to travel on rough dirt roads, you'll want to add protection against rocks, stumps, and other underbody hazards. Primitive Racing makes a set of skid plates for the engine, transmission, and rear differential that are affordable, strong, and easy to fit. They've saved me from getting stranded with a busted oil pan or worse. Spend the $440 and fit all three. (You can read a summary of all my modifications here.)
The last concern for the dirt-road traveler is vehicle recovery. The Outback lacks the locking differentials and hard-mounted recovery points of a true off-road vehicle, but a clever adventurer can easily compensate. I ordered a tow strap and D-shackles from ARB that will easily fit the car's screw-in tow eyelet. With them, any vehicle can easily give me a tow. Just in case nobody's around, I also carry a set of MaxTrax. Positioned under stuck wheels, the plastic traction aids allow you to drive out of almost any sticky situation; they also function as shovels. MaxTrax work just as well in the snow as they do in mud or soft sand.
Is the admitted hassle and expense of fitting skid plates, wheels, and tires (all removable and lease friendly) worth it? I think so. With those upgrades on the Outback, I have a vehicle that's just as good in the city as it is on the highway, rides better on a dirt road than any SUV, and is safer to drive in the snow. As long as your idea of adventure doesn't involve rock crawling in an off-highway vehicle park, I think the Outback is the best companion possible.
Trending on Outside Online