2023 Summer Gear Guide
The Best Climbing Hardware of 2023
Six testers tried 22 climbing accessories. These ones came out on top.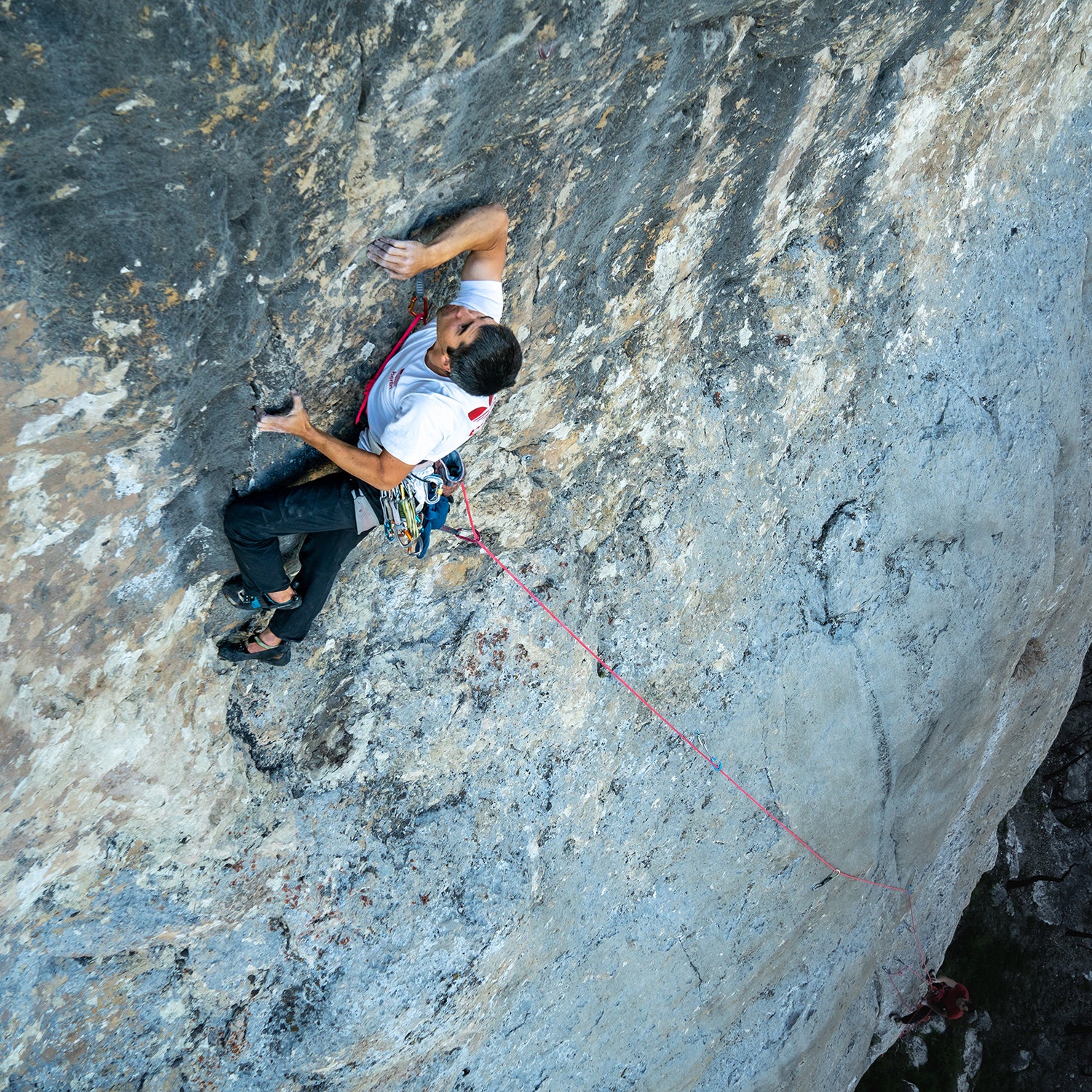 Heading out the door? Read this article on the new Outside+ app available now on iOS devices for members! Download the app.
Climbing hardware is tricky to review because, well, gear is pretty damn good these days. Many manufacturers rely on iterations of the same tried-and-true conventions, so it can be hard to find standouts. Still, some items are slowly shifting the narrative, from high-tech iterations on classic gear that approaches perfection, to products made following a greener manufacturing process, to niche items we didn't even know we needed. Below, you'll find our picks for the most interesting new climbing hardware of the season.
The Winners at a Glance
Editor's Choice: Ocun Hawk QD Wire Bio-Dyn Ring Quickdraw
Edelrid HMS Bulletproof Belay FG Eco locker
Fixe Hardware 10mm Dyneema Anchor Sling-240cm
Grivel Plume HMS K3GH carabiner
Metolius Captive Quickdraw
Metolius Ultralight Master Cam
Petzl Nano Traxion pulley
Petzl Spirit Express Quickdraw
Trango Superfly Evo Autolock locker
Wild Country Zero Friends cam
How We Test
Number of Testers: 6
Number of Products Tested: 22
Number of Vertical Feet: 35,000-plus
Number of Years Climbed by Our Most Veteran Tester: 49
Least-Punishing Testing Venue: "Valmont Canyon," aka the corridor in east Boulder, Colorado, that's home to the city's four rock gyms
Most-Punishing Testing Venue: The Bugaboos, British Columbia
Worst Weather: An epic thunderstorm at the Monastery, Colorado, that had two testers (and one dog) cowering under boulders while the gully flash-flooded
We tested 22 products, then narrowed down our final selection to 11 finalists. Our six testers put each piece of climbing gear through its paces in as many venues as possible, including the climbing gym (for things like belay carabiners); front-country cragging in Colorado (the granite around Estes Park, the sandstone of the Flatirons and Eldorado Canyon, the limestone of Rifle), North Carolina, Squamish, and Kentucky; and alpine, backcountry routes in the Bugaboos and Canadian Rockies. Our testers ranged in age from their late 20s to early 60s, all with years and even decades of climbing experience.
The goal when testing any climbing hardware is to determine how well it performs for its intended use—so, for example, we sent the Metolius Ultralight Master Cams with our resident alpinist, Anthony Walsh, who put them to work on trad climbs in the Bugaboos. Since I'm primarily a sport climber myself, I tested things like quickdraws and wire brushes on the local crags. Although we considered factors like weight and appearance, the main criteria with hardware are always reliability and durability. Our goal is to answer questions like, "How well does this gear do what it's supposed to?" and "Does it perform over weeks and months of hardcore use?"
Meet Our Lead Tester(s)
Matt Samet, former editor of Climbing, has been an avid rock climber since the mid-1980s, the era of high-top rock shoes, Hexentrics, and early camming devices. He lives in Boulder, Colorado, where he primarily sport climbs, boulders, and trains in the gym. He's been testing climbing gear for the past 20-plus years. Two other key hardware testers were Anthony Walsh, a digital editor at Climbing based in Golden, British Columbia, who has a deep love for Canadian granite—be it the smooth gray rock of Squamish or the alpine splitters of the Bugaboos. And Duane Raleigh, the North Carolina-based, former editorial director at Climbing and a climber of nearly five decades, who's seen gear come and go during his tenure in climbing media.
The Best Climbing Hardware of 2023
Editor's Choice: Ocun Hawk QD Wire Bio-Dyn-Ring Quickdraw ($110 for a five-pack)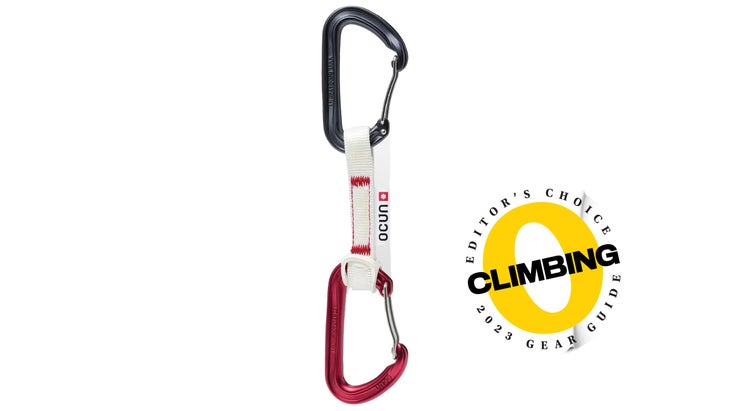 Weight: 2.7 oz
Pros: Bio-Dyneema is an ecologically friendly, light sling with dogbone material for weight-conscious climbers; Easy-clipping action on the wiregates was welcome on crucial clips—lots of tension and spring
Cons: White coloration, also found on regular Dyneema, could be confusing in a fixed-draw situation, in which you're not sure whether the draw was dyed and has faded (and is thus a safety risk) or whether the dogbone was white in the first place.
We're big proponents of Dyneema—it's great for saving weight on multi-pitch climbs or when starting up a long onsight while carrying a ton of draws. But, as with so many synthetic materials used in climbing, standard Dyneema comes from non-renewable fossil fuels. Bio-Dyneema, on the other hand, presents a better alternative: It's made from waste products upcycled from the pulp and timber industry, but with regular Dyneema's weight, strength, and UV resistance. (Ocun, for now, is the only company using bio-Dyneema for their dogbones.) The draw we tested the material on, the Hawk QD Wire, rates to a very high 25 kilonewton breaking strength—i.e., more than enough holding power, and plenty of toughness for high-wear situations (like the dogbone sitting over an edge or while alpine climbing). "They're little, they're light, they're strong—like Mighty Mouse," said one tester. The wiregates have fast, snappy action—while in a pump crisis on a roofy climb at the Solarium in Kentucky, the same tester slapped the draw on, dropped the rope in, and kept going, all within a few critical seconds.
Bottom Line: This is a more eco-friendly, multi-use quickdraw that works for all genres and all climbers, but is especially good for alpinism given its light weight and freeze-resistant wiregates.
Edelrid HMS Bulletproof Belay FG Eco carabiner ($40)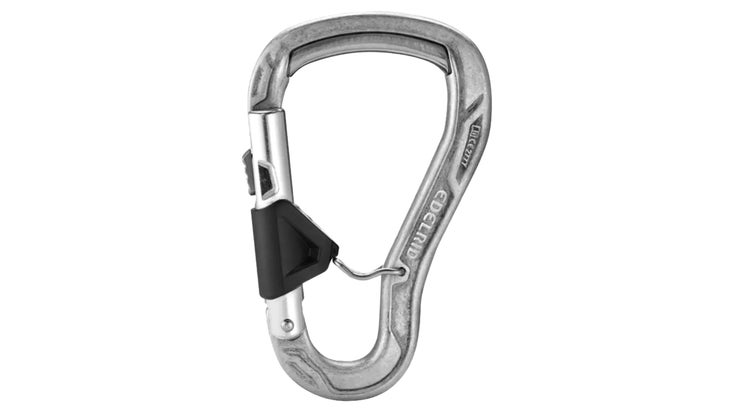 Weight: 3.1 oz
Pros: Steel insert in the basket aids carabiner longevity; Spring bar consistently prevented cross-loading; Gate action is stiff and snappy; not anodized for greener footprint
Cons: The gate is so stiff and snappy, and the keylock closure so small, that one-handed use can be painful on your thumb
We're so used to seeing anodized carabiners that we were initially taken aback by the old-school aesthetic of the gunmetal-gray HMS Bulletproof Belay FG Eco—and going bare gets rid of toxic chemicals in the anodizing process. Once we got past the looks, however, we loved the carabiner for belaying at the crag and gym—it's nice to have a big, beefy HMS locker. The ample basket (plenty of room for your device to cant from side to side) and the steel insert there—a trademark of Edelrid's Bulletproof carabiners—are big selling points, as this main wear point on a belay carabiner often scuffs or thins on a standard aluminum basket. But you can barely ding this steel. On the flipside, this makes the Belay FG Eco heavy, but it's a big clipper meant for cragging and gym use anyway. Testers liked the stiff, snappy gate, though the keylock closure was rugged on our thumbs, given how hard you have to press down to slide it open; we also kept snagging on the nose. It seems like the ergonomics could be refined there.
Bottom Line: Minus some thumb wear, this is a strong, eco-minded, anti-cross-loading belay carabiner that's ideal for gym use and cragging.
Fixe Hardware 10mm Dyneema Anchor Sling-240cm ($26)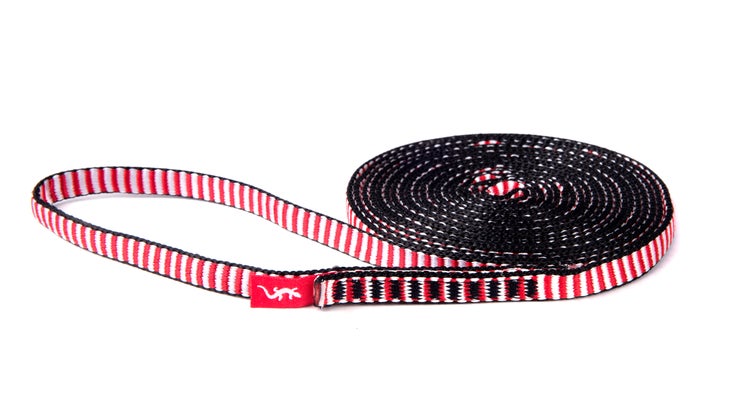 Weight: 3.1 oz
Pros: No anchor-equalization "knot fuss"; Supple Dyneema is easy to knot; Packs down small for harness and backpack carry
Cons: More expensive than a cordelette
A sling is a sling is a sling, but this light 240-centimeter anchor sling from Fixe solves an issue we didn't realize had been bugging us: namely that of the knot in our cordelette always ending up in the wrong damned place—hanging up on a carabiner—when we equalize a trad anchor. Made of supple ten-millimeter Dyneema that's a snap to knot (and that unknots easily with some minor back-and-forth tugging after it's been weighted), Fixe's anchor sling coiled for easy harness carry (you can quadruple it for shoulder carry too), and, thanks to the the low-profile, three-inch-long bartack, was much easier to work with than an unwieldy cordelette knot. On a tricky, spread-out cam anchor atop a Colorado granite dome, one tester was glad he had the sling—the anchor equalized first go, and he was on rappel before he knew it. It's rated to 22kN.
Bottom Line: This is a compact, easy-carry anchor-equalizing solution for multi-pitch and alpine climbing that does away with the dreaded "knot fuss" you get with cordelettes.
Grivel Plume HMS K3GH locker ($15)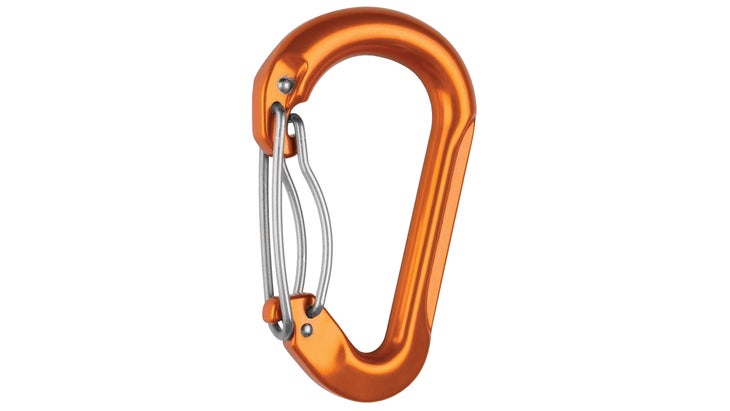 Weight: 1.5 oz
Pros: Compact and lighter than a screw-gate locker—great for alpine and multi-pitch climbing; Opposed double-gate closure system reduces the risk of accidental opening
Cons: Gate closure takes some getting used to and is a tight fit with certain belay devices
With its two opposed wire gates, the HMS K3GH doesn't look like a "locker," lacking the twist-lock or screw gate we're accustomed to seeing. (It actually looks like a giant paper clip, which makes it a great conversation starter.) Yet, it is a locker. The Twin-Gate system is interesting: You pop open the outer gate, floss the eye of your belay device or the ropes over it, and press down on the inner gate to get it all the way in. While testers initially struggled to pull this off one-handed, they reported they eventually got quicker. The HMS designation means this piece is suited for belaying with either a belay device or a friction hitch (Münter), and it did both well, with just enough room in the basket for a Grigri, though it was a somewhat tight fit getting the device on. (The HMS K3GH has a gate-closed strength of 23 kN and a minor-axis strength of 7 kN.) The HMS K3GH would also be a useful tool in fast-and-light situations, such as part of an anchor system on an alpine climb.
Bottom Line: The HMS K3GH brings locker functionality to a small, light package, making it ideal for multi-pitch and alpine climbing (particularly for building anchors), though it works just fine for belaying, too
Metolius Captive Quickdraw ($30)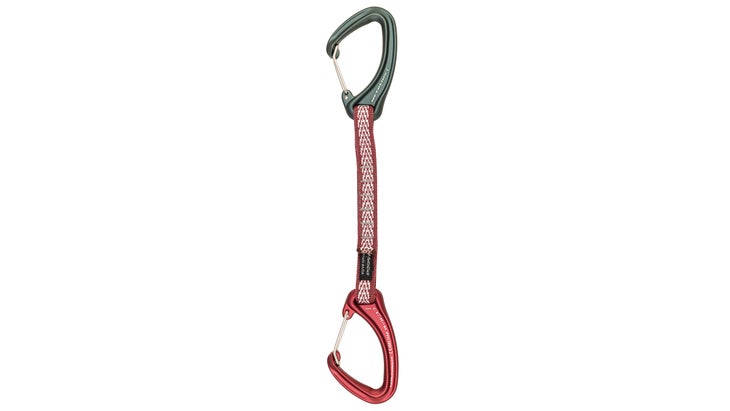 Weight: 3 oz
Pros: Captured-eye technology on both pro-side and rope-side carabiners is 100-percent effective at preventing carabiner rotation; Snappy gate action; Steep angle on basket creates room for rope plus fingers for fast clipping
Cons: Dogbone could be thicker for scenarios where one needs to grab the draw
Metolius has always put great thought, effort, and energy into the safety engineering of its gear (e.g., the Safe Tech Trad Harness with two belay loops, or locking Anchor 'Draws). The company's new Captive draws continue that tradition, solving the issue of quickdraw carabiner rotation, which can happen when a draw is clipped to your harness or, more annoyingly, up on your project when you pull the rope. Throughout our testing, whether on granite sport and mixed climbs in Colorado or clip-ups in the Red River Gorge, Kentucky, none of our testers could get the carabiners to rotate, even when whipping the rope down through a long, steep line of draws. So you can leave them up on crux clips with total confidence. The six-inch sling length is nice—good for mitigating rope drag—but the sling itself is skinny, making it tougher to grab when your arms are pumped.
Bottom Line: The Captive is an especially great redpointing clipper that eliminates the carabiner rotation. And at three ounces, it's also light enough for onsight use.
Metolius Ultralight Master Cams ($275 for #1–4 set, $285 for #5–8 set)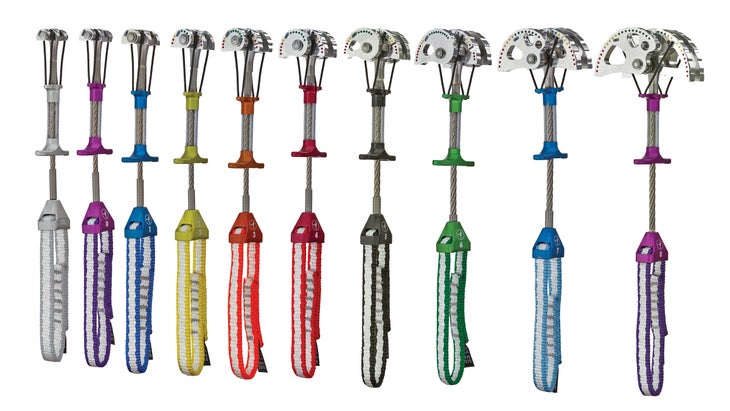 Weight: 1.6–4.5 oz
Pros: Remarkable weight savings (20 percent) over the original Master Cams makes these ideal for long-approach, multi-pitch climbing and alpine routes; Flexible stems are good in horizontal placements; Range Finder feature helps with assessing placements, especially for newer trad leaders
Cons: Flexible stem makes it harder to place the cams when pumped, especially in the larger sizes
Understood as a genre—and not simply a goal for all gear—"ultralight" has its place, namely on longer climbs where weight savings add up. Our tester Anthony Walsh put the Ultralight Master Cams through their paces in perhaps the perfect venue, the Bugaboos of British Columbia. "The approach was multiple hours, and our packs were loaded with two-and-a-half days of food, fuel, and a lot of climbing gear," said Walsh. "I brought a single set of these Master Cams and, while stuffing them into my overloaded pack, I noticed how low-profile they are compared to my other camming units." This build paid off on the harness, too, where Walsh noted how light the cams felt on one side versus a competing brand's ultralights on the other. "The route we were trying was long and technically easy, with few opportunities to place gear," he said. "When there was a crack to plug a cam, we were usually at a comfortable stance. This sort of terrain is where the Master Cams shine." Walsh felt like the trigger action required extra pressure to retract compared to other ultralights, though once partially retracted, the action was smooth. He found the cams' narrow head particularly appealing on thin granite cracks and seams, especially in the smaller sizes where you want deeper placements. The biggest ding is the minimalist thumb loop, which, along with the pressure-sensitive gate action and flexible stem, made it harder to place the units when pumped, a drawback more prevalent in the larger sizes.
Bottom Line: The Ultralight Master Cams are great for gear-intensive rock and alpine routes with long approaches, where you can take your time with placements.
Petzl Nano Traxion Pulley ($100)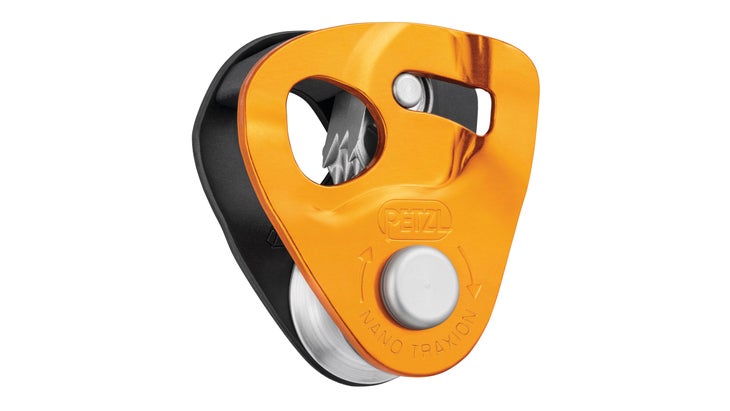 Weight: 1.9 oz
Dimensions: 48mm x 52mm x 21mm
Pros: Ultra-light and portable hauling option; Tiny—takes up almost no space on a carabiner; Silky smooth progress-capture action
Cons: Small size makes it easy to fumble when you're pumped silly; Lacks the cam-open lockout feature of the Micro Traxion
One of our testers owns every generation of Petzl's Traxion progress-capture pulleys and uses them primarily for toprope soloing, something climbers have been doing for more than a decade. (Petzl lists rope ascent as one use of the Nano Traxion, plus they offer their own guidelines for solo toproping on their website.) The idea is that the devices cam against the rope in one direction, letting you pull slack through (or ascend a fixed line, as in a toprope-solo or rescue situation) without having that slack drop back down through the device. Each iteration has gotten smaller, and now we have the Nano, which weighs next to nothing and is about the size of a Matchbox car. It's easy to bring one along on a multi-pitch climb. One tester used the Nanos to haul bolting gear and a day pack on long climbs, and they clamped down reliably. He also used one as a secondary, backup device for toprope soloing (they work on ropes from seven to 11 millimeters), and it slid ably along under his Micro, even on his fatty 11 millimeter static line. As someone with big fingers, our tester's one caveat would be that the Nano can be fussy to remove up at your anchor, especially when you're wicked pumped.
Bottom Line: This is an indispensable tool for weight-conscious, multi-pitch free climbers hauling the crag pack from belay to belay, or as a backup (secondary device) for toprope soloing.
Petzl Spirit Express Quickdraw ($24 for 11cm, $25 for 17cm)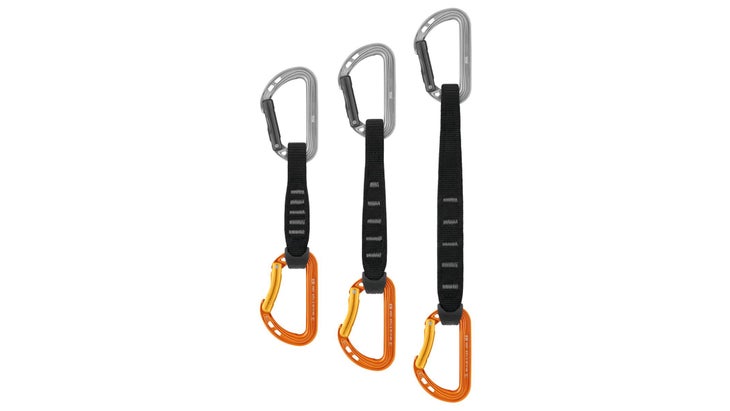 Weight: 3.1 oz (11 cm), 3.4 oz (17 cm)
Pros: Lighter weight than previous iteration; Bolt-side carabiner is less prone to flipping due to smaller dogbone eye; Clips just as smoothly, if not better, than the previous version; Gates have improved ergonomics
Cons: Premium pricing may be too high for casual climbers
Petzl Spirits have been a gold standard in performance quickdraws for years. Known for their buttery gate action and light, ergonomic handling, you'll see them hanging on routes at almost any serious sport area. The latest iteration builds on that legacy with two big visible tweaks. The carabiners (straight-gate and bent-gate) are slightly smaller, shaving weight off their previous counterparts (eight grams per draw with the 11 centimeter dogbones; or, for a rack of a dozen 11 centimeter draws, 96 grams—roughly the weight of one more quickdraw). There are a few other updates as well: The clipping divot in the straight-gate is closer to the keylock nose, which makes for better handling but no snagging; the size of the keeper eye in the straight-gate side of the dogbone is smaller, reducing flipping; and the bent-gate has a friendlier curvature that makes for faster clipping action. One tester, pumped out of his gourd on a 30-degree-overhanging cave climb at the Red River Gorge, was beyond grateful to have a draw that clipped so quickly.
Bottom Line: These are stylish, premium quickdraws for hardcore sport, trad, and alpine aficionados, with fast-clipping, ergonomic action that's notable for how light the draws are.
Trango Superfly Evo Autolock locker ($17)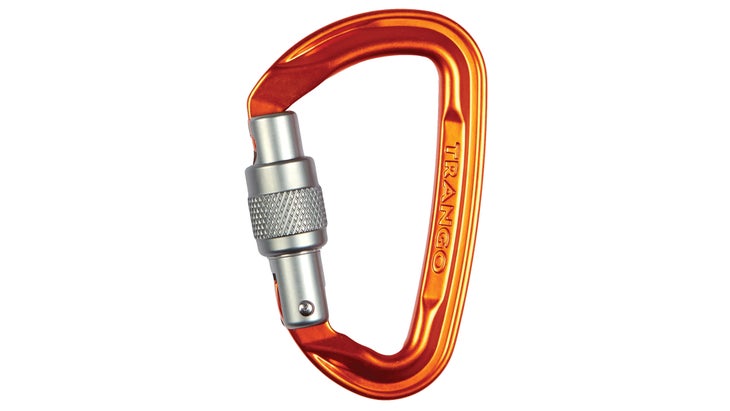 Weight: 1.9 oz
Pros: Nearly perfect balance in hand (weight-to-size-to-thickness) makes this a user-friendly belay carabiner; Twist-lock gate closure is fast, responsive, and reliable; Carabiner has ample room to accommodate any belay device
Cons: The edges on the semi-circle cutout on the twist-lock mechanism (the sleeve) are a tad sharp, and would be better milled down.
There are so many lockers on the market, it can be difficult to single any out for special notice—they all have the same function and they all do their job pretty well. What stood out with the Superfly Evo, however, was the marriage of utility, balance, and bright, flashy style. Two of our testers noted how well balanced the carabiner is: It's just the right thickness to feel natural in hand while belaying, while the twist-lock gate is reliable and responsive. The barrel is a good, grabbable size—it just feels solid under your thumb. "Many locking carabiners, particularly auto-lockers, seem to suffer from a lack of friction on the sleeve or have over- or undersized sleeves," said one tester. "The Superfly seems to walk a perfect line of these two attributes, making repetitive operation seamless." Also noteworthy are the bright color schemes—with the fluorescent turquoise-and-green Superfly Evo, you'll never have any trouble finding the carabiner and belay device amidst the chaos of your crag pack.
Bottom Line: The Superfly Evo is an ergonomic crag companion for belaying and gym climbing. It's also small, portable, and multi-functional enough for other general locking-carabiner use (anchors, etc.).
Wild Country Zero Friends cams ($230 for 0.1–0.3 set, $230 for 0.4–0.75 set)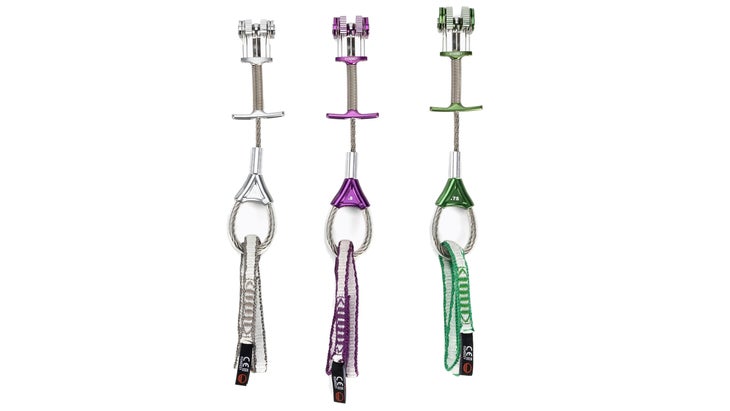 Weight: 1.8–2.91 oz
Pros: Buttery-smooth trigger action; Cable stem flexes but still has enough heft to reduce floppiness, allowing for deep placements; Extendable sling reduces the number of draws you need to carry
Cons: Spendy (though $5 cheaper per cam than a competing brand's thin-crack pro)
Duane Raleigh was the perfect tester for these cams—he's been climbing for 49 years, since the pre-cam era—so he's seen every generation of spring-loaded camming device since the original Wild Country Friends came out in the late 1970s. He took these sleek, thin-crack pieces out to a local granite area, the Narrows, near Carbondale, Colorado, to test on its bottoming cracks and funky seams. "The Zeros were excellent in micro placements," he said. "The stem flexes to keep rope drag and flex to a minimum, yet is stiff enough for easy triggering." He also appreciated the teeth machined into the cams' non-anodized working faces, noting how well these helped placements stay put. By comparison, Raleigh said, he "used cams with anodized cam faces and they skipped around; I hated them." As with comparable, high-end thin-crack pro (Metolius Master Cams, Black Diamond Camalot Z4s), the Zeros will ding your wallet, but after months of testing, the trigger action remained buttery, justifying the cash outlay for a full set.
Bottom Line: The Zero Friends are for trad climbs with thin pro and where a narrow head width and semi-flexible stem are key, as in Eldorado seams, Yosemite thin cracks, and Gunks horizontals.
How to Buy
Climbing gear is such a vast category, but we always come back to the obvious: What is your intended use for the gear? And: Is the gear built for that use?
Weight
For climbers, the primary consideration with hardware is almost always weight. You have to schlepp the gear to the cliff, and then clip it to your harness or carry it in a multi-pitch pack. Thus, a school of thought that lighter is better has emerged, and manufacturers seem to be constantly on the hunt for ways to lighten their gear; in fact, they'll sometimes offer a regular and an ultralight version of the same product.
Durability
What buyers sometimes fail to consider, however, is that lighter doesn't by default equal better; it just equals better in certain situations, typically for alpine climbing, multi-pitch climbing, or onsight cragging where you're placing pro or hanging draws. And there's the physical reality that lighter gear—hollowed-out or drilled-out metal, thinner-diameter slings and ropes, smaller pulleys and belay devices, etc.—will be less resistant to wear-and-tear, thus prone to wearing out more quickly, or even, under extreme forces, failure. In certain cases, beefier gear that's more resistant to friction may in fact be better, and usually only adds a pound or two of weight in your pack, a minor consideration for front-country climbing.
Materials
Finally, there's been the recent acknowledgement that the ores we use to make metal aren't infinite, and that the nylon and other synthetic fibers in our slings, quickdraw dogbones, and ropes comes from another nonrenewable resource: oil. There's also the fact that the dyes and processes used to make our gear bright, smooth, and sexy—as with anodization—create toxic byproducts, and may not be necessary. So if environmental impact is a consideration for you, there are now more options than ever.
Lead Photo: Kiff Alcocer