2023 Summer Gear Guide
The Best Climbing Shoes of 2023
We asked 10 testers to try 16 climbing shoes. These came out on top.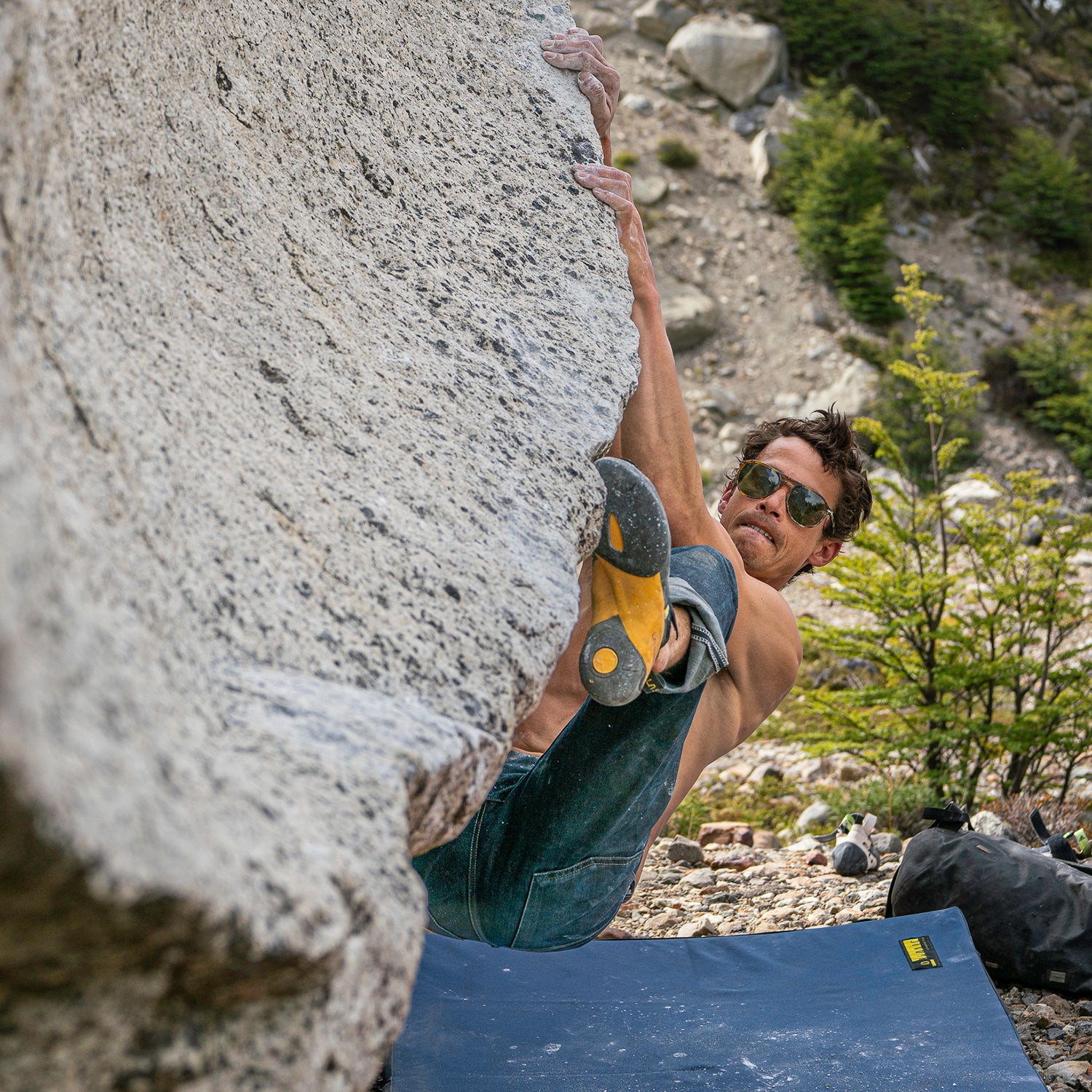 Heading out the door? Read this article on the new Outside+ app available now on iOS devices for members! Download the app.
Rock shoes have evolved light-years since the early days of the 1980s, when there was just one option: board-lasted high-top boots. Today shoes for the sport come in so many flavors, with new models being developed every year, that it takes concerted research to find the niche rock shoes you want. Not to worry, though: we did the work for you, and here present the most interesting, highest-performing climbing shoes of 2023.
The Winners at a Glance
Editor's Choice: Scarpa Vapor S
Butora Gomi
Black Diamond Aspect Pro
Black Diamond Method S
Five Ten NIAD VCS
La Sportiva Katana Lace
La Sportiva Skwama Vegan
Red Chili Voltage LV
Scarpa Quantix SF
Tenaya Indalo
How We Test
Number of Testers: 10
Number of Shoes Tested: 16
Number of Vertical Feet Sent: 40,000-plus
Lowest Grades Climbed: 5.6, V0
Highest Grades Climbed: 5.14a sport, 5.12 trad, V10
Most Accessible Testing Venue: A backyard garage gym with a side-by-side MoonBoard and Tension board
Least Accessible Testing Venue: Bugaboo Mountains, British Columbia
Number of Times Our Lead Tester Threw His Shoes at the Rock Because He'd Punted on His Project Yet Again: At least once—maybe more (but who's counting?)
Our climbing-shoe philosophy rests on two pillars. First: consider each shoe's stated niche, and test it on the appropriate terrain. Second: take each shoe outside its comfort zone, to see if it has any surprise attributes. We also emphasize testing each model on as many climbs as possible, both to generate the most thorough feedback and to break in the shoe to see how it really performs. (Any reviewer who offers an opinion after a few gym sessions is full of it.) Testers will also climb the same route or problem repeatedly in different pairs, to see how the shoes stack up against each other on the same footholds and sequences.
This year, ten testers (including myself)—all experienced climbers ranging in age from their twenties to their fifties—considered 16 new (and newish) rock shoes, and narrowed our final selection down to ten. We tested on routes between 5.6 and 5.14; we tested at the climbing gym, on outdoor sport routes and boulder problems, and on MoonBoards, Tension boards, and Kilter boards; and we tested on trad climbs, sport climbs, and multi-pitch alpine rock climbs. Our crew covered almost all rock types—sandstone, limestone, granite, basalt—on everything from slabs to caves, and on cliffs in British Columbia, Colorado, California, New Mexico, Utah, and Kentucky.
The main factors we considered were fit, break-in period, comfort, precision, edging, smearing, hooking, scumming, and jamming. We also considered durability—how well a shoe holds its structure and last after heavy use. (Does it stay pointy, precise, and sharp, or does it "slop out" too quickly? Are the uppers and other components still intact?)
In this list, we kept the focus on intermediate and advanced climbing shoes, which are typically priced around $150 (but can run into the $200 range) and built for high performance. There is such a glut of undifferentiated, entry-level shoes on the market that it didn't make sense to consider them in this review—and, to be honest, even newer climbers might do well to consider higher-end offerings after their initial months in the sport, to see what precision footwear is all about as their foot muscles strengthen.
Meet Our Lead Tester
Matt Samet, the former editor of Climbing, has been an avid rock climber since the mid-1980s, the era of high-top Firé rock shoes. He lives in Boulder, Colorado, where he primarily sport-climbs, boulders, and trains on his home wall, and has been testing climbing gear for more than 20 years. The Climbing staff (Delaney Miller, Steve Potter, and Anthony Walsh) were also key testers for this review, as were husband-wife duo Chris and Heather Weidner, who are also based in Boulder and boast decades of climbing experience, as well as a shared hardest redpoint: Stockboy's Revenge, a 5.14b in Rifle, Colorado.
The Reviews: The Best Climbing Shoes of 2023
Editor's Choice: Scarpa Vapor S ($229)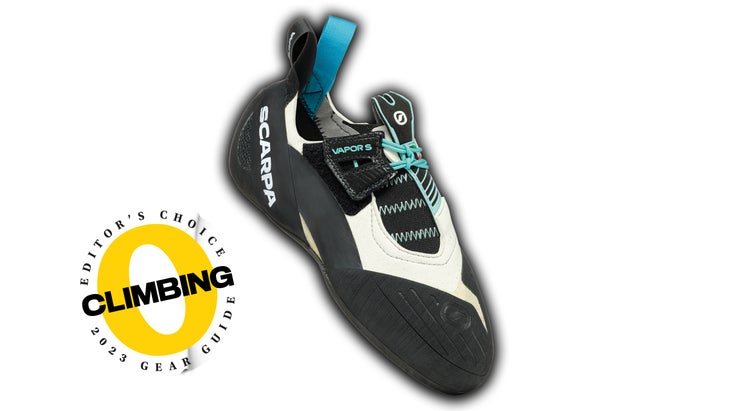 Weight: 8.3 oz
Pros:
>Insane sensitivity
>A vacuum fit and lots of rubber make for epic steep-rock footwork (hooking, grabbing, and scumming)
>Zero dead space
Cons:
>Squishiness and asymmetry can be distracting on slabbier terrain
Don't let the low-key aesthetic fool you: the Vapor S is a powerful, muscular slipper. The key is a sticky, full-length XS Grip 2 outsole married with a surprisingly flat last and touch of asymmetry that curls your big toes inward like talons. None of these attributes alone scream high performance, but consider them alongside the shoe's overall flexibility, glove-like fit, gummy M50 rubber over the toe box, semi-stiff heel cup, and a low-profile, rounded toe that deforms preternaturally into tiny pockets, slots, and thin cracks. The collective result is one fierce steep-rock beast. Like a total beast, the kind you can maneuver into subtle heel-toe cams that would feel clunky in any other shoe. For a slipper, the Vapor S is also surprisingly versatile, as Heather Weidner can attest: "I was very impressed with the ability to toe in on small edges on more vertical terrain, as well as smear on slopey, sandy feet, but was also able to pull and grab on steep footholds." Personally, I had the best gym session of my life in these shoes: I couldn't get them to slip, whether on jibs or slopers, and I felt everything underfoot. Ditto on Red River Gorge cave climbs, where this shoe dug into the holds but offered just enough heft to see me through edging (smedging!) cruxes on the slabbier outros. The removable Nano Strap closure system looks nice, and I always ratcheted it down, yet it doesn't seem to do much more than help angle your toes slightly one way or another.
Bottom Line: The Vapor S is for slipper aficionados who gravitate toward bouldering, gym climbing, and sport climbing. It's pricey, yes, but all the elements are done right, and the shoe conforms to the foot like a second skin.
Butora Gomi ($160)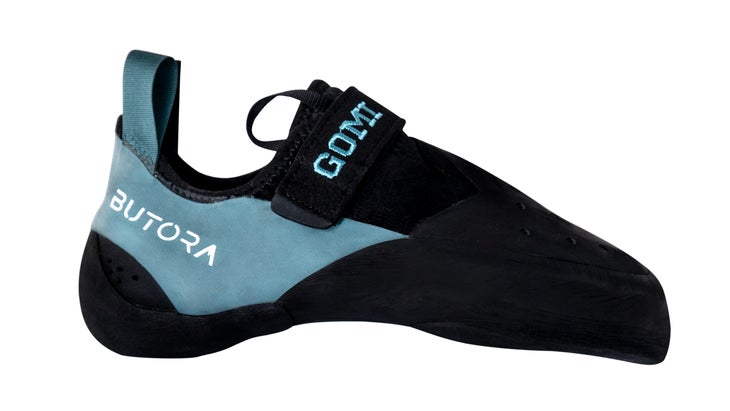 Weight (all weights listed are per shoe): 8 oz
Pros:
>Soft, intuitive, socklike fit makes for a quick break-in
>Regular version accommodates wide feet
>Excellent "all-shoe" sensitivity—good feedback in the toe box, heel, and scumming patch
Cons:
>Neo Fuse rubber felt squishy for long sport pitches, especially when sustained edging was involved
This nearly all-rubber boot had some of the best all-shoe feedback of the test. Translation: it's sensitive everywhere, from the toe box to the heel cup to the scumming patch. (Most rock shoes only offer supreme sensitivity in one or two of these spots.) One tester confirmed this on a modern-style gym problem that involved rocking over a sloping jib screwed onto the side of a triangular volume. The hold was angled in such a way that you could only drop your heel—not toe—onto it. The Gomi did better than just about all the other shoes I tried on this problem, mainly because I could feel the jib through the molded heel cup and thus trusted the shoes on this bizarre move. Ditto for scumming and toeing into tiny jibs on gym boulders and overhanging rock. The socklike fit and tensioned Power Rand drive you down into the big toe, despite the Gomi's merely mild downturn, offering an almost prehensile grip. On the flip side, this pair of shoes is not incredibly supportive, so I experienced some calf fatigue and squish on longer edging pitches, and the toe is a bit too rounded for micro crimps. That said, as a bouldering or sport-crossover shoe fit for wide dogs, the Gomi is one of the better, friendlier-priced options out there.
Bottom Line: This is a well-rounded boulderer-friendly shoe that also crosses over into sport climbing—especially steeps.
Black Diamond Aspect Pro ($200)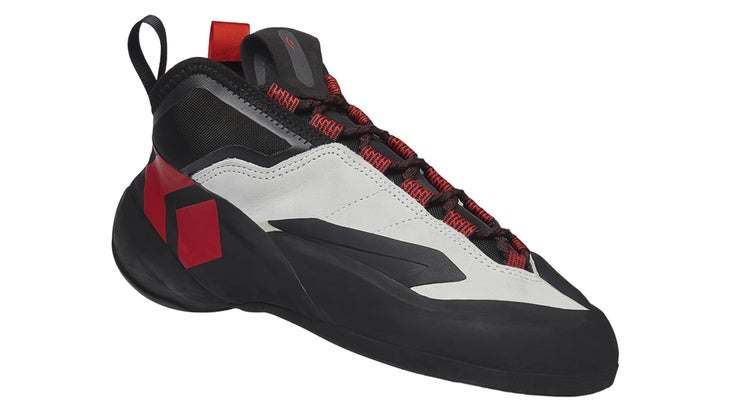 Weight: 10.6 oz
Pros:
>One of the kinder fits for a performance trad shoe
>Solid long-term comfort and incredible stability at stances
>Narrow toe profile great in cracks
>Thick, sticky Fuse rubber outsole was grippy on slabs
Cons:
>Toe box could be sharper, for better precision
>Lace eyelets caused foot pain in deep jams
We began by testing this shoe on a mixed bolt-and-gear granite slab with a strange, leaning, flaring crack, followed by thin nubbin stepping and faith smearing—exactly the type of climb it's designed for. The big news here is that the Aspect Pro has such a kind, cushy microsuede footbed, and a softer demeanor than similar trad shoes, that it performed amazingly out of the box, needing almost no break-in period. On its inaugural voyage, the shoe felt grippy and reliable—and even had a dash of sensitivity, despite the full-length bilayer midsole. On smears, one tester found himself enjoying the Fuse rubber—a kind of thick, softer outsole that wouldn't usually be my jam. It deformed nicely to rugosities in the rock. At 21.1 ounces, a pair of Aspect Pros is heavy, but in exchange you get stability and calf support, priceless for stances where you're fighting calf fatigue while hunting for protection. The leather footbed promises long-haul comfort, bolstered by a sweat-wicking, knit tongue and thick, ropy laces that hold tension well, ensuring a dialed fit. However, tester Chris Weidner noticed a painful pressure point on the overhanging 5.10+ hand crack of Beach Buzz in Indian Creek, Utah. "After lowering and taking off the shoe, I realized that the combination of small lace coverings over such thick laces caused a single point of lace to be jammed against the crack, and thus also against my foot," he noted. He did like the narrow toe profile, which shone while climbing Hail of a Beach, a baggy-fingers, thin-hands 5.11- crack also at Indian Creek. "I could stuff the tiptoe into the crack, twist, and stand on it reliably," he noted.
Bottom Line: The Aspect Pro is a great option for trad and multi-pitch climbers seeking stability for long leads and mid-ankle coverage for cracks but favor a soft feel with greater emphasis on smearing than edging.
Black Diamond Method S ($144.95)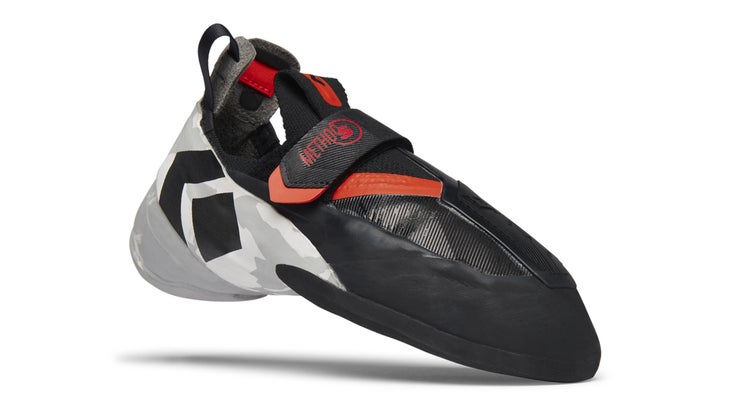 Weight: 8.8 oz
Pros:
>Comfortable fit, even when sized tightly, making for great bouldering-session wear
>Designed with a soft, pliable last that's ideal for smearing, steeps with big footholds, and volume climbing
>Eye-catching camouflage aesthetic
Cons:
>Some bagginess over the forefoot hampered toe-scumming performance
>Black Label Fuse outsole feels too thick for a performance slipper
A softer sibling to Black Diamond's all-arounder, the Method, the Method S is an ideal comfort shoe for long gym sessions and steep routes, thanks to its mild downturn and cozy footbed. It's also one of the flashier shoes on the market: both the men's and women's versions sport a camouflage heel cup and tension rand that tend to be conversation starters with others. Two testers felt the Method S was great for grabbing extruded footholds on gym boulders and board climbs. "I was surprised by how well this shoe toes in on MoonBoard plastic and Tension board wood," noted tester Chris Weidner. The shoe is sensitive (reason: the Soft Flex midsole is 0.9 millimeters thick, comprised of a small horseshoe in the toe box), making it a choice pick for smearing and steep grabbing. And it'd be even more so if the outsole wasn't so thick—an odd choice for a slipper. (This issue that resolves over time, as you grind the sole down.) The sensitive squish means almost nonexistent edging performance, so you have to learn to toe in to holds, not on to them. Testers noted there's no break-in period, and the shoes held up well, minus some minor toe flattening. My major complaint was that the scumming patch was baggy (albeit amply sized and nicely ridged). On a double-toe-hook parkour move, I slid down before the shoe caught. Though it did eventually snag, and I did send the problem.
Bottom Line: The Method S is the shoe for gym boulderers, board climbers, and cave boulderers who appreciate sensitivity married with a soft fit for long-session wear. It's also adapted for smearing and big footholds, resulting in a solid steep-rock shoe that's simply fun to climb in.
Five Ten NIAD VCS ($150)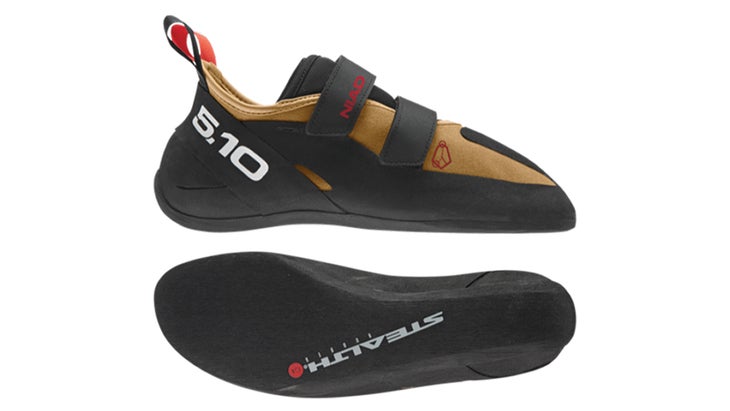 Weight: 9.5 oz (men's) / 8.5 oz (women's)
Pros:
>A very stiff, precise toe (though surprisingly rounded) allows for edging and micro-edging support
>Sticky 3.5-millimeter Stealth outsole yields surprisingly good smearing for a shoe with a full-length midsole
Cons:
>The flat last coupled with dead space midfoot hampered a precision fit
Five Ten's Anasazi line has enjoyed a cult following since the 1990s. The NIAD family—Lace, Moccasym, and the VCS—is a reimagining of that line. The VCS is the most well-rounded of the three options, occupying middle ground between the stiffer Lace and the softer Moccasym. It's a beast of an edging shoe, with the kind of old-school support (read: a flat last coupled with a full-length, two-millimeter midsole) and precision you want on long, vertical face climbs and trad pitches. "I hadn't climbed in Eldorado Canyon for a couple years, and I'm always surprised at how small the toe edges are and how much you have to trust your feet," said tester Heather Weidner of the Colorado hot spot. "In the NIAD VCS, I was able to be precise in my toe placements. The stiffness of the toe edge made it easy to weight my feet without too much calf pump on vertical, technical terrain." Another tester, Yosemite local Chris Van Leuven, described the toe as "chiseled," and commented on how well it let him lay the shoe against offset seams but also stand on micro edges and granite nubbins. For such a stiff shoe, it offers quite decent smearing performance, thanks to über-grippy Stealth C4 rubber. As with so many Five Tens, these shoes are better for long, narrow feet, although the toe box is more rounded than, say, the brand's Hiangle. Weidner, who is flat-footed, experienced dead space midfoot and had trouble eliminating it with the straps. "The flaps under the Velcro need to be arranged perfectly while buckling, which I found annoying, especially on multi-pitch climbs where you take your shoes off and on constantly and have many other logistics to think about," she said.
Bottom Line: This option is perfect for climbers who tend toward old-school edging, as well as mixed and traditional pitches, and who value support over sensitivity. The fit is geared more for flat, narrow feet, though it'll accommodate wider feet after break-in.
La Sportiva Katana Lace ($219)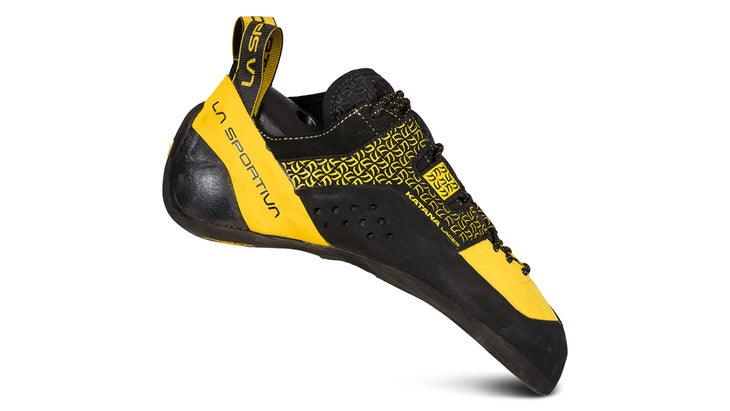 Weight: 8.8 oz (men's) / 7.5 oz (women's)
Pros:
>Offers extreme precision for edging and micro-edging
>A long toe box and laser-cut sole promote access to thin cracks, pin scars, and seams that elude other shoes
Cons:
>Very stiff: smearing takes real trust and visual inspection of the foothold
The Katana Lace is among the highest-performing all-around and thin-face shoes on the market, overbuilt for durability, support, and performance in that unique Italian way. Trad aficionado Clayton Laramie wore them to flash his hardest climb ever, a 5.12c gently overhanging a mixed-face-and-seam route in the Tan Corridor of Colorado's Staunton State Park, about an hour south of his home in Boulder. "I love this shoe," he said afterward. "It's my personal favorite for hard trad and vertical face." Meanwhile, Climbing's digital editor, Anthony Walsh, lauded the thin toe profile. "Both vertically and horizontally, It provided unparalleled access to thin cracks and a ton of precision," he said. Walsh said the shoe shone on Zap Crack, a 5.12+ crack line in Squamish, British Columbia, where the crux centers on two parallel, left-leaning seams: a right-hand seam that takes 0.1 cams and a toe jam and left-hand offset seam that you crimp. "The Katana was the only shoe that could meaningfully jam the right seam while my left foot edged hard on granite chips," he said. The key with such a long, thin toe is that it's also supportive, with no flex. The Katana held its rigidity and shape over months of testing, in part due to the full-length 1.1-millimeter midsole. On the downside, even after breaking these in, the shoes remained stiff, and you often had to take smears on trust, visually confirming your foot placement. For me, the low-volume women's version, with its four-millimeter XS Grip 2 half-sole (versus the men's full-length four-millimeter XS Edge sole), climbed much better; its deliberately inbuilt flex and softer outsole rubber render greater versatility while still keeping the precision toe.
Bottom Line: Need a stellar precision shoe for thin face climbs (pockets and micro-edging) and thin crack routes? The Katana Lace is it and will especially appeal to anyone who prefers long, narrow, supportive toe boxes.
La Sportiva Skwama Vegan ($199)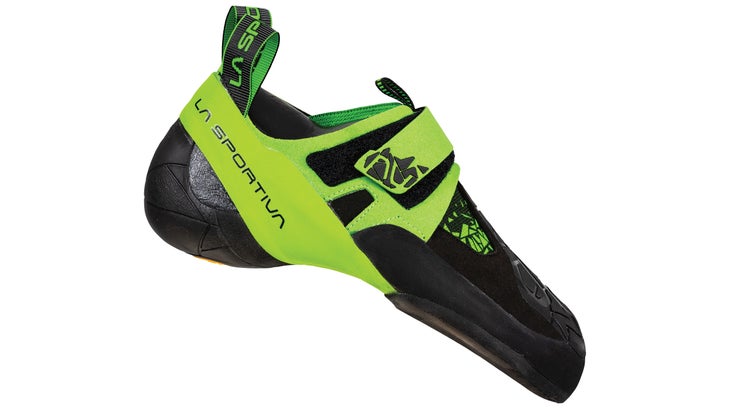 Weight: 8.1 oz (men's) / 7.1 oz (women's)
Pros:
>A new vegan option for what's a proven, high-performance slipper
>Versatile
>Extremely sensitive
>Perhaps La Sportiva's most forgiving last for wide feet
Cons:
>Break-in takes time and patience
The Skwama has a huge fan base for a reason: it's a high-torque, highly sensitive slipper that gets the job done—and done well—on just about any terrain, even the slabby stuff. The downturned last drove energy into the forefoot. The XS Grip 2 outsole and pointy toe provided stick and bite on tiny holds, especially bouldery steeps. The bulbous, geometrically patterned heel held its own in stiff hooks—arêtes and heel-toe cams—but also deformed for technical hooks on crimps and rails while bouldering. This shoe dominated on everything from the 40-degree MoonBoard to a gently overhanging pocket climb called Triple Sec, 5.12d in Kentucky's Red River Gorge that involves precision high steps into tiny pockets and smeary feet. The synthetic upper stretches less than leather and complements what La Sportiva calls its SkinLike insole: an interior 0.6-millimeter odor-reducing microfiber layer that's adhered to a 1.6-millimeter microfiber upper. These shoes may feel a little squishy to some, especially climbers who haven't yet developed strong slipper feet, and they aren't great for endless edging routes. But for everything else, the feedback married with power is 100 percent on point.
Bottom Line: Designed for advanced climbers with strong feet, the Skwama Vegan is ideal for those who value feedback, a high-torque fit, and are consciously looking for a shoe with a synthetic upper for ethical or fit reasons (or both).
Red Chili Voltage LV ($180)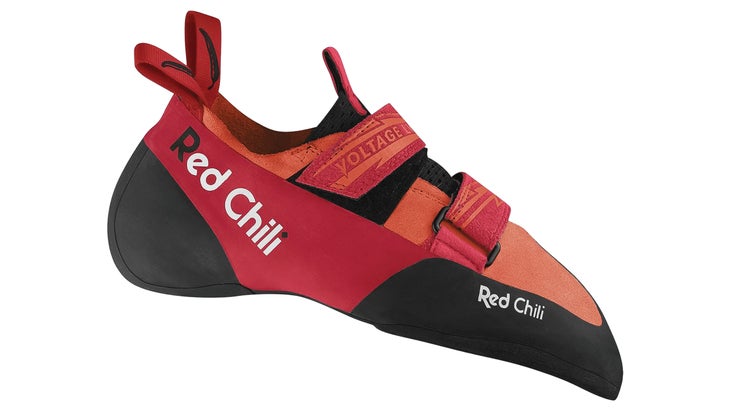 Weight: 8.3 oz
Pros:
>A forgiving fit and stretchy elastic tongue meant almost no break-in period
>High marks across the board for smearing, edging, hooking, and grabbing
Cons:
>The uppers and closure system need better integration, to increase tension down into the big toe
Made by a small European brand not often seen in the U.S, the Voltage has long been a sleeper classic. It's one of the friendliest downturned shoes available, with a low-key fit that's good for steep-rock neophytes, a precise and supportive toe, and a suction heel. Now it comes in a low-volume (LV) version for narrow feet. Our LV tester, Scottie Alexander, mostly bouldered in this new shoe. He praised its precision toe, giving it an eight out of ten on technical demands presented by fussy sandstone and quartzite boulder problems, a seven out of ten for edging, and an eight out of ten for grabbing and smearing. "This shoe gets the soft-versus-edging balance as close to optimal as any shoe I've worn, and it does so out of the box," he noted. However, Alexander thought the soft uppers and orange knit tongue were too flimsy to properly impart tension from the double-Velcro-closure straps (especially the upper one, which he felt was misaligned with the plastic eyelet). Red Chili either needs to stiffen the uppers or remove the straps altogether and recast the shoe as a slipper. On the other hand, my wide feet felt happily snug in the regular Voltage, which features a socklike upper and stretchy knit tongue.
Bottom Line: The Voltage LV is a good steep-climbing and bouldering quiver for narrow-footed climbers determined to enjoy a more comfortable fit.
Scarpa Quantix SF ($189)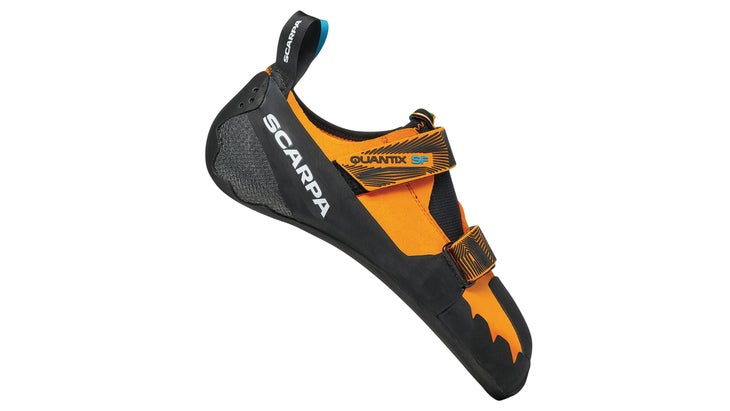 Weight: 8.1 oz
Pros:
>Extremely precise toe box held both shape and bite over months of use
>The combination of a stiff forefoot with overall flexibility and a soft PAF heel made this shoe a jack-of-all-trades
>A precision all-arounder, marked by its light weight
Cons:
>Pumpkin-orange color may not be for everybody
>Toe-hooking patch is so small that it's nearly nonfunctional
The most remarkable thing about the Quantix SF is how much precision you get for such a light, low-key shoe. Climbing's digital editor, Steve Potter, concurred—we both gave the Quantix SF a perfect ten for edging, thanks to a sharp, pointy toe box that digs into micros. However, unlike other precision masters (say, the brand's Boostic), the Quantix SF is not overbuilt. The forefoot is stiff—despite having a gummy XS Grip 2 outsole—but the rest of the shoe is super malleable, so you can drop your heels to vary your angle of contact with the rock. It was superb at toeing incuts on a steep wall, particularly when using low feet, yet also solid on slabbier edging. Potter put this versatility to good use on a granite V7 block in the Adirondacks that started with overhanging smears, compression, and heel hooks, finishing on a tech-nine slab that required a pistol squat on a slanting three-quarter-inch edge. The Quantix SF "bends enough to allow you to stand on your toes without the surface of the shoe changing its alignment on the foothold," he said. My ultimate test was a 50-meter lead at Staunton State Park. The bottom half was slabby 5.10, while the top half required precision edging—with all that rope weight dragging you down. On the upper crux, the shoe flexed as it was meant to, but stayed locked in on the tiny holds nonetheless. Two dings, in my opinion: the toe-hooking patch is just a thin strip, so you don't get much stickum, and the toe box's beak-like shape means toe hooks hurt.
Bottom Line: The Quantix SF is a sleek, airy, low-profile best friend for sport climbers, boulderers who climb like sport climbers (or cross over into sport climbing), and anyone attempting hard trad.
Tenaya Indalo ($215)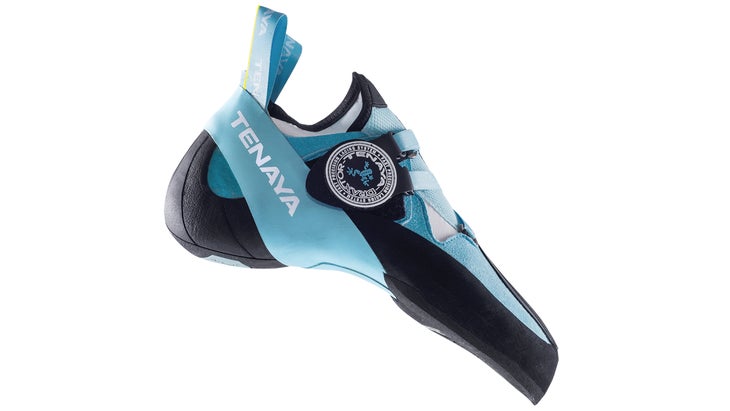 Weight: 11.3 oz
Pros:
>Well-balanced and precise forefoot structure locks in on small holds
>Forgiving fit for a performance shoe
>Sets up great grabbing, overhanging edging, and smearing, thanks to the XS Grip half sole
>Molded heel cup excels at hooking
Cons:
>Toggles on Draxtor closure system are hard to adjust, due to small components
Like the La Sportiva Solution, the Tenaya Indalo is a downturned, slightly asymmetrical, semi-stiff quiver and bouldering shoe that scored good to great on just about everything. As someone with wide, high-volume feet, I was initially skeptical about the Indalo. It's a pointy shoe, and I figured I'd have to contend with dead space in the toe. But Tenaya nailed it this time, building just enough softness into the microfiber upper and lateral stretch on the bilayer perforated tongue so wide feet can spread out and fill the toe box. The Indalo shone on a hyper-techy, gently overhanging granite project at a secret crag near Estes Park, Colorado, which I ultimately sent in this shoe, after a month; I was able to dig into the smallest divots and micro-edges (the dual-construction double midsole—a 0.5-millimeter textile-and-thermoplastic layer superimposed on a braided-polypropylene layer—is just stiff enough) but also toe down and grab sloping footholds. Yes, the toe box is long, but it's also just the right amount of heavy, and the feedback was off the charts. I also dug the thermally-molded heel cup and its full-wrap rubber panels, which kept me locked in around arêtes and on bouldery moves. Tester Anthony Walsh appreciated the stretchy, thin-mesh tongue for hot gym sessions, and he noted that the vegan material "didn't tear or fray despite yarding on them far too hard a couple times." My single complaint is that the Draxtor closure system, while highly effective at letting you customize fit, is hard to adjust with fat or pumped fingers.
Bottom Line: This is an amazing, quiver-of-one shoe for sport climbers who lean toward technical, gently overhanging routes and mega-steeps. It's a bit soft for dead-vertical edging-fests, but still has enough big-toe bite to squeak by on spots of slabbier terrain.
How to Buy
With brands offering so many rock shoes, including "families" of shoes (lace, Velcro, and slippers all built on the same last), it can feel overwhelming to pick out a new pair. Really, there are no wrong answers; only the wrong fit or the wrong shoe for the wrong job. Here are some parameters to help refine your search.
Intended Use
This is a big one, with two facets: you should know both how you intend to use the rock shoe and what the brand's intended use was when they designed it. These don't necessarily need to match up, but it's better when they do. First consider what you want the shoes to do for you, then take a look at the product information to see where there's overlap. Rock shoes are super niche these days; shop accordingly.
Gym Bouldering and Board Training (Moonboard, Tension Board, Kilter Board, Grasshopper Board, Etc.)
For gym bouldering or board sessions where you're frequently removing your shoes, you want a slipper or a Velcro-closure shoe that makes for easy on/off. You'll also want a versatile shoe that performs both on radical steeps and for volume smearing on comp-style problems. To that end, look at soft shoes with only a mild downturn; you need jib-standing power, but you'll mainly be smearing, hooking, scumming, and glomming, whether it's on the holds or the actual wall surface.
Gym Lead Climbing
It's rare to see people wearing lace-ups in the gym, as they're often too stiff and too cumbersome to take on and off frequently. Instead, you want a softish, jack-of-all-trades performance shoe, usually a slipper or Velcro version that's one notch stiffer than your gym-bouldering shoe. A semi-stiff all-arounder gives you options on your gym's lead terrain, which typically varies from vertical to very overhanging. Some climbers like shoes they can keep on for the duration of their session, and there are now purpose-built models for exactly these scenarios (including the Scarpa Veloce).
Performance Sport Climbing
This is likely the largest category on the market, with each brand offering multiple options. Sport climbs come in all flavors, from radical cave ascents on tufas to techy granite faces and arêtes to pocketed limestone. Consider where you'll be climbing frequently. What attributes do you need the most? A pointy toe for micro-divots and pockets? A neutral (i.e., not downturned) last and a stiff outsole for performance on vert and slab? A slight downturn and medium-sticky rubber for grabbing power on semi steeps? Major downturn, radical asymmetry, and squishy rubber for cave climbs? Or are you looking for a "quiver of one," pretty good at all disciplines and/or able to excel in just one or two?
Bouldering
There are countless high-end bouldering shoes out there. Most are designed to encase the foot in rubber, for fluency with futuristic, non-big-toe-focused moves like heel-toe cams and toe scums. These tend to have an aggressive fit—an asymmetrical "banana" shape and a radical downturn—to help you bite into small holds on overhanging terrain. They are not meant for edging-intensive climbs or long-duration wear.
Trad Climbing/All-Around
In general, these shoes are flat-lasted so your feet and toes sit in a more neutral, less activated position, for the longer-term comfort you'll need on traditional and multi-pitch climbs. Trad shoes are meant to be stiff and supportive, so that the small muscles in your feet and calves don't fatigue on long, vertical leads. Trad shoes will also often have higher heel cuffs or ankle protection, for wider cracks. They can be very precise, but will typically lack flexibility and sensitivity.
Fit and Break-In Period
Fit is personal and varies from shoe to shoe and genre to genre. If I really love a particular shoe, I may even buy two different sizes: a looser, more forgiving fit for warm-ups, long pitches, multi-pitch climbs, and gym sessions; and a tighter pair for sport climbs and boulder problems at my limit—short-duration wear. Here are a few rules of thumb.
Go by Volume
Some brands make shoes that favor wide feet, and some that favor narrow feet. So you may discover that some shoes just work better for you. That said, many climbing shoes now come in regular and low-volume (LV) models, or may be labeled as men's or women's versions (women's fit usually translates to LV). It pays to try on both options. There may also be a difference in midsole support between the two: a thinner or half midsole for lighter climbers (often marketed to women), and a stiffer, full-length one for heavier climbers.
Know How Brands Size Their Shoes
Some brands design their shoes to correlate with your street-shoe size; others design them to be sized down. Check the manufacturers' websites, or go to a shoe demo or retail store, before you commit. For my wide, high-volume feet (street size ten), I've figured out the corresponding size by brand, which may help you on your search:
Black Diamond: 9.5
Butora: 9.5
Evolv: 10
Five Ten: 10
La Sportiva: European 40.5 or 41
Mad Rock: 9
Red Chili: 9.5
Scarpa: European 41-42, roughly two to four European sizes off street shoe size
Tenaya: European 41
Unparallel: 10
Again, these are just rough guestimates, but after intensive shoe testing for the past 15 or so years, they continue to serve me well.
For women's sizing, I asked Heather Weidner, who wears a women's street-shoe size eight (equivalent to a European size 39). For the sizes she's sure of, she said:
La Sportiva: 37.5
Five Ten: 39
Scarpa: 39
Recognize the Right Fit
You never want your climbing shoes to fit so tightly that you immediately lose circulation—not even during break-in. In a shoe that fits perfectly, your big toe will sit flat or slightly curled at the very tip of the toe box, and your heel will slide all the way into the heel cup. If your big toe or other toes are so curled that you can barely weight the shoe, or if your heel doesn't drop down fully into the pocket, the shoes are too tight. At the same time, you don't want loose or baggy shoes, except maybe for warming up and long gym sessions. If a shoe is too comfortable out of the gate, it's likely too big and will slip on smaller holds, especially as the shoes stretch. Most synthetic shoes only stretch a little (to become a quarter size larger), while those with leather uppers can stretch up to a half size, so take that into account when making your purchase. Finally, with performance sport and bouldering shoes, listen for a vacuum whoosh noise when you put them on—that signifies a good, conforming fit.
Don't Skimp on the Break-In Period
Some models—especially high-performance shoes that run $200 and up, with their numerous sewn panels, special materials, and tension rands—are meant to have a long break-in period. Most performance shoes come with plastic sheets, to facilitate sliding tight, new shoes on over your heels. (You can even climb with the plastic hanging out the back. Adam Ondra does it!) I'll usually wear a tight pair at home (including the plastic sheets) for a night or two in front of the TV, then do a few gym sessions in them, then finally take them on the rock when they're more pliable and better shaped to my feet.
Lead Photo: Kiff Alcocer