A Perfect Day on Wyoming's Red Sentinel
Ali Carr Troxell spoke to Climbing's Julie Ellison and Jes Nelson, a manager at Bent Gate gear store, after they climbed the 5.7 route about the experience and what pieces of gear were pivotal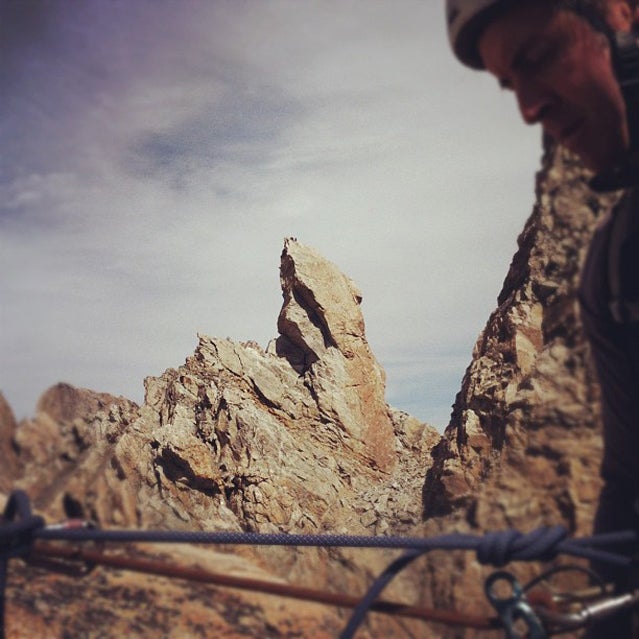 Heading out the door? Read this article on the new Outside+ app available now on iOS devices for members! Download the app.
There's something about the picture above that invigorates me. It could be that when I took it, I had just climbed my first multi-pitch route and was sitting as gracefully as possible on a wee spot of rock with a dizzying amount of exposure below me. It could also be that I'm a little bit proud of the way this photo turned out—even if it's entirely too Instagram'd. But I'm pretty sure it's those tiny little dots atop the Indian Chief-looking spire in the distance that make me giddy.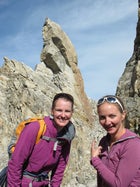 Jes Nelson (left) and Julie Ellison (right).
Picture this: a late September sun-filled day in Wyoming's Tetons—an Indian summer day when it very easily could've been windy and stormy and entirely unpleasant. The air has a snap to it, but only in the shade. I'm here with a group of editors and retail buyers to test the latest approach shoes from Salewa, a mostly European mountaineering footwear brand, and we're doing some warm-up climbs the day before a bid for the summit of the Grand. The rock is craggy, richly-red, and all within a few hundred feet of Jackson Hole Mountain Guide's high camp at 11,000 feet. From my position on a route called The Watchtower, I'm watching fellow adventuresses Julie Ellison, Climbing magazine's gear editor, and Jes Nelson, a manager at Golden, Colorado's famed Bent Gate gear store, scurry up the 5.7 Red Sentinel route like tiny ants on a log. In this picture, they're straddling the summit—a few hundred feet on one side and a few thousand on the other—watching wildfire smoke lilt over the valley floor.
Just thinking back on that day makes my heart flutter. As someone who doesn't call herself a climber, I improved my skills tenfold on this trip. But underneath my own self-determination (and there's a lot of that), was the inspiration these two women stirred up. So, I decided to catch up with Ellison and Nelson and ask them about their experience and—of course—what pieces of gear were pivotal in helping them to complete what they're calling on of their favorite climbs ever.
Tell me about the route you did on the Red Sentinel.
Ellison: It was the epitome of what I call a full-value climb. After a long-slog of an approach through a breathtaking cirque of small peaks and rocky ridgelines, you come up this chiseled spire that is begging to be climbed. It was 200 feet in two pitches with a third summit pitch that is a short traverse. There was one point where you swing onto the north face of the spire and the ground drops out below you by at least a thousand feet. I'm not afraid of heights and have had a decent amount of experience with exposure, but I had to take a second to regain my composure. Plus, there are all these old pins and rings—fixed gear—so you don't really trust your protection. You can't see or hear your belayer, so you're kind of in your own world.
What was it like sitting up on the summit?
Jes Nelson: You're sitting on that knife's edge of the "Rad Sentinel" with sheer vertical walls on three sides, taking in your surroundings. The only word that does it justice is peace.
Ellison: We were smiling like idiots over the climb we just did!
What pieces of gear were key on this climb?
Ellison: My Patagonia Capilene 4 Expedition Weight baselayer. I wear it as a midlayer because it fits over a tight baselayer and under an athletic jacket. It's breathable and I never sweated out in it. It's become my go-to—it has revolutionized what I expect from midlayers. I also had my standby Black Diamond Half Dome helmet, which fits my large head perfectly and breathes in hot weather.
Nelson: Moving back and forth between sun and shade can be challenging. My Arc'teryx Atom LT Hoody is a nice insulated midlayer or jacket that's extra breathable where you need it. I've definitely sweat in this piece and it always manages moisture and temperature well.
What other gear do you use in your regular climbing routine?
Ellison: My climbing partners are often larger and weigh more than me so the Petzl Grigri 2 gives me an extra layer of safety when I'm belaying my climbing partners. It's an assisted breaking belay device that fits nicely in the palm of my hand.
Nelson: It's all about the shoes. Bouldering was my first love—no ropes, no gear, just me and the rock. And shoes! I love the La Sportiva Miura and Katana lace-ups. The fit, form, and rubber can't be beat.
What inspires me the most is that you girls had just met the day before. But there's a lot of trust you have to put into a climbing partner. How did that work?
Ellison: Jes and I were both out there to have fun and enjoy such a beautiful place—there was no pressure to climb perfectly or outperform the other person. I immediately had complete confidence in her.
Nelson: There was just a commonality of experience, interest, and passion. It just fit.
So how about that rappel off the Red Sentinel?
Ellison: You have to walk backwards and gently maneuver your body down over the edge. If you move too fast, you can cut the rope on the sharp edge. You come down over this roof and you're dangling with the wall 30 feet away. It's pretty heady.
Nelson: It was exhilarating. You sit back, start walking, and, all of a sudden, nothing but air.