Tested: Black Diamond's Momentum Climbing Shoes
When Black Diamond released its first-ever batch of climbing shoes, only a third of the initial line was marketed to women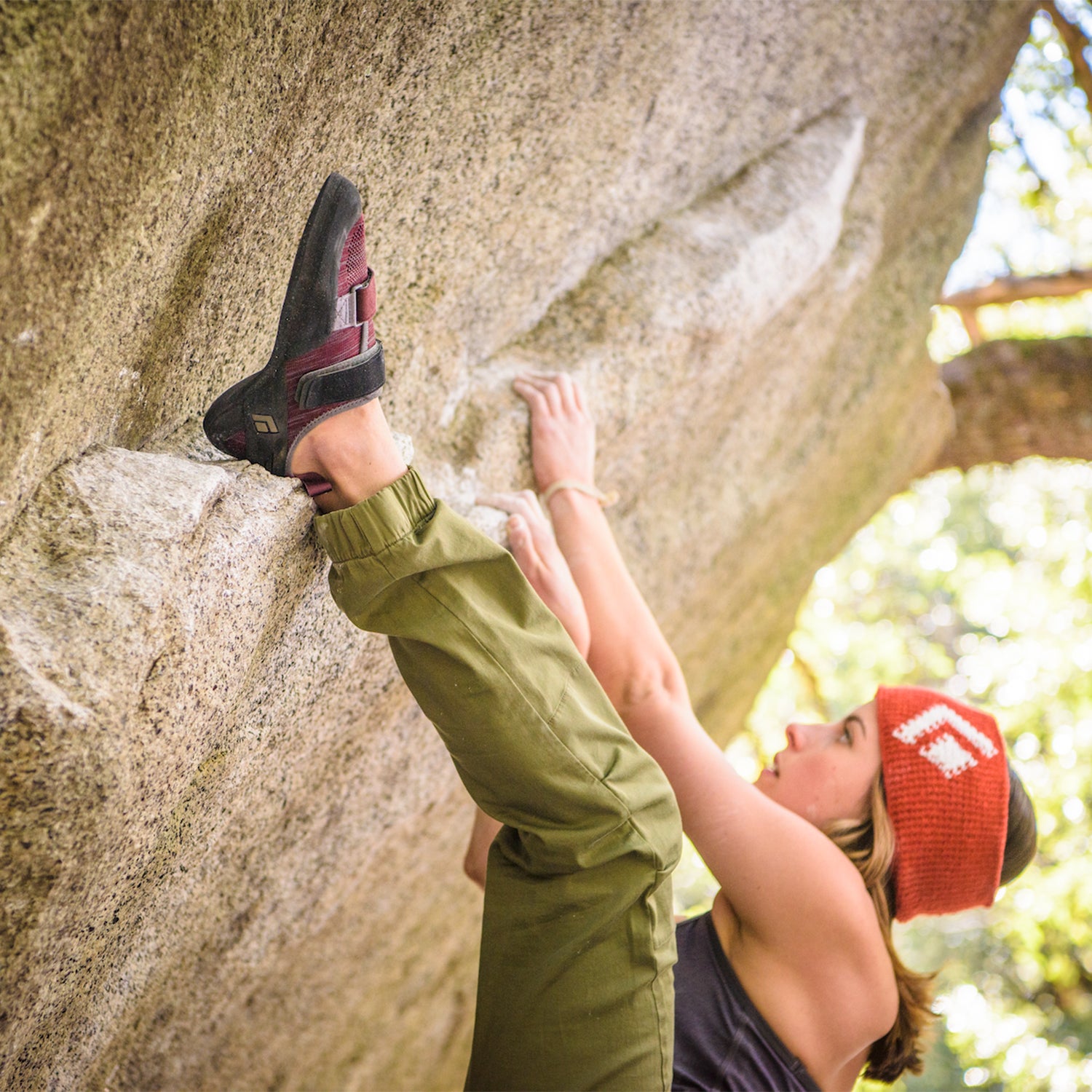 Heading out the door? Read this article on the new Outside+ app available now on iOS devices for members! Download the app.
Last summer, Black Diamond announced it was breaking into the climbing shoe business. The line features three styles: the Momentum, aimed at beginners; the Aspect, a trad shoe for sending splitters; and the Shadow, which features an ultra-aggressive shape.
The knit material that appears in all three designs initially caught my eye, as it was a style I'd seen in street shoes but never before in climbing shoes. As I read up on the different versions, I noticed that the entry-level Momentum was sold in gender-specific models, with women's sizing and lasts. The two more-advanced shoes in the line were marketed as unisex. It's worth noting that the "unisex" shoes are currently based on men's sizing and made with a men's last.
In the past, I've opted for men's climbing shoes to avoid the frills and pastel hues often splashed over women's editions. "Women-specific" is also often code for less technical, so I was initially skeptical about why Black Diamond wasn't targeting women with the more dynamic shoes in the line. Did the company doubt women could send as hard as men?
I polled a few of my female climbing friends on what they thought of Black Diamond's choice of opting for unisex shoes in the Aspect and Shadow. Most weren't bothered by the lack of women-specific marketing. One friend, who was once sponsored by another brand, referenced the outdoor industry's pinking-and-shrinking problem and told me, "I don't think they're being sexist. It would be different if they were only making men's shoes."
Kasey Jarvis, vice president of design at Black Diamond, says the sizing choice is a business move for the company to test the waters before splitting the sizing of the unisex models. And sometimes women prefer buying the unisex model anyway. For example, Black Diamond stopped making women-specific skis after they didn't sell. The company found that women were buying from its men's line instead.
Yet with shoes, more so than with skis, gender-specific tailoring matters. The women's Momentum is made from a last with about 7 percent less volume than the men's. Women often have smaller feet, especially at the heels, Jarvis says. But not always, which makes it tricky to draw a clear line between men's and women's sizing.
Jarvis, who also spent seven years designing Nike running shoes, said most companies deal with the subtle differences in gender-specific sizes by giving women less heel-to-toe wiggle room and men more. "It's not the best solution," Jarvis says. "We're trying to debate is it better to just cater to high- and low-volume feet and not try so hard to be men's and women's? I think you make it easier to buy rock shoes that way." Jarvis says they're toying with the idea, even though retailers often look for the two types and the color variations to go with them.
So the real question is: How do they perform? I spent months testing the first shoe in the line. Momentum features two Velcro straps, a flat and flexible midsole, sticky NeoFriction molded rubber, and my favorite part, a breathable microfiber knit tongue—all meant for supreme comfort. It comes in women's and men's models for about $90. After sending both real rock and rubber routes in the shoes, I was pleasantly surprised, especially by their gym performance. I found that I could confidently apply pressure to the toe boxes on every hold, even the tiniest foot chips. Yet on some 50-degree days in Boulder Canyon, my local crag, I was less confident in their stickiness on granite. I traded them out for another shoe after warming up.
Black Diamond recommends buying a half-size smaller than your running shoe size. For the first dozen wears, it took muscle to tug them over my heel, and even though they're flat, neutral shoes, the pinch in my toes was like that of serious downturned styles. Overall, once the foot space stretched out, the Momentum performed like a standard beginner shoe that could take me to the top of modest routes.
When it comes to choice of color, the new line trends toward muted tones—sandalwood, nickel, olive. Though some might say the Momentum merlot is one shade away from pink, I'm a fan. Whether it's harnesses or clothing, Jarvis says that in his experience, women gravitate toward the blues, reds, and other colors first, whereas men prefer tans, grays, and other neutrals. He said he's cautious about color as a whole. "It's to the company's benefit to have these things be recognizable from a mile away, but I think a shoe that doesn't scream and shout is more wearable," Jarvis says.
New colors and a lace version of the Momentum will hit shelves later this year. And women can get stoked that the crack-specific Aspect—along with a new downturned model called Focus—will be made with women's shape and sizing at the forefront of designers' minds in 2018.
Once I blow out the rubber on my current pair, a Black Diamond shoe may take its place.
Lead Photo: Black Diamond Equipment