Indefinitely Wild
These Are the World's Most Rugged Packs
Portland, Oregon-based CiloGear promises to sell you the most bomber, versatile alpine packs on the market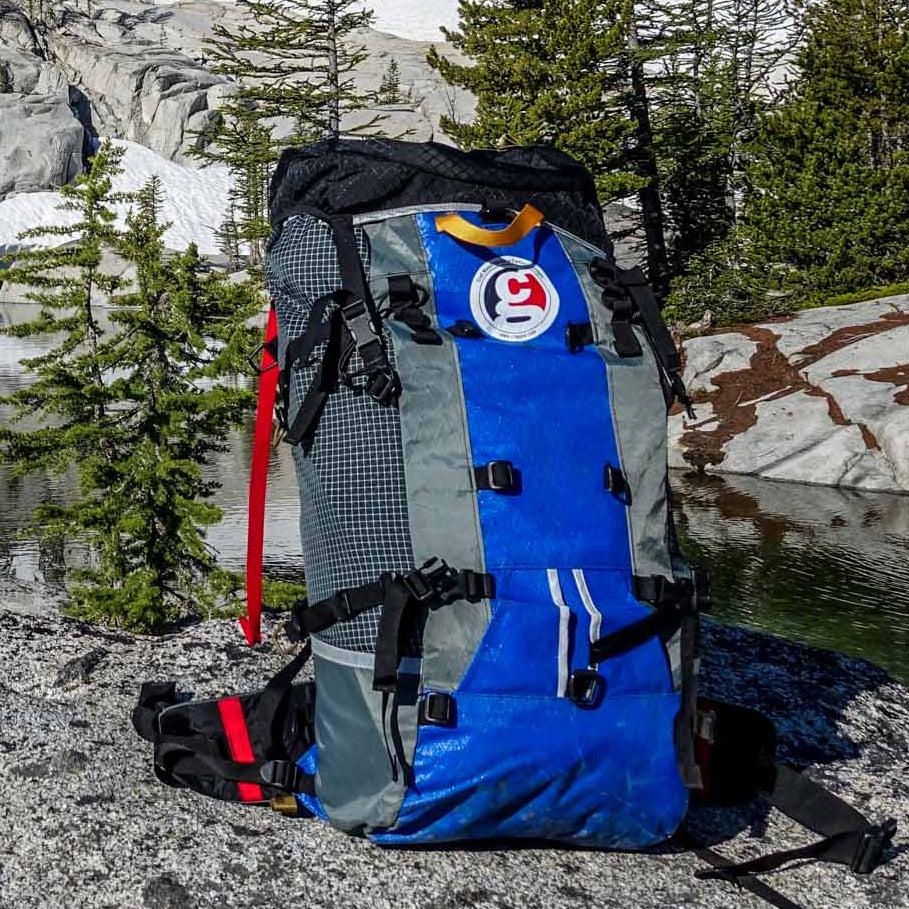 Heading out the door? Read this article on the new Outside+ app available now on iOS devices for members! Download the app.
Tired of built-to-price, Far East-made packs? That's what many mainstream outdoor brands will sell you—and it's exactly what Portland, Oregon-based CiloGear rebels against. Made from some of the most durable materials available and stitched by hand, they're supposed to be the best-made packs around, by a large margin. I've spent six months testing a pair of CiloGear alpine packs, using them for everything from mountain climbing to airline travel.
Does the reality live up to the hype?
What Are They?
In addition to the durability, the unique selling point of CiloGear packs is their versatility. Using a clever strap system and removable frame sheet and bivy pad, you can attach all manner of bulky, heavy gear to them for an approach, then turn them into a bare sleeve that's simple and light for a summit attempt. Or you can custom configure the packs using the internal organization systems, making them ideal for everything from a day hike to a plane ride. 
CiloGear wants its packs to be strong, not just lightweight, which becomes obvious when you look at its material choices and pack construction. That's a big part of what makes its bags more applicable to mountaineering then thru hiking: they're built to withstand the abuse carrying things like pickets and crampons can bring, while also being more fully-featured and versatile. 
We've been testing both a 30 liter woven/non-woven Dyneema WorkSack ($500) and the considerably more affordable 60 liter WorkSack ($309), made from less exotic fabrics. 
Aside from the size and material differences, both models are essentially the same design. They're tall, narrow packs with minimal straps, detachable lids and waist straps, and drawstring closures. Inside, you'll find a sleeve filled by a foam frame sheet and bivy pad, a zip-close valuable pocket, and a load-lifting compression strap. 
So far, pretty basic. CiloGear's construction and materials set its packs apart. 
Who Are They For?
Let's be honest: probably not you. These are expensive, specialized packs for people who spend a ton of time outside, and who value gear that holds up. If you only occasionally climb mountains, then you're better served by pressing an existing hiking pack into double duty. With one of those, you'll appreciate the added comfort and ventilation of a modern backpacking packs—without the eye-wateringly-high price tag. Most of us won't realistically mind a few extra ounces. Carefully pack your crampons, and an Osprey will do just fine. 
But if you are climbing enough that you need a dedicated pack for the task, and that needs to last multiple seasons, then CiloGear is for you. 
(Or, if you just feel like posing, there are few brands that will engender more jealousy than this one. Heck, that's probably most of what I get out of wearing one of these.) 
https://www.youtube.com/embed/2iYYg038h2E
The Build
CiloGear's big selling point is the materials and construction in its packs. Its designs are pretty basic.
First things first: non-woven Dyneema has a superb strength-to-weight ratio and is inherently waterproof. But it scuffs easily. CiloGear's Dyneema packs—the white ones—employ a novel woven/non-woven material that combines the extreme tear-resistance of non-woven Dyneema with a woven face that adds abrasion resistance. 
The more affordable range of basic WorkSacks is made from a mix of 1,000- and 500-denier Cordura, laminated with high-tech materials to boost tear strength and add waterproofness. All WorkSacks use thinner, lighter materials in non-load-bearing areas to save weight and cost and add flexibility. (You can read more about CiloGear's materials here.) 
Don't knock CiloGear packs for their simplicity. These packs stick with offering you something that works—with no unnecessary extras. They'll hold your stuff, and they'll do so comfortably and reliably. 
Users can also customize and configure their packs to suit their own needs or those of specific jobs. Take the foam frame sheets, for instance (the packs now ship with a rigid HDPE frame, too). CiloGear sells both an inflatable and rigid frame sheet. Those make a convenient seat or can add some padding to a sleeping setup. But you can get more creative. One of our friends who works at Cascade Designs built himself a custom self-inflating pad to replace the standard item. That allows him to blow it up stiffly to support heavy loads or deflate it when he needs to put the pack away for travel. You could replace yours with a trimmed-to-shape Therm-a-Rest Z Lite closed-cell foam pad if you wanted a better seat, or even knock together something out of carbon plys if you have the know-how and want ultimate support. Hydration bladder? Just shove it in the pad sleeve: there's a port for it under the lid. 
Outside, the included strap system allows you to add compression and load stabilization or to attach virtually anything, with any degree of security. You can also run with or without the lid, and the same goes for the waist strap.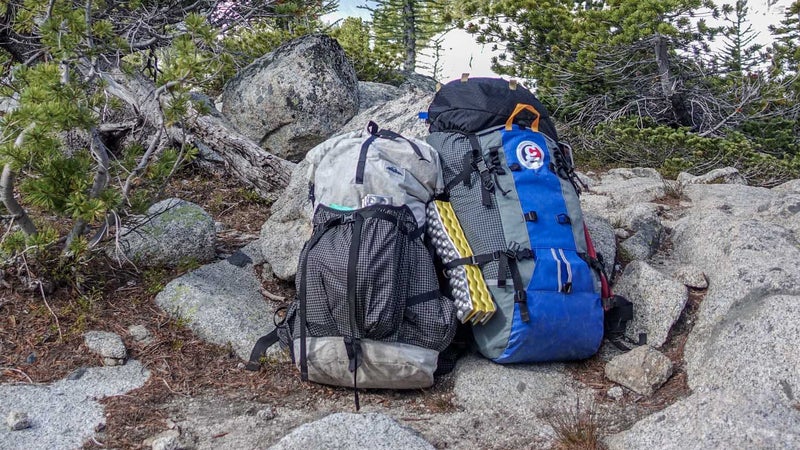 Using Them
You can adjust the height of the waist strap a bit via the loop it mounts through in the pack body, and the Velcro inside. But you're going to want to make sure you order the appropriate size pack. With fixed shoulder straps, fitting your CiloGear pack for the first time is simple: just tighten the waist belt, pull down on the shoulder straps a bit, and yank on the load adjusters. 
Packing and attaching stuff to the outside will take a little longer. With just the top opening, you need to consider access when stuffing stuff down inside, while also keeping weight distribution in mind. The interior load lifter helps there, pulling the pack's content upwards and closer to your back once everything's inside. You can also configure the external straps to help.  
Those straps come in a variety of lengths and arrangements. Some have adjusters, some are plain, some have side-release buckles. Play with those and the plentiful attachment points on the exterior and you'll be able to attach pretty much anything to the bag. It's also easy to add bulky items, like large tents, to the top of the pack, then secure them with the lid, attached by extended straps. You can expand the pack's capacity by about a third if you do this. Once you're ready to leave stuff at base camp and bag a summit—or if you just want to use the pack to carry less stuff—cinch the body down to just a slim envelope.
Used like this, the 30-liter pack can easy carry between eight to 40-plus liters of gear. The 60-liter pack ranges from 80 liters down to 35. I'd rate its capacity at well above most 70-liter packs I've used, but still a bit less than most of the 100-liter designs. Not bad for respective weights of one to two pounds and two to 4.2 pounds, depending on configuration. 
Heat can be an issue. As with any mountaineering pack, minimized weights, maximized volumes, and carrying stuff as close to your back as possible means there's no mesh suspension—and ventilation—to hold the pack body off your back. In hot weather, you'll get sweaty quickly. Hiking up New Hampshire's Mount Washington in warm weather this summer, I was convinced my hydration bladder had sprung a leak: that much sweat built up as the pack pressed against my back. 
Six months use is nothing to these packs, and neither of mine show any discernible wear. I climbed Mount Baker with a friend who's used his W/NW Dyneema CiloGear consistently for a few years. In that time he's poked a few small holes in the body, but none exhibited signs of growth, a testament to the extremely high tear resistance of the material. His pack was otherwise as good as new, with all the toggles, cinches, straps, and zippers working flawlessly. 
I've heard reports of the padding in CiloGear's shoulder straps flattening out after prolonged, heavy use. But the company has just updated its padding in response to these complaints. 
Likes
You don't truly understand the meaning of "bomber" until you've used one of these. You could probably use one for glissading without hurting it. 

Tall, narrow body keeps pack out of your way.

Valuables pocket is well located and super handy for storing keys, wallets, phones and other stuff you need to have with you, but won't use on the trail or climb. 

Loads of customization options. 

Best pack lid we've ever used.

Dual draw cord top closure is super handy when dealing with variable loads. 

Interior cinch strap really does help secure weight where it belongs. 

Best ice axe loop on the market.

Can easily carry more than advertised capacity.

Straps can be configured to carry awkward objects like skis and snowboards. 

Completes the jump-up-and-down test more silently than any other pack we've used. 
Dislikes
Delivery can take months.

Your back will get sweaty in warm weather.

Expensive.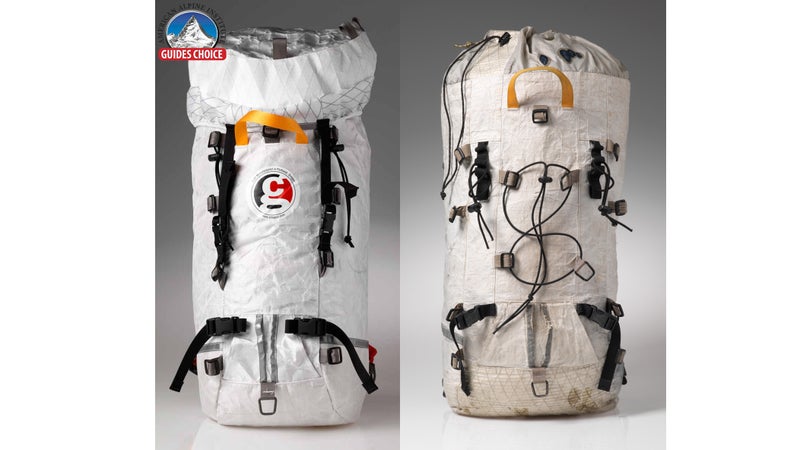 Should You Buy One?
If you're looking for a budget pack that will handle 90 percent of outdoor activities, buy an REI Traverse and call it good. For just $120 to $170, they're comfortable, well made, and feature mesh suspension to keep your back cool. If you want to spend too much money on a ultralight Dyneema pack for backpacking, buy the lighter, more hiking-specific designs from Hyperlite Mountain Gear.
But if you're looking for something to climb mountains in on a regular basis, and you need a pack that can haul all your stuff and that will last forever, then you should definitely look at CiloGear.
You won't find its packs in mainstream retailers, and you'll need patience for the peculiarities of craft manufacturing—delivery takes eight weeks or more—but you also won't find a better made, more cleverly designed mountaineering pack anywhere else.