The 20-Something Restorers Behind Filson's Coolest Products
The Seattle company's gear lasts approximately forever. But when the stuff is ready to retire, it ends up on this duo's table and turns into something brand new.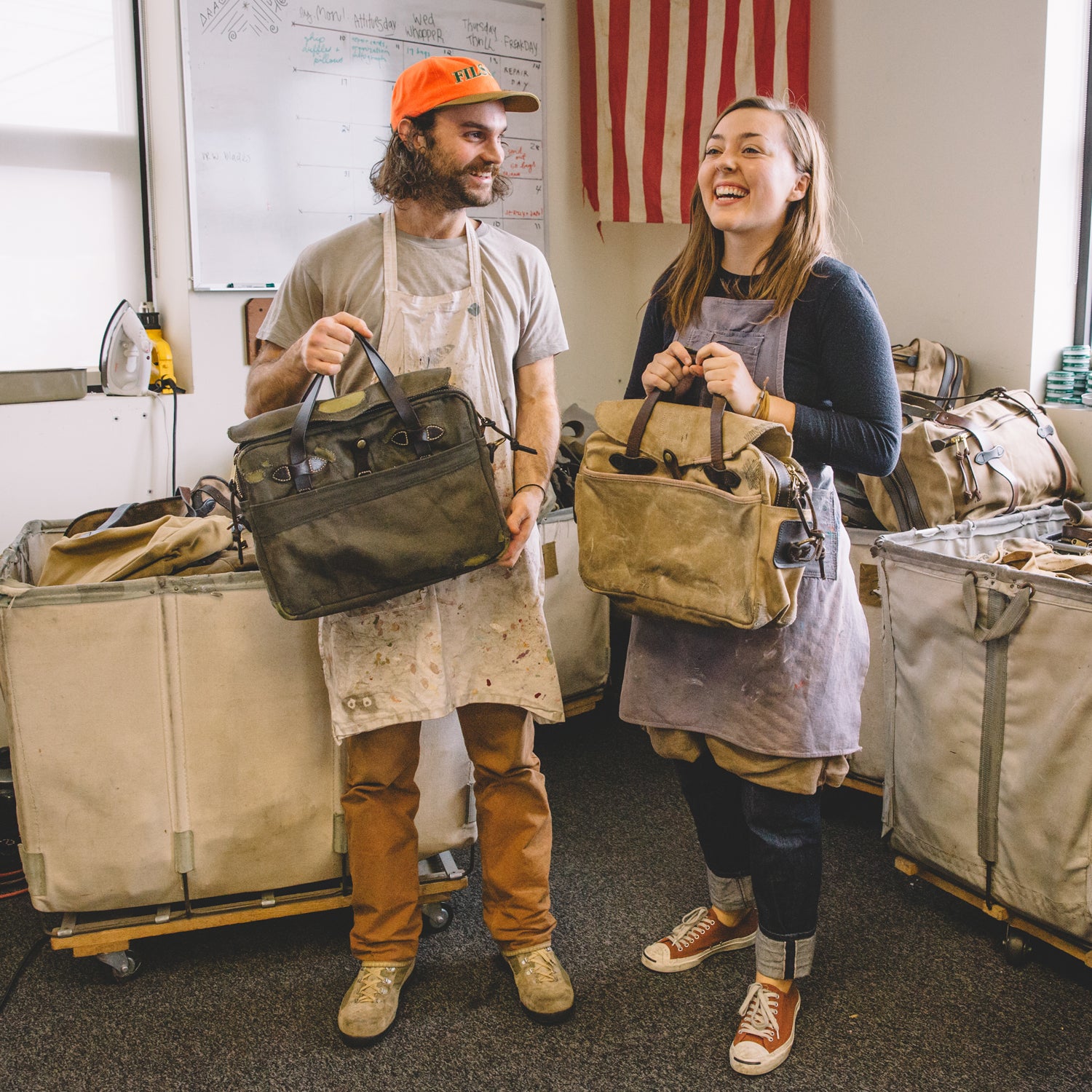 Heading out the door? Read this article on the new Outside+ app available now on iOS devices for members! Download the app.
Evan Franz and Claire Beaumont might have the best gear jobs on the planet. The two of them make up Filson's Restoration Department (FRD), which is where the 118-year-old Seattle-based outdoor brand recycles its retired bags. The duo's only task: creatively reuse the tattered oiled canvas and aged leather that lands on their tables.
Every Friday, Franz, 25, and Beaumont, 26, receive a shipment of used products (often 20 to 30 years old) that have returned to Filson because of damage or wear. For the pair, that Friday drop is like getting a fresh set of canvases and paint. They begin by marking down what little they know about the products and their condition. "I wish we knew more about each piece of luggage and the history to pass on to the next customer, but we've only received a letter or two over the last year explaining where the bag came from," says Franz.
Over the past few years, many companies—from Patagonia with its Worn Wear program to upstarts like Ten Thousand, which makes just two products—have thrown planned obsolescence out the window, focusing instead on reuse and recycling. Filson started the FRD in December 2013 because it found that even tattered equipment had plenty of reusable material, not to mention that weathered look that can't be faked. The program centers around luggage, a core product for Filson, which started as C.C. Filson's Pioneer Alaska Clothing and Blanket Manufacturers in 1897 and established its reputation for outfitting men during the Klondike gold rush. Many of the original bag designs and fabrics are still used today, and the products have a well-earned reputation for longevity.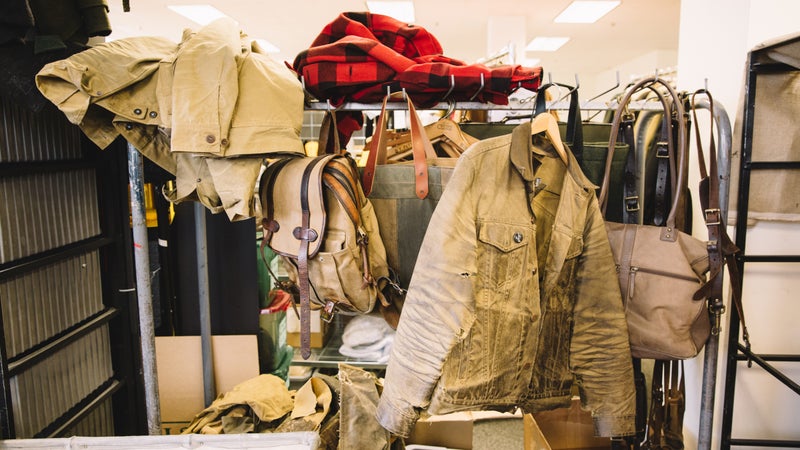 Most of the bags that come through the department are just heavy repair jobs: Franz and Beaumont fix zippers, treat leather, and patch holes. Instead of trying to make the bags look like new, they'll often use different-color fabric patches or sew over holes in Frankenstein-like patterns, giving each its own new style. Others are destined to become something else entirely, and the pair will use the old material to make another product, either from the line or one that they've made up. "I love the challenge and how much space they give us to be creative here. It feels insane to have that level of trust in a company of this size," Beaumont says. "There's no formula to what we do because every hole or sign of wear is a unique problem to solve, so we're actively improvising eight hours a day, five days a week."
After restoration, most of the pieces are sent to retailers around the world—many of the early bags went to Filson's London store—and usually sell for nearly twice as much as new products, which Filson credits to their historical, one-of-a-kind appeal. Filson briefly featured some of the restored bags on its website in 2014. The lot sold out in hours.
When Franz started working at the department, he made about ten bags per week. Beaumont was hired almost a year later after coming by—her sister was working for Filson at the time—to see about a new zipper for her well-worn Filson rucksack. She immediately clicked with Franz over the creative possibilities. Both are from the Seattle area and have a history with recycling old materials. Beaumont studied sewing and pattern making at a technical school in Tacoma and apprenticed several times to learn more about sewing and fabric reconstruction. Franz grew up on nearby Bainbridge Island, where his grandma taught him to sew. He always had a hard time throwing away a pair of torn jeans and started repairing his own, and eventually his friends', clothing and backpacks.
Today, the pair creates about 50 restored bags per month, but they have a supply issue: the Filson stuff tends to last a long time, which means there aren't a whole lot of products to repair or reuse. In a slow month, they'll get only 20 bags and the goal of 50 goes out the window. They've partially gotten around this problem by taking fabric aging into their own hands. On the roof of Filson's Fourth Avenue building, Franz and Beaumont lay down fabric of all shapes and colors to soak in the sun and rain. After a few weeks, the pair returns to materials naturally painted with swaths of faded green, water-stained black, and discolored orange. Those fabrics then become a patch for a recycled product, but never the foundation of a new one.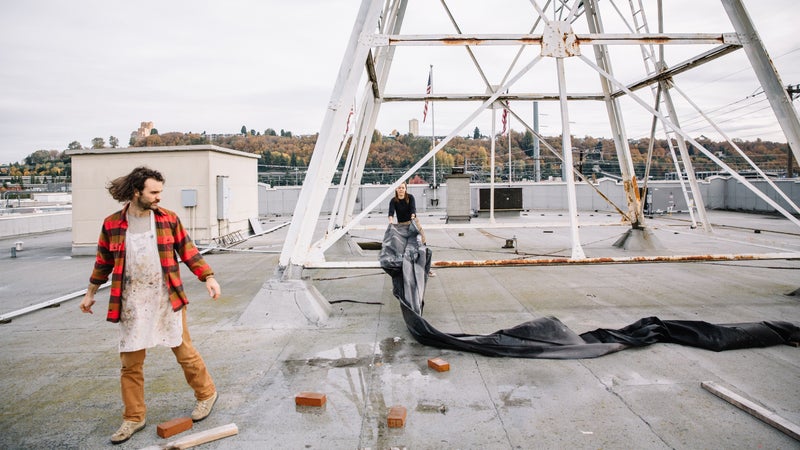 Filson understands the value of the FRD—not only as a testament to its older designs but also as a creative, bright spot for the company—and the whole project will move on November 24 from its current cramped space to a spot front and center at Filson's new flagship retail store and headquarters, just blocks from the Mariner's Safeco Field. Lined with wood, vintage photographs, and other curated art from the Pacific Northwest, the new store will be a jump for Filson into its modern-day, American-made philosophy. Every bit as important as the retail space will be the adjoining factory, where shoppers will be able to view, through glass walls, new bags and luggage being made throughout the day. But they won't see either Franz or Beaumont back there: the pair will work in an open-air space in the middle of the shop where customers will be invited to interact and ask questions of the restorers.
Lead Photo: Nick Kelley