The 9 Essentials You Need to Organize Your Gear
Key pieces of packing help for life on the road or trail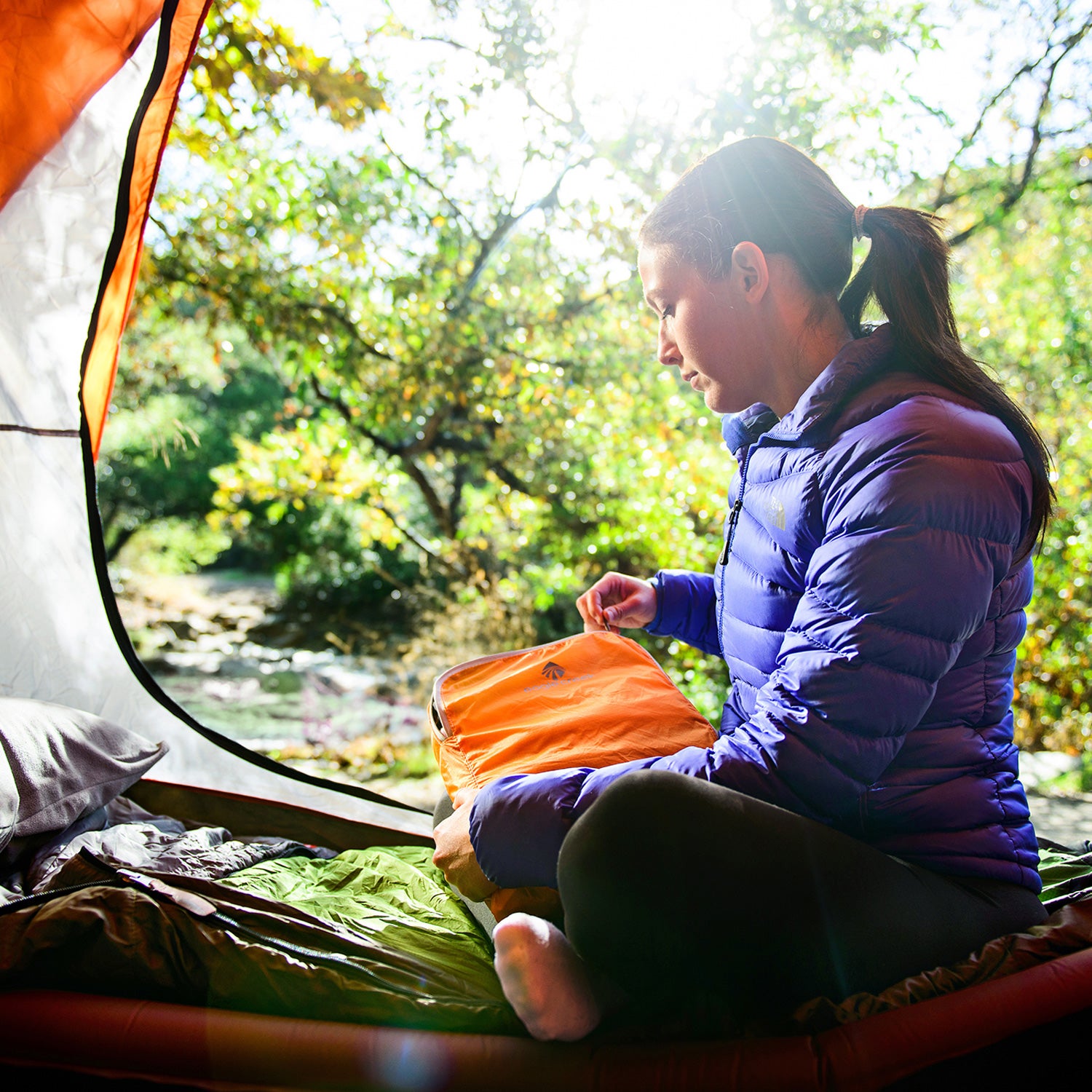 Courtesy of Eagle Creek(Photo)
Heading out the door? Read this article on the new Outside+ app available now on iOS devices for members! Download the app.
My dad was one of those ultra-organized types. Dymo labels on every drawer on his workbench, a stamp collection with hand lettering that would have made a medieval scribe weep on his parchment. Some of it rubbed off on me, although my wife would be quick to point out: not enough. Particularly when I'm on the road, where crap always gets lost. And extra-particularly in the backcountry, where I don't travel light—more like heavy—and I lose stuff, then cram it into oblivion on the second day and lose it all over again. 
So cubes and space savers and color coding—while dorky—save me from myself, whether it's a stuff sack for holding camp food or sock organizers in my suitcase. Here are some of my favorite discoveries from nine great companies. If you have a business traveler or backpacker on your Christmas list, any of these would make welcome stocking stuffers—or better yet, that into which your stockings get stuffed.
---
Arc'teryx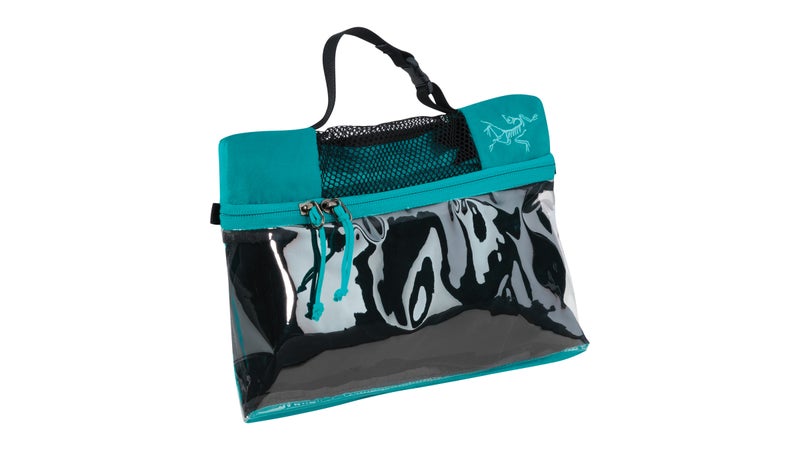 Known for their packs and outdoor apparel, Arc'teryx also offers some very good accessories, including the Index line, made from heavier nylon than your average packing cubes, for better protection of delicate items.
We like: the Index Dopp Kit, which has a clear panel to get you through the security line faster and a smart breathable compartment up top for your toothbrush. Holds just enough for more minimal fellas, and great for tossing in your gym bag. 10 x 7 inches; $29
---
Eagle Creek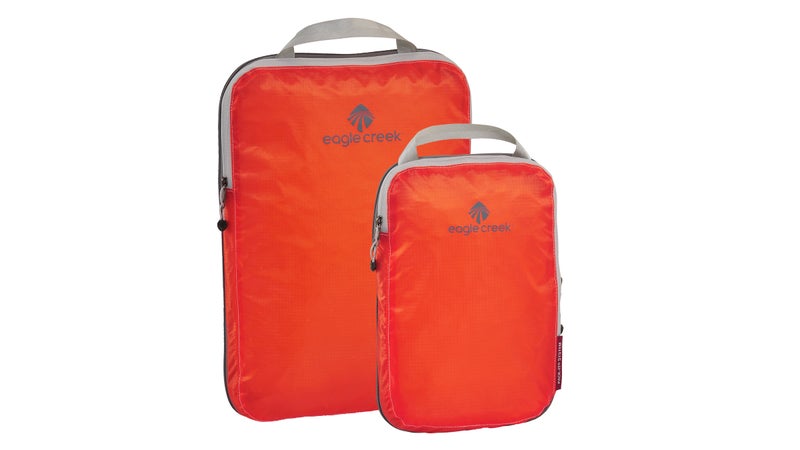 Luggage and pack maker Eagle Creek hits the sweet spot between business and adventure travel. They've made a wide array of Pack-It organizers for 20 years, and last year brought out a sleeker, neon-colored Specter line that includes items like a handy shirt folder to ward off wrinkles.
We like: the light, water-resistant, ripstop silnylon Pack-It Specter Cube Set. They're more free-form than cubes such as eBags', below, so they transition well from carry-on to backpack. Set of 3, 1.2 liters to 10.5 liters; $38
---
eBags
​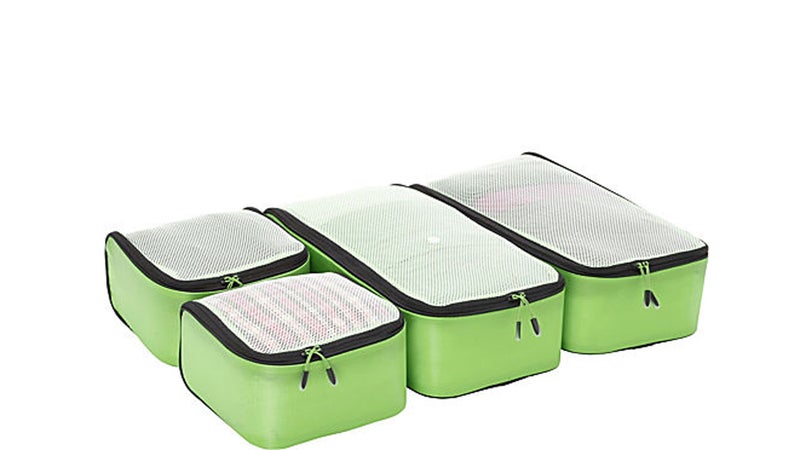 The online luggage retailer sells 500 brands, including its own line of cases and handbags, so they know something about how to pack. The company's extensive line of modular Packing Cubes come in a variety of sizes and combo sets.
We like: the Getaway 4-Piece Set, with two smaller cases and two longer ones that combine to fit optimally in the average carry-on. Because they're designed for luggage, with bending wire frames, they hold their shape even when empty. Set of 4: 2 x 3.2 liters and 2 x 4.8 liters; $50 
---
Grand Trunk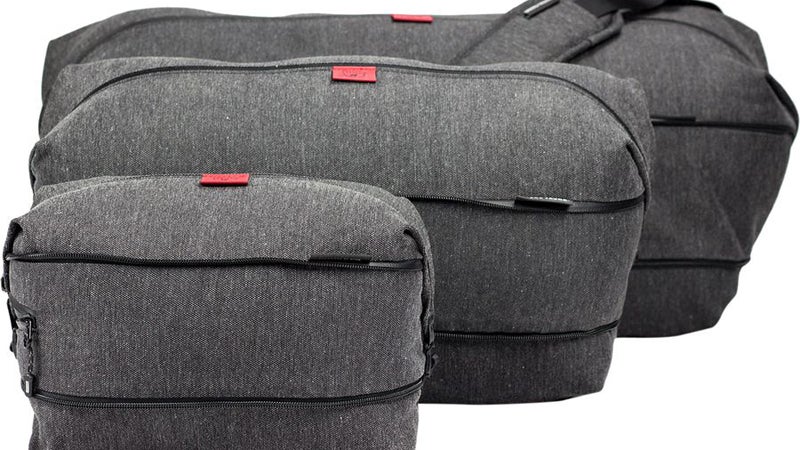 Hammock maker Grand Trunk supplements its offerings with a few Adventure Travel Organizational Modules that include wallets, toilet kits, and Compression Pack Cubes—a line of three beautifully designed 600D, water-repellent nylon canvas sacks that are just as handy as mini-duffels as they are compression bags.
We like: the medium-size Getaway cube, an expandable sack with two compartments to keep things sorted in a bag or pack; use it every day, tossing in your wallet, phone, camera, and keys when you don't want to carry a daypack. 18 liters; $80
---
Granite Gear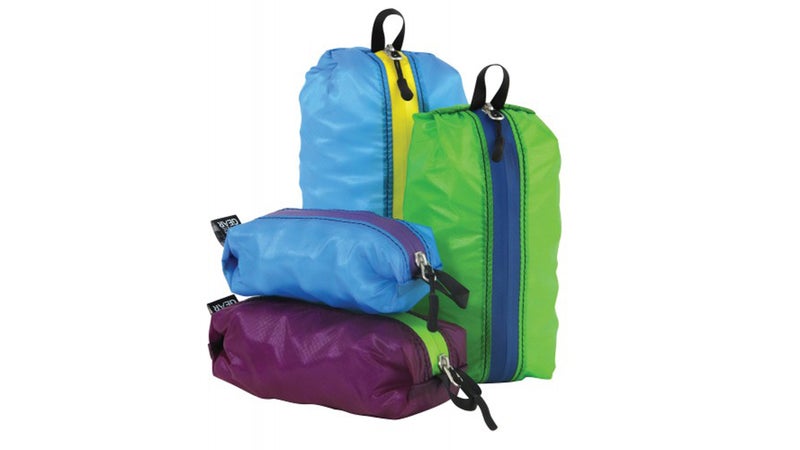 Northern Minnesota–based Granite Gear makes quality wheeled luggage, packs, and duffels but also has a good assortment of canoe-specific (but multi-use) waterproof bags, stuff sacks, and zippered bags.
We like: the small, multicolor Air Zippditty, available individually or in sets, ideal for stowing energy bars and headlamps and tucking into the extra crannies in a pack or carry-on. Set of four, 0.6 to 2.4 liters; $15
---
Osprey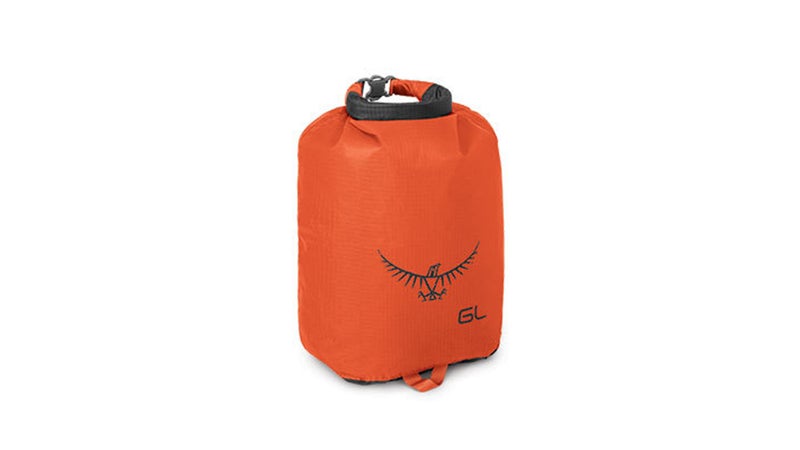 Not surprisingly, Osprey makes some of the most reliable, weatherproof pack organization, from compression sacks  and camera cases to removable backpacks and rain covers. 
We like: the Ultralight Drysack, a hugely useful waterproof roll-top sack made from 40D silnylon double rip, which is absurdly light given its excellent tear resistance. In five sizes, from 3 to 30 liters; $13–$25
---
Outdoor Research
OR makes a variety of well-constructed gear for hikers and paddlers, including dry bags, stuff sacks, waterproof storage, and holster bags. 
We like: the Zip Sack, a light, versatile, water-repellent sack good for storing socks, underwear, or other small items, or even to use as a compressible dopp kit. 5 sizes, from 4 to 7 liters; $19–$23
---
Peregrine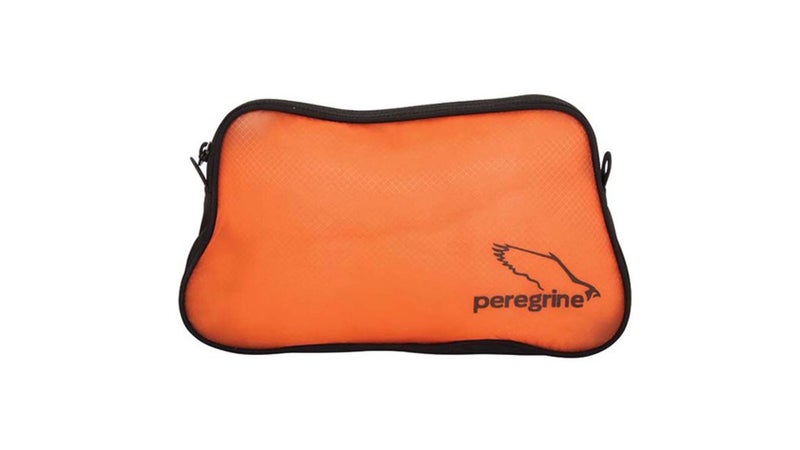 Maker of high-quality tents and sleeping bags, Peregrine has a good selection of stuff sacks and other organizers with an emphasis on lightness. 
We like: the Window Toiletry Bag, which has sturdy Cordura-and-nylon construction with one side transparent, and an extra-sturdy zipper and handy hanging loops. Holds your airplane shampoo bottles or spices for the camp kitchen. 2 sizes, 8.8 x 4 inches or 11 x 7 inches; $13–$14
---
Sea to Summit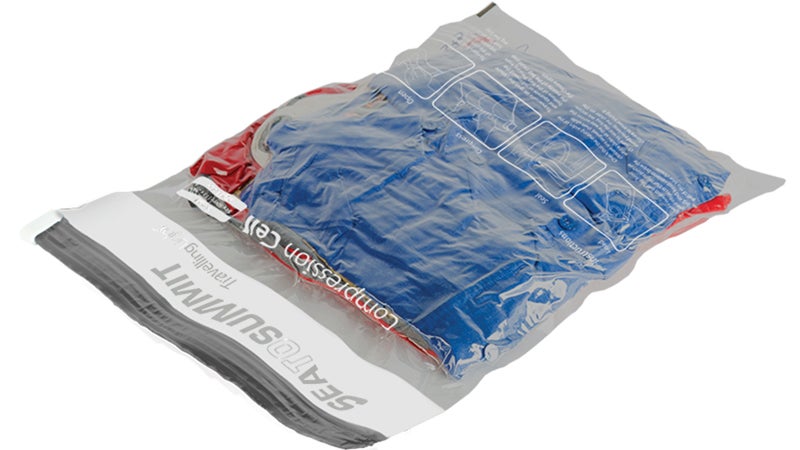 The longtime specialist in all things camping equipment, S2S offers packing cubes, shirt folders, shoe bags, and other crossover organizers.
We like: the Travelling Light Compression Cells, reusable hand-operated clear sacks that use a one-way valve to remove air, allowing for ultimate space minimization. Pack of 2 (medium and large), 28 inches long and 24 inches long; $17; seatosummit.com
Lead Photo: Courtesy of Eagle Creek