Battle of the Wool Bras
Lots of bras suck. After 30 days spent playing outside, we found six that don't.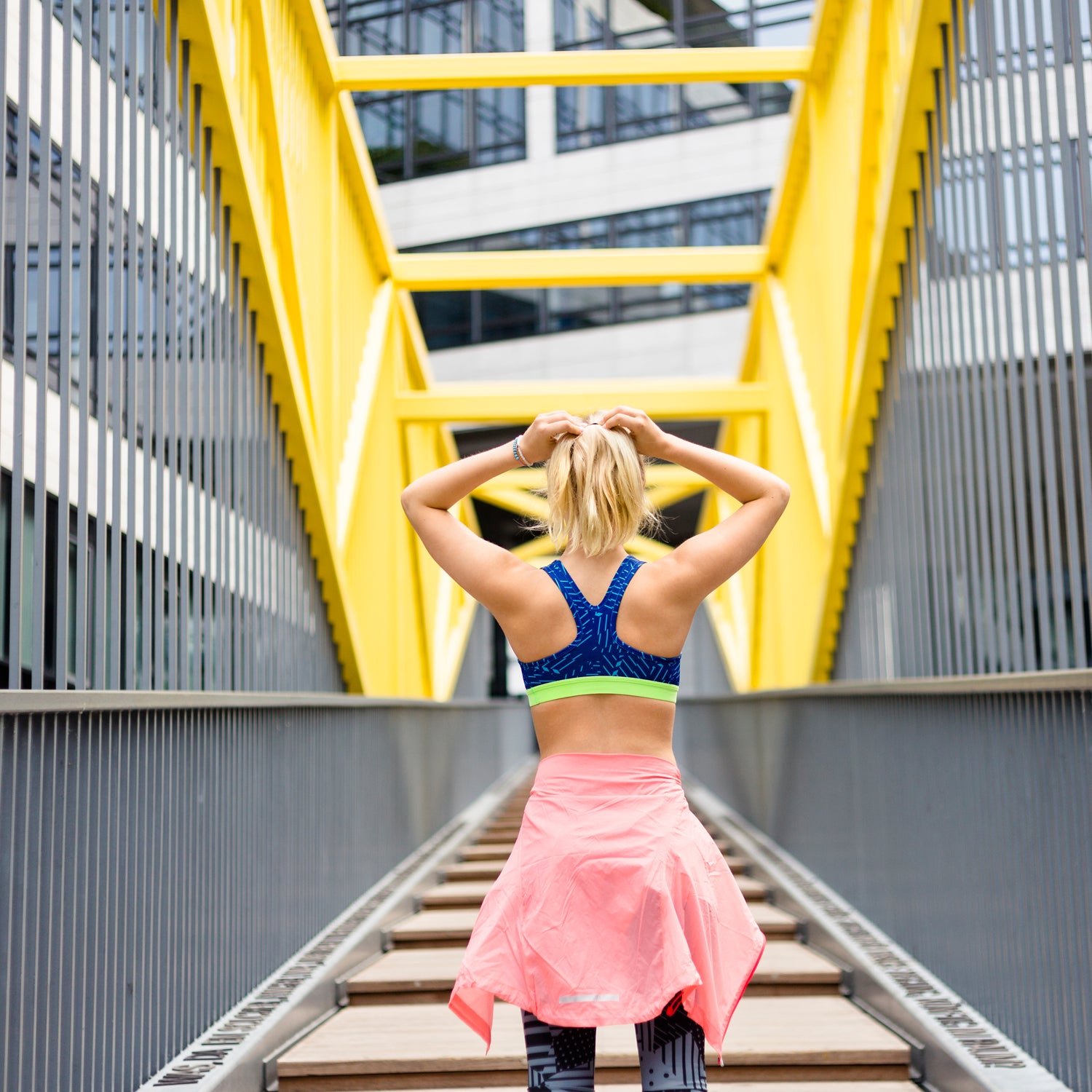 Heading out the door? Read this article on the new Outside+ app available now on iOS devices for members! Download the app.
Earlier this winter, I found myself finishing every ski tour with a dreaded moist feeling between my shoulder blades. The culprit: poorly made cotton and synthetic bras. A good base layer—and I consider bras base layers—should move sweat away from your skin and trap air for insulation. Wool happens to be really good at this, so I narrowed my bra search to models made with the natural fiber. After a month of skiing, hiking, climbing, and galloping a few horses, these are my six favorites. 
Icebreaker Rush ($70) 
92% wool, 8% Lycra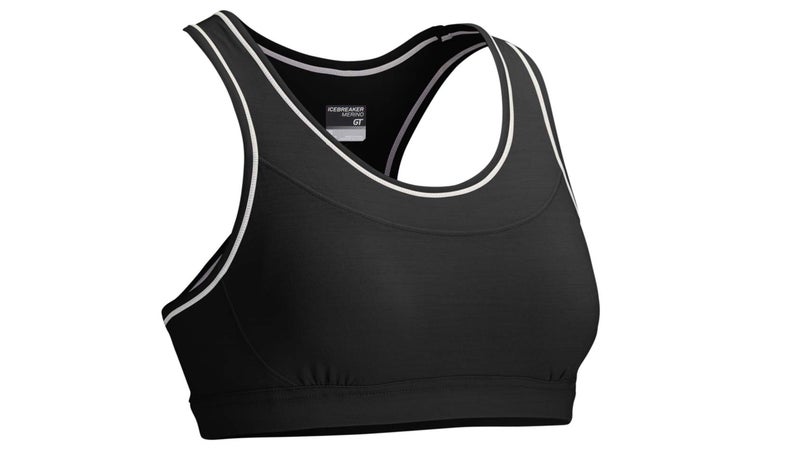 This was far and away the test winner. The Rush stayed dry and kept me warm on all-day backcountry tours, bitter-cold runs, and quick pre-work skin laps. The full coverage provides plenty of support, even for high-impact activities like running. The wool-Lycra fabric offers a snug fit yet isn't constricting. And because it's mostly wool (92 percent), I could wear the bra three days in a row before throwing it in the wash.  
Possibly my favorite feature of this bra is its lower band, which is covered in the same wool-Lycra blend as the body, making it super comfortable next to skin. The Rush absolutely never chafed. 
This Icebreaker does seem to run a bit small, which I noticed most in the armholes. I'd consider getting a size larger than you'd ordinarily buy. The other downside: it's available only in black.  
Verdict: Winner
---
SmartWool PhD Seamless Racerback ($60) 
Outer layer: 77% polyester, 19% nylon, 4% elastane
Lining: 68% wool, 14% nylon, 18% elastane
​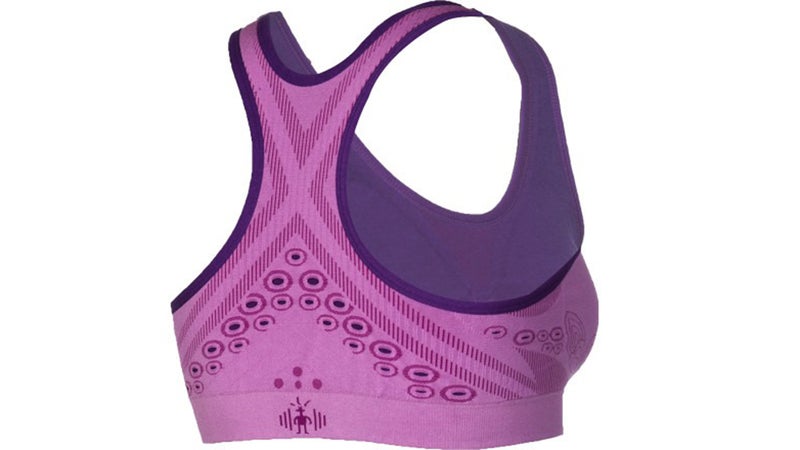 This bra would have been my favorite, except it didn't breath nearly as well as the Icebreaker. (The inner-outer shell design tended to trap sweat when I was working hard.) That said, this SmartWool bra was extremely comfortable, even when wet. It fits true to size and offers more relaxed support than the Icebreaker. 
Like the Rush, the band is covered in the same material as the body, preventing sore spots where it rubs against skin. It earns bonus points because it comes in eight colors. 
The big downside: the blended fabric—with no wool in the outer layer and only 68 percent in the inner layer—gets stinky after a big day on the slopes. 
Verdict: Most comfortable
---
Oiselle Wazzie Wool Jane John Bra ($42)  
93% wool, 7% spandex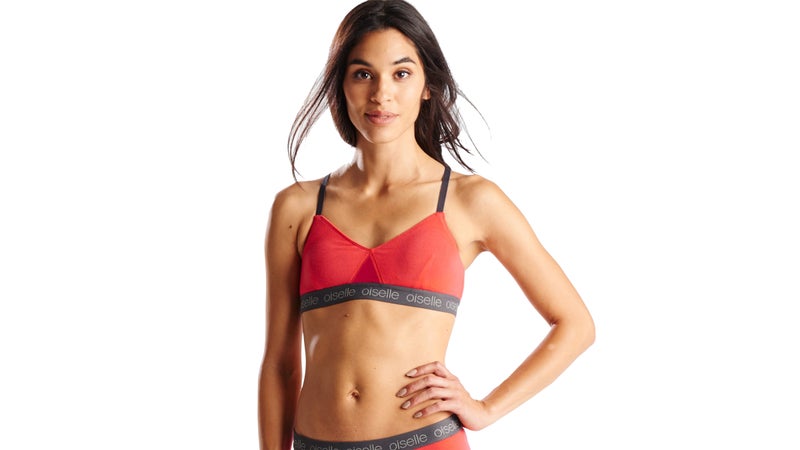 Marketed as a "recovery-level" bra, this is my go-to when I know I can't squeeze in a shower between my morning powder romp and my office chair. Cut much like a normal bra, the Jane John isn't designed for burpees or hill repeats, but it's a comfortable and warm option for lower-output activities. The merino-spandex blend is luxurious and butter-smooth, so much so that I didn't want to take it off. Removable cups and fully adjustable straps make it as much a town bra as a mountain style. Fits true to size and available in a magnificent red-orange. It's also the least expensive model on the list.
Verdict: Most versatile  
---
Ibex Balance ($60) 
72% wool, 22% nylon, 6% spandex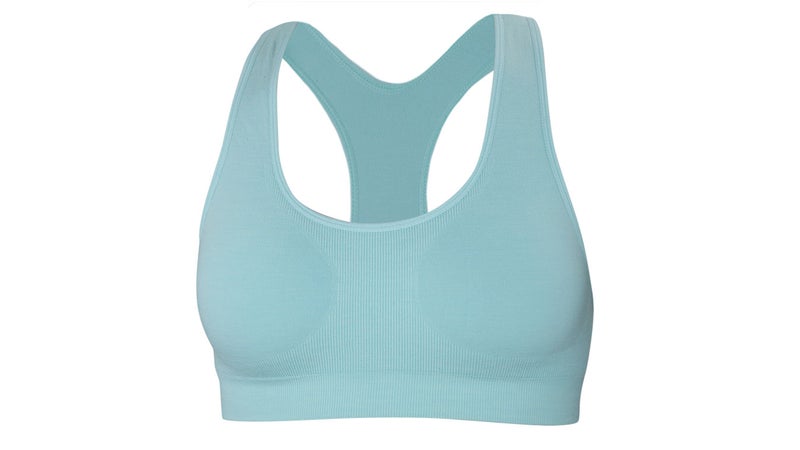 The Balance is simple and efficient, with no extra bells and whistles, just a figure-hugging wool-blend top that fits beautifully. The bra doesn't have an elastic band but rather a section of inch-wide elastic ribbing as its base. While this design doesn't provide quite enough support for high-impact activities like trail running and gym workouts, it is extremely comfortable for everything else. Like the other bras made from mostly wool, it'll keep you warm, dry, and stink-free. Fits true to size. 
Verdict: Best fitting
---
Ortovox Rock-N-Wool ($69) 
100% wool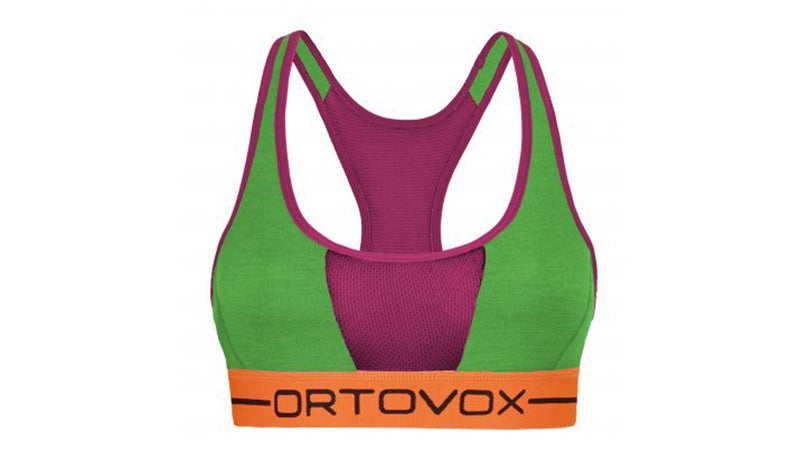 Yep, the same Ortovox that made your avalanche beacon makes this bra. In fact, the German company has a full line of men's and women's mountain-sport apparel. The Rock-N-Wool is eye-catching, with a cute little sheep embroidered on the back of the band and bright color combinations. There's no elastic in the fabric, which means it bags a fair amount, but it does excel at moisture management. It's not suitable for high-impact use, but it would make an excellent backpacking bra. It runs small, so order a size up. 
Verdict: Best looking
---
Pulse Naked Ultra Sports Bra ($65) 
Outer layer: 38.7% wool, 44.8% nylon, 16.5% spandex 
Lining: 96.1% wool, 3.9% spandex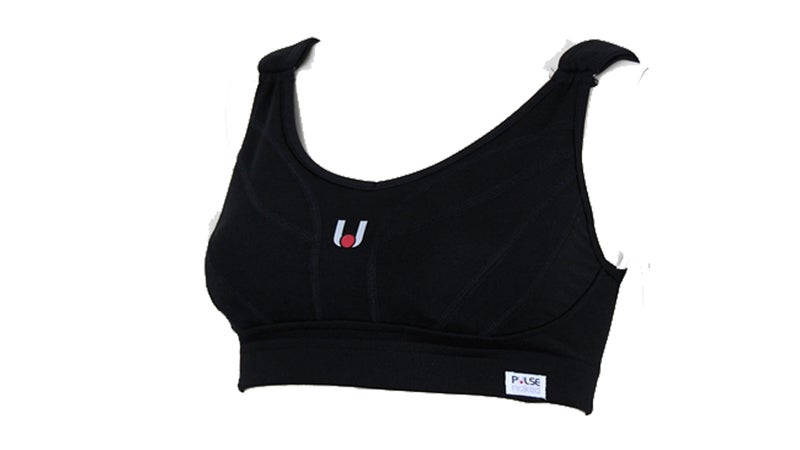 The only bra in the lineup that's fully adjustable, the Pulse gets points for the traditional triple bra hooks on the band and Velcro closures on the shoulder straps that let you customize the fit. I worried the hooks might be uncomfortable under a backpack, but the strap is well padded; I hardly noticed it. This is an excellent choice for larger-chested women or those who have a hard time getting bras to fit right. 
Verdict: Most adjustable
Lead Photo: Axel Brunst