Long-Term Review: These Are the Best Women's Fleeces
Our top fleece picks for any situation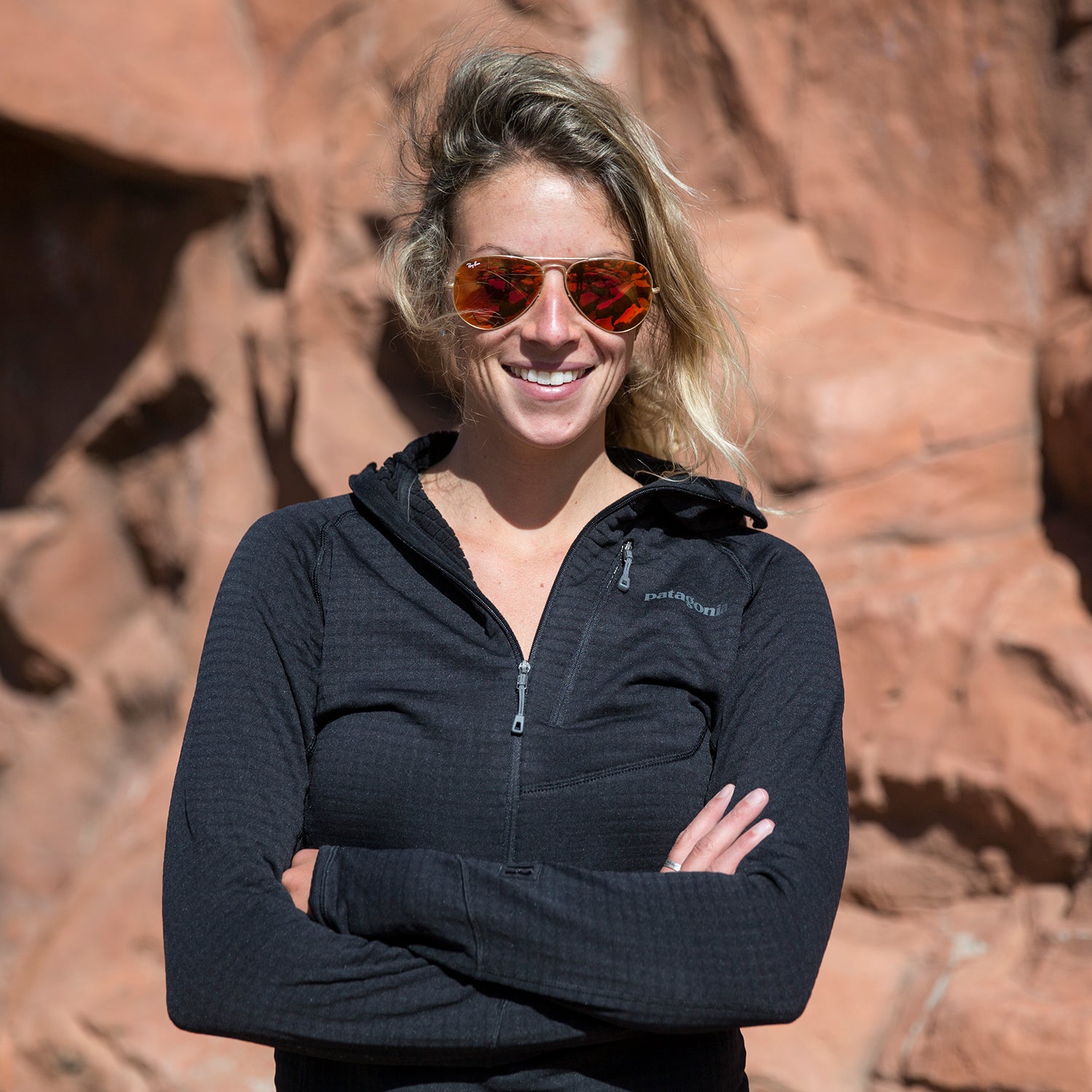 Marie Sullivan(Photo)
Heading out the door? Read this article on the new Outside+ app available now on iOS devices for members! Download the app.
I like being warm when it's cold outside—you probably do too—and nothing kills a fun day faster than shivering. Which is why we have fleece: Technical fleeces wick away moisture so you don't get chilled when you sweat, and nontechnical fleeces are soft and toasty. A great fleece will keep you comfortable during a range of situations in cool and cold temps, from slow ski lifts to multi-pitch sport climbs. For this article, I spent two months researching and testing fleeces, taking them climbing, ski touring, running, and walking around town. My favorite was Patagonia's R1 hoodie. It's a technical layer—more on the differences between technical and casual fleeces below—that worked well in every activity I used it for. If you spend a lot of time outdoors, it might be worth adding an R1 to your layering system.
How We Tested Fleeces
I've been testing and writing about gear for Outside for four years, but I've been wearing fleece since I was a kid. It's a key layer for all the activities I do, from mountaineering and ultrarunning to skiing and coffee-shop lounging. For this test, I combed the internet and browsed brick-and-mortar stores. I was on the hunt for a range of fleeces that I could test while doing the sports I participate in yet still feel comfortable wearing to run errands. Then I called in a bunch of fleeces and started testing them. For two months, every day, I wore nothing but fleece. My mornings began with a seven-mile run to gauge how the layer performed as the sun rose and the temperature crept from below to above freezing. I also took those layers to our local crag and on skin laps at Ski Santa Fe. Test conditions ranged from 30 mph winds and heavy snow to temps in the single digits. (And unseasonably warm weather—New Mexico has had several 60-degree days this February.) I took the nontechnical pieces on walks, easy hikes, and bike rides and wore them out to coffee shops and bars. In a couple cases, I also gave pieces to friends and collected their feedback.
Best Overall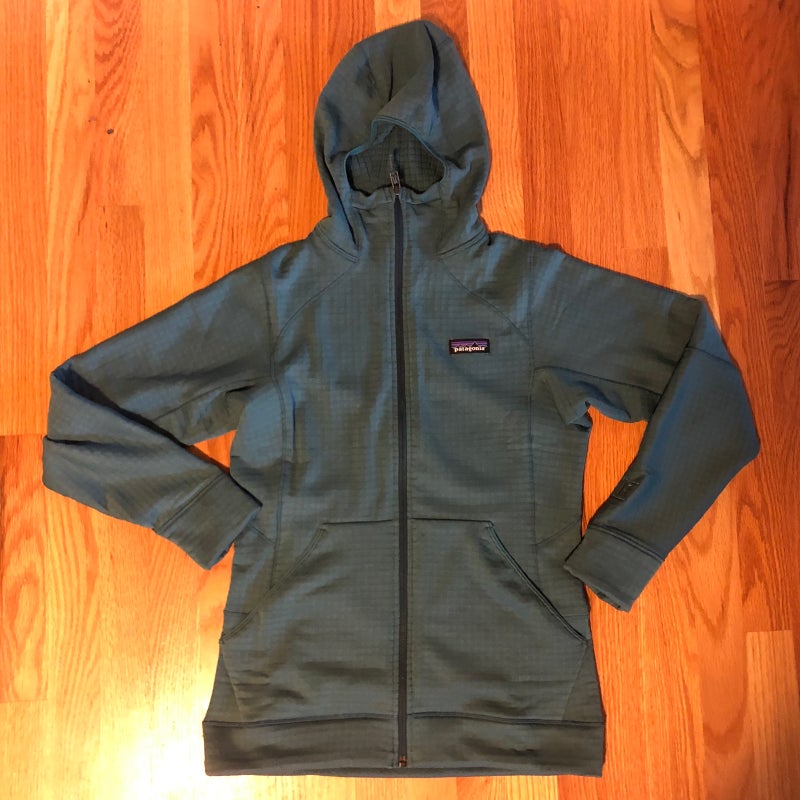 Patagonia R1 Hoody ($169)
Pros: A cross-discipline workhorse that is lightweight, warm, stretchy, and durable
Cons: Currently, the hooded option only comes with a full zip; there's no more three-quarter zip pullover
Size Range: XXS to XL
Iterations of the R1 have been on the market for two decades, and it remains an ideal layering piece for a variety of activities, which is why it's our pick for the best overall fleece. This garment uses Polartec's Power Grid fabric: tiny raised squares of thicker fleece arranged in a grid pattern designed to wick away moisture, increase breathability, and minimize bulk. The R1 was my go-to when I knew I'd be working up a sweat but needed protection from the cold, and at 12.7 ounces, it was among the lightest and most packable pieces I tested. I wore it for chilly morning runs and shady crag days and under a shell for breezy predawn skin laps. When we first rounded up the best women's fleeces, in late 2017, the three-quarter zip R1 Pullover Hoody took the top spot. Sadly, Patagonia no longer sells that silhouette in the women's-specific fit (you can get a men's one, though). Thankfully, the new full-zip version is almost as good.
During hard exercise, I didn't notice it, which meant it was doing its job. This piece sits flat, is stretchy, breathes well, and dries quickly. It also has an odor-control treatment, though I typically take that feature with a grain of salt; it makes me want to throw something in the wash less often, but if it's not going to totally prevent BO from embedding in the garment, it simply takes the edge off.
The R1 is comfortable in a range of conditions. Fully zipped and with the hood up, it provided full-coverage warmth when I needed it, yet allowed for maximum venting when I didn't. Thanks to its stretchy cuffs, I could push the sleeves up above my elbows when I started getting toasty. Both the previous and current versions dump heat quickly, but now it's easier to take off the fleece, even when wearing a backpack. I frequently unzipped it most of the way while running or skinning so it wasn't flapping around excessively, then zipped it back up when ripping skins or cruising windy ridgelines. The balaclava-style hood doesn't have an around-town aesthetic, but it fits under a climbing helmet and offers functional protection, covering your nose and providing neck-tube-style protection from the elements. (It also sports a zipper garage, which kept it from pinching any chin flesh.)
I'm five foot seven, and a size small was long enough to stay put beneath my harness and even offer a bit of extra bum coverage. The fit—slim but not tight—didn't restrict my motion, and worked comfortably with a pack, a harness, or tucked into ski bibs. When I needed a brief respite from cold or wind, the sleeves were long enough to pull down over my hands (though they lack thumb holes). A small zippered pocket inside the main right-hand pocket is perfect for storing keys and credit cards.
There are many iterations of fleeces under the R1 umbrella at any give time: as of publication, it's available in a hoodless pullover and a crew cut, and there's an 11.9-ounce one with a DWR-coated outer. There's also a new R1 Air (the hooded version is 10.9 ounces), which is a little thicker, warmer, and more breathable than the standard R1 due to its higher-loft, hollow yarn (this soft and fuzzy face fabric will pill faster, however). If you're not doing any rock or alpine climbing, the Air might be your best bet.
Runner-Up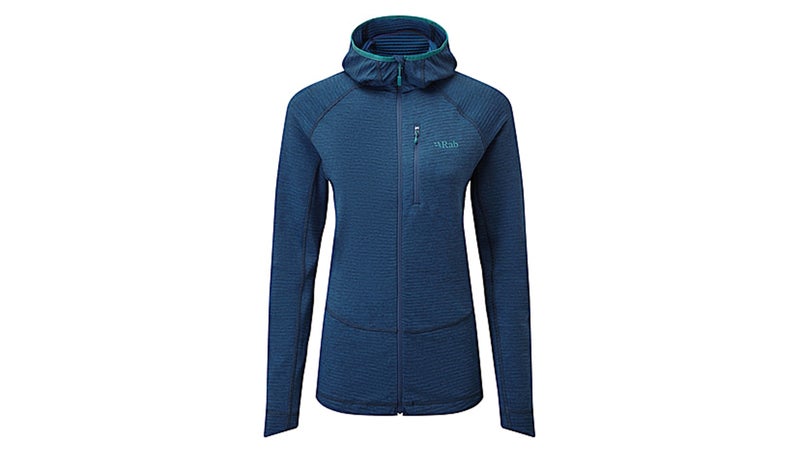 Rab Filament Hoody ($125)
Pros: Ridiculously light and stretchy
Cons: Not as warm as the R1
Size Range: XS to XL
This full-zip fleece wears more like a base layer. It has a streamlined, no-frills fit—there are no hand pockets and only a zippered chest pocket—making it unnoticeable under ski bibs or a harness and elastic enough for comfortable climbing. It's super light, at just eight ounces, and the thinnest fleece in our test but still plenty warm to wear in mild winter temperatures. When the mercury hovers in the twenties and thirties, I reach for this layer for aerobic pursuits and leave it on all day. The sleeves are nice and long (easily to my knuckles), and thumb straps keep them in place.
---
Best Cozy-Technical Crossover Fleece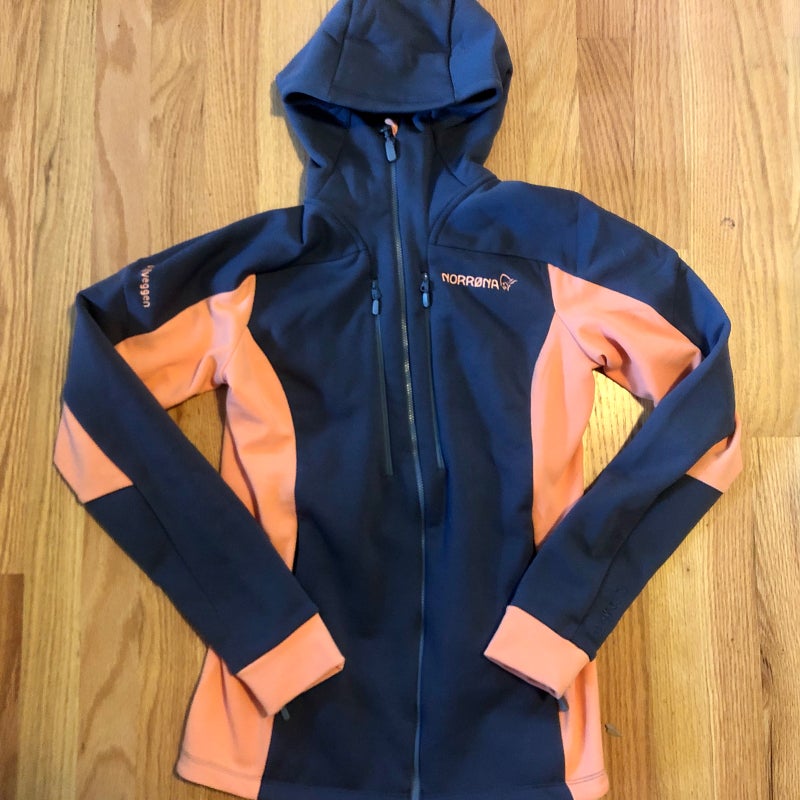 Norrøna Powerstretch Pro Zip Hoody ($189)
Pros: Supersoft and durable, a welcome combination
Cons: Heavier, at 14.5 ounces
Size Range: XS to L
It's not the lightest piece, but the Powerstretch Pro has become my preferred midlayer for resort days spent riding the lifts, because it's comfortable and made for sweating. The back and sides, cuffs, and underarms are made from Italian Pontetorto fleece, which incorporates wool to produce both a luxury feel and odor resistance. The rest of the piece is constructed of Polartec Power Stretch, a dual-surface fabric that's soft and wicking on the inside yet durably hard faced on the outside. I appreciated the length of this model, which covered my butt. It has two zippered hip pockets, two zippered chest pockets—I liked having this many accessible storage options (even with a harness)—as well as a thumbholes and a helmet-compatible hood. The size small fits a bit looser than the Alaris, below, but without looking baggy.
Runner-Up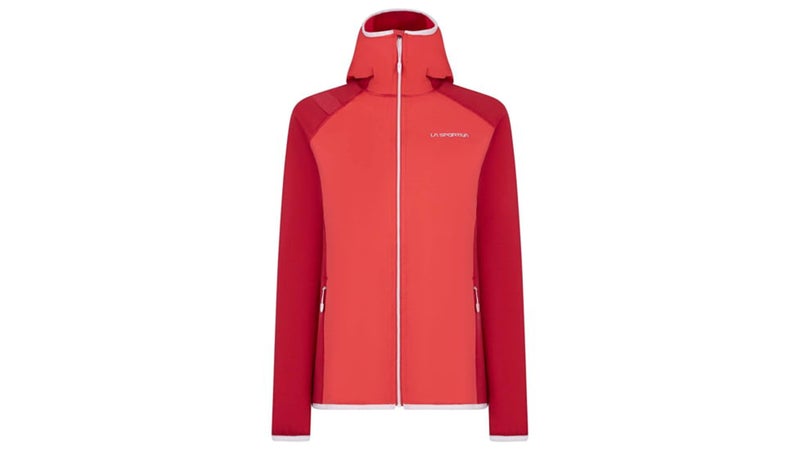 La Sportiva Alaris Hoody ($129)
Pros: Soft, cozy, and durable
Cons: A harness impedes full pocket access
Size Range: XS to XL
Of all the fleeces we tested, only the Rab Filament is stretchier than this 11.5-ounce full-zip hoodie. The Alaris is best suited for light to moderate activity in cold temperatures (20 to 30 degrees) or high-output activity in very cold temperatures (10 to 20 degrees). Thanks to recycled Italian Pontetorto fleece, it's also among the softest technical layers we've tried—so much so that I felt compelled to rub my face against it. Still, the smooth outer is durable without sacrificing any elasticity. I struggled with the Euro-style color blocking and fit (size up unless you like your midlayers snug), but fashion matters little when function is so on point. I wore the Alaris for several backcountry ski days on the notoriously windy Continental Divide and stayed warm on the ski track even when weather dropped to the near single digits. It has a helmet-compatible hood that's great for climbing or ski mountaineering, a high collar to help shield the wind, and zippered hand pockets (which we like, but they aren't accessible when wearing a harness).
---
Best Wet-Weather Fleece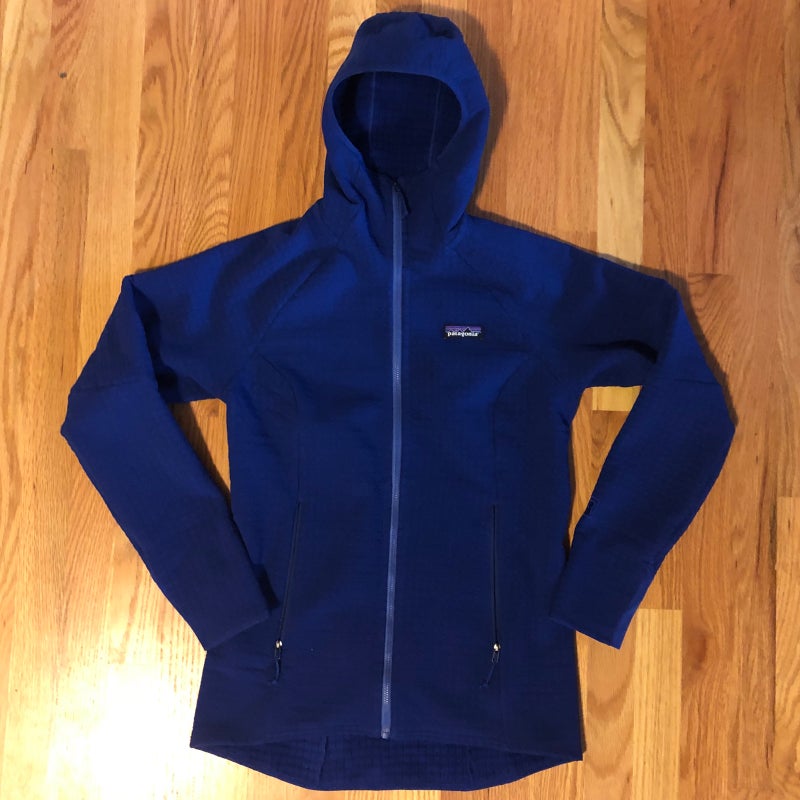 Patagonia R2 Techface Hoody ($189)
Pros: Light but durable
Cons: A harness impedes full pocket access
Size Range: XXS to XL
I'm a big fan of pieces that feel indulgently cozy but also serve a purpose, which is why I'm a sucker for fleece-type soft shells with weather-resistant exteriors. Sometimes you don't want to mess up a layering system by having pieces that do too many things at once, but these crossover tops are nice as stand-alone jackets when the weather calls for it. This thick, DWR-treated fleece made me feel like a fast, athletic teddy bear. As with the Keele, below, the R2 is essential when I need help getting out the door for single-digit, drizzly, breezy winter runs. It's hefty, with higher-loft fleece on the inside, so it's a little warmer than Mountain Hardwear's version. That said, it's not bulky and has a stretchy DWR outer to repel moisture. It's also durable enough to withstand scrapes against rock.
For all these reasons, the R2 was my chosen layer for a few days of shady, cold fall multi-pitch climbing in Las Vegas's Red Rock Canyon. I also like it as part of a resort layering system for low-octane hikes, cold belays, and as a shoulder-season piece for adventures that might involve a little chill and precipitation. I even tried it in lieu of a puffy during a chilly 1 A.M. start on Mount Rainier's Kautz Glacier and was able to keep it on nearly all day, even as temperatures increased. It's on the heavier side for a midlayer, so it's not necessarily going to be your pick when weight matters, but as a two-for-one piece that offers coziness and weather resistance, it's great.
I also used the R2 for moderate aerobic activities in the five-to-twenty-degree range—the high loft fabric makes it warmer than other midlayers on this list. Our only gripe for those uses: the sole option for dumping heat is the full-length zipper, since the sleeves don't roll up much past the mid-forearm. Temperature regulation aside, as someone who has longer arms, I appreciated the long sleeves. And with two zippered waist pockets, my phone and snacks were quickly accessible. The stretchy, nose-high collar helps batten down the hatches when things get windy.
Runner-Up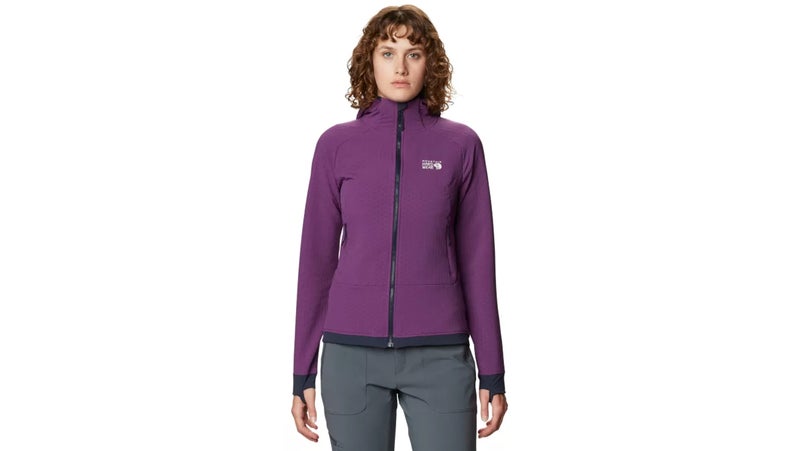 Mountain Hardwear Keele Ascent Hoody ($175)
Pros: Zippered hand pockets are usable while wearing a harness
Cons: Not as stretchy as the R2 Techface
Size Range: XS to XL
This one is so fuzzy on the inside, it almost feels like it's too indulgent for technical activity. But a DWR finish means it stands up to light precipitation. It has thumbholes (the R2 doesn't) and a helmet-compatible hood, which is nice because the soft lining in the hood feels like a built-in hat. Note: it fits tighter than the R2 in the same size. If you're looking for a roomier hard-faced fleece with a bigger, brimmed hood designed for everyday use rather than just under a helmet, consider the Black Diamond Element.
---
Best Cozy Fleece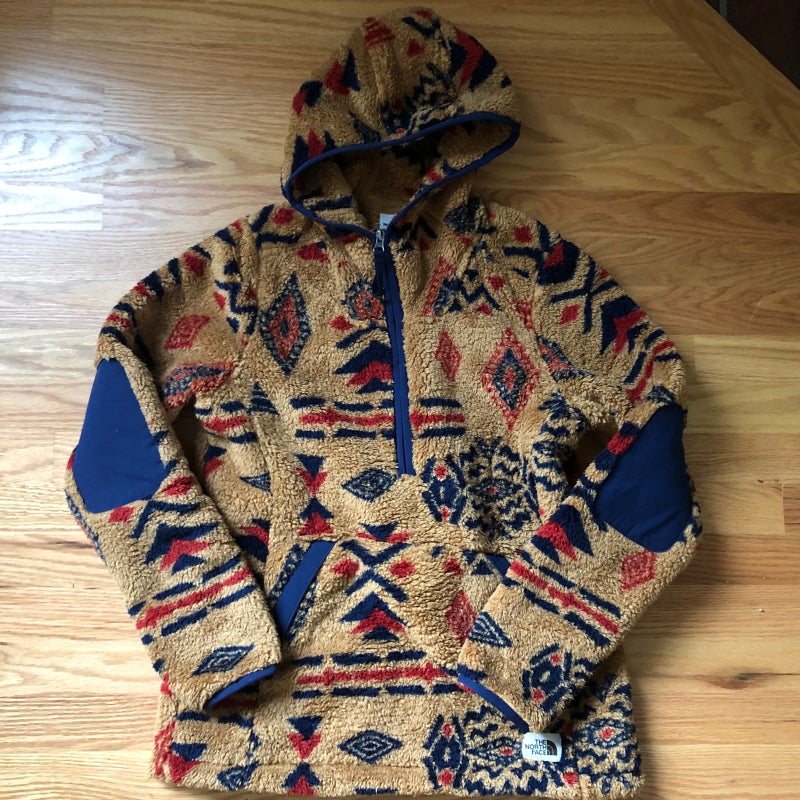 The North Face Campshire 2.0 Hoody ($149)
Pros: Feels like wearing a blanket
Cons: People will want to touch you a lot (so this could also be a pro, though not so much during the pandemic)
Size Range: XS to XXL
Just one touch is all you need to know how nice the Campshire is. Made from 300-weight fleece (think: lofty, luxurious, heavy, thick, and blanket-like), the Campshire pullover is a heavyweight full-zip layer that comes in a relaxed fit. The hood, cuffs, and zipper are elasticized, meaning they're both stretchy and soft against skin. At 20.8 ounces, this is not a light garment; then again, it's designed for comfort, not tackling big objectives—unless your objective is to be ridiculously cozy. We love the big hood and zippered kangaroo pocket.
This is by far the most comfortable fleece I tested and probably the coziest fleece I've ever worn. Anecdotally, I got the most compliments when I was wearing the Campshire. People wanted to know what it was, they wanted to feel the material, and they went googly-eyed when they realized how soft it was.
A fleece of this weight is not ideal for aerobic activities, but it is perfect for light activity in cold temperatures. The Campshire is very warm and thick enough to block a good bit of wind. I took it camping, on a short and easy stroll to an alpine lake, and moseying around town. It bordered on too toasty when I was walking uphill but was perfect for sitting still in a camp chair. An online reviewer who bought this jacket for their girlfriend said, "It's kind of like her own personal Cookie Monster outfit. I would recommend this to anyone who wants a warm, cozy jacket to wear inside and outside." I agree with that.
Runner-Up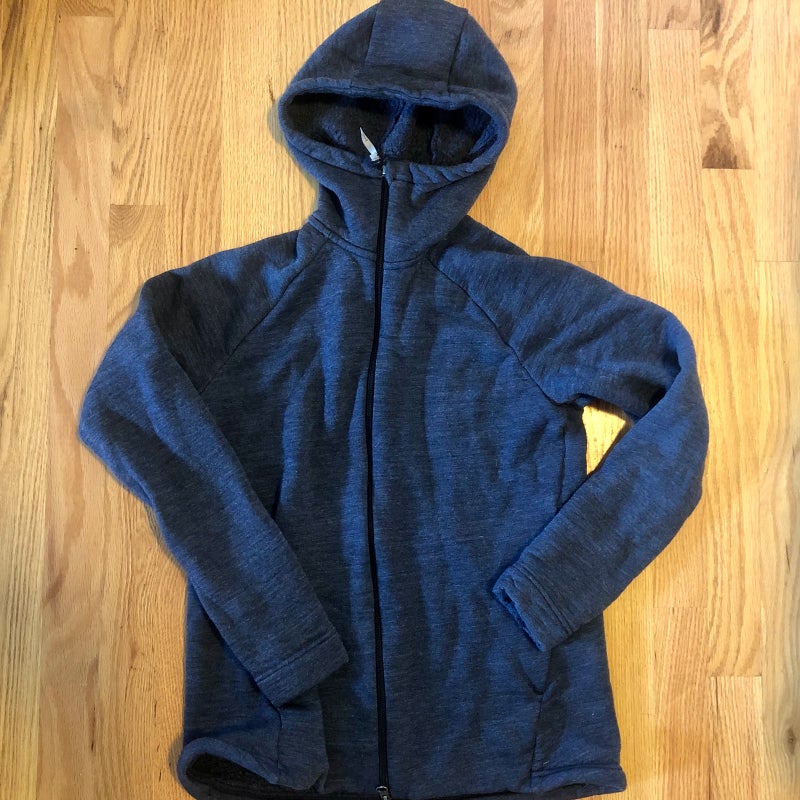 Houdini Alto Hoody ($250)
Pros: Natural-wool fleece, with a sleek, simple design
Cons: As heavy as the Campshire, but nowhere near as fuzzy
Size Range: XXS to XL
The Houdini has a cool, urban vibe about it, but it also boasts technical functionality. We liked that it's made of wool, which is naturally thermoregulating and odor-resistant, rather than the synthetic fibers used for construction in the other pieces on this list. This soft merino zip-up is fuzzy and gentle against your skin. I wore the Alto for three straight days on a sport-climbing trip (walking to the crag, hanging around camp, sweating in it, sleeping in it), and it never started to smell. It even has a two-way zipper for belaying. Plus, Houdini's intentional manufacturing—all of its fabrics are now recycled, recyclable, renewable, biodegradable or Bluesign certified—might help take the edge off the very high price tag.
---
Best Après Fleece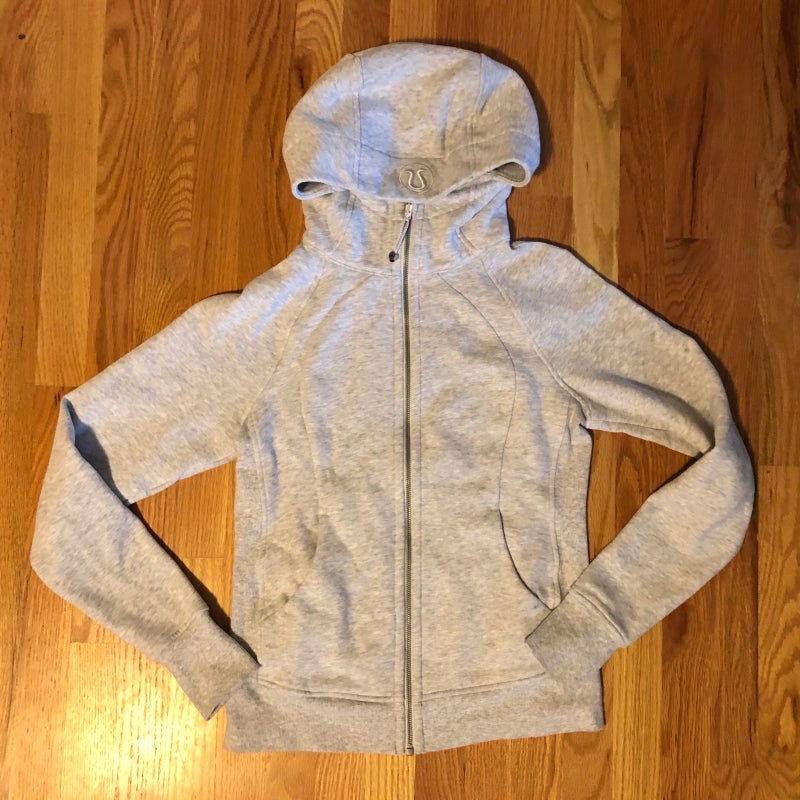 Lululemon Scuba Light Cotton Fleece Hoody ($118)
Pros: A basic sweatshirt at heart, but with a flattering cut
Cons: A little bulkier than the Sweetwater (below)
Size Range: 0 to 20
This piece is like those butt-lifting, make-you-look-good yoga pants, but for your upper body. Sure, it's the stylish and admittedly more expensive version of a cotton zip-up you could get for $35 from a department store. But while we love our cheap cotton hoodies, we're also suckers for good design and inclusive sizing. The Scuba is light, soft, and close-fitting but comfortable. It's structured without being restrictive, thanks to ribbed side panels; long enough to cover your butt to keep you warmer; and has thumbholes and thick cuffs and a thick hem to keep everything in place. The large hood feels extra protective, like your very own turtle-shell hideout. It's not a technical piece—the hood will not fit under a helmet, and the fabric isn't quick-drying (the body is 70 percent cotton and 30 percent polyester)—but it's the jacket you want to put on after you've taken off your sweaty R1.
Runner-Up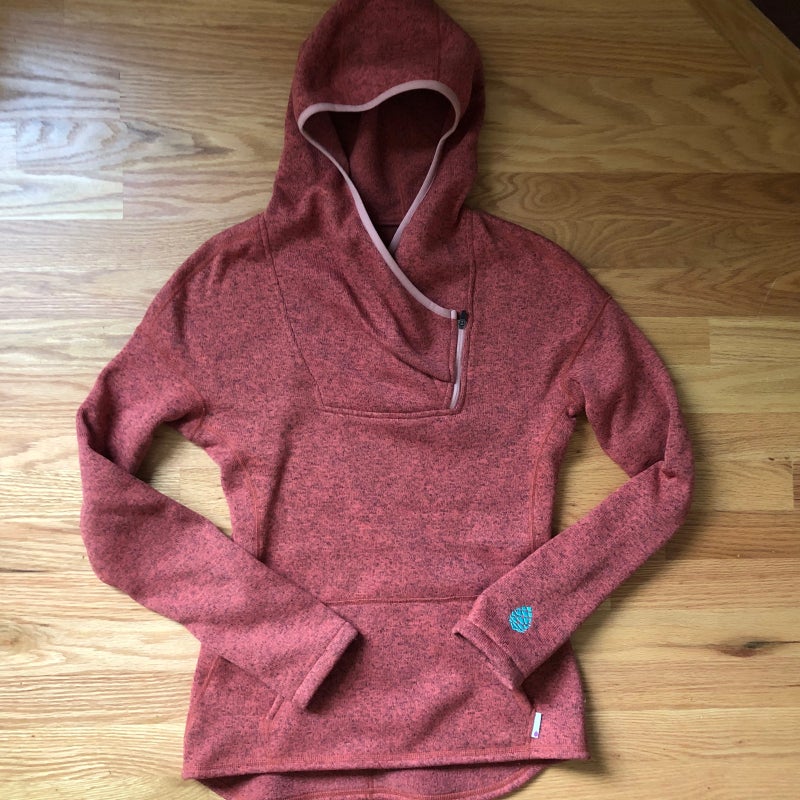 Stio Sweetwater Fleece Hoody ($159)
Pros: Soft, with a cowl-necked design
Cons: The slim fit isn't for everyone
Size Range: XS to XL
This cozy pullover is cute, comfortable, and certainly chic by mountain-town standards. It's less rigid than the Scuba hoodie and has a wide neck with an offset zipper (no metal hitting you in the chin). We particularly liked that it has thumbholes and a long hem for added coverage. The Sweetwater is now made with 100 percent recycled polyester.
---
What To Know Before Buying
First, a primer on layers. There are three basic components in an active layering system: a base layer, insulation, and an outer layer. The base layer—never cotton!—pulls moisture away from your skin; the midlayer provides insulation and won't absorb moisture; the outer layer repels elements like wind and rain while letting water vapor escape through vents or a permeable membrane. Fleece is usually a midlayer, though sometimes it's the only layer you need. In my experience, no single fleece works perfectly for every activity, but there's usually a perfect type of fleece for anything you want to do outdoors.
It's worth mentioning that there's no rule that says your midlayer has to be fleece, but I find myself reaching for fleece over other materials, like merino wool or a light soft shell, because it breathes so well and dries quickly. Merino insulates better than fleece when wet and has better odor regulation, but its warmth-to-weight ratio is worse, and it's generally more expensive. Soft shells are ideal in windy conditions, but they don't breathe as well.
Most fleeces on the market are made with a synthetic fabric from Polartec, the dominant fleece manufacturer since 1981. There are other fleece manufacturers, but Polartec's fabrics are durable, lightweight, and washable, and they're used by nearly every apparel company you've ever heard of.
Polartec fleeces typically come with ratings of 100, 200, or 300. A 100-weight fleece works best for aerobic activities like trail running or uphill skiing, whereas the heavier 200-weight fabrics are better for moderate activities like resort skiing. If you're sitting around ice fishing all day in the bitter cold, you'll need a very thick fleece and probably some other layers as well.
Once you've identified an ideal fabric weight, you'll need to sort through features, and those will also depend on your activities. My review leaned toward technical fleeces, and the small details ended up mattering a lot. The Patagonia R3, for example, my favorite fleece for skiing inbounds, has hand pockets and a chest pocket, which are great for storing snacks and lip balm. (Chest and interior pockets are nice if you're going backpack-free, and hand pockets are best when they're placed high and don't interfere with a harness.) I prefer quarter-length zippers over full-length; they save a bit of weight and are more comfortable. I'm an advocate of thumbholes that keep sleeves in place when layering, and I get really excited when those sleeves also stretch enough in the forearm to roll above my elbows. Climbers and mountaineers should look for hoods that fit under helmets and reinforced nylon or soft-shell sections to prevent abrasion from harnesses or backpacks. Other details to keep an eye out for are packability, coziness, and, of course, price. Technical fleeces tend to run more than casual fleeces.
Lead Photo: Marie Sullivan
Trending on Outside Online