2023 Winter Gear Guide
The Best Hunting Apparel of 2023
From coveralls to boots, these items will have you shooting sharp all day (or night) long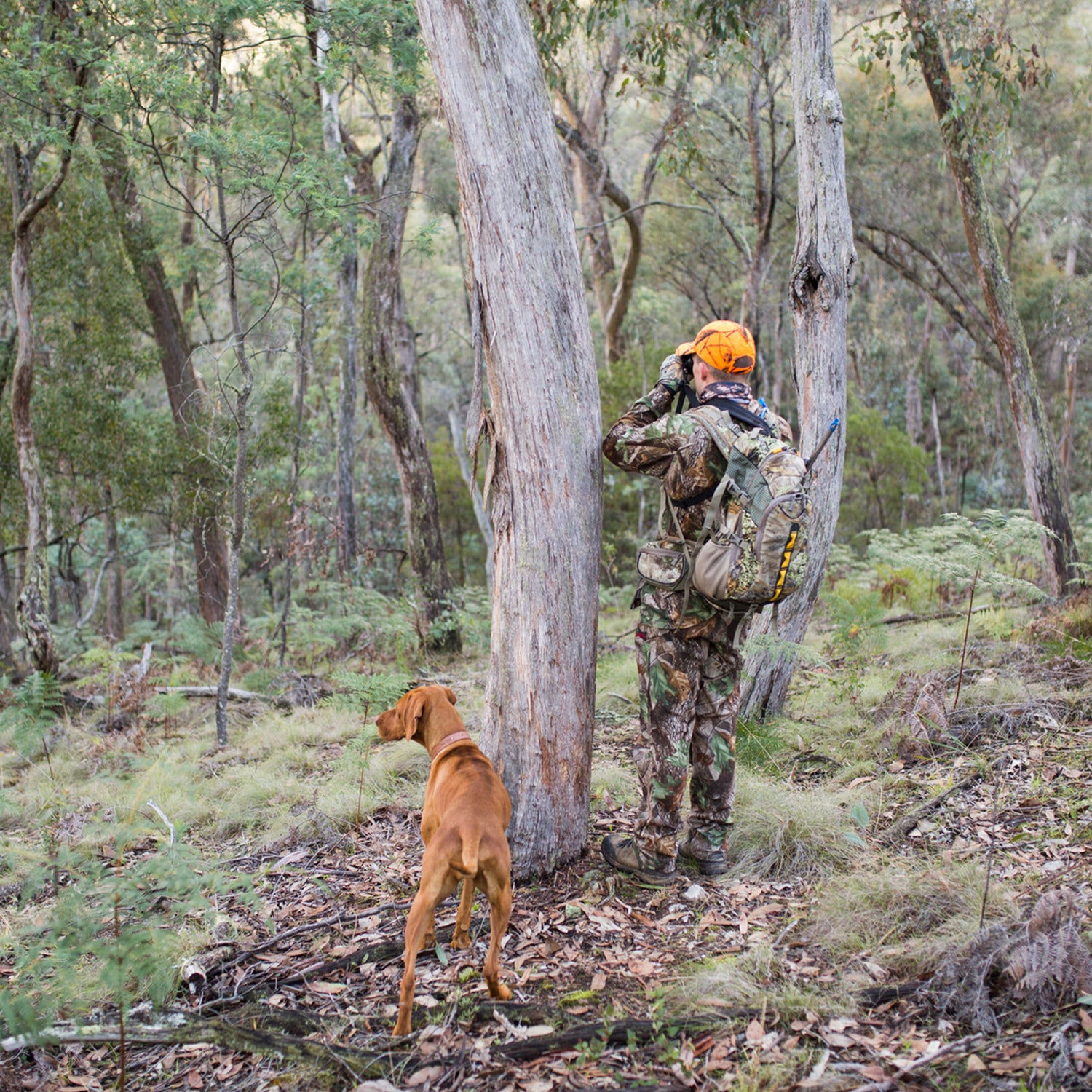 Reece McMillan/Stocksy
Heading out the door? Read this article on the new Outside+ app available now on iOS devices for members! Download the app.
In many ways, the needs of hunters aren't far off from the needs of backpackers.
This season, our testers not only saw gear that's lighter, warmer, breathable, and more weatherproof than in years before, but brands are also developing new ways to make hunting clothes less detectable and even insect-repellent. These innovations help hunters stay comfortable longer, which equates to more chances to punch tags and bring home meat.
In the women's department, our female testers report that gear improved by leaps and bounds this year alone. While things have improved immensely since the days of trying to find something workable in the men's section, women's hunting apparel has, until recently, fit poorly and cost more than male apparel. Well, something's changed, and brands are finally responding. It'll be a while before women's hunting gear reaches equal footing with men's, but the new stuff we're seeing is an indication that the industry is at least moving in the right direction.
How We Test
For this year's hunting category, our team of seven testers put over 80 pieces of hunting gear through their paces. Testers ranged from 31 to 64 years of age, and collectively, had experience hunting North American big game, upland birds, waterfowl, turkey, small game, and international big game. Most of the testing was done across the state of Nebraska, from the deer woods in the east, to the open and rolling sandhills regions of the west, to the waterfowl-rich stopovers along the Platte River. One hunter did her testing in the timber forests of Minnesota. Another tester has been a professional hunting guide for 25-plus years. We tested how well each piece lived up to its advertised features. Comfort, fit, weight, construction,d and price were also taken into consideration. Only clothing that went above and beyond the modern standards for hunting apparel made the final cut.
Tester Stats
Number of testers: 7
Number of products tested: 84
Reviews: The Best Hunting Apparel of 2023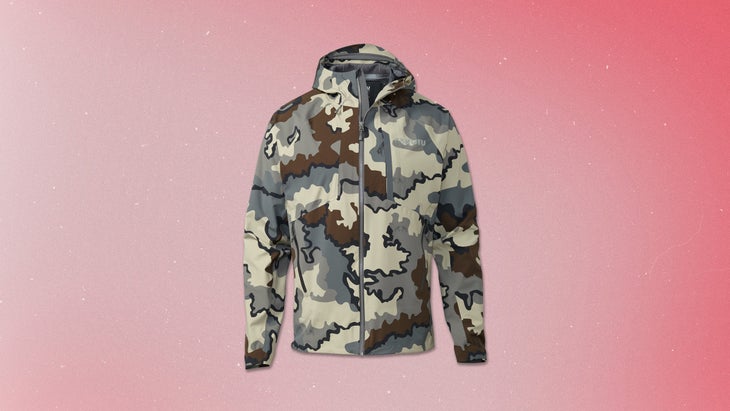 KUIU Chugach TR Rain Jacket ($319)
Weight: 12.5 oz (women), 14 oz (men)
Size range: XS-XL (women), S-3XL (men)
Main Tester: Jennifer Pudenz
The Chugach TR Rain Jacket is one of the most thoughtfully-designed pieces of hunting apparel we've ever seen. It's incredibly stretchy for a rain jacket, great for all-day stalking, climbing, and with minimal material on the forearm sleeves for bowstring clearance, shooting. Improving on a previous version, the Chugach's revamped technology makes the new Chugach more waterproof, 400 percent more abrasion-resistant, and nearly 20 percent lighter. The Dermizax NX membrane and Primeflex nylon fabric makes the jacket not only completely weatherproof, but also incredibly stretchy—it's great for tough climbs and bushwhacking. Other notable details on the Chugach include a two-way adjustable hood and visor that stays put in nasty weather, zippered armpits for temperature regulation, and a 20-denier circular knit polyester interior that is soft to the touch.
Best for: Hunting mountain ranges in unpredictable wet weather.
---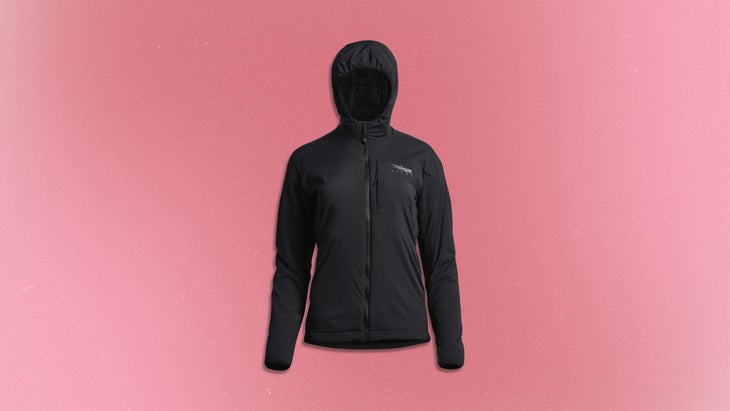 Sitka Ambient Full-Zip Jacket ($299)
Weight: 15 oz (women), 18 oz (men)
Size range: S-XL (women), M-XXL (men)
Main Tester: Angie Kokes
The Sitka Ambient offers a surprising balance between comfort, fit, and durability. The exterior 20-denier ripstop nylon material feels like a combination of cotton and silk. The jacket is cut for a woman's frame and is slightly tapered at the waist, but stretchy enough to not impede comfort and movement. We especially liked the side and arm gussets, which, combined with the overall stretch of the material, provides great freedom of movement. The Ambient is quiet, making it suitable for both still hunting and close-range stalking. With 150 GSM of post-consumer recycled Primaloft fleece, this jacket is comfortable in chilly mid-season temps, but breathable enough to wear in mild weather too.
Best for: Wearing it as a mid-layer for any type of hunting or as an outer layer during early fall or late spring hunts.
---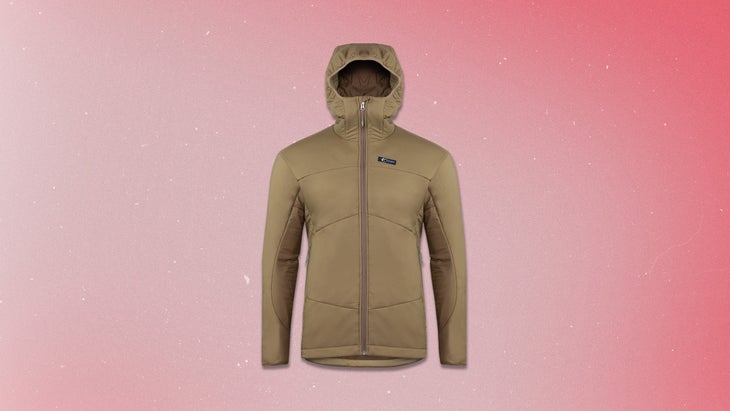 Stone Glacier Cirque Men's Jacket ($279)
Weight: 1 lb, 4.8 oz.
Size range: S-XXL
Main Tester: Ross Juelfs
Notable for its warmth-to-weight ratio (a size large packs down to 9 by 6 inches in a size small compression sack), the Cirque Jacket has become one of our go-to pieces of hunting apparel. Offering 133 grams-per-meter of Primaloft Gold insulation and weighing one pound five ounces, the Cirque is low-bulk, lightweight, and maintains warmth even when wet. Venting in the armpits makes this insulating layer versatile—you don't often see this feature on mid-layer hunting jackets, which provides quick heat-dumping and moisture-wicking during high-intensity, cold weather hunting. This jacket was warm enough for sitting in a blind to hunt mid-season deer and antelope, and for a chilly, early-spring turkey shoot for one tester in the Wildcat Hills region of western Nebraska. The Cirque also offers a full range of motion, form-fitting-yet-stretchy cuffs that prevent snagging, and strategically-placed hand pockets that allow easy access, even while wearing a backpack. The 100-percent nylon exterior fabric is breathable, wind-and -moisture-resistant, and very quiet for stalking.
Best for: Pack hunting for big game in cool to cold temperatures. It could work for any kind of cold-weather hunting.
---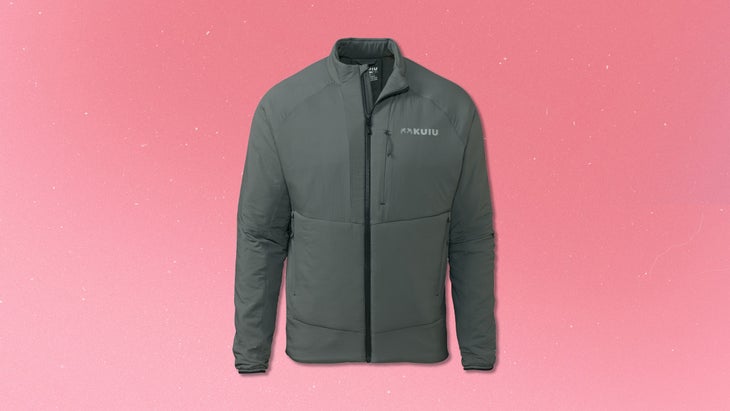 KUIU Kenai Men's Jacket ($239)
Weight: 14.2 oz
Size range: S-3XL
Main Tester: Jeff Kurrus
Suitable for big game, small game, waterfowl hunting, and even under waders while fly-fishing, one of our testers reported that the Kenai is the most comfortable and versatile mid-layer jacket they've ever worn. It fits snugly, like a well-worn glove, and is suitable for layering underneath a shell jacket. Breathable body-mapped active insulation provides superior temperature regulation, with 90 GSM in the body front, back, and bicep area, with 60 GSM in the sides and forearm. The jacket's breathability kept a tester warm, yet dry, while helping his 11-year-old son carry out his first fall archery deer. The outer shell is constructed with a quilt-free design, eliminating unnecessary stitch holes to maintain durability and weather-resistance. Plus, the fabric's low sheen makes you less detectable in the field.
Best for: High-intensity big-game hunting or wearing underneath waders or bibs when hunting out of a deer or waterfowl blind.
---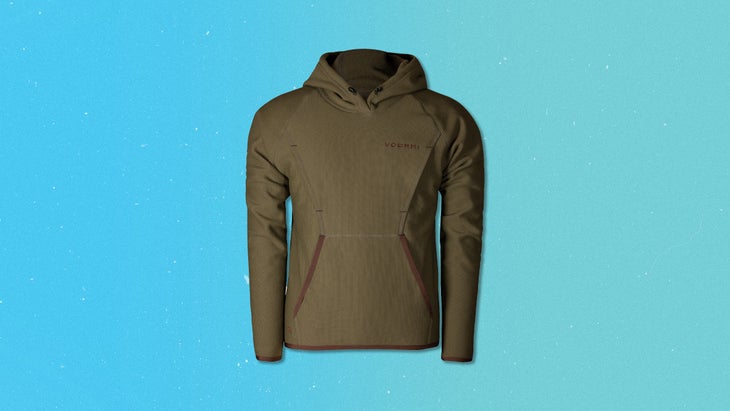 Voormi Sportsman's Two-Pocket Hoodie ($329)
Weight: 1 lb., 6 oz
Size range: S-XXXL
 Main Tester: Rick Wheatley
Comfortable and durable, the Sportsman's Two-Pocket Hoodie provides excellent wind protection and water resistance for a mostly wool garment. Instead of laminating layers together or spraying the garment with treatment, Voormi directly integrated a weatherproof membrane into the core of the fabric itself (which is a blend of wool, polyester, and polyurethane) during the knitting process. The result is a soft, single-layer, sweater-like fabric that is weather-resistant and highly breathable. The material is quiet and supple—none of the crunchy, plastic-like feel of a three-layer Gore-Tex membrane. The Sportsman's interior, which is a blend of wool, polyester, and polyurethane, feels like cozy felt, and the hood's low profile makes it comfortable to wear underneath waterfowl or fishing waders. Also, two separate high and low kangaroo pockets are accessible when wearing waders.
Best for: Still hunting or fishing.
---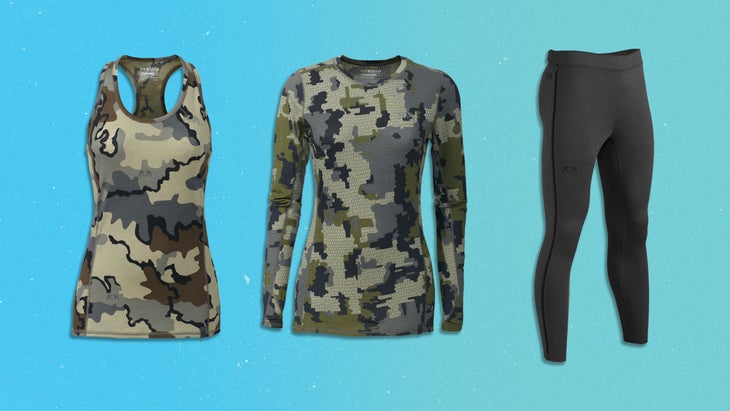 KUIU Ultra Merino 145 Women's Base Layers ($69-$109)
Weight: 5.5 oz (zip-off bottom), 3.8 oz (long-sleeve crew), 2.6 oz (tank)
Size range: S-XL
Main Testers: Angie Kokes and Jenny Nguyen-Wheatley
We tested the racerback tank, long-sleeve crew top, and zip-off bottoms in the KUIU Ultra Merino 145 base layers collection, and loved every piece. Unlike other wool products that claim to be non-itching, Nuyarn Merino actually feels incredibly soft, super-stretchy, and comfortable worn next to bare skin. The ample stitching is almost overkill on these pieces, but we're not going to rip through a seam anytime soon. During an intense training hike on a warm afternoon in the Nebraska sandhills, these base layers definitely lived up to the brand's claim that they're odor-resistant, and very moisture-wicking. The zip-off bottoms are our favorite piece in the collection however, because they're so lightweight that you'll forget you're wearing them underneath hunting pants while spotting and stalking. Its full side zip allows them to be quickly and easily removed.
Best for: High-intensity hunting for big game or upland hunting.
---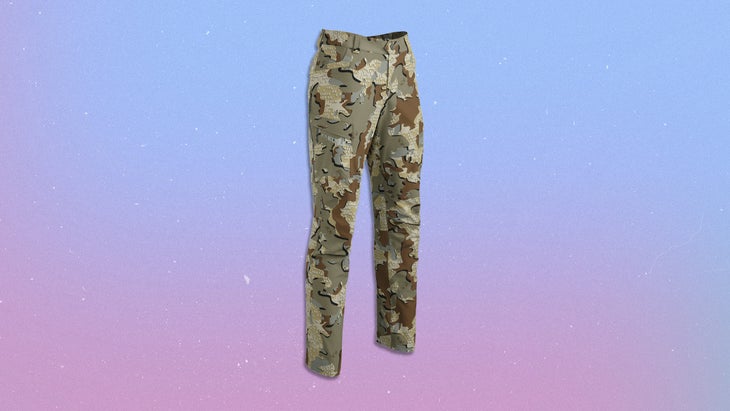 KUIU Attack Pants ($149)
Weight: 15.8 oz
Size range: 2-14
Main Tester: Jenny Nguyen-Wheatley
Finally, KUIU offers its best-selling men's hunting pants in women's fit and sizing. Comfortable, flattering, and rugged, the Attack is the best women's hunting pants we've tested. The fit is not too baggy nor too tight: even one 5'2" tester found its length and tapered leg openings were workable over hunting boots. These midweight hunting pants can be worn by themselves or with a base layer underneath in temps down to the 30's. The Primeflex polyester fabric is moisture-wicking, odor-resistant, and water-repellant, and helped up to testing through miles of annoying stickseed and burdock burs. When worn on its own, the interior's soft, brushed fabric prevents chafing, and the mesh pockets feel almost like luxurious moleskin. Zip cargo pockets on each side are low-profile, yet spacious enough to store your phone, snacks, hunting permit, and a folding knife. The Attack's gusseted crotch and articulated knees, plus overall stretch provide full range of motion.
Best for: Any hunting in cool to warm temperatures.
---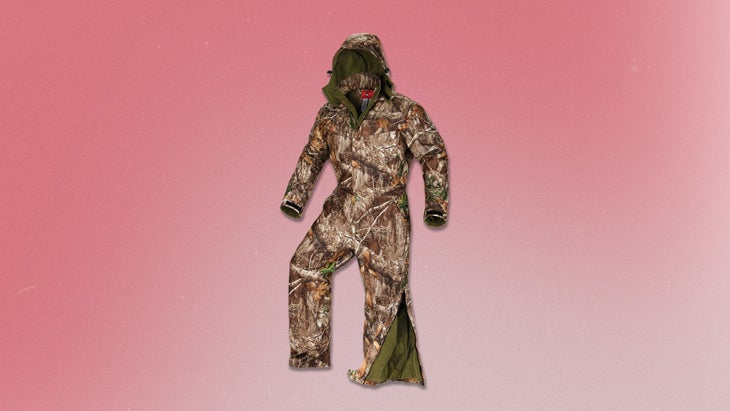 Arctic Shield Classic Elite Coverall ($290)
Weight: 5.5 pounds
Size range: M-3XL (men)
Main Tester: Jenny Nguyen-Wheatley
This coverall allowed testers to stay warm longer in frigid temps up in treestands (a small platform set high up in a tree). An aluminized layer in the insulation reflects 90 percent of body heat, while simultaneously deflecting cold from the outside. The shell is made of soft polyester tricot with a waterproof finish, and thanks to a "scent control lining," nasty odors remained at a bare minimum. While they're tailored for men, the coverall's adjustable suspenders and fitted cut makes it workable for women as well. And unlike other hunting bibs and coveralls we've tried in the past, the Classic Elite allows great freedom of movement due to its stretch. Heavy-duty, full-length zippers with storm flap closures on the front and down the sides of both legs mean no noisy Velcro. Soft internal cuffs on each wrist keep the cold air out.
Best for: Cold-weather big game hunting out of a tree stand or ground blind.
---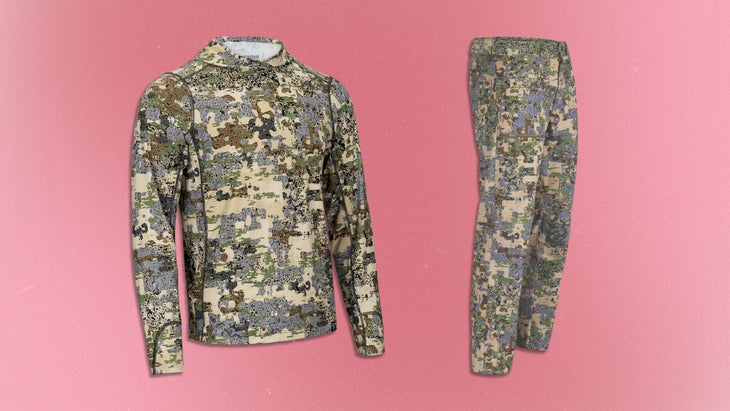 Forloh Insect Shield SolAir Lightweight Hooded Men's Long Sleeve Shirt ($99) and Pants ($159)
Weight: 12.2 oz (pants), 8.2 oz (hoody)
Size range: 28-44
Main Tester: Jenny Nguyen-Wheatley
During a particularly bad tick season in Nebraska, one tester remained completely arachnid-free thanks to Forloh's Insect Shield tech. Both the hooded shirt and pants were lightweight and multipurpose, suitable for hot weather hunting, fishing, hiking, and foraging. Cooling minerals and a UPF 50-plus rating built into the fabric did the job during 90-degree, open-water summer fishing, and allowed for effective moisture-wicking and fast dry times.  One tester wore both items  for several days without washing them, and found that they didn't stink thanks to antimicrobial and scent-control properties.
Best for: Open-country, hot-weather outdoor activity where sun and bug protection are beneficial, such as dove hunting, early-season small-game hunting, scouting, and fishing.
---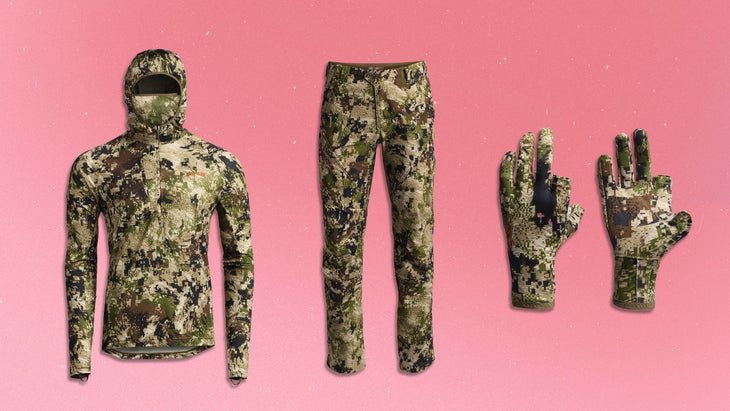 Sitka Equinox Guard Men's Hoody ($149), Pants ($249), and Gloves ($50)
Weight: 1.3 oz (gloves), 13.5 oz (pants), 6.5 oz (hoody)
Size range: M-XL (gloves), 30-44 (pants), M-3XL (hoody)
Main Tester: Ross Juelfs
Turkey hunting season unfortunately coincides with the spring bug hatch—and no one wants a surprise case of Lyme disease. Sitka offers a solution with its Equinox Guard collection, specifically made to keep hot-weather turkey hunters protected against mosquitoes, ticks, ants, flies, chiggers, and midges. Their tech impregnates the ultralight, breathable stretch fabric with permethrin to provide bug protection for the life of each garment, and when worn together, the hoodie, pants, and gloves do a great job at limiting skin exposure to insects. The hoody's tail is made long for tucking, and the built-in mask provides additional head protection and extra camouflage. Internal pant cuff gaiters are a nice touch: tuck them inside your socks to prevent insects from creeping up your legs; plus, zipper vents on the sides of the pants allow for extra heat dumping. Gloves are reinforced with Nylon Cordura in the fingers and suede in the palm area. The only part of this insect-blocking kit that is exposed? Index and thumb fingers, which are open for dexterity with a gun trigger or bow release.
Best for: Warm-weather turkey or dove hunting.
---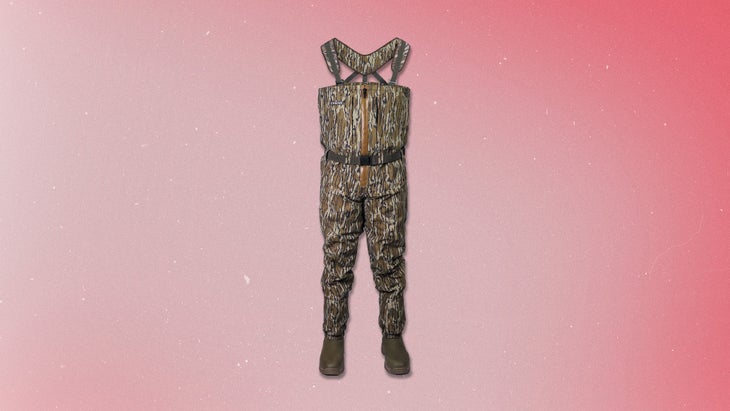 Chêne Gear Wader ($1,100)
Weight: 8.2 pounds
Size range: Boot Size 6-14, Body Size XXS-3XL
Main Tester: Ross Juelfs
The Gear Wader offers amazing freedom of movement and breathability compared to industry-standard neoprene waders without compromising warmth, thanks to its four-layer nylon fabric. One tester was comfortable down to negative 30 degrees on the Platte River in western Nebraska—about as cold as it gets in the state. The easily-adjustable shoulder straps are comfortable and designed to displace weight from the top of your shoulders across your hips and core. The waterproof chest-to-crotch front zipper is unique, making the waders easy to pull on and off without underlayers getting bunched up underneath. The boot area is warm, but not sweaty, and they feel a lot less clunky than those on traditional waders, offering good flexibility and mobility. Although the price tag might make you wince, it comes with a limited lifetime warranty, and the company covers the cost of shipping to and from its repair shop in Tennessee.
Best for: Waterfowl hunting.
---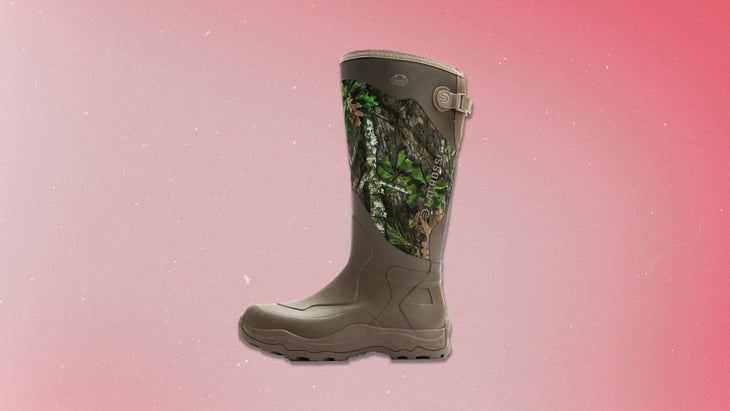 LaCrosse Alpha Agility Snake Boot ($230)
Weight: 4.9 lbs per pair (men), 3.8 lbs per pair (women)
Size range: 5-11 (women), 6-15 (men)
Main Tester: Kevin Paul
These boots do a better job of mixing the utility of a waterproof muck book and a lightweight hiking boot than we thought possible. With the added benefit of a bite-proof layer between the liner and exterior of the boot, the Alpha Agility is especially useful to hunters traveling through boggy snake country. The boots do require some break-in, and my heels stay locked in place when sidehilling—not something we expect from a muck boot. Bonus: Proceeds from every sale that feature the new National Wild Turkey Federation Mossy Oak Obsession camouflage pattern benefit NWTF conservation efforts.
Best for: Turkey hunting in snake country and wet areas.
---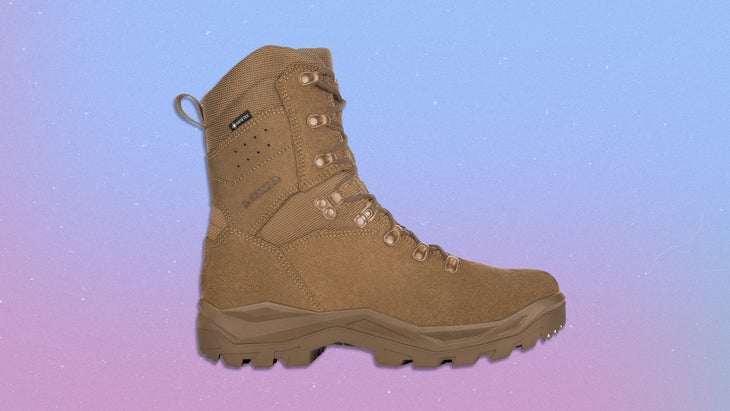 Lowa R-8S GTX Women's Patrol Boots ($285)
Weight: 550 g (single shoe)
Size range: 5-11 (women)
Main Tester: Angie Kokes
The Patrol Boots' deep lugs are like sharks' teeth and made walking through a slippery river bog in the Nebraska sandhills a breeze. We appreciate the locking lace loops, which allow for different tensions on the ankle. Plus, they're the most heavy-duty boots I've ever seen: The thick midsole has polyurethane and they're Army regulation compliant. Lowa's frame technology is impressive; it melds the upper with the sole and provides great lateral stability and underfoot support. And although the boots go on a little tight, they feel like butter once they're on your feet.
Best for: Mountain hunting for big game.
---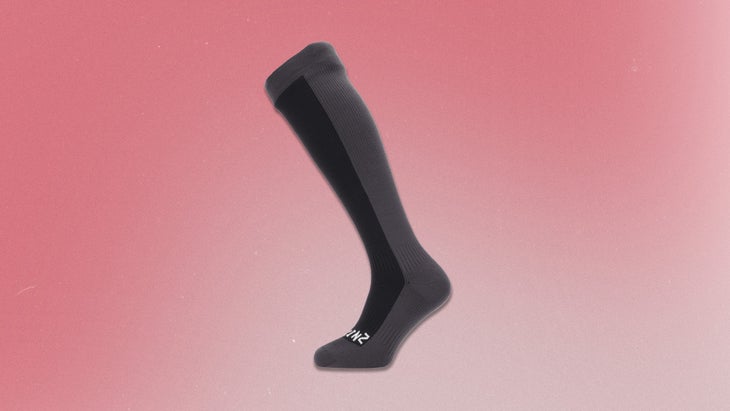 Sealskinz Waterproof Cold Weather Knee Length Socks ($55)
Weight: 16 ounces for the pair
Size range: S-XL
Main Tester: Kevin Paul
We were skeptical of the entire idea of a waterproof sock. But, just as advertised, this pair withstood full immersion for 10 minutes while keeping our feet completely dry and comfortable. Now, we don't know how we ever hunted without them. These socks are made with a thick blend of nylon and elastane in the outer layer, a hydrophilic membrane in the middle, and a blend of merino, acrylic, polester, nylon, and elastane on the inside—perfect in spacious wader boots for waterfowl hunting or fly-fishing. They're also useful for walking through dew-heavy fields, which would normally result in soaked boots, especially when upland hunting, shed hunting, or foraging.
Best for: Any type of hunting in wet areas.
---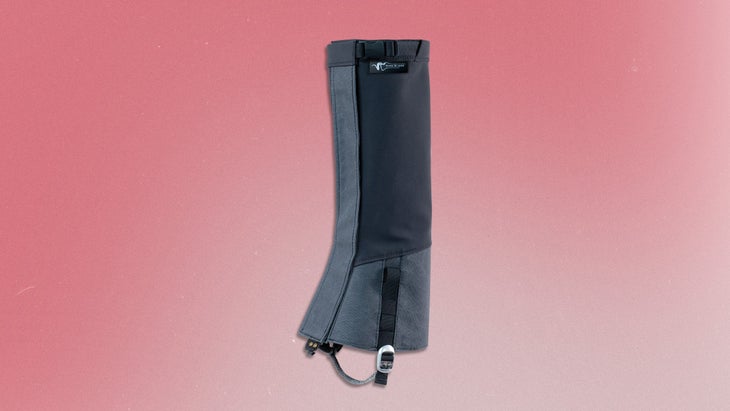 Stone Glacier SQ2 Alpine Gaiters ($129)
Weight: 11.5 oz (pair)
Size range: M-L
Main Tester: Jenny Nguyen-Wheatley
When Stone Glacier designed the SQ2 Alpine Gaiters, they sought to reduce weak points found in other brands, specifically in the boot strap and attachment areas. The gaiters' rope bootstraps are made with a laminated fabric constructed from ultra-high molecular weight polyethylene fiber monofilaments, and have a breaking strength of 1,600 pounds and the wear-resistance of steel, according to Stone Glacier (they're easily replaceable if you do find a way to wear them out). Adjustable bootstrap buckles are pinless, eliminating another weak point found in other gaiters that often break mid-hike. The unique stitching position of the bootstraps increases strength, preventing separation from the main body. Other well-built details include: A wide Velcro-closure area for adjustability in calf width, especially as layering systems change throughout the hunting season; highly adjustable, comfortable top buckles that actually keep the gaiters up while you walk; and the gaiters are waterproof, windproof, abrasion-resistant, and breathable.
Best for: Mountain hunting for big game.
---
How to Buy
Hunting gear is an investment, but if you're a beginner looking to get into it, don't rush out and buy the most expensive and technical gear possible. While top-of-the-line hunting gear certainly helps with comfort, it won't make game animals appear nor improve your shooting. Big-box stores such as Cabela's and Bass Pro Shops generally offer decent mid-tier products. In some parts of the country, even Walmart carries cheap hunting gear. If you're already a backpacker or hiker, wear the clothing you already own—lightweight and moisture-wicking are features that are also desirable in hunting. Choose pieces in muted, natural colors, and when hunting in a ground blind, the color black is actually the best color to wear, as it will help you blend in with the dark interior. Unless you're hunting in open country and doing a lot of spotting and stalking, expensive camouflage is not required—staying comfortable and warm is more important. For guided hunts, reach out to your guide with any questions about layering and insulation. Lastly, don't forget to check state regulations for hunter orange requirements.
When you decide you can't live without hunting, more expensive technical brands, like the recommendations listed above, can help outfit you for the most challenging and grueling of hunts.
Lead Photo: Reece McMillan/Stocksy