2023 Summer Gear Guide
The Best Men's Hiking Tops of 2023
14 testers donned 22 Shirts. These 6 proved exceptional.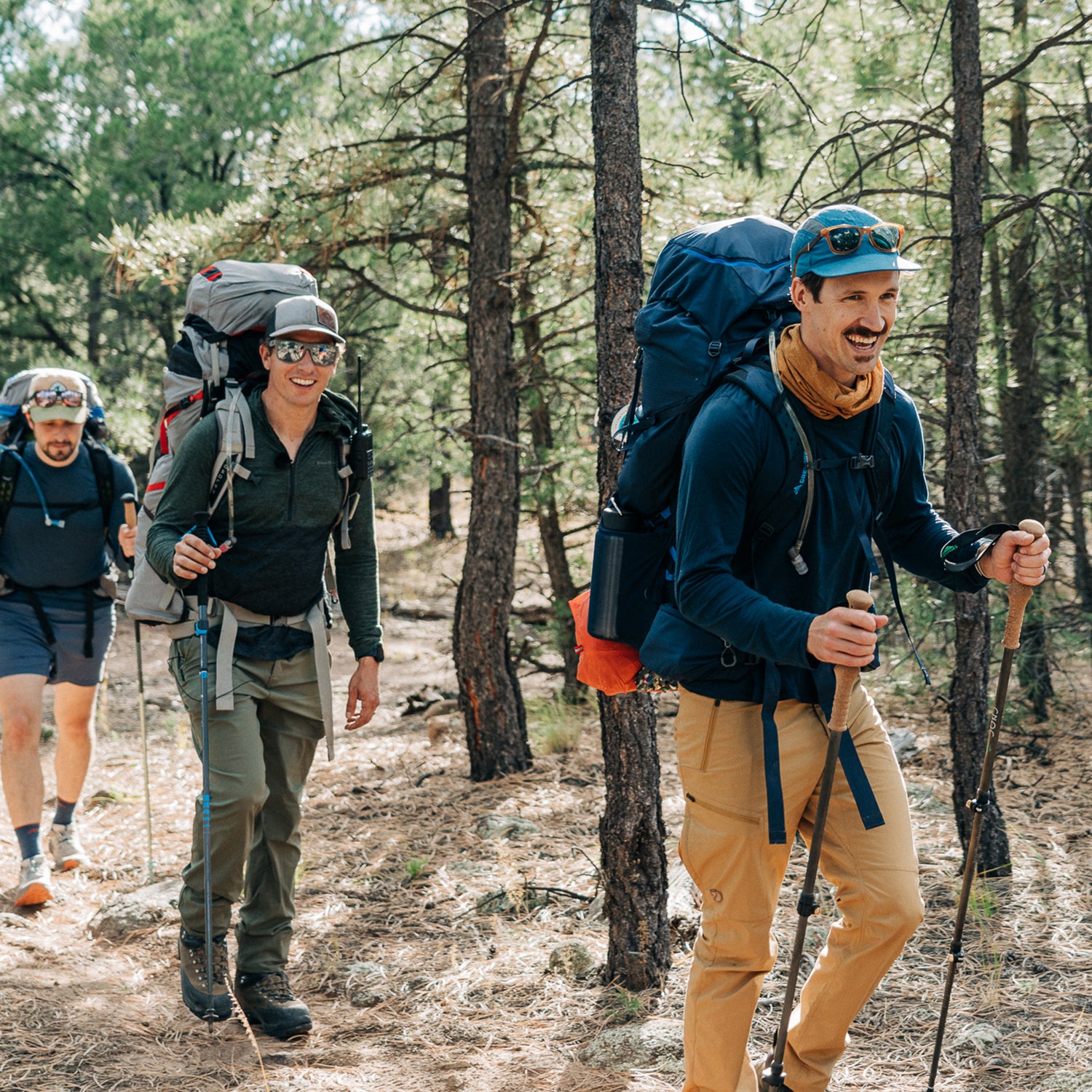 Evan Green
Heading out the door? Read this article on the new Outside+ app available now on iOS devices for members! Download the app.
Few things will end a hike faster than an ill-planned layering system. Smart apparel choices will keep you warm in the cold, cool in the heat, and dry when it's raining. For technical hiking, next-to-skin layers need to be highly breathable and moisture-wicking, while midlayers should be warm and protective in cold or windy conditions and stow away easily in your pack when the weather is cooperating. Here are our top picks for the year.
The Winners at a Glance
Lé Bent 160 SS Tee
Alpine Fit Treeline Baselayer
Rab Nexus Fleece
Kühl Response Lite Long Sleeve
Cotopaxi Vuelta Performance Windbreaker Jacket
Outdoor Research ActiveIce Spectrum Sun Hoodie
How We Test
Number of Testers: 14
Number of Products Tested: 22
Distance Covered: 350+ miles
Hottest Temperature: 105 F
With 14 testers from around the country, our apparel testing team was exposed to a variety of conditions for the full 2022 hiking season. Temperatures ranged from the mid-30s in Alaska to over 100 degrees in the foothills near Boise, Idaho, and everything in between at testing locations in California, North Carolina, and New Hampshire. Testers wore apparel on hikes and trips of varying difficulties, from easy, after-work strolls to demanding multi-day adventures in rain and sleet. Our testers ranged in size, body type, and experience level, with both casual day hikers and experienced thru-hikers. Over the course of the summer, testers rated every aspect of the apparel, from comfort and breathability to durability and water resistance.
Meet Our Lead Testers
Our category manager, Nathan Pipenberg, is a Boise-based freelance writer who covers ultralight hiking for Backpacker. The team of 14 testers also included Alan Verona, a wildland firefighter who works in Idaho's Selway-Bitterroot Wilderness.
The Reviews: The Best Men's Hiking Tops of 2023
Lé Bent 160 SS Tee ($85)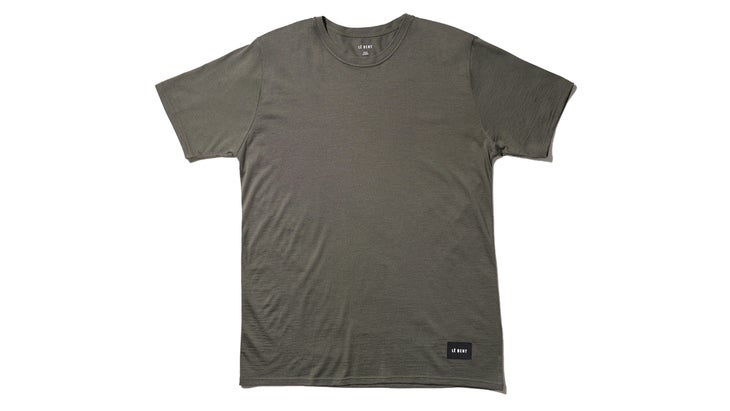 Weight: 5.6 ounces
Size: S-XXL
Pros: As soft and stretchy as a merino shirt gets
Cons: Average durability
There's no shortage of merino tees on the market, but Lé Bent's 160 SS landed above the rest in terms of breathability and comfort. Thanks to its 53-percent organic bamboo rayon composition, it has significant stretch and a buttery-smooth feel, with none of the itchiness of some 100-percent merino shirts. Though the shirt is only 37-percent merino, we still found that it had wool's all-important odor-resistant qualities. Testers also raved about the top's extra length, which made it less likely to ride up while wearing a pack with a hipbelt. One ding: merino isn't known for its durability, and this tee is no exception. Though the shirt's merino/rayon blend is spun around a nylon core to add strength, our testers still noticed fraying and pilling around hems on par with other merino options.
Bottom Line: An uber-comfortable choice for day hikers and thru-hikers alike.
Alpine Fit Treeline Long Sleeve ($129)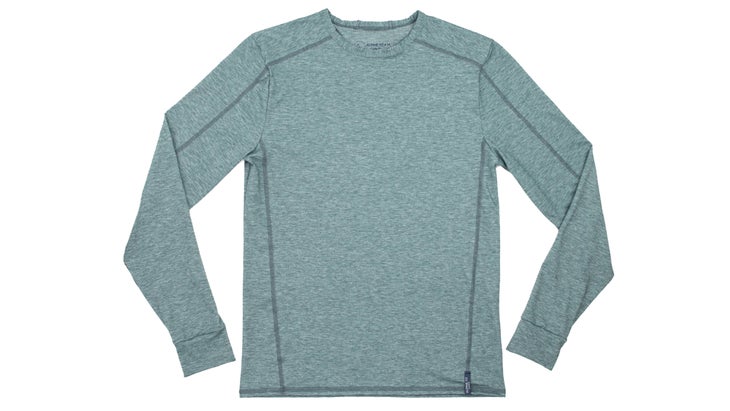 Weight: 6.9 oz
Size: S-XXL
Pros: Great fit, lightweight, and warmer than expected
Cons: Too warm for truly hot days
Most baselayers get swapped out as the seasons change, but multiple testers found themselves keeping the long-sleeved Treeline in their pack regardless of conditions. The reason? The weight of the polyester-Tencel-elastane fabric splits the gap between hot and cold weather, while the slim—but not tight—fit means it works well as a baselayer or stand-alone shirt. Alan Verona, a wildland firefighter and avid peak-bagger, wore the Treeline nearly every day for a season—it served him as a baselayer on work assignments and an ultralight midlayer during an ascent of Idaho's Blodgett Peak. One small design choice with a big impact: a graphic pattern only on the right sleeve. "That means I don't need to check the tag to see if I'm putting it on backwards," Verona said. Thanks to its silver content, we also found the top impressively odor-resistant for a synthetic layer. Bonus: It's available in two different fits, one looser and one tighter.
Bottom Line: A dependable baselayer that's versatile enough for all four seasons.
Rab Nexus Jacket ($120)
Weight: 11.3 ounces
Size: S – XXL
Pros: Super stretchy and breathable
Cons: No thumb loops
The Rab Nexus is a lightweight, technical fleece that sets itself apart thanks to its excellent stretch and freedom of movement. Like other tech fleeces, the Nexus has little in common with the plush, fuzzy layers of old. It's essentially a polyester jacket backed with a patterned fleece lining, and it's among the stretchiest and most breathable that we've tested. It's an ideal midlayer in cool-to-moderate conditions—one tester named the Nexus their new favorite piece for shoulder-season trips. "Usually I regret taking a fleece on a trip if I'm already carrying a puffy, but I find myself wearing the Nexus when other fleeces would have me overheating," he said. It has a slim fit that's great for layering, but may feel too snug on larger bodies. One ding: with fairly tight sleeves and no thumb loops, the sleeves tend to ride up.
Bottom Line: An insulating midlayer that's designed to stretch and breathe
Kühl Response Lite Long Sleeve ($89)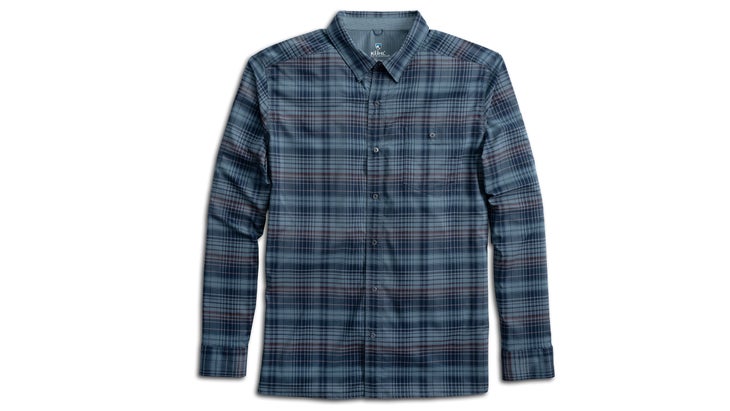 Weight: 6.4 ounces
Size: S-XXL
Pros: Slim-fitting and highly breathable
Cons: Limited two-way stretch can feel a bit constricting
The Response Lite is an updated take on the classic button-up sun shirt. Unlike many hiking-oriented button-ups, the Response Lite doesn't feature any back or underarm vents; it relies instead on the thin, 100-percent polyester fabric to do the work of keeping you cool. Testers found it up to the challenge on all but the hottest days when temps crested 100 degrees. Thanks to the tight weave of the fabric, the shirt resisted rips and abrasions better than many of the knits found on T-shirts and sun hoodies. Testers reported little of the telltale stink that can plague some polyester shirts; there's no silver content, so we attribute its odor-resistance to the material's breathable and quick-drying nature. One tall, skinny tester was especially fond of the slim fit, since so many button-up hiking shirts are boxy and oversized on his frame. He also appreciated the lack of extra pockets, buttons, and vents that typically signify a trail shirt. "It's understated and stylish enough that I can wear it to work, as well."
Bottom Line: A trail-worthy button-up that doesn't look out of place around town.
Cotopaxi Vuelta Performance Windbreaker Jacket ($130)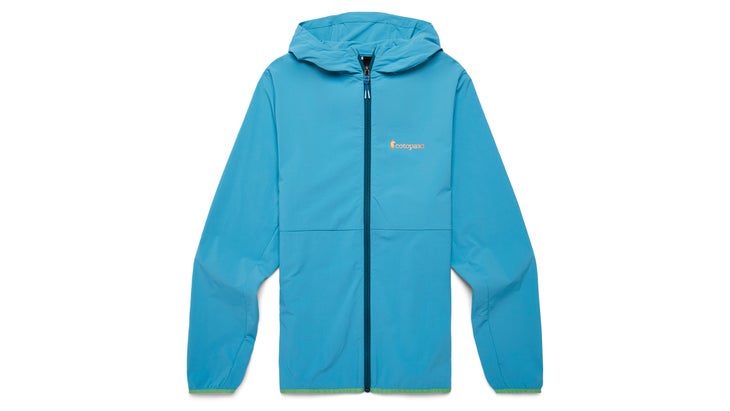 Weight: 7.5 ounce
Size: XS-XXXL
Pros: Stretchy, versatile
Cons: Not as lightweight as some ultralight windshirts
The Cotopaxi Vuelta walks a middle-ground in the world of outerwear. For a windshirt, it's fairly substantial, made of softshell-like DWR-coated polyester that's more insulating and durable than your run-of-the-mill ultralight breeze-blocker. But it's still lighter and more packable (about the size of a grapefruit) than a standard softshell. The result is a do-it-all layer that performs best in moderate, 40–60 degree temperatures. The Vuelta's stretch fabric was also a welcome change: "Some wind jackets feel so snug that you're afraid you could hulk out at the seams," said one tester. "Not this one." It also features an adjustable hood, two hand pockets, and a smaller "stash pocket" within the right hand pocket, perfect for headphones, a credit card, or small headlamp.
Bottom Line: A lightweight but substantial windbreaker for moderate weather
Outdoor Research ActiveIce Spectrum Sun Hoodie ($89)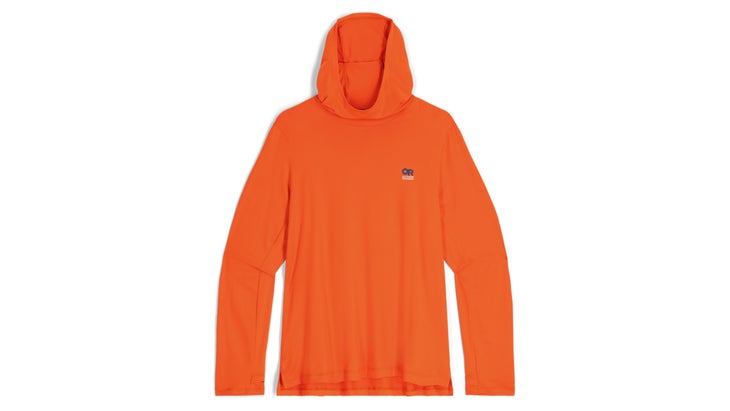 Weight: 7.2 ounces
Size: S-XXL
Pros: Supersoft fabric with excellent sun coverage
Cons: Not the lightest sun hoodie
A sun hoodie is quickly becoming an essential piece of gear (especially in the sun-drenched West) and the ActiveIce Spectrum is a top choice. It's not the lightest (Outdoor Research also makes the 4-ounce Echo Hoodie), but it features a UPF 50+ rating and something that Outdoor Research calls ActiveIce technology, which promises a cool-to-the-touch feel. Testers found it hard to quantify if the polyester-spandex fabric truly felt cooler than comparable techy fabrics, but they did find it remarkably refreshing and breathable, even in Arizona's summer heat. Testers loved the three-panel hood, which fit snugly and had a cowl-style neckline for extra sun protection. It stood up to wear from a pack, but the knit fabric snagged easily during thorny bushwhacking, leading to holes. And after a 5-day trip in the Sierras, it retained some funk, but nothing out of the ordinary. What really set this hoodie apart? Its comfort. It stayed soft and smooth on the skin, even after absorbing multiple days worth of sweat and copious amounts of sunscreen around its neckline.
Bottom Line: Top-tier sun protection in a cool, breathable package
How to Buy
Baselayers and midlayers need to be breathable and effectively wick moisture, especially in the summer. Merino wool is a common baselayer material thanks to its odor-resistance, temperature regulation, and wicking ability, which makes it ideal in both warm and cold climates. Synthetic garments, like those made of polyester, are less expensive, dry faster, and are more durable than merino wool, but get stinkier much faster. The downsides of merino? It wears more quickly, is more costly, and can be itchy on sensitive skin. Merino blends often offer the best of both worlds.
Opting for multiple layers instead of a single, bulkier piece of clothing makes it easier to regulate your body temperature, and therefore avoid sweat-induced hypothermia. For baselayers and midlayers, look for items that fit snugly to fit under other pieces, but still allow freedom of movement while hiking. Check for the features that are most important to you, like pocket and zipper placement, hoods, and thumb loops.
When it's time to upgrade your gear, don't let the old stuff go to waste–donate it for a good cause and divert it from the landfill. our partner, Gear Fix, will repair and resell your stuff for free! Just box up your retired items, print a free shipping label, and send them off. We'll donate 100 percent of the proceeds to The Outdoorist Oath.
Lead Photo: Evan Green