2023 Winter Gear Guide
The Best Men's Baselayers of 2023
Ten testers checked out 50-plus baselayers to land on this list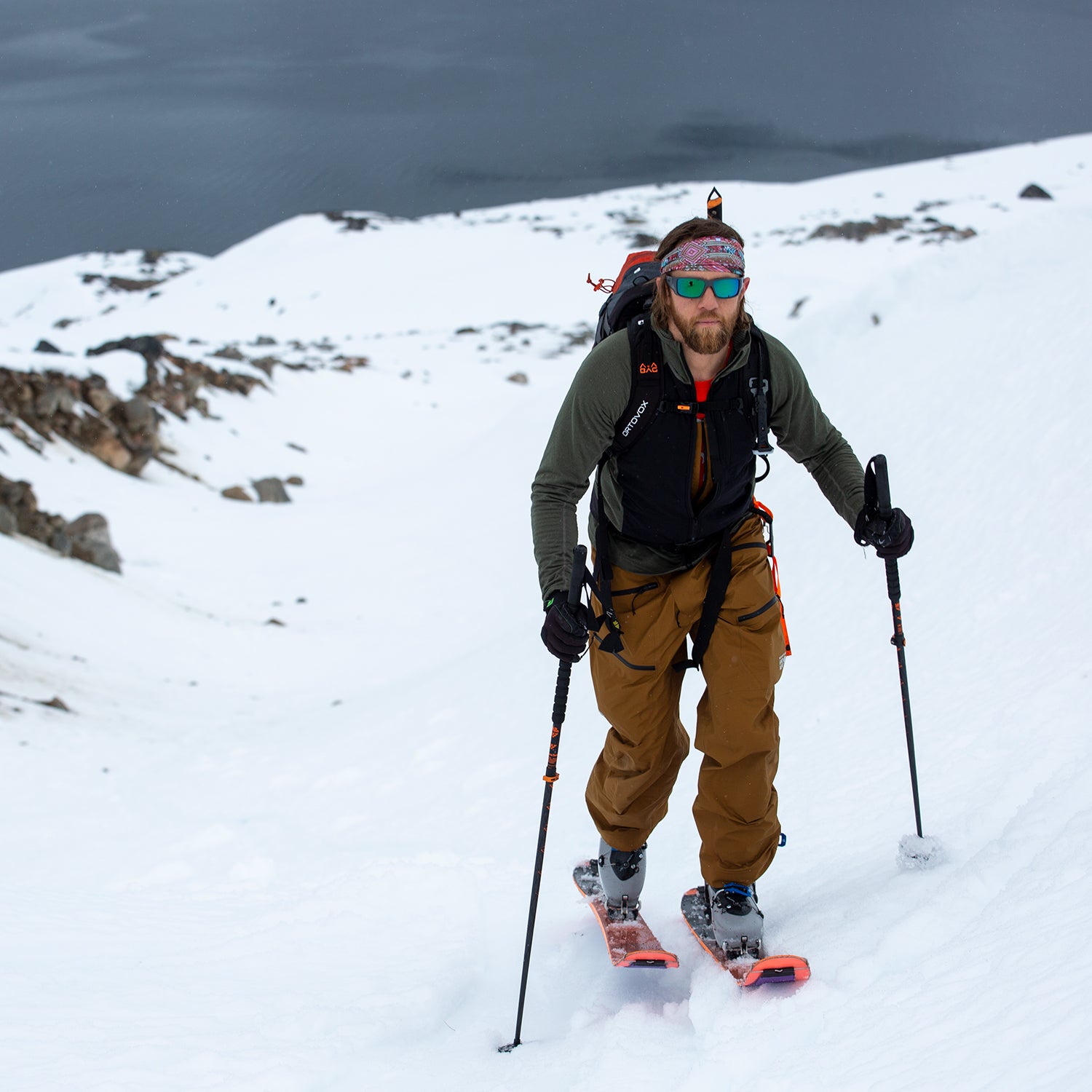 Brad Kaminski
Heading out the door? Read this article on the new Outside+ app available now on iOS devices for members! Download the app.
Base layers are an all-important first layer of defense against moisture and cold. The best are the ones that do their job quietly, wicking sweat and drying fast while holding just enough warmth next to your body to provide a foundation of insulation. We tested hundreds to pick out the best for various conditions.
Read more: The Best Puffy Jackets and Midlayers of 2023
How We Test
Number of testers: 10
Number of products tested: 50+
Number of miles: 100+ miles
Vertical feet: 10,000 vertical feet
We enlisted ten testers ranging in size from small to 2XL, and in ability from entry-level to professional. Together, our crew put over fifty different base layers through the ringer. We tested in Oregon, Idaho, Vermont, and Greenland, in everything from whiteout blizzards to cozy cabins. Afterwards, each tester answered dozens of questions about fit, movement, and comfort, to help us find consensus on the best base layers to fold into your kit this winter.
Related: The Best Women's Baselayers of 2023
Reviews: The Best Men's Baselayers of 2023
Rab Force Hoody ($70)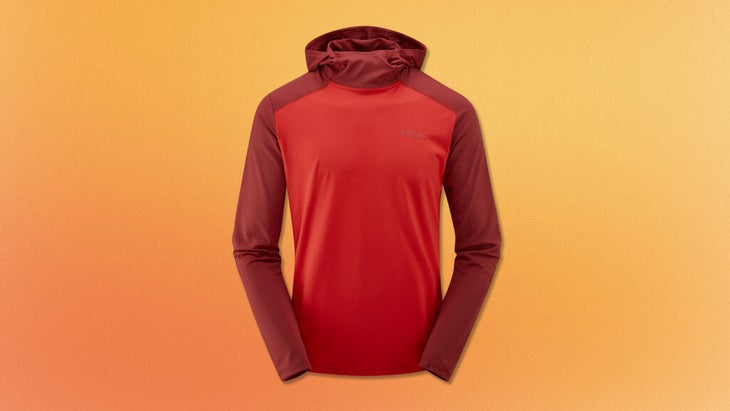 This was not the lightest, fastest wicking, or warmest layer we tested, but what it lacked in superlatives it more than made up for in utility. Simply: it proved the best at handling the widest variety of activities and temperature ranges. The 164-gram, slim-fit polyester top falls squarely into the low end of the weight spectrum. During testing, it was routinely the clearest choice, day in and day out, whether under a lightweight shell in 32-degree wet snow or by itself while skinning in the Siskiyou mountains with temps in the 50s. While not the airiest fabric in our test, the polyester material moved moisture with aplomb. One tester soaked the top during a 3,450-foot skin in the Siskiyou mountains, but it dried out over the course of the 15-minute transition so he wasn't chilled on the way down. Details were another highlight. For example: small elastic thumb loops that sit courteously inside the sleeves until you need them, but are amply protective when deployed. They kept the wind out when one tester wore this top as a standalone baselayer during a 15-mile run in 40-degree weather.
Size: S-XXL
Bottom line: One lightweight layer to rule them all
---
Ridge Merino Convict Canyon Base Layer Jogger ($100)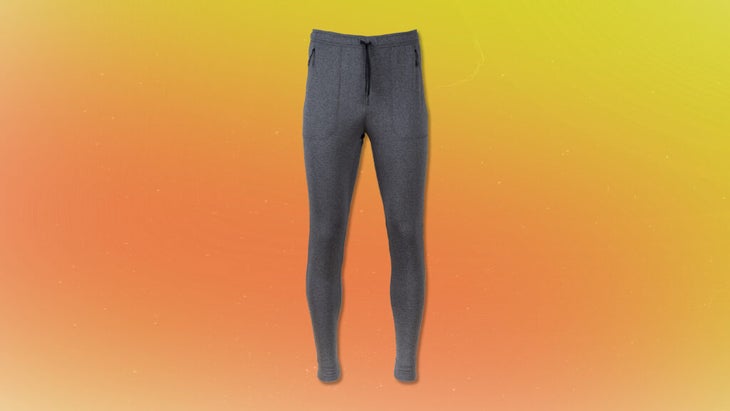 Multi-use gear often does many things, but does them poorly. The Convict Canyon Joggers proved to be an exception: they're cut just-so to function well as both a baselayer and as lightweight sweats, and are built from a material that excels in a wide range of temperatures.
The material in question is Polartec Powerwool, a midweight merino-blend with a fine fleece-like grid pattern on the inside. It's known for offering midweight warmth with the breathability of something much lighter, and thus boasts broad comfort. Our pickiest tester—the manager and buyer at an Ashland, Oregon running shop—bestowed his greatest praise on these hybrids. "They are the perfect pants," he said. "I was literally able to wear them for seven days straight across a multitude of occasions." He wasn't the only one. Testers used them under ski pants all in all conditions—from 28-degree lift-accessed skiing to 45-degree fitness skinning sessions.
Then there's the fit: legs tapered just the right amount, so they're slim enough for technical wear but pants-like enough to wear on their own, either on the trail or at home. "They proved a nice insulating layer that managed temperature swings as wide as 10-degrees during long days trail running and skinning," said an Oregon-based tester.
Size: S-XXL
Bottom line: Bottoms that combine the best of long johns and joggers
---
Norrøna pureUll Longsleeve ($139)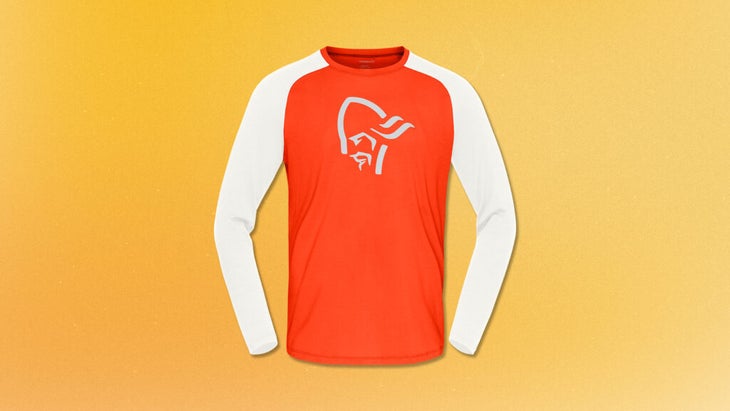 We got this top on seven different testers ranging in sizes from small to XXL, and ranging in geography from Southern Oregon, to Vermont, to Greenland and it was uniformly the most loved layer in the men's section of the test this year. Everyone, regardless of size, appreciated the slightly relaxed fit and small thermal bump this lightweight layer provided—more than a lightweight, but less than a midweight. This 100-percent merino wool top is woven so thinly that it seems held together with magic, which translates into supreme next to skin comfort and moisture wicking. "I got sweaty while touring in bibs next to the ocean while it was just about raining," said one tester after spending two weeks wearing it in Greenland. "But the top dried within a few minutes of body heat pumping it out." On the opposite end of the spectrum, one Ashland, Oregon-based tester trail ran in this top for dozens of miles over the course of a week in temps ranging from the 20s to the early 40s (without needing to wash it). More impressively, one tester experienced no stink at all after two weeks of very sweaty adventure travel. "That's even after living in a tent for a week followed by a car for another week," he said. "Personally, I reeked. But when I took the shirt off, it did not."
Size: S-XXL
Bottom line: Our favorite lightweight merino layer
---
Minus33 Kancamagus Midweight Men's Bottom ($80)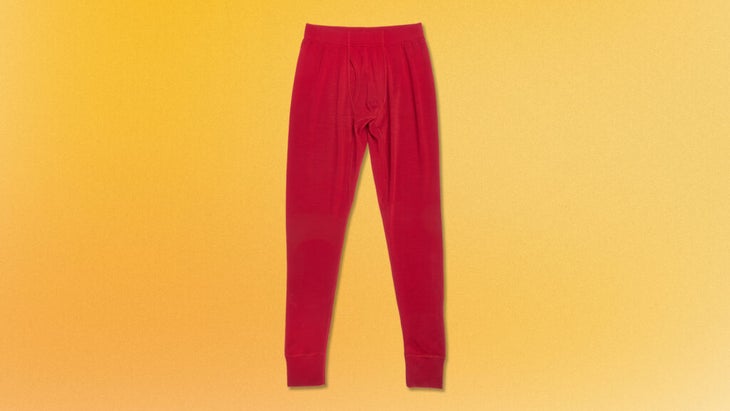 The unfortunately named Kancamagus delivered the most supple next to skin feel of any merino bottoms in our test. It was also the heaviest layer we tested, and thus the one we'd pack with us on a trip to the arctic. "Simply the most comfortable Merino base layers I have ever worn," one tester gushed. That comfort translated to delightful skinning in temps below 30-degrees and trail runs at 40 degrees and colder. Our only complaint: the relaxed fit around the crotch means you can't go commando. "You would really want to wear underwear with them because of lack of support," said one 155-pound, size-small tester.
Size: XS-4XL / Tall XL-4XL
Bottom line: Soft, heavyweight bottoms for cold days on the skin track
---
Burton [ak] Helium Power Grid Baselayer Crew Neck Top ($109.95)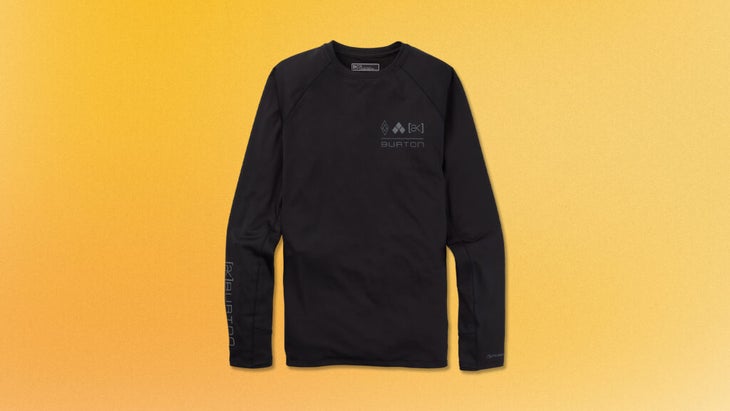 The Helium Crew was one of those layers that testers kept bringing out on backcountry ski days, despite the fact that several other tops consistently ranked a few points higher on our feedback forms. (The most prominent ding on the Helium top: a couple of testers noted that they experienced chafing on the sweatiest days lasting over five-hours.) When asked why they continued to wear it, one tester said it was because of its remarkably comfortable temperature range. We skied in it as a standalone layer on bluebird powder days in the 50s and in borderline-whiteout conditions in the low twenties underneath an active insulation layer. The steeze and relaxed but still athletic fit also certainly helped the top's popularity. It is an ideal layer for fashion-forward outdoor enthusiasts who want to keep their base layer top on after riding is done.
Size: XS-XL
Bottom line: The best looking layer in our test—though not the best for long hauls
---
How to Buy Men's Baselayers
Look for fabrics that emphasize breathability and durability (seamless construction is a bonus), like merino wool blends or synthetics. Merino is pricier than other materials, but it's wrinkle and odor resistant and naturally regulates body temperature. Synthetic materials are often more inexpensive; they're also hydrophobic and thus dry faster than merino. Some synthetic layers are treated with an anti-microbial coating to prevent odor, the ones that are not may cling to smells even after washing. Regardless of material, know this: the higher the gram count, the warmer the layer will be.
Other features are secondary: thumboles to help keep sleeves from riding up under your jacket, a drop tail that makes it easier to tuck your layers into ski pants. Zip necks are better for ventilation, while crewnecks are simpler and less bulky.
One note on garment care: let your merino and synthetic layers air dry instead of tossing them in the dryer, since both can shrink, unless the care instructions say otherwise. They'll also last longer.
More 2023 Gear Guide Reviews
Lead Photo: Brad Kaminski