Gear Guy
Sun Shirts that Don't Suck
We're living in a new era of sun protection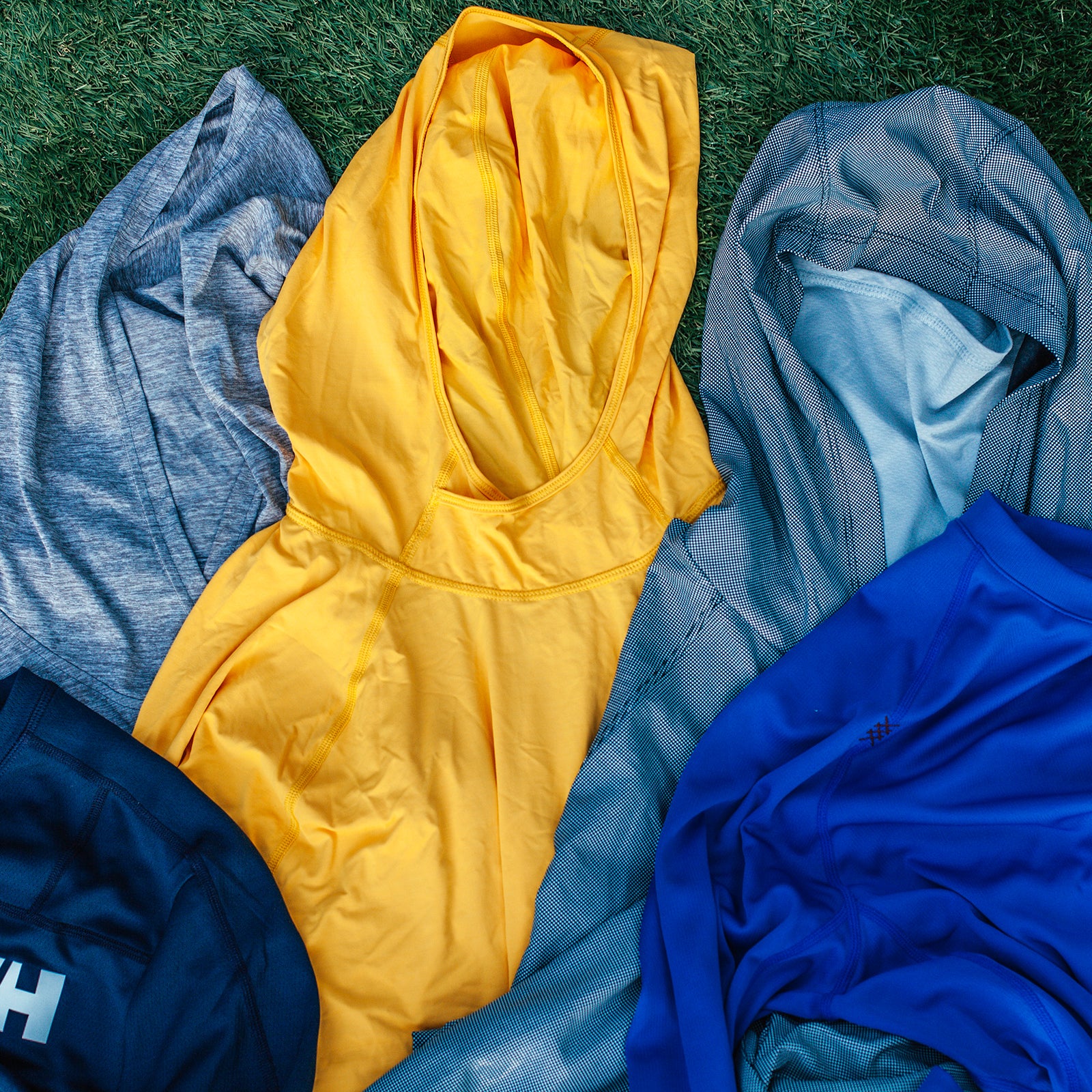 Sarah Jackson(Photo)
Heading out the door? Read this article on the new Outside+ app available now on iOS devices for members! Download the app.
I was a rafting guide for too long. I was pushing 30 during my last season, five years ago, and found myself absolutely haggard at the end of 12-hour days on the water. But it was in those waning days of my guiding career that I found my solution for being outside all day: the sun shirt. Once I started fully covering my skin, I discovered I had nearly twice as much energy. I've never looked back. Everyone should have one in their outdoor arsenal.
This summer I tested five of my favorite sun shirts to help you choose your secret UV protection weapon for the warm days of fall, upcoming tropical vacations, and anything between.
The Test
Usability: I subbed each of these sun shirts in place of the T-shirts I would normally wear during a summer day spent with my nearly two-year-old daughter (we were outside most of the time). I played at a park, rode a bike, and swam with her in a community pool for 40 minutes each and then took notes.
Moisture Management: I soaked each of the shirts for 30 seconds, let them sit for ten seconds, then weighed them. I hung them to dry on a clothesline and reweighed them after 15 minutes, 30 minutes, and 45 minutes to see how much water they had retained.
Athletic Movement: I wore each of these shirts through a round of 15 push-ups, 20 kettlebell swings, and 15 burpees.
Coverage: I took notes on how much of my skin was protected from the sun during the everyday use of the shirts.
Style: I asked friends and my wife how I looked in each.
The Results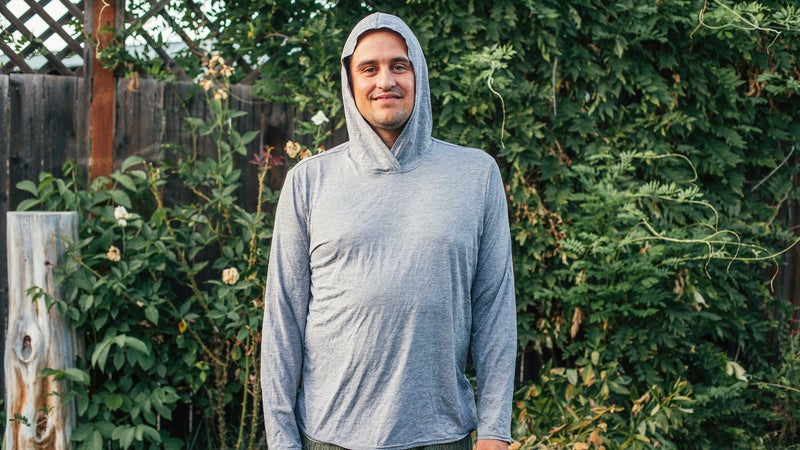 Winner: Patagonia Capilene Cool Daily Hoody
Usability: 5
Moisture Management: 3.5
Athletic Movement: 4.5
Coverage: 4.5
Style: 5
Patagonia's Capilene Cool material easily passed as cotton, with its superior looks and next-to-skin comfort, but still moved moisture and stretched like a high-end synthetic. This made it a full-on best-of-both-worlds function and fashion piece. While the cut and the low-key style of the shirt made it look extremely casual and cool, it took second place on how it moved during the circuit workout. It didn't shed water as quickly as its competitors in the hang-dry test, but it was the most comfortable while swimming in the pool—it never felt clingy or slimy on my skin as synthetics often do.
---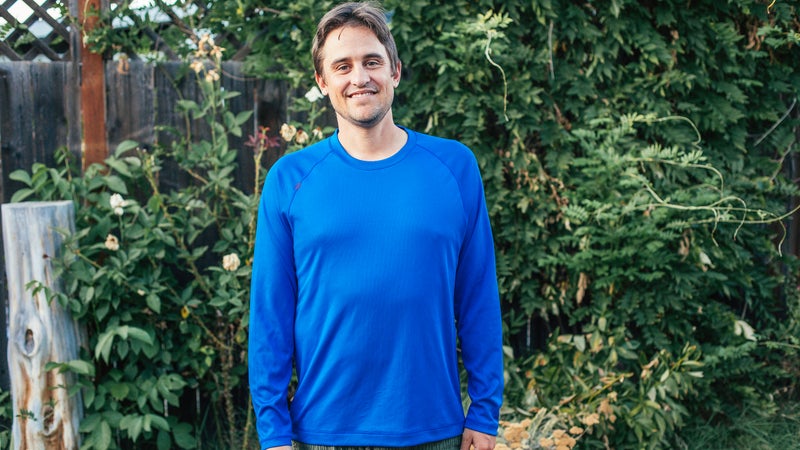 2. Rhone Endurance Long Sleeve
Usability: 5
Moisture Management: 3.75
Athletic Movement: 5
Coverage: 3
Style: 5
If the Rhone Endurance Long Sleeve had a hood, it would have won this competition. It did offer a decidedly athletic fit and slightly shiny exterior but was coupled with an almost tailored profile, which made it look quite sharp. "Damn, you look good in that shirt," my wife said to her blushing husband, as I packed our daughter's diaper bag to head to the pool. The Polartec Power Dry fabric has long been one of my favorite synthetics for getting sweat off my skin while also moving with my body, and this specific iteration did not disappoint. "Never rode up, yet never inhibited movement," was my first note after I worked out in it. 
This item is currently out of stock. 
---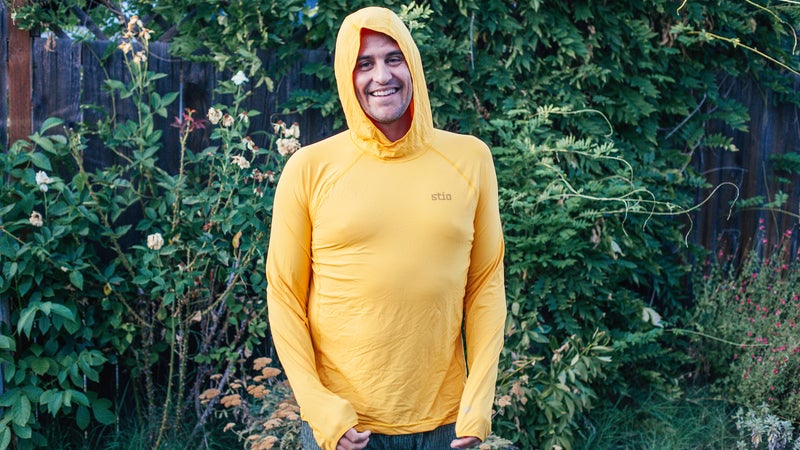 3. Stio Hylas Hooded Pullover
Usability: 4
Moisture Management: 5
Athletic Movement: 4.5
Coverage: 4.5
Style: 3
Stio was tied with Patagonia for most comfortable sun shirt in this test, thanks to the extralight and extremely stretchy Helion material. It also crushed moisture management and was only a few grams of water shy of being bone-dry at the end of the test. So while it was a contender for first, it got bumped down because the athletic fit and thin fabric showed too much nipple for everyday use. And to be frank, the extremely bright colorway made me a little self-conscious while playing with my daughter in the park. 
This item is currently out of stock.
---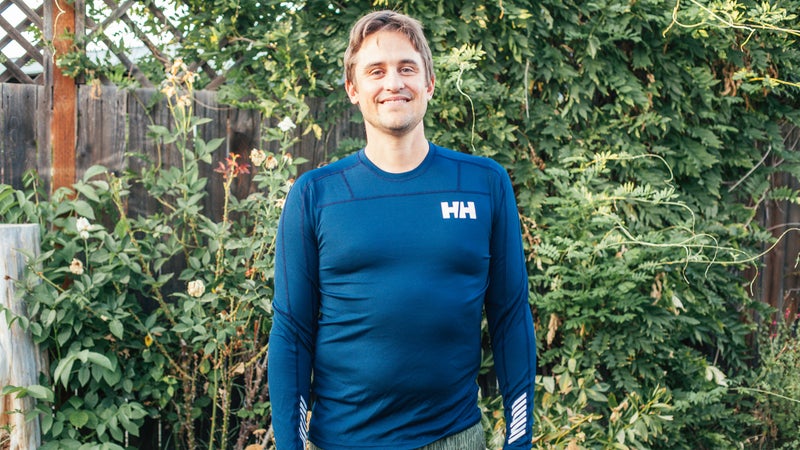 4. Helly Hansen Lifa Active Light
Usability: 4
Moisture Management: 4
Athletic Movement: 4.5
Coverage: 3
Style: 3
The Lifa Active Light was fantastic, but it wasn't the best in any particular category, which is why it landed in fourth place. It had a next-level athletic cut (read: Scandinavian) that made it look more like a ski-mountaineering piece than something I would wear to drink cold beer on a patio. While the fit did it no favors in the style category, it was clearly made to move: I was impressed by how much mobility it demonstrated during the workout, tying for second in that category in spite of being the tightest top in this test. 
This item is currently out of stock. 
---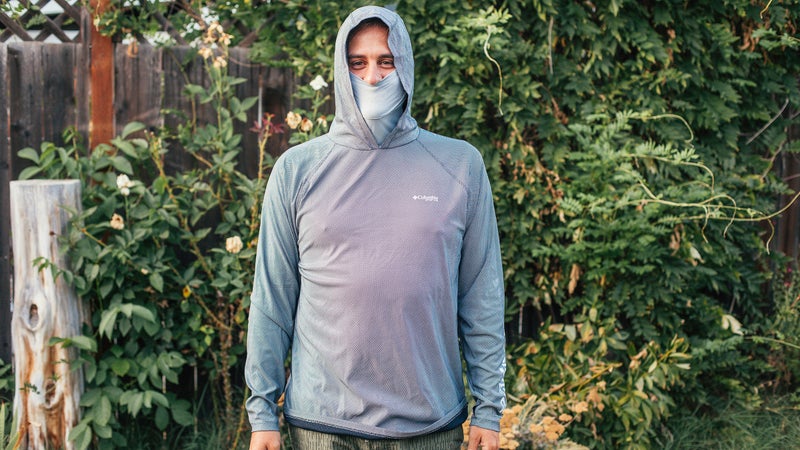 5. Columbia Men's PFG Terminal Deflector Zero Hoodie
Usability: 3
Moisture Management: 3.75
Athletic Movement: 3.75
Coverage: 5
Style: 1
The technology on the PFG is pretty amazing. Little reflective dots on the surface actively bounce light off the material, which, coupled with small coils on the interior that raise the garment off your skin, legitimately delivers a cooling sensation when you are hot as hell. It also makes the top look fantastically overbuilt for everyday use. "No, just no," was my wife's reaction when I asked her if I could pull off wearing it out to a meal. The integrated neck gaiter is what landed the PFG a perfect score for coverage but also deducted major style points. (It does feel unfair to throw such a high-tech shirt into a style fight.) The hoodie moved fantastically during the workout for how much fabric I was dealing with, but it took a hit because the gaiter got pretty stifling when I started huffing and puffing—though that might actually be an advantage during some cooler shoulder-season activities. While this sun shirt would be excellent for someone who works as a fishing guide in the Seychelles, it was too much for my personal everyday needs.
Lead Photo: Sarah Jackson