The Best Winter Boots for Women
The author spent the season testing the warmest kicks in Canada's Yukon Territory. Here are her favorites.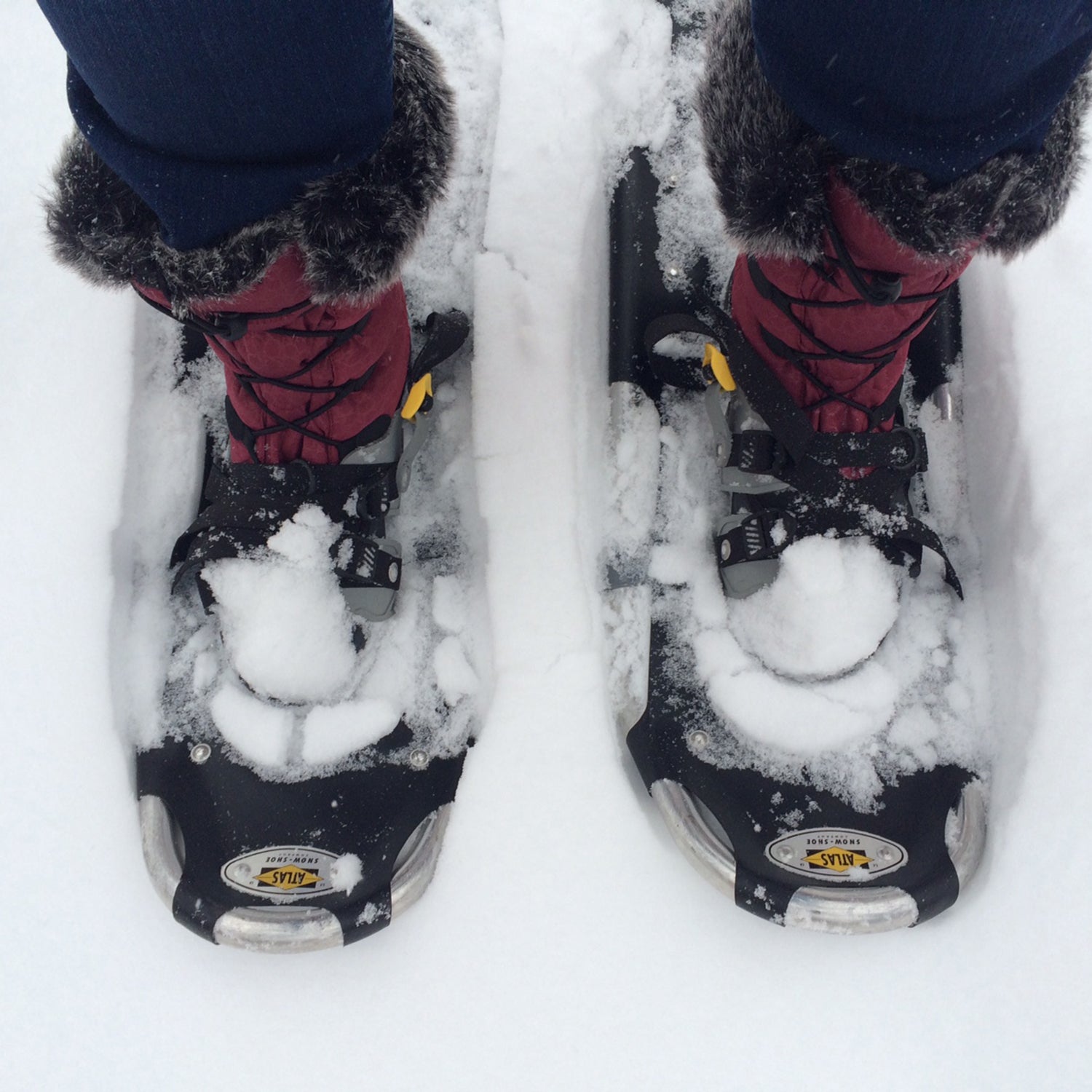 Heading out the door? Read this article on the new Outside+ app available now on iOS devices for members! Download the app.
I have strong opinions about winter boots. I've lived in Canada's Yukon Territory for nine years, where we get subfreezing temperatures and snow for at least seven months out of 12 and lows down to minus 55 Fahrenheit (before factoring in windchill). People here wear boots everywhere—at dogsled races, on winter camping trips, to the bar. The Yukon is a good proving ground for footwear testing.
This winter, I researched and field tested a half-dozen of the best boot options on the market. If I learned one thing in this process, it's that finding a winter boot that can be all things to all people—one boot to rule them all—is really hard, so I've written about several boot options for climates and lifestyles beyond the Arctic Circle.
But the best boot I tested was the Steger Mukluks Arctic, a comfortable and versatile boot that stands up to serious cold.
What Should I Know Before Buying Winter Boots?
What you need in a winter boot depends on what you plan to use it for, how often, and in what kinds of conditions. For me, living in the Yukon, winter boots are a pretty big deal. I'm happy to spend serious money for heavy-duty performance and reliability. But for folks with shorter or milder cold-weather seasons, a lighter boot may do the trick. Or you might prioritize waterproofing over an extreme cold-weather rating (Pacific Northwest, I'm looking at you). Or you might not want to spend top dollar for a pair of boots you'll only wear a few times a year. Maybe you only really need winter boots for your après-ski and drive home from the hill. I've done my best to contextualize my reviews here with that in mind.
To start, consider average winter temperatures where you live and just how far it drops during serious cold snaps, the occasional "bomb cyclone" aside. What about precipitation—do you tend to see deep drifts of powder or frequent freezing rain? Finally, think about what you want to do in those conditions and for how long. All-day ice fishing demands different boots than a nightly dog walk.
For me, here's what matters in a winter boot, ranked more or less in order of importance:
Warmth. Does it keep my toes warm?
Comfort. Does it chafe or hurt? Is it generally pleasant to wear?
Weight and flexibility. Can it move? Can I move in it?
Traction. Can it keep me upright?
You'll note that price, style, and waterproofing don't make my list of concerns. But I know other people's rankings will be different from my own, so I've assessed the boots I tested based on all these factors. Where I have biases, I've tried to be clear about them.
Boot companies often list detailed information about the materials used in a given boot, types and amounts of insulation, measurements of height and weight, and official temperature ratings. It's my considered opinion that those numbers don't always mean very much, especially when it comes to temperature ratings, so I tried to test each pair using a set of hands-on tasks and my own observations.
How We Picked the Best Boot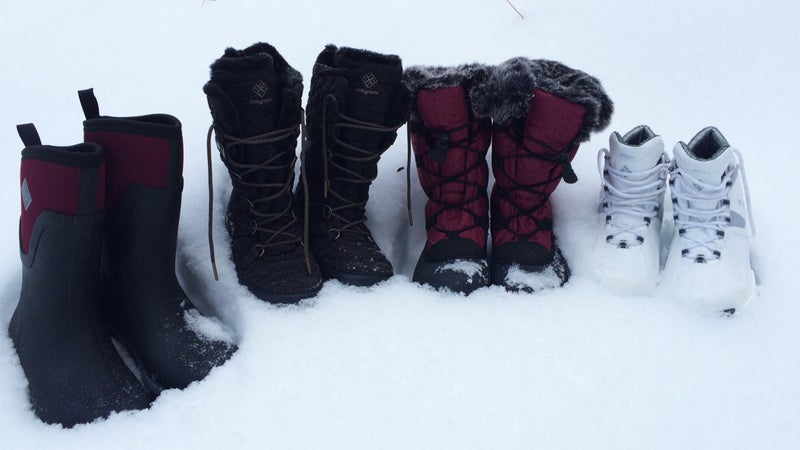 I started out by reading a pile of other reviews and roundups of women's winter boots. From those, I put together a list of boots that repeatedly cropped up and that seemed to fit an active lifestyle—no faux-fur heels here—and then requested pairs for testing. A few I was interested in testing never made it to the Yukon: Sorel never got back to me about its popular Joan of Arctic (winner for best boot name!). I never heard from Bogs, either, which was too bad because I wanted to do a head-to-head Bogs vs. Muck Boots test. The Ugg Adirondacks, an unexpectedly well-reviewed boot, got lost in the mail. So I wound up with two pairs from Columbia (the Canuk was sent to me as a successor to the Bugaboot line I'd seen reviewed elsewhere); two styles from Kamik (the Momentum, repeatedly cited in other reviews, and the Starling, which looked worth a try but turned out to be too narrow for my foot and generally uncomfortable); and the Muck Boot Arctic. Into that mix I added two boots that I've been looking at myself: the Baffin Impact and the Steger Mukluk. I wore a borrowed pair of Impacts on a reporting trip in the Arctic last year and was impressed. The Stegers I'd never tried, but they're a beloved standby in Alaska and northern Canada, and I'd been eyeing them for years.
In designing a testing plan, I thought about what I actually do with a regular winter boot. Most outdoor winter sports—ice climbing, pond hockey, all forms of skiing—require specialized footwear. I settled on four main testing activities: driving a manual transmission vehicle (spoiler alert: not all winter boots are great for this!); pushing a fat bike up a steep section of slippery, snow-packed trail; strapping on a pair of snowshoes to tromp around off-trail; and heading to a local rink to see how each pair of boots performed on ice, taking a running start and then measuring the length of my skid. In addition, I wore them around for day-to-day use: shoveling snow, scraping my windshield, walking to the grocery store, etc. In a happyish coincidence, temperatures plunged to minus 25 Fahrenheit on one of my testing days, so I was also able to assess the boots' cold-weather claims.
Only the Baffins gave me trouble while driving stick. The soles are so thick that I couldn't totally feel the clutch to know how far in or out it was, and I had a slightly sketchy drive home from the grocery store. I wasn't sure how the soft-sided boots would do with snowshoes, but they all handled them well. And every pair did better than expected on the rink-ice test. I had expected to sail across the rink, but all the boots stopped my skid within two or three feet of where I started, and I never even felt close to falling. In that test, the differences between most styles were incremental.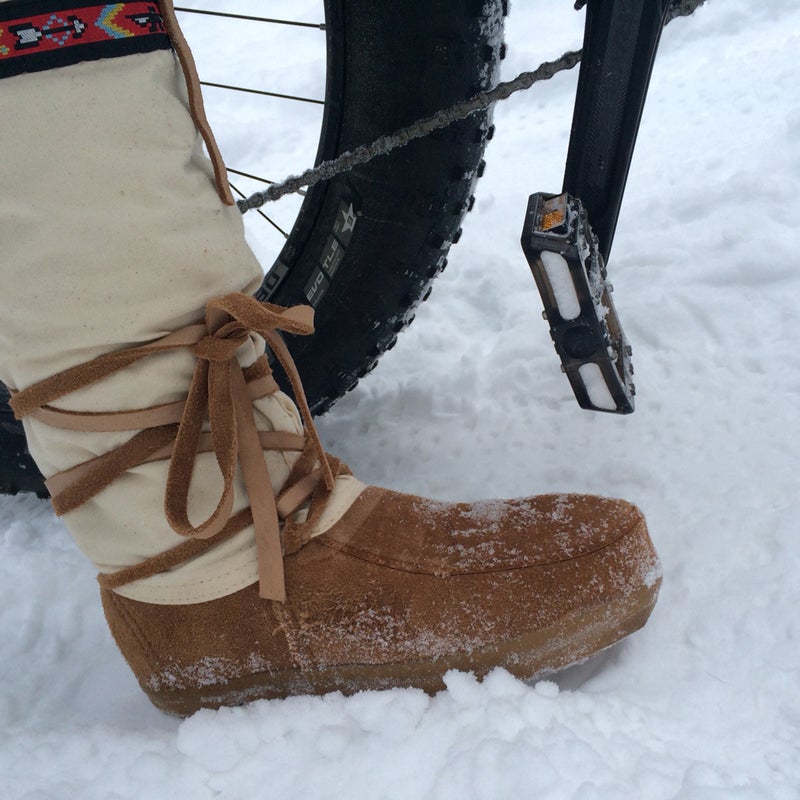 The fat-bike test, however, separated the good from the great. I took the boots and my bike to a steep, hard-packed, well-trafficked hill on the local trail network that always gives me trouble. Maybe someday I'll be strong enough or bold enough to ride up it, but these days I mostly wind up admitting defeat, dismounting, and pushing my bike all the way, and I really notice when my footwear isn't good enough for the job. Only three pairs of boots got me to the top without feeling like I might fall on my face any second, and only one got me there without any major slippage at all. Which brings me to…
Our Favorite Winter Boots, Ranked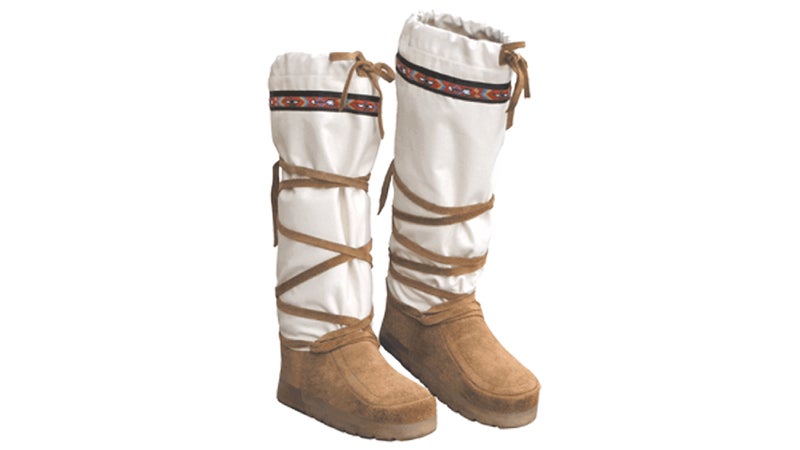 My favorite overall boot was the Steger Mukluks Arctic ($199). ("Arctic with Ribbon," to be precise.) The small Minnesota-based company combines a soft moose-hide boot and layered felt liner and insoles with a knee-high canvas upper that acts as a built-in gaiter for deep snow. They're super warm. I wore them for a two-hour hike at minus 24 Fahrenheit, and my feet weren't even slightly cool. They're comfortable and provide great traction on ice and snow. They were second best in the ice-skid test, after the Columbia Canuk, and crushed the competition in the fat-bike test (once I figured out that I needed to put my feet down flat and let the rubber soles do their work, rather than trying to dig a toe in or use the hard edge of the boot). Mukluks are not mountaineering boots, it turns out.
I noticed two issues: While the Stegers felt great for snowshoeing, after a vigorous five-hour outing, the moose hide sustained some notable wear from the snowshoe straps. If you'll be snowshoeing a lot, you might want a hard-sided boot. Second, and this should be clear from looking at them, these are not wet-weather boots. You can buy water-repellent spray to treat the moose hide or pair them with a set of Neos overboots, but they're not meant to be submerged. I see them as perfect boots for areas that get deep snow and dry cold: the Midwest, Rocky Mountain West, Alaska, and northern and western Canada.
If that doesn't sound like your kind of winter, read on for more options.
---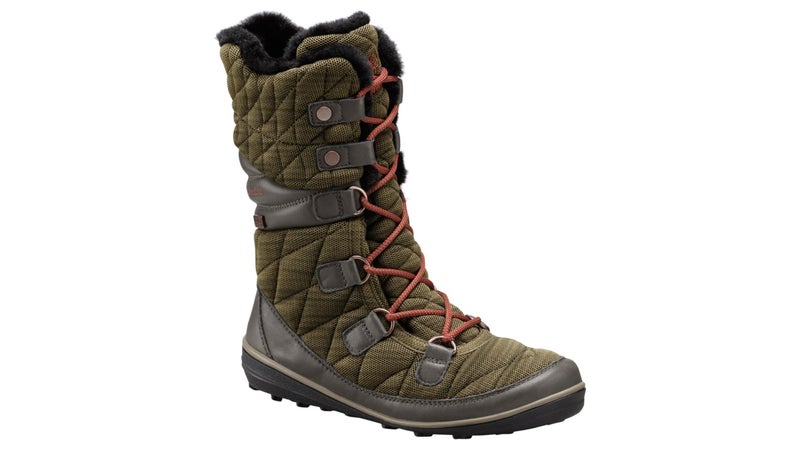 Our Runner-Up Pick
Columbia Heavenly Chimera Omni-Heat Organza ($175)
I'll be honest: I love these boots with the long-winded name. The latest in Columbia's Heavenly series, they are the most comfortable winter boots I've ever worn. They're soft and flexible, and the laces from toe to top let you customize your degree of tightness and ankle support. The upper is slim enough that you can slip a skinny jean inside it or pull a boot-cut jean down over it, if you swing that way.
Also, even though I sometimes groan at all the "look good and stay warm" messaging around women's boots, these are cute as hell. They're rated to minus 25 Fahrenheit, and I did wear them out in that temp a few times, albeit briefly: pumping gas, walking from the car to the grocery store. My feet felt fine, though I wouldn't trust them for prolonged exposure. I'm skeptical that the thin, flexible sole that makes them so comfy just doesn't have the goods to keep serious cold from leaking in over time.
For me, they're the ideal around-town boots. But they performed less well than the other models in both traction tests (just a matter of inches in the ice-skid test, but they almost didn't get me up the hill in the fat-bike test), and they're not built for extreme cold, so if I had to choose just one pair of boots to spend an active winter with, they wouldn't make the cut. If your calculus is different (if, say, you're primarily a skier, so you don't need your everyday winter boots to be built for winter sports and long hours outside), these would be perfect.
---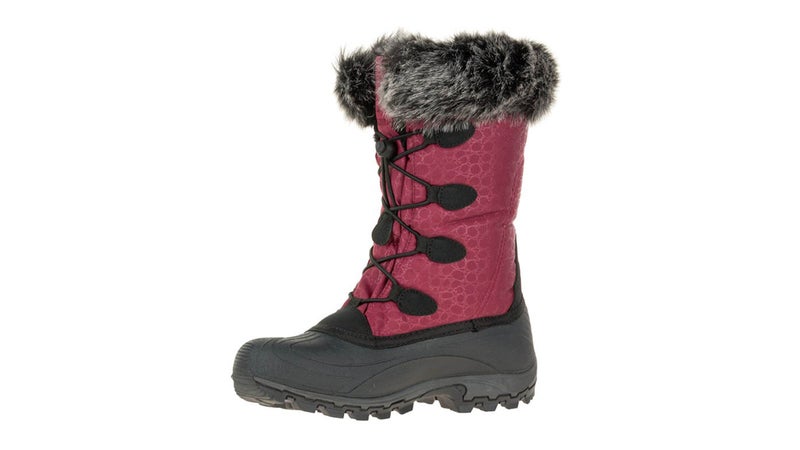 The Best Budget Boot
Kamik Momentum
This is a classic winter boot: rubber bottom, nylon upper, faux-fur trim, a little clunky to walk around in. They're rated to minus 40 Fahrenheit, and I can confirm that they're warm and cozy: I shoveled my driveway in them when the temperature was deep into the minus 20s and my feet didn't feel the cold.
The Momentum performed extremely well on the fat-bike traction test, tying for second best after the Steger, but it was a bit less impressive on ice, tying the Baffin for fourth best. The only real complaint I have about these boots is the bungee lacing, which is all one piece and tightened by a single cinch at the top. I had trouble getting the ankles as tight as I wanted. Still, at $89, these are also less than half the price of some of the other models I tested, which makes them a real bargain. They'd be great for anyone on a tighter budget or someone looking for general-use boots that get worn just a few times a year.
---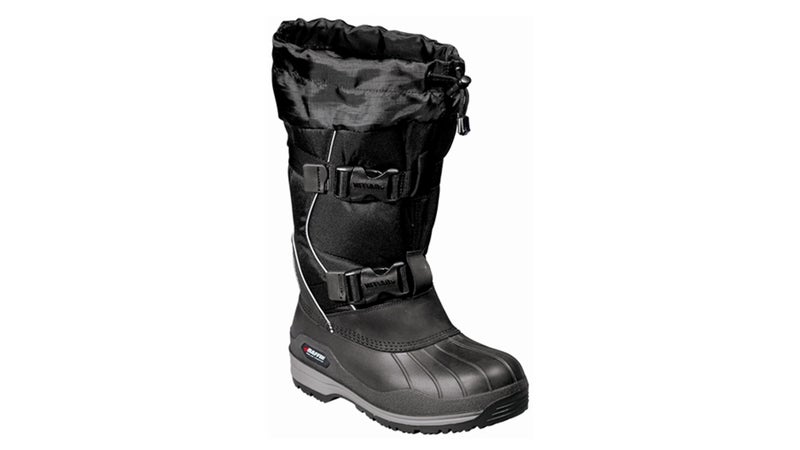 The Best Boot for Brutal Cold
Baffin Impact
These boots are rated to minus 148 Fahrenheit, and while I sincerely hope I never test that claim in real-world conditions, I have at least 50 hours outside in them in very cold conditions, down to minus 40. I never had even a twinge of cold in my toes. All that warmth comes with a few drawbacks. At 2.2 pounds each, these boots are heavy. They're also awkward to drive in, and they performed poorly relative to the other models in both traction tests, tying for fourth in the ice test and matching the Muck Boots in last place in the fat bike test. (My cousin, who helped out with the ice test, wondered if that's because ice and snow stops being slippery in extreme cold anyway.) These are the boots I would count on to save my life if I were trapped on an ice floe in the Arctic, but they're not a practical option for everyday use. These are the boots to get if you spend a lot of time outside in deep cold and you don't need to be super nimble or light on your feet. They would be great for ice fishing or volunteering at winter events—timing ski races, maybe, or working an aid station at a dogsled race.
---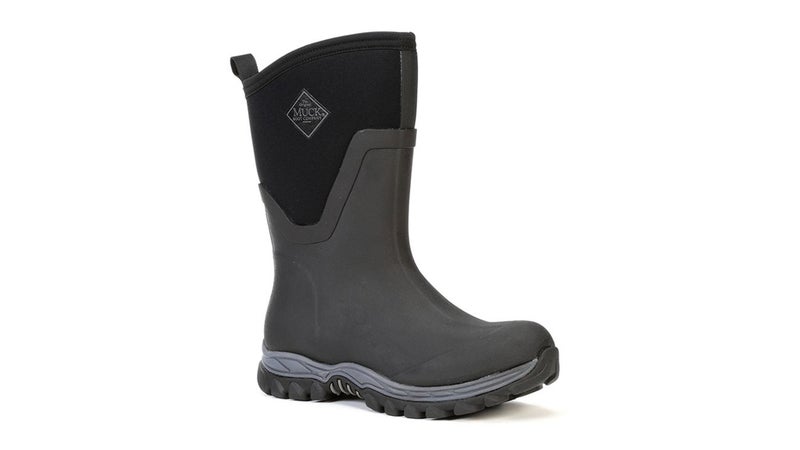 The Best Boot for Wet Winters
Muck Boot Arctic Sport II Mid
If your winter is mostly slush and sleet, what you want might not be a waterproof winter boot so much as a rain boot that's also built for cold. Enter the Muck Boot Arctic Sport II. It comes in a mid-calf and a tall model; I tested the mid.
Insulted with neoprene and fleece, this is the warmest model of Muck Boots made for women. It's rated to minus 40 Fahrenheit and handles deep cold surprisingly well, at least over the short haul. I wore it to shovel and visit a neighbor on a minus-20-degree day. It performed well on ice, placing third, though poorly on the snowy uphill, tying the Baffin for last. The loose-fitting style felt a little funny to me on the snowshoe test. I didn't get any blisters, but it felt weird not having a tight fit with the weight of the snowshoe attached. For a slushy walk to work, though, you couldn't do better, and at $159, it was among the more affordable options I tried.
---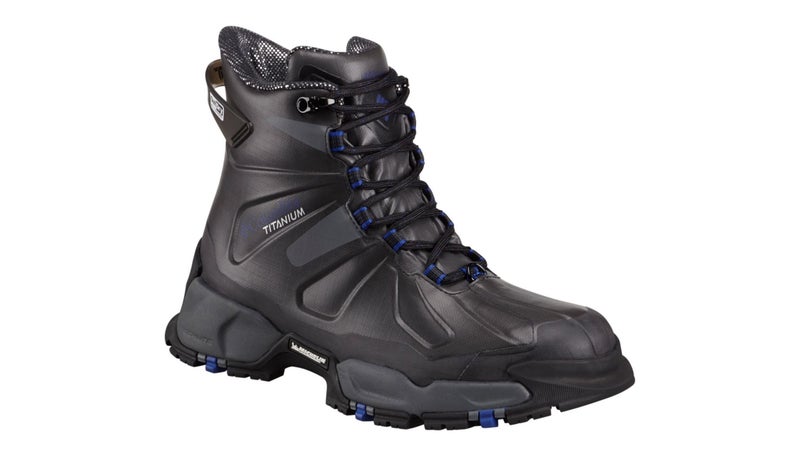 Honorable Mention
Best in Traction
Columbia Canuk Titanium Omni-Heat Outdry Extreme
I laughed when I pulled the Canuks out of their box and saw that the soles were made by Michelin. As in, the tire company. Gimmick! I thought. But Michelin does know rubber. These boots, like a set of winter tires, are built with an aggressive tread made from a softer rubber that continues to grip even when deep cold would harden a firmer sole. The Canuks easily defeated all challengers in the ice-skid test, jerking me to a quick stop after a skid of about a foot and a half, and only the Stegers were noticeably better in the bike-up-a-hill test.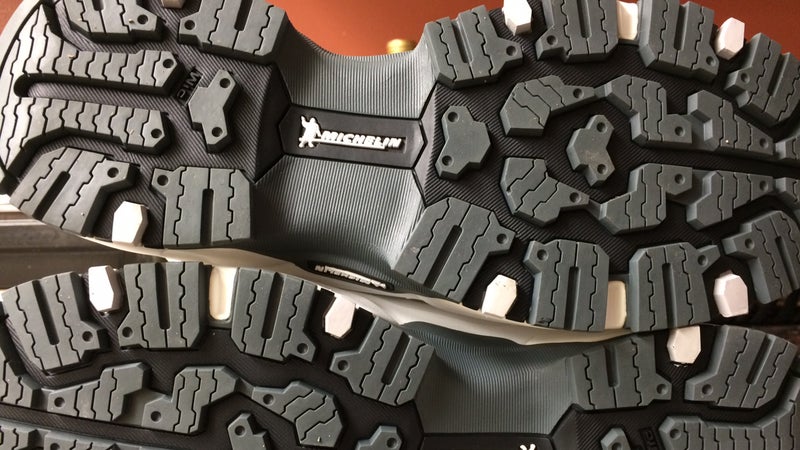 The Canuks look like a basketball shoe and feel like a hiking boot, with a strong support structure around the foot and ankle. And they're warm: rated to minus 65 Fahrenheit, with triple the insulation of the Heavenly Chimera. I was completely comfortable on a 20-minute dog walk at minus 25 degrees. The downside is that the low-cut style means you'll need gaiters to keep out even relatively small amounts of snow. (I wonder if I'd be fonder of them if we hadn't gotten a huge dump of fresh powder right before I started testing.) But if warmth and traction are your priorities, and you're not planning to go off-trail in deep snow—maybe your city does a crappy job of clearing the sidewalks and you just want to get around safely without needing crampons—these are worth a serious look.
---
A Quick Note on Cold Feet
If your feet are always cold, no matter which boots you choose, one potential culprit might be moisture. The only time my feet got cold during testing was when I wore my boots to a screening of The Last Jedi. While I was sitting around inside, my feet sweated a little and my socks got damp, and when I went back into the freezing air, I paid the price. Always bring a change of shoes with you to the office for the day, and consider bringing a spare pair of socks if you can't change your shoes. If you have chronically sweaty feet, you might even look into vapor-barrier liner socks, which trap the moisture against your skin, keeping your outer socks and boots dry.
And fat-bikers, swap out your cold-conducting metal pedals for some nylon pedals already!
Lead Photo: Eva Holland