2023 Winter Gear Guide
The Best Men's Winter Workout Gear of 2023
We tested over 25 products to find the best pieces to help you brave the cold and dark more boldly this winter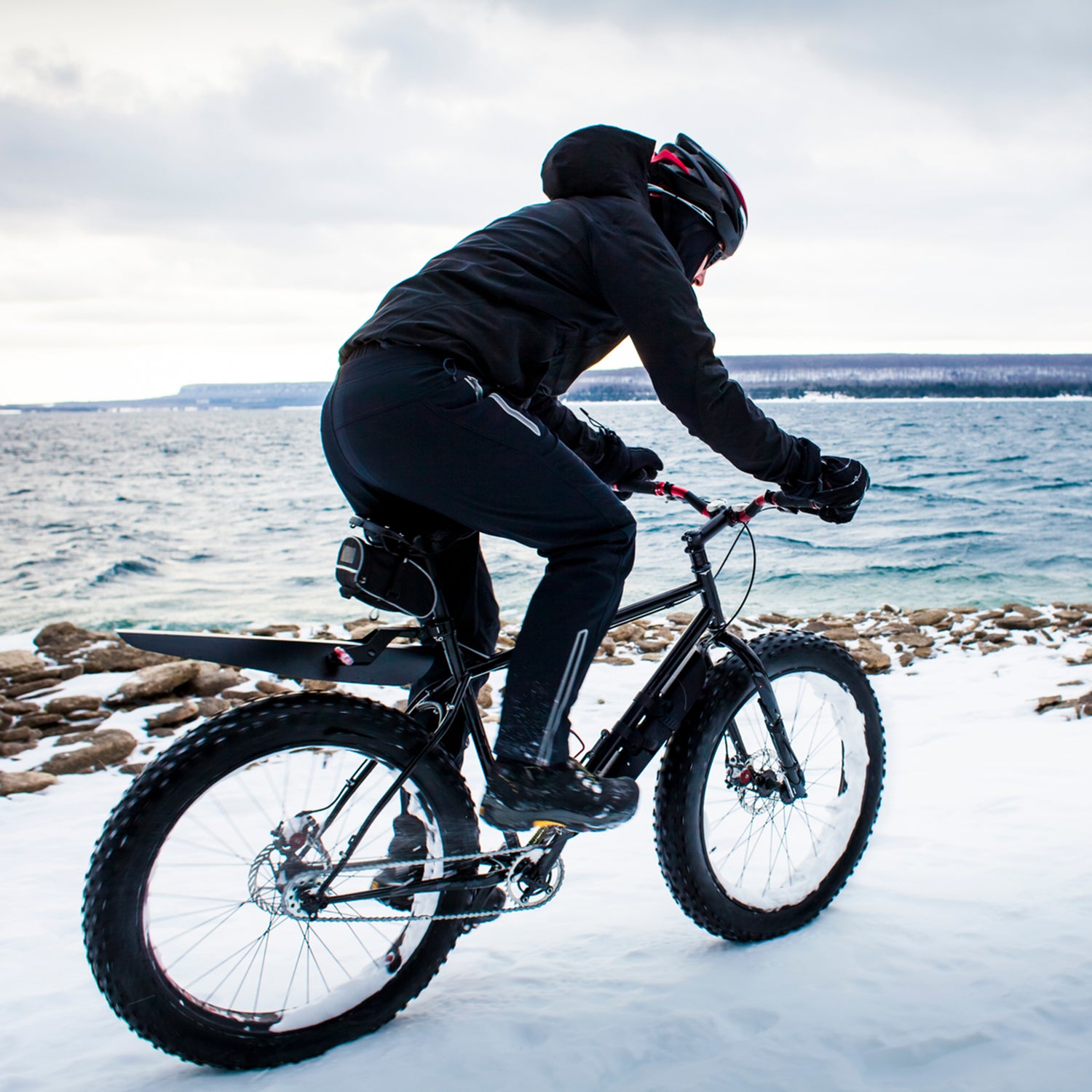 JP Danko/Stocksy
Heading out the door? Read this article on the new Outside+ app available now on iOS devices for members! Download the app.
There's no doubt winter workouts are harder. Freezing temps and a lack of light kill much of your motivation to get out the door—and indoor options just aren't the same. But that's where good gear comes in. Armed with the right layers and tools you can still have fun working out at home, in the gym, or out on the sloppy streets and trails. To help you choose the best gear for the upcoming dark days, we tested a wide swath of samples and sent them all over the country to make sure they performed in a variety of climates and for a variety of people. Here are our nine favorites.
How We Test
Testing winter workout gear was easy, in some ways, as every time we headed outside in shitty conditions we could almost immediately tell whether the gear was up to snuff. If we found ourselves too hot, too cold, too sweaty, or just plain uncomfortable then we knew the gear didn't make the cut. But to ensure our subjectivity didn't get in the way, we also took the extra step of enlisting a broad and diverse pool of testers. On one end of the country we worked with a particularly grumpy old man who's comfort bar was definitely higher than most. On the other coast we enlisted a spry young guy who was more than happy to put up with some chill and wet. Geographically, the gear went through its paces in locations as diverse as New Mexico and Alaska, while workouts ranged from running to yoga, HIIT, uphill skiing, and cycling. We were happy to test on mild sunny days, and indoors where applicable, but also forced ourselves into the snow, rain, and bone-chilling cold.
Tester Stats
Number of testers: 5
Number of products tested: 25+
Number of workouts: 50+
Coldest run: 15 degrees F
Vertical feet: 20,000+
Gallons sweated: At least 5
Most used workout curse word: F#¢%
Reviews: The Best Men's Winter Workout Gear of 2023
Flylow Mullet Jogger ($100)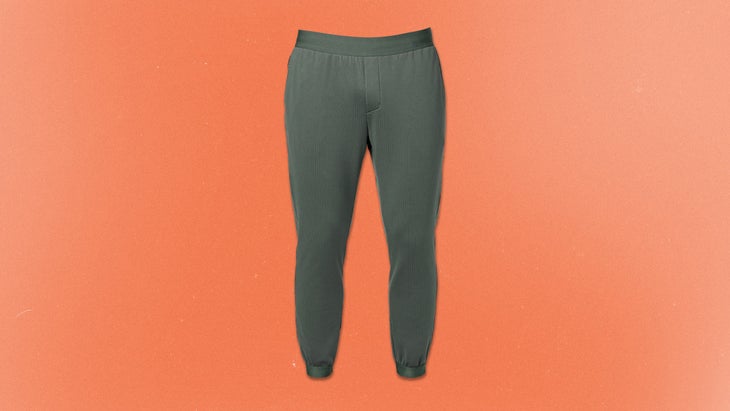 Many of the testers for Outside are guilty of thinking that if they don't get their heart rate up toward their max that they're not really working out. More recently, however, they're learning to call bullshit and realizing that a great yoga session, or even just 15 minutes of quality stretching, makes a huge difference in the day. These are the pants testers used for those lower-heart rate activities and they were wonderful, thanks to a healthy dose of built-in stretch (six percent spandex is mixed into the fabric) plus a cozy checkered polyester fleece lining (think Patagonia R1) that was warm but also breathable. They weren't too heavy to use as joggers, and look good enough to wear around town.
Bottom Line: Reach for these versatile pants when comfort tops your performance priorities.
---
Under Armour Outrun the Storm Reflective Jacket ($150)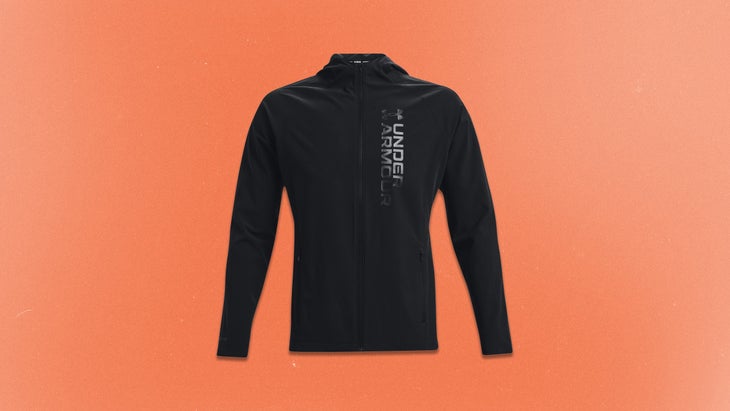 Alaska has to be the worst place in the entire United States for winter workouts because it's deep-in-your-bones cold and dark for way too long each day. But that's why our Alaskan tester loved this running jacket so much. It comes with thick reflective bands on the hood and cuffs as well as a fun reflective body pattern—so he was visible in a big way at night and never had to worry about getting flattened by a distracted car. He was also a fan of the thick nylon build, that, while still less than half the weight of a sweatshirt, cut the icy wind and got him outside even when it was below freezing.
Bottom Line: A jacket for reducing wind and chill while ensuring motorists see you at night.
---
Mystery Ranch Superset 30 Pack ($165)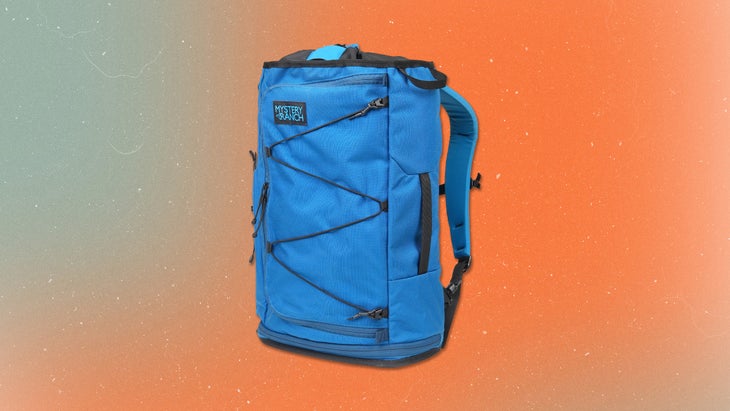 Many gym bags wear out after just a season or two. Not so with the Superset, which is made mostly out of 1,000-denier Cordura and built with Mystery Ranch's famed quality. Our tester group said it was excellent for the gym because it has a separate compartment for wet or stinky clothes and the bungees on the front are just the right size for carrying a yoga mat. A California tester who hates the gym used it as a bike commuter bag and reported that the straps carry comfortably, plus he was glad to have the well-padded laptop sleeve. Other notable features include a top-to-bottom rear zipper that splays the bag wide open and a cinch-top closure that adds extra volume.
Bottom Line: A wildly versatile, impressively durable gym bag.
---
Skida Snow Tour Neck Gaiter ($22)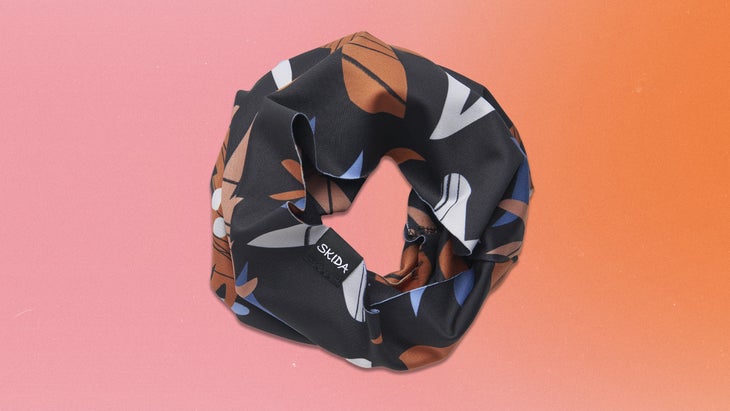 Some of you are long-time neck gaiter fans. For those of you who don't (yet) understand the magic, now is the time to make this simple yet incredibly versatile garment a key piece of your winter workout gear. Many brands make neck gaiters, but we're big fans of Skida because their brushed polyester and spandex materials with a thin-fleece lining are ultra-comfy for long days and their illustrations are bold and beautiful. Our testers used them all over the United States last winter, wearing them as chin, nose, and neck warmers on cold runs, and as head and ear warmers while uphill skiing, down to about 25 degrees.
Bottom Line: You need a magical neck gaiter, and this is one of the best.
---
Black Diamond Lightwire Long Sleeve Tech Tee ($75)
The Lightwire was a tester favorite because of its versatility. We used it for in-home High Intensity Interval Training (HIIT) workouts because it helped us start and stay warm, plus it has a ton of built-in stretch thanks to underarm gussets and a healthy dose of elastane. The tee, (which incorporates recycled polyester in the fabric mix) was also able to easily wick gobs of sweat, and doubled as a great baselayer for uphill skiing missions before work. Plus, its anti-odor treatment kept it fresher than most polyester shirts, although it retained more smells than one made of wool. In New Mexico it became a go-to running top on its own for milder winter days when temps can rise as high as the 50s.
Bottom Line: An easy-going layer that can be used for a variety of winter workouts.
---
Dynafit Ultra Evo Sunglasses ($150)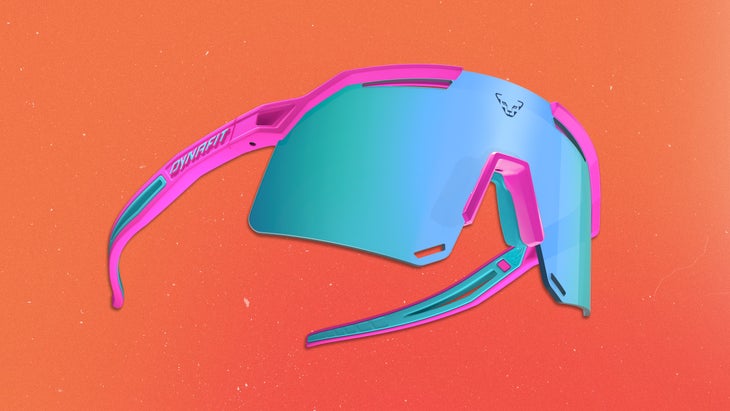 We immediately sent these to a snobby bike tester in Oakland, California who's tested his fair share of big-lens glasses. He loved the wild colorway and said they did a great job of blocking cold wind and dust while he was ripping down single track at 20 miles-per-hour on his mountain bike. They also tested well for a runner in New Mexico who wore them for protection during one of the state's notorious early-spring dust storms. Like all high-quality sports glasses, the Ultra comes with giant rubber grippers on the nose and temple that ensure they stay on your face. The Italian-made lenses have a huge field of view so you can ride your bike fast or tear down a trail and not be worried that you're going to miss something. Dynafit made the frames from tough Grilamid so if they catch a branch, or your butt, they'll be just fine.
Bottom Line: Versatile performance sunglasses that look crazy, in a good way.
---
Hydro Flask 40 Oz Trail Series Bottle ($55)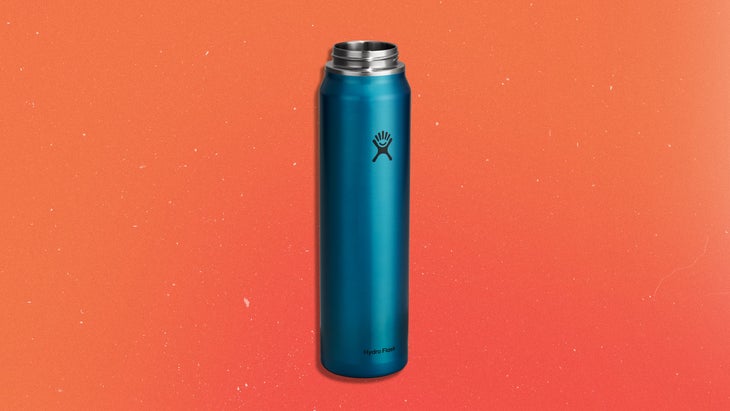 Hauling around or even just holding a 40-ounce water bottle sounds awful. But this bottle is an easy addition to any workout as Hydro Flask made it tall, slim, and surprisingly light (25 percent lighter than other insulated bottles its size) thanks to a unique stainless steel construction that's thinner than its smaller-size siblings. We took it to the gym for early-morning sessions and it came along in our backpack for all-day backcountry tours; we were glad to have the extra water it holds every time. The bottle isn't quite as tough as some others on the market and it dented after a few falls, although the damage was only cosmetic. In our testers' opinions it was easy to trade an overbuilt design for ounces saved.
Bottom Line: You'll never go back to a smaller water bottle.
---
Maloja SanzenoM Bike Jacket ($350)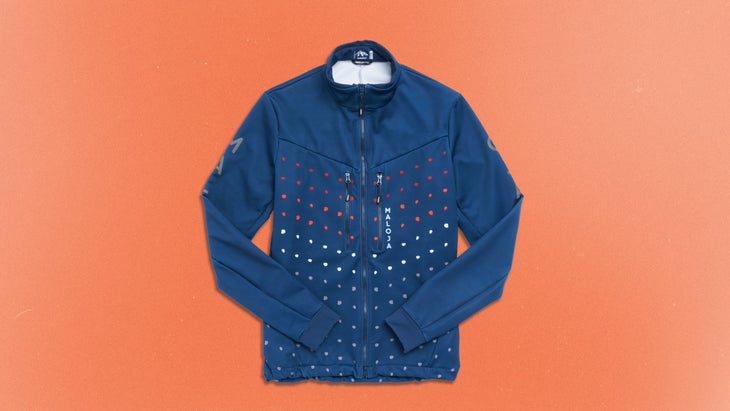 A simple windbreaker is often adequate to cut the chill on your bike during the winter. Most windbreakers, however, don't breathe well. So we prefer a layer like this, made from a stretchy polyester that, while lacking the outer layer of a soft shell, is thick enough to block most of the wind and still dumps excess heat and sweat once our heart rate is up. Designed for all types of riding—road, gravel, and mountain—it's shorter in the front so it doesn't bunch, and longer in the back to provide protection when you're in the drops. The colorway is loud and Euro (Maloja is based in Germany), but we liked the pop because it ensured cars could see us on the road.
Bottom Line: Exactly what you need to ride your bike when the temps dip down to freezing.
---
Rab Transition Windstopper Glove ($45)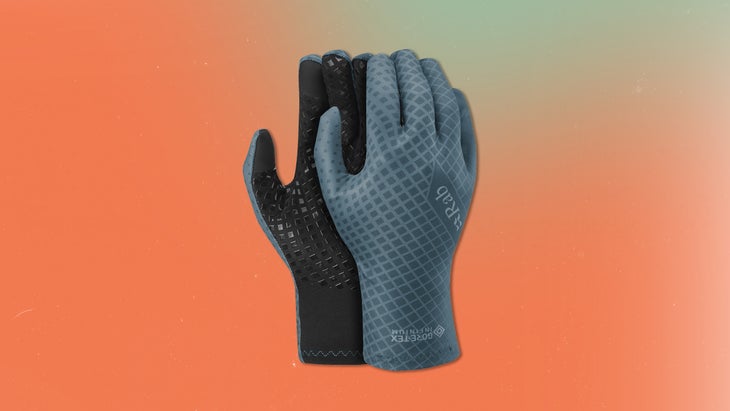 Some winter workout gloves are too thick and not dexterous enough for tasks like tying your shoes. Others are too thin and leave you with cold digits throughout your workout. That's why our testing crew was excited to find this middle ground option that kept our hands right at the temperature they needed to be, thanks to a three-layer, wind-eliminating Gore-Tex Infinium fabric that also added just a touch of insulation. One tester said his hands were cold for the first five minutes of frosty runs, but then perfectly regulated once he warmed up. Another said the gloves were great for early-morning runs down around freezing. Bonus points for conductive prints on the thumb and pointer finger that made sure we could still answer important texts.
Bottom Line: Your solution for fingers that still work when you're working out in winter.
---
How to Buy
Outside contributing editor Nick Heil put it succinctly when he wrote that good gear can be a "passport to freedom." What he meant is that top-shelf gear has the ability to facilitate our adventures. We agree, strongly, when it comes to working out in the dead of winter. High-quality gear that will keep you warmer, more regulated, and or safer is worth the investment—even if it sometimes costs you an extra $50 or $100—because comfort and safety are motivating factors that will keep you going, day after day.
As a word of warning, what's on this page is not a full kit. Instead, we've just picked top-quality pieces that will be part of your individual puzzle. Buy any one of these products and your winter workout will be that much better, but you'll have to do the rest of the testing on your own. Go out for a cold run or ride and you'll quickly figure out what other layers and accessories you'll want in addition to a good jacket and pair of gloves. Suffering is always the best way to figure out exactly what you need.
And finally, remember that your needs will always be geographically and tester dependent. A high-quality bike jacket like the one we've recommended will make all the difference in New England but can only be used for a couple days of the year out in Arizona. Large-lens glasses like the ones from Dynafit really help in the sunny southwest but might be overkill for folks in Seattle. Everyone needs a breathable base layer, but a few can get away with wearing it by itself down to nearly freezing, while others add an outer shell as soon as it gets brisk, and some prefer an additional insulating middle layer. If you run hot as a person, a thick long-sleeve tech tee is not what you want for indoor workouts. If you run cold, get yourself a neck gaiter stat because it adds warmth in all the right places.
More 2023 Winter Gear Guide Reviews
Lead Photo: JP Danko/Stocksy