Women's Overalls for Every Situation
How I became the best version of myself by embracing bibs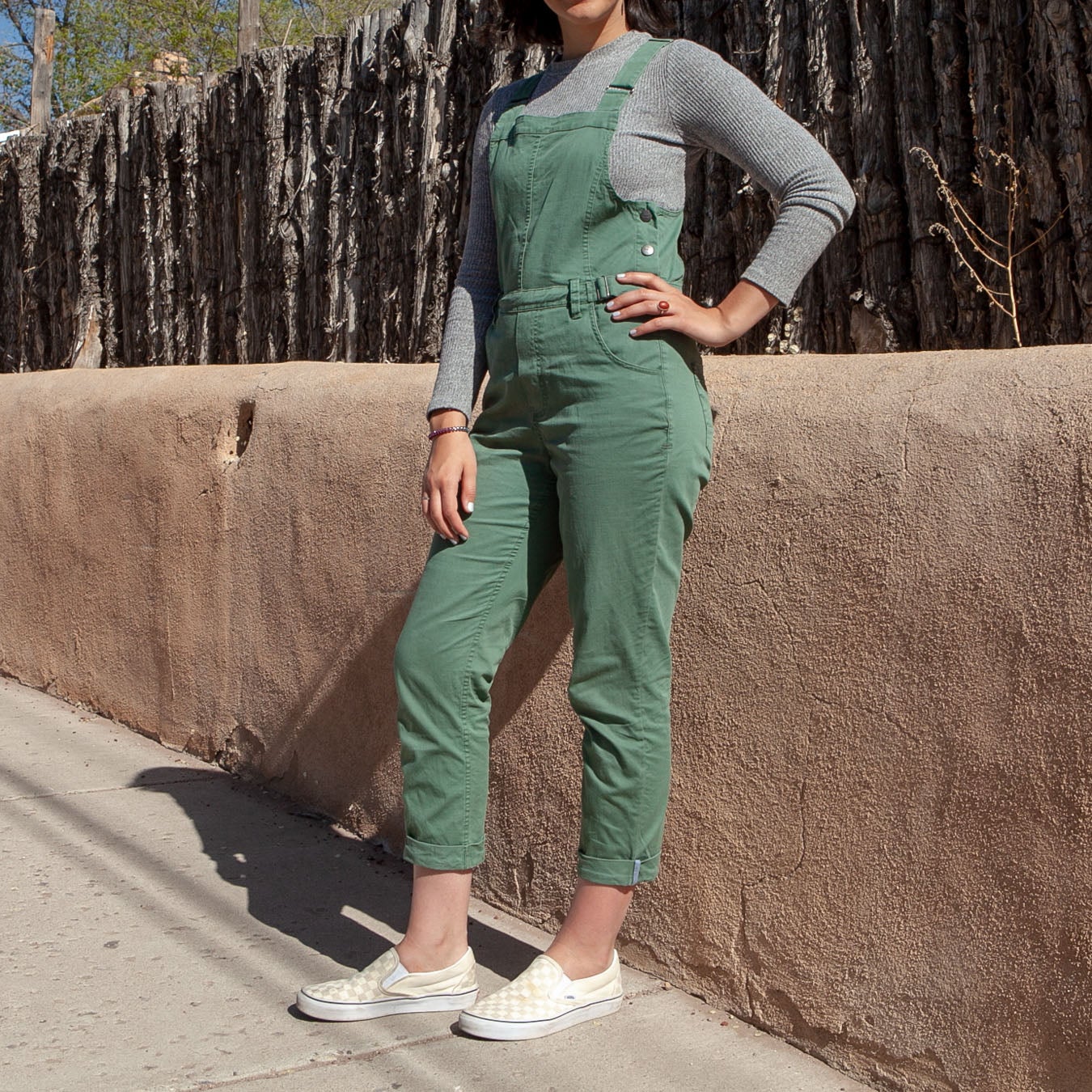 Heading out the door? Read this article on the new Outside+ app available now on iOS devices for members! Download the app.
For a long time, I've wanted to incorporate overalls into a regular part of my wardrobe and workwear routine. I used to gaze at overall wearers with longing. I was envious of their many pockets and carefree attitude, which I believed came from the knowledge that their pants would never fall down. But I was held back from joining their elite ranks by my fear of not pulling off the look and instead looking like a giant infant. My reluctance toward overalls also comes from a negative past experience: the strap on a pair of shorteralls came loose on a bike ride last summer, and I swerved and almost crashed as I tried to reattach it. And as a person with a body type that Seventeen would classify as a pear, overalls seemed like an unflattering choice for my proportions.
But recently, the perfect storm of targeted Instagram ads and encouragement from my coworkers finally changed my mind. I decided to give them a shot. With my experience and knowledge of overalls admittedly limited, I decided to test four pairs that are markedly different in terms of material, shape, and intended purpose. Then I spent two months hiking, organizing gear at Outside (including hauling and unboxing it), and sitting at my computer in them. Throughout the process, I paid special attention to each pair's adjustability, comfort, utility, and, of course, how cool they looked.
The more I wore overalls, the more I felt like the best version of myself. I was productive: my keys, snacks, and tools were in the easy-to-access pouch of my bib. I was secure: I knew my pants would stay put without a belt, regardless of the activity. I was carefree and prepared for wherever the day took me, because this is a garment with range.
On this sartorial journey, I learned that not all overalls are created equal, and certain pairs are better suited for particular activities. Here's how each one fared.
Best For: All-Day Comfort
Patagonia All Seasons Hemp Canvas ($99)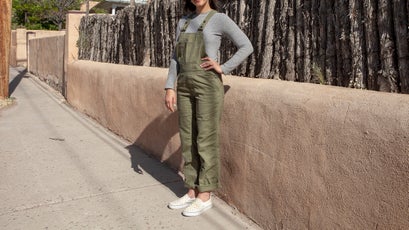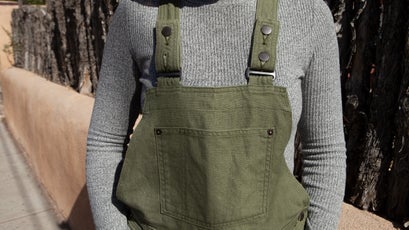 The All Seasons overalls became my go-to for workdays, and because the pant legs fit so comfortably, I elected to wear them on a 19-hour road trip. Their softness comes from the hemp material, which provides a fair amount of give without sacrificing toughness. I don't have a garden, but there are slits at the knees to insert padding, a feature which proved useful on the days I spent kneeling and bending frequently to organize products for photo shoots at Outside headquarters. And I dug the deep chest and leg pockets for storing essentials. The All Seasons also held up well on a three-hour hike, moving with me even as the switchbacks got steeper. But this trek revealed the pair's weak spot: the suspenders' adjustability. Because they are fashioned with buttons, not sliding clips, there are only two possible lengths, which made it hard for me to get a close fit up top. The result was that the bib was often slack against my chest.
---
Best For: Warm-Weather Endeavors
Toad&Co Touchstone ($125)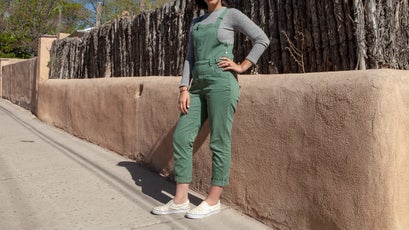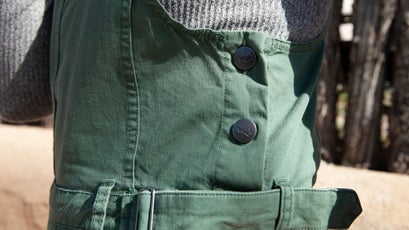 When I wear these babies in public, I'm guaranteed to get a compliment on either the green color or how well they fit me. I'm also more likely to get carded because, as one waitress put it, I "look like a little girl." Although her comment confirmed my worst fears about overalls in general, I still wear these regularly. I love their laid-back look, which makes them easy to dress down. The Touchstone isn't my pick for a day of vigorous activity, however, since the four shallow pockets aren't ideal for stashing stuff, and also because the fabric is fairly thin. (That latter detail has made them a staple as the temperature heats up, though; the breathable cotton-Tencel blend is ideal for summertime.) These overalls also get high marks for adjustability. They were the only pair I tested with an integrated belt strap at the waist, making it possible to achieve a snug fit. That said, it can be a hassle to take them off, because the straps don't unhook.
---
Best For: Apocalypse-Ready Durability
Dickies Blue White Hickory Stripe ($46)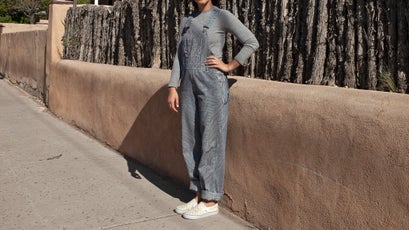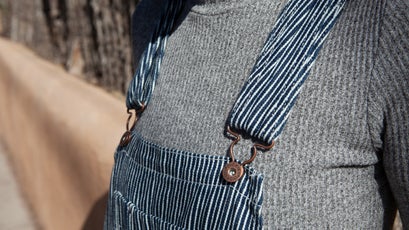 If civilization hasn't collapsed and overalls are still in vogue in 2060, I'll bequeath these bibs to my grandchildren. I know they'll last until then because they're held together with double-needle stitching and constructed with a hardy canvas, which gets more supple to the touch with each wash. On one occasion, I wore these overalls for a total of 13 hours, first on a hike in the desert, then to a restaurant, and then for hours of strenuous karaoke. The Dickies weren't particularly breathable in any of those scenarios, but they provided an ample range of motion when dashing up inclines and busting out complicated dance moves. Luckily, the suspenders have simple loops, so they're easy to take on and off. These overalls offer the least amount of features of the four I tested, but they're one of my favorites, thanks to the style. I came to love their comfortable shapelessness and the feeling that I was wearing a very stylish bag. Their pinstripe pattern and flare-cut legs also made me feel like an old-timey train conductor who moonlights as an Urban Outfitters employee—a vibe I'm surprisingly OK with.
---
Best For: Plush Versatility
Duluth Trading Co. Hardchore Tech Slim Leg ($75)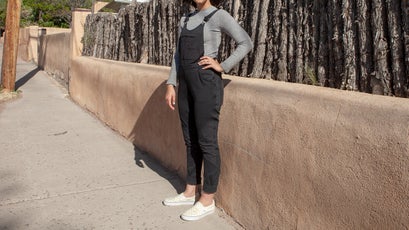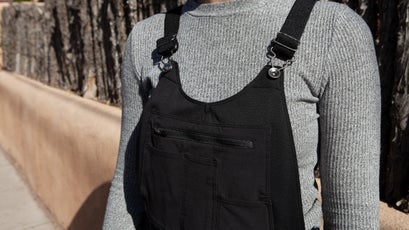 These overalls are made from a nylon-knit fabric, so they feel like workout wear. Super stretchy material at the knees and behind the thighs adds to the athleisure effect. But these are more dynamic than run-of-the-mill gym clothes. Whereas I typically avoid wearing joggers to work, I was more than comfortable sporting the Hardchore at the office. That's because they're understated enough to work in both casual and business environments. Whatever the milieu, I appreciated the chest pockets, which secured my essentials. With zippers at the waist, and elastic suspender straps, I was able to adjust and remove these bibs with ease—no elaborate shimmying required. But the waist fasteners had a tendency to come undone after a while, and I often had to readjust them on the go.
Trending on Outside Online