2023 Summer Gear Guide
The Best Women's Swimwear of 2023
Three testers tried eight swimsuits. These came out on top.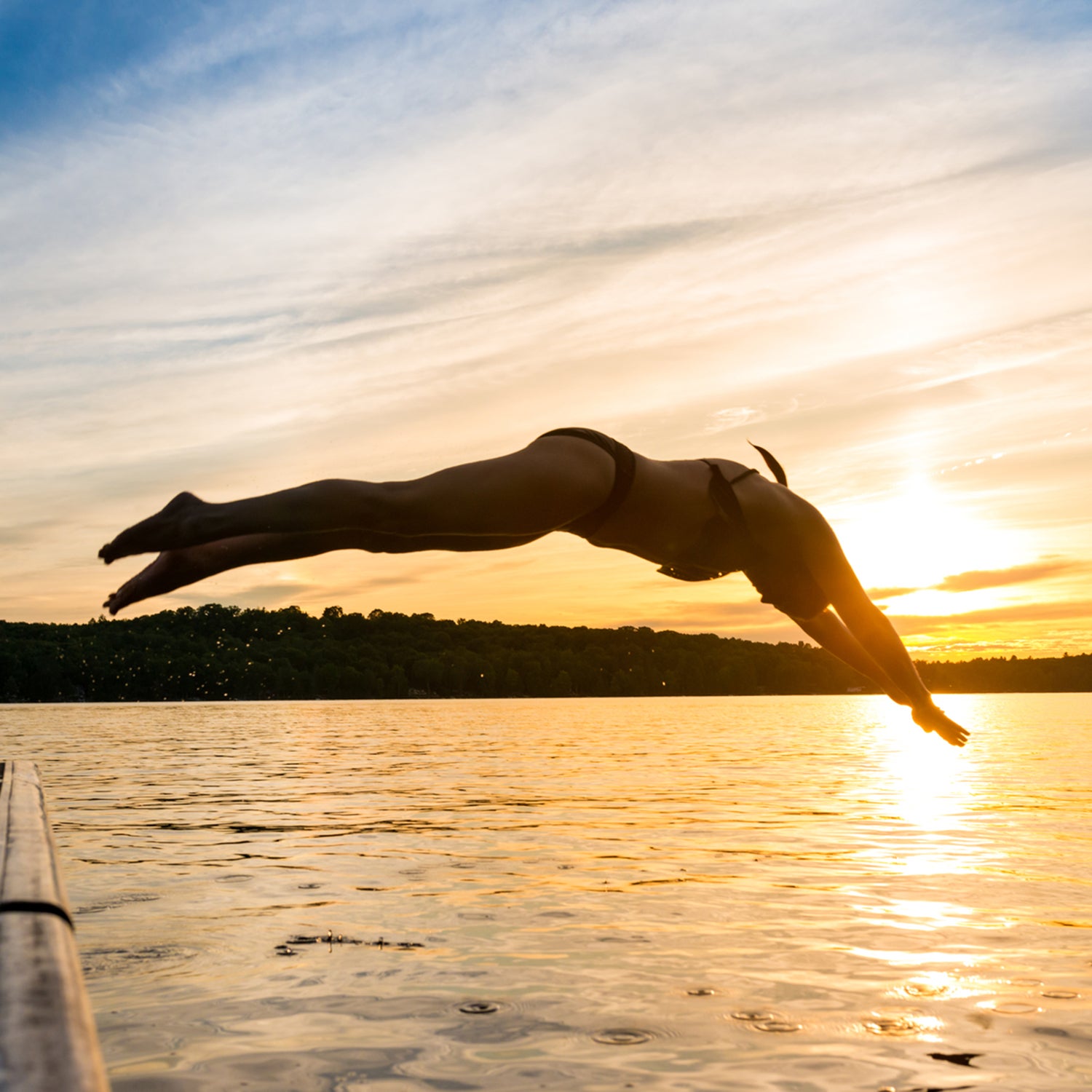 JP Danko/Stocksy
Heading out the door? Read this article on the new Outside+ app available now on iOS devices for members! Download the app.
Many swimsuits of years past looked good on land but weren't practical in the water. With today's range of styles, patterns, and silhouettes—from tankini to one-piece—it's easier to find a suit that's functional and flattering. Plus, features like built-in shelf bras and back closures help keep everything in one place while you're out having fun. We dove in with various styles and came up with the four best contestants—on the beach and off.
The Winners at a Glance
Patagonia Sunny Tide
Carve Camari
Prana Tulum
Body Glove Mylene
How We Test
Number of Testers: 3
Number of Products Tested: 8
Number of Bodies of Water in Which We Tested: 5
Number of Wardrobe Malfunctions: 3
For those who dream of watery adventures, flattering swimsuits designed to perform well in water (where they belong) shouldn't be hard to find. This crew of three testers with different ages and backgrounds—from an open-water swimmer to a surfing and SUP fan—tested swimwear in a variety of conditions, from the swimming pool to large saltwater bodies, stillwater to surfable waves, and even hot springs. We evaluated each suit for comfort, coverage, durability, support, and performance.
Meet Our Lead Tester
Jill K. Robinson is a California-based freelance journalist who writes about travel and adventure for National Geographic, AFAR, Conde Nast Traveler, Travel + Leisure, Hemispheres, and more. She's often more comfortable on and in water than she is on land.
The Reviews: The Best Women's Swimwear of 2023
Patagonia Sunny Tide One Piece ($129)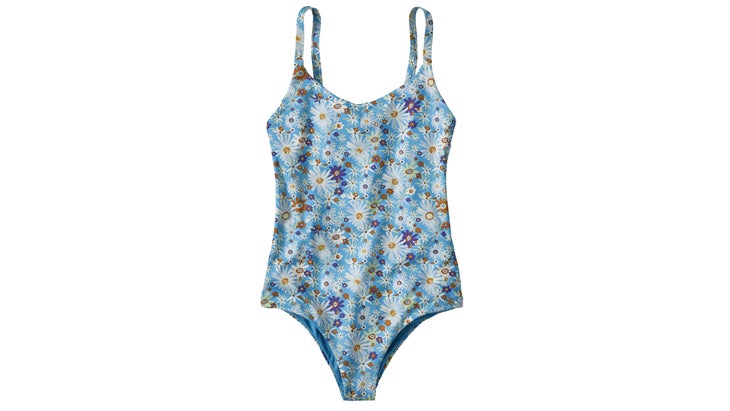 Type: One-piece
Size Range: XS-XXL
Comfort on Scale of 10: 9
This simple, strappy tank suit is luxuriously comfortable for paddling, swimming, chasing waves, body surfing, and just hanging out at the beach thanks to its form-fitting style and soft material. Its stretchy fabric (sewn according to Fair-Trade Certified practices) is composed of a recycled nylon and spandex jersey blend, which makes it one of the softer swimsuits we tested. Fully lined, the lightweight suit dries relatively quickly (it should dry within an hour in a dry climate with 80-degree temps), and has a mid-hip fit and moderate backside coverage, so we didn't have to worry about a wardrobe malfunction. Flat, non-adjustable straps rest away from the neck for comfort and freedom of movement, which testers especially appreciated while paddling a SUP.
Bottom Line: Flat straps and low bulk make this suit ideal for wearing under a wetsuit.
Carve Camari One Piece ($98)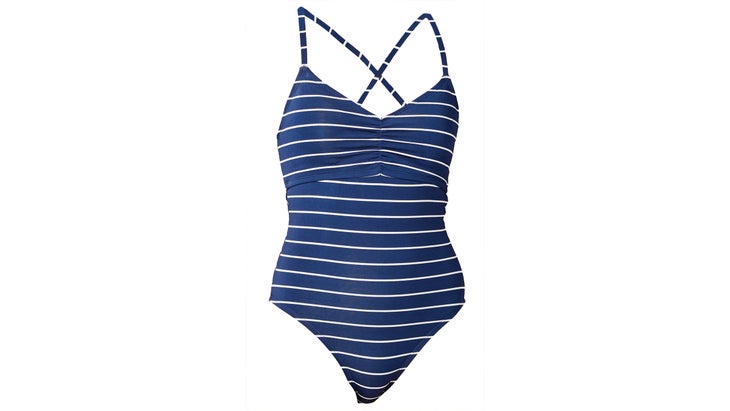 Type: One-piece
Size Range: 34C, 34D, 34DD, 36C, 36D, 36DD, 38C, 38D, 38DD
Comfort on Scale of 10: 6
Multiple straps on a swimsuit often look like they would offer excellent support, but just end up being unnecessarily complicated, especially for sporty endeavors. That's not the case here. The crossover back strap provides solid support and is also fairly easy to tie without help because the tie point is mid-back—an area where your hands can comfortably reach. The fabric is 82 percent recycled polyester (from plastic bottles) and 18 percent spandex, which was stretchy enough to move with us while surfing and kayaking in Tahiti. We liked the modest cut because it provided solid coverage and looks flattering. Hidden underwire and removable chest pads contribute to support and coverage for water nymphs (when they don't fold over during occasional wipeouts). Plus, it's rated UPF 50-plus.
Bottom Line: This suit offers great support and provides solid coverage for water-based activities.
Prana Tulum Bikini ($65 Top, $60 Bottom)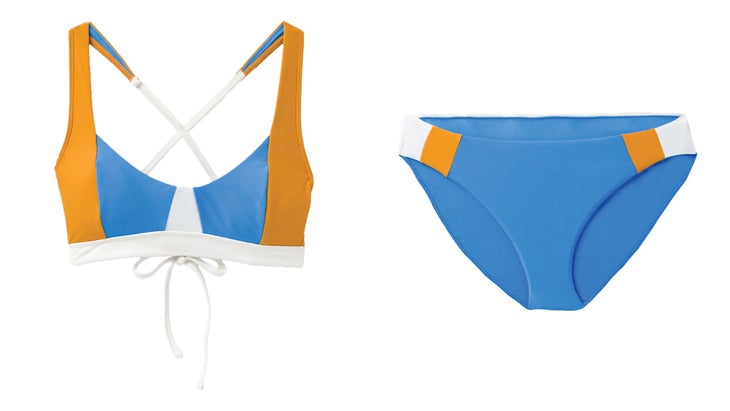 Type: Bikini
Size Range: XS-XL
Comfort on Scale of 10: 7
This color-blocked two-piece suit (top and bottom sold separately) features a good amount of coverage for semi-sporty pursuits. (Consider sizing down in the bottoms for a true sport fit, however.) Made from Prana's Vita fabric (recycled nylon and lycra elastane), the suit has UPF 50-plus coverage and is salt and chlorine resistant, which adds to its longevity. "The crisscross straps offered good stability and support in general, but over time the looseness/tautness dynamic would redistribute, so I had to be more deliberate about making sure all the parts of the straps were tight for serious activity," said one tester, a surfer and paddler.
Bottom Line: Overall comfort and good coverage ideal for a beach vacation
Body Glove Mylene One-Piece ($98)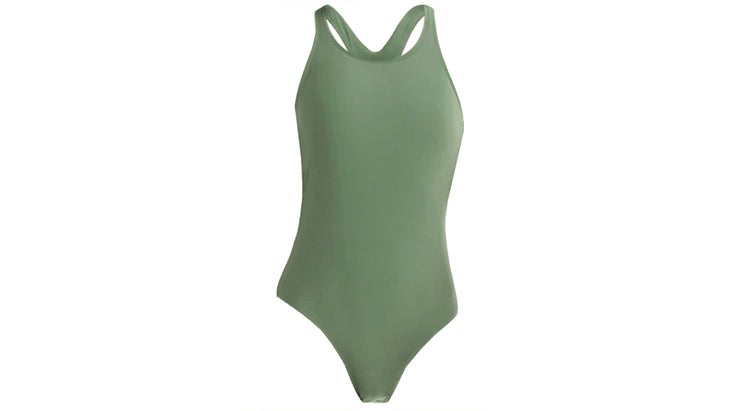 Type: One-piece
Size Range: XS-XL
Comfort on Scale of 10: 10
Sometimes you run across a Goldilocks swimsuit—one that's comfortable, supports you across multiple activities, and even looks good. The Mylene is that suit. "I just didn't have to mess with it or adjust it ever—a rarity for a swimsuit," commented one tester, who wore it while swimming in a freshwater pool as well as surfing in California. The one-piece tank provides full coverage and includes a sliding racer back, a shelf bra, and removable soft cups. Made with Body Glove's soft fabric (80 percent nylon and 20 percent spandex), the suit has a high neck with no gaping or opening at the chest area. "This suit is optimal for lap swimming and surfing with or without a wetsuit. It stayed put and didn't leave any body part unexpectedly exposed," said our tester.
Bottom Line: A suit that works on all levels—it's comfortable, durable, supportive, and flattering.
How to Buy
Consider your prime activities when you're choosing a swimsuit. If you're surfing, for example, you'll want good sun coverage and straps that will keep the suit secure. If you're swimming, you may want a streamlined suit designed for minimal drag in the water. Most active-style one-piece suits tend to stay in place better than two-piece suits. But it's easier to customize two-piece suits, and when it comes time for a bathroom break, they're more convenient. Quick-drying fabrics are ideal if you want the flexibility to go from the water to lounging in the sun or to the poolside bar. It's best to try a suit on and move around in it to make sure it's a good fit. Because swimsuit liners can be easily removed and swimsuits can be worn by more than one person, it's also best to keep your underwear on when doing so. Then, wash your new suit when you get home. Aside from buying directly from each brand, great discount online retailers are The Clymb, Steep and Cheap, REI Outlet, Sierra Trading Post, and Backcountry.
Lead Photo: JP Danko/Stocksy
Trending on Outside Online