Gear Guy
How can I stop waterproofing from fading in a jacket?
I've been frustrated for years with "waterproof" jackets. The waterproofing invariably wears off after a year or so, especially if the jacket is worn in the sun. (I know, I shouldn't do that, but I'm a city guy who likes to wear one jacket all day - when it's raining and when it's not.) Hasn't some manufacturer solved the problem of "disappearing" waterproofing? Jack New York, NY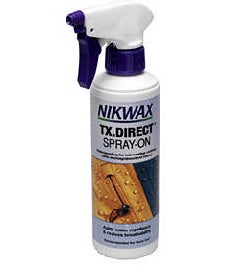 Heading out the door? Read this article on the new Outside+ app available now on iOS devices for members! Download the app.
Actually, it probably isn't the waterproofing that wears off, Jack. It's what gear manufacturers call—and this is a term you may scoff at—"Durable Water Repellent" coating, or DWR for short. During the manufacturing process, it's sprayed on the fabric as a last step.
TX Direct SprayOn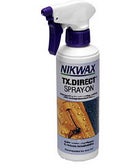 TX Direct SprayOn
It's the job of the DWR to make water "bead" and run off the jacket. Sort of like what wax does to a car. Otherwise, the surface fabric gets saturated. When that happens, A) the garment feels wet and heavy, even if it is dry inside, and B) if the jacket is a waterproof/breathable model, breathability is reduced and you can get condensation inside, which feels like a leak.
Most makers test their jackets through a series of washing-machine washes—25 to 30 cycles, typically—to ensure the DWR sort of lives up to his name. But yeah, daily use, dirt, wear (such as from shoulder straps), and especially sun can reduce its longevity.
So what to do? Sometimes, simply ironing the jacket with a medium-hot iron will spread out the remaining DWR and restore water-repellency. Or, you can buy one of several after-market DWR products. One is ReviveX Air Dry Water Repellent ($10). It's designed to restore water repellency to breathable jackets, or almost anything on which you spray it. As the name implies you just spray it on and let it air dry. Nikwax TX-Direct Spray-On comes in a larger bottle and costs $21. Same thing: spray it on, air dry. You should get a few washings out of either one, or several months of wear.