The 7 Best Multi-Use Jackets of 2013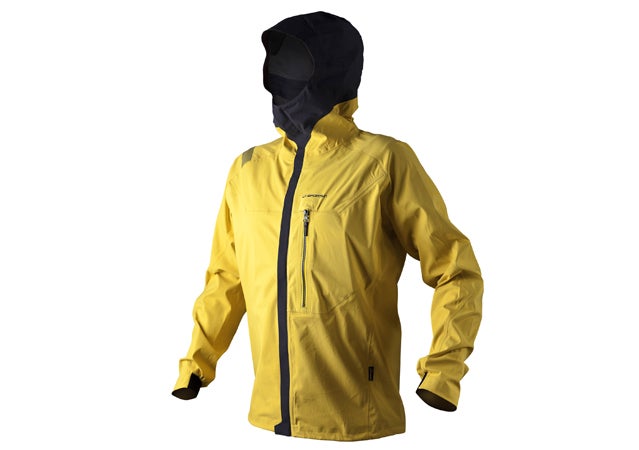 Heading out the door? Read this article on the new Outside+ app available now on iOS devices for members! Download the app.
La Sportiva Storm Fighter GTX Jacket
GEAR OF THE YEAR: Who knew that an Italian bootmaker would be so proficient in the jacket game right out of the gate? The Storm Fighter's Active Shell fabric—a new, lighter-weight version of Gore-Tex's most breathable stuff—kept us bone-dry during three days of nonstop rain along Northern California's Lost Coast Trail, and it breathed impressively well as we huffed along Lake Superior's North Shore through sideways snow. Smart details like Velcro-less cuffs that slide into (not over) gloves and a tiny magnet at the hem that holds the zipper cover in place made us smile. All that, plus it's better looking (love the asymmetrical detail on the shoulder) and just as light as every other hard shell in its class. 11 oz
Breathability: 4.5
Weatherproofness: 5
Arc'teryx Alpha SV Jacket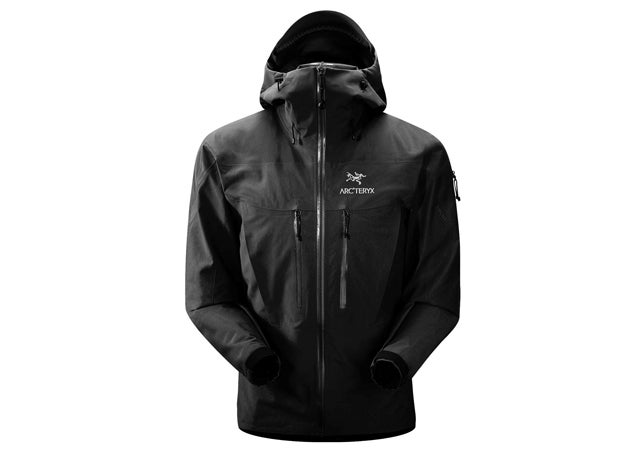 BEST FOR: Nasty conditions.
THE TEST: The revamped Alpha SV is cut from an up-armored version of Gore's Pro 3L, which you'll also find on Arc'teryx's Gear of the Year-winning resort jacket. Put simply, it's one of the most durable fabrics we've ever tested. Cut a bit looser than your classic Arc'teryx jacket to fit over bulkier winter layers, the SV is near artisanal in its construction, with miniature bellows on the chest pockets so they'll lie flat when empty and foam tubing to keep the hem from riding up under your climbing harness.
THE VERDICT: It's a bit crinkly, which some testers found annoying, and definitvely pricey. But as one tester also noted, "it's the toughest hard shell I've ever worn." 18 oz
Breathability: 4
Waterproofness: 5
Rab Stretch Neo Jacket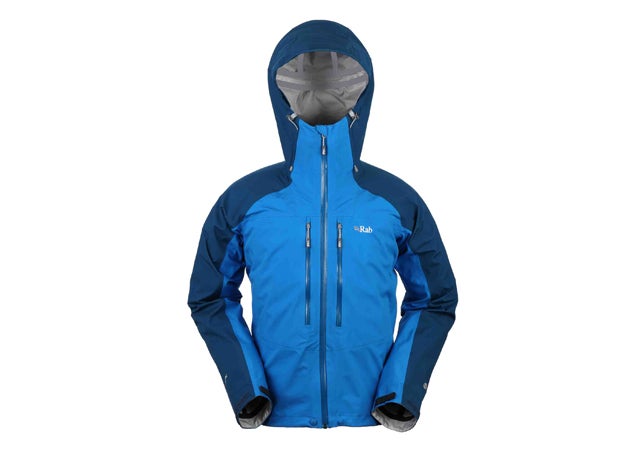 BEST FOR: Doing it all.
THE TEST: "If I had to clean out my closet and keep just one shell, it'd be the Stretch Neo." That remark came after an expedition-style adventure race in Patagonia, where testers trekked and climbed in this jacket for eight days. The key to its versatility is Polartec's NeoShell fabric, which breathes as well as any waterproof material we've ever worn. The alpine-influenced design includes long arms, a helmet-compatible hood, and two massive pockets on the chest for stowing gloves, glasses, a hat, and a day's worth of energy bars.
THE VERDICT: The streamlined design—no pit zips, no hand pockets—helps keep weight down, but it's not as light as some of the competition. 18 oz
Breathability: 4
Weatherproofness: 4.5
Mountain Hardwear Quasar Pullover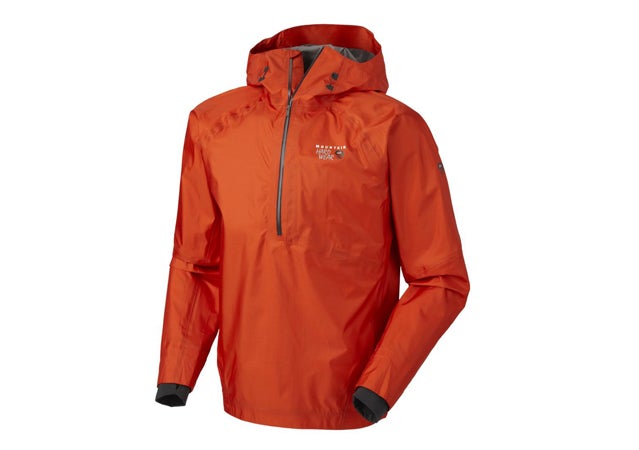 BEST FOR: Packing light, moving fast.
THE TEST: Designed by Swiss speed climber Ueli Steck, this ultralight (under 10 ounces) waterproof-breathable anorak is about as simple as it gets, with a small hood that fits best under, not over, a helmet (Steck prefers the close-to-head, under-helmet fit) and a single non-zippered pocket inside the chest. The only real creature comfort is the soft, thumb-hole-equipped cuffs, which are certainly cozy—until they get wet. On damp days, the fabric sponged up water as we climbed.
THE VERDICT: Optimal for anyone looking for a packable, just-in-case hard shell for winter, spring, or fall. 9 oz
Breathability: 4
Weatherproofness: 4
The North Face Polar Hooded Jacket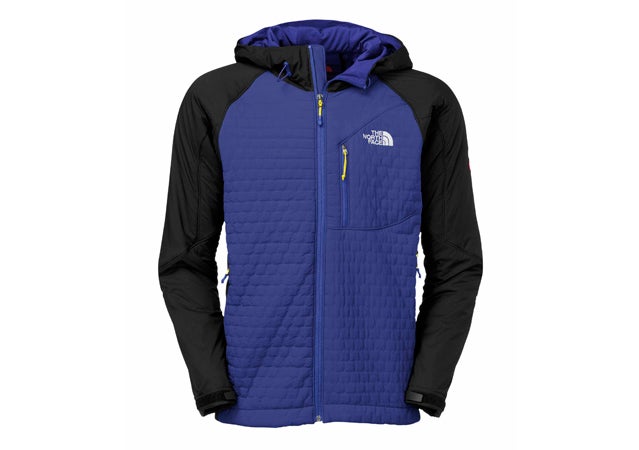 BEST FOR: Start-stop activities on cold days.
THE TEST: A unique mashup, the Polar Hooded melds soft-shell construction (arms, shoulders, and hood) with low-profile insulated panels (shoulders, biceps, and back) and a swath of fleece around the torso. In single-digit temperatures while skiing and snowshoeing in Minnesota, the stretchy, breathable Polar Hooded regulated temperatures nearly as well as a traditional soft shell. And it was surprisingly warm: during breaks when we'd normally be reaching for our puffies, it kept us just warm enough on its own.
THE VERDICT: A versatile soft shell with an insulating alter ego. 26 oz
Breathability: 5
Weatherproofness: 3.5
SmartWool PhD SmartLoft Divide Jacket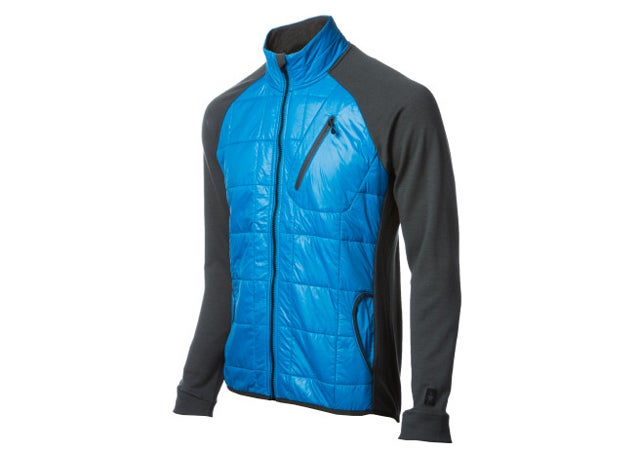 BEST FOR: Moving quickly in cool weather.
THE TEST: The Divide has a familiar design—an insulated chest panel with stretchy, breathable material along the back and arms—but with a unique twist. Instead of fleece arms and synthetic insulation, it's wool throughout, including merino for the arms and back and fluffy wool-based fill for insulation. On sweaty cross-country ski outings and winter runs, the shirtlike, one-pound SmartLoft Divide breathed just as well as its synthetic competition. The jacket's core-warming front was balanced by the thin merino elsewhere—which, by design, lets wind cut straight through.
THE VERDICT: Aerobic do-all coat that several testers praised as the ultimate winter midlayer. 1 lb
Breathability: 5
Weatherproofness: 1
Sierra Designs Gnar Lite Jacket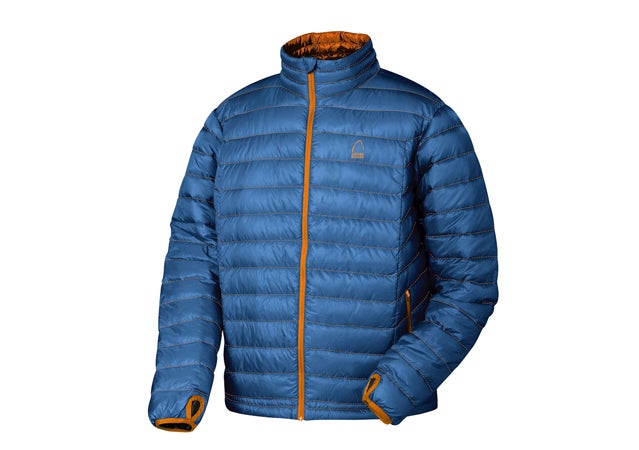 BEST FOR: Winter camping; cold and wet outings.
THE TEST: Each goose feather inside the water-resistant Gnar Lite is coated with a hydro-phobic treatment marketed to keep the down dry "10 times longer" and, should you still manage to wet it through, dry out "33 percent faster" than old-fashioned feathers. To test those claims, we wore this basic sweaterlike coat—it weighs a scant 10 ounces and packs to the size of a grapefruit—as a layer and on its own. During a cold and seriously drizzly March hike, it took about 30 minutes to wet through. Though it did get a big clumpy, the jacket retained some loft (and thus warmth) despite being almost moist enough to wring out a sleeve.
THE VERDICT: The technology (mostly) works. 10 oz
Breathability: 4
Weatherproofness: 3
The trend in insulatation this year is water-resistant down, like the stuff inside Sierra Designs' Gnar Lite. By treating each feather with a special coating, Sierra figured out how to keep down dry up to 10 times longer.