How to Make Your Own Gear
Our savvy, Norwegian-folk-school-trained writer shows you how to craft your own skijoring belts and mid layers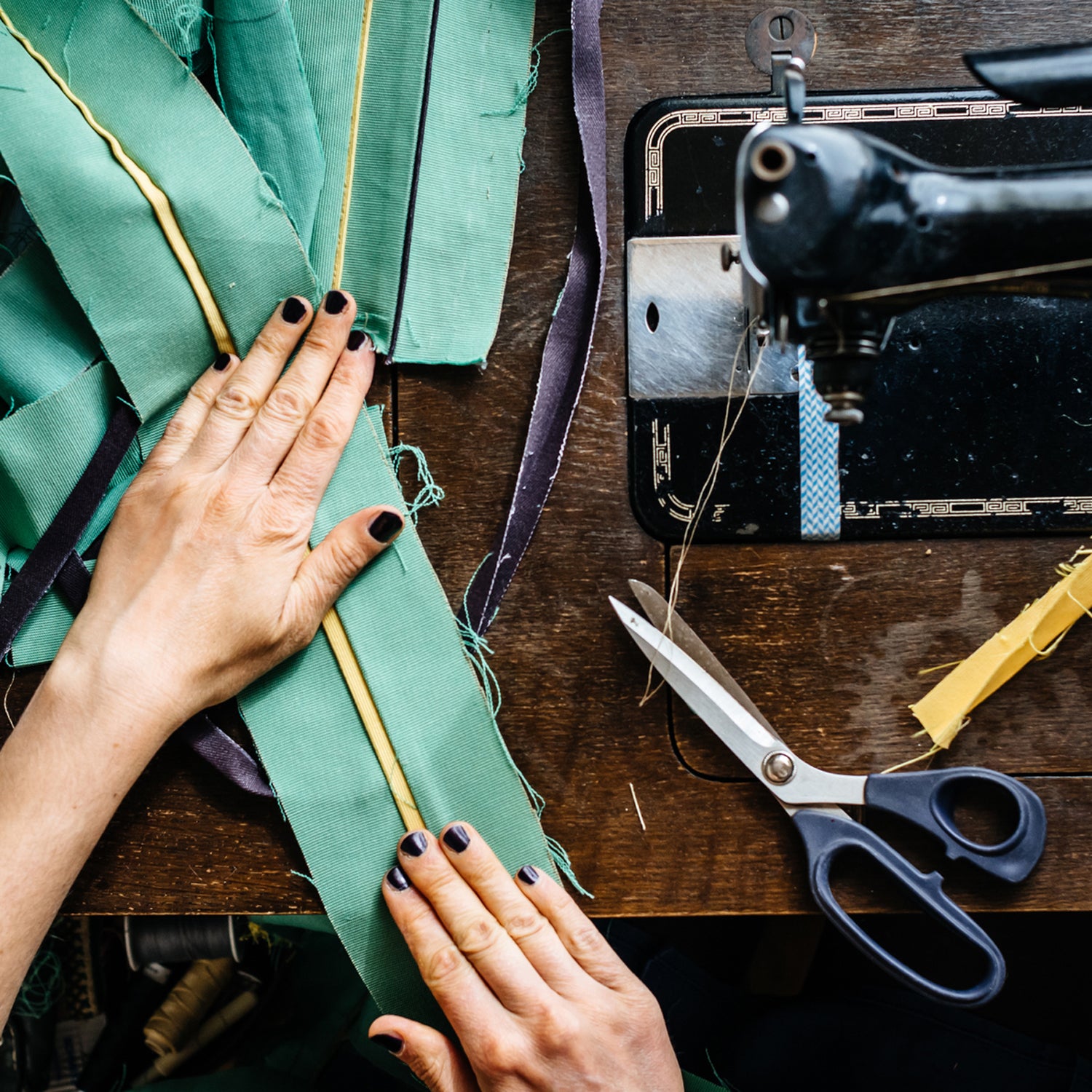 Heading out the door? Read this article on the new Outside+ app available now on iOS devices for members! Download the app.
I was lucky enough to come of age at a boarding school in the Norwegian arctic, which is to say as part of a rabidly outdoorsy community that also happened to be far from stores. None of us students had cars. If we wanted something specific—for climbing the steep mountains around the school, say, or launching a misguided ski expedition to Finland—then we could either catch a bus to a ferry to another bus, an expensive three-hour one-way trip to the military surplus store in the nearest city, or we could find a way to make it ourselves. We carved ping-pong paddles out of plywood and sewed winter boots from scraps of dried-out fur from the local reindeer herder. A lot of our stuff fell apart. But certain pieces I made there—wool hats, shell mittens, an antler-handled knife, a skijoring belt—are still going strong after ten years of intense use.
The thing is, camping and backpacking are empowering, in part, because they help us break down perceived barriers: we don't actually need to sleep in a bed, or use electricity, or have constant access to plumbing. We can do fine—better than fine!—without any of that. And making your own equipment helps to break down another mental barrier: the idea that we need to buy special equipment to be comfortable in the wilderness. It's worth making and using your own gear, at least a few times, for that reason alone. But don't be surprised if you end up addicted to a new hobby.
Here are some tips for the beginning gear-maker.
#1. Embrace New Skills
You can learn the basics of sewing and leatherworking in a few evenings—and produce an endless variety of soft goods, like stuff sacks, gaiters, sleeping bag liners, wind shells, etc. As a general rule, it's not hard to make something functional on a first try, but it takes practice to make something beautiful. If you find yourself loving a particular craft, like knife making, you can always push through to the level of beauty. But in the meantime, don't let a fear of wonkiness hold you back. 
#2. Don't Skimp on Materials
Your gear is only as good as what it's made of, and one way to hedge your bets on quality is to use natural materials. You're always safe with wool, leather, wood, and canvas, which wear in and take repairs beautifully. You can also buy gore-tex, ripstop nylon, and fleece by the yard, or recycle another item that you're not using. It sounds corny, but choose materials that feel good to touch, since you're going to spend plenty of time handling them. You're not just investing in your gear; you're investing in your time.
#3. Personalize
Most of the gear brands we love—Patagonia, Royal Robbins, and Osprey, to name a few—started because someone wanted something they couldn't find. If you don't have any particular vision in mind, you can make your own patterns with a little middle-school geometry or by tracing items you already have, then experiment by changing the dimensions. Make the sleeves longer, or the straps wider, or add articulation to the knees, or just attach patches anywhere you can. Choose your favorite colors and patterns. Make your dog a matching collar. Channel your inner kid and play.
#4. Take a Class
You can find workshops at your local art center, outdoor store, or community college, plus plenty of tutorials online. If you're really motivated and want to invest in something big, consider traveling to a weekend or week-long workshop, where you'll learn to build a kayak, a bike frame, or even construct your own teardrop camper. You'll come home with experience, motivation, and a dope new toy.
#5. Love the Off-Season
Make an ultralight backpack in January. Felt booties in July. Moccasins in December. Making gear takes time, and you don't want the pressure of racing the weather. Plus, it's a good way to stay connected to your favorite activities year-round. Are you a beach bum? Sew swim trunks in February. Do you live for winter? If you're weaving snowshoes on your front porch on a summer evening, the snow will never feel far away