Stay Cool the Rest of Summer in These Wool Basics
Merino wicks moisture, dries quickly, and is comfortable against the skin. These are my favorite pieces to sweat in.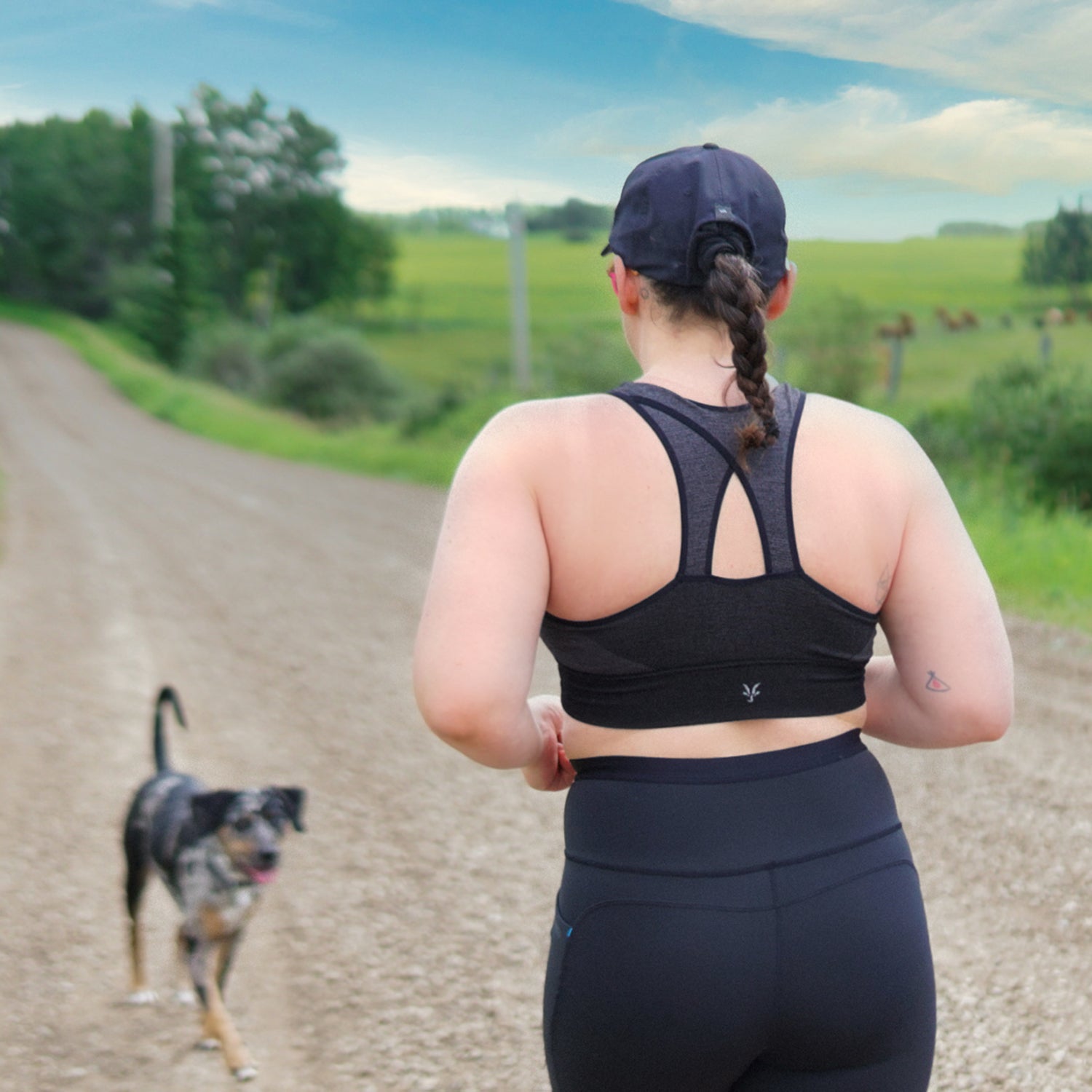 Photo: Steve Redmond
Heading out the door? Read this article on the new Outside+ app available now on iOS devices for members! Download the app.
Merino wool is often raved about for its ability to keep us warm in cold climates, but it works double duty; it also keeps our bodies cool when the mercury rises.
When choosing outdoor fabrics for hot weather, there are a handful of performance characteristics to look for in a garment: the ability to wick moisture, dry quickly, breathe well, offer protection from the sun, and move with you—even when you sweat. The ultimate benefit is something that's odor-resistant. Merino wool checks all these boxes, but how?
Why Merino Wool Is Ideal for Summer
Merino wool is an active fiber, which means it responds to use—both to the external environment and your body's temperature changes—and that's why it's great for outdoor pursuits.
Because of its composition, merino wool is excellent at natural moisture management. The outer shell of the fiber is hydrophobic—it repels water (similar to how water beads off a rain jacket). On the inside, it's hydrophilic—its core is attracted to water (in this case, your sweat), drawing moisture away from the skin and into the core of the fiber, to hold about 30 percent of its weight in water before it even feels wet. The practical result is that it keeps you drier longer. When it does saturate, that core consistently releases moisture, which leads to evaporative cooling throughout the day.
One of the biggest advantages of wearing wool in summer is its resistance to odors, because merino is antimicrobial (it inhibits the growth of microorganisms). You can sweat into a merino garment for hours, hang it to dry, and the next day it's likely to be stink-free. Since it stays cleaner longer, you can wear it multiple times before washing it, resulting in less wear and tear on the fabric, and, ultimately, more years of use.
Merino wool has incredible stretch and return (how well it bounces back to its original shape), unlike other fabrics like elastane or Lycra, which break down over time and become loose in spots. UV light is one cause of this breakdown, but merino wool offers natural UV protection, so your garment is more impervious to sun damage and will remain in like-new condition a lot longer.
Now that you know the ins and outs of what makes merino wool a good choice for summer, here are the wool underwear, bra, and socks I've been wearing comfortably during this year's unusually high temperatures.
Ibex Women's Natural Brief ($35)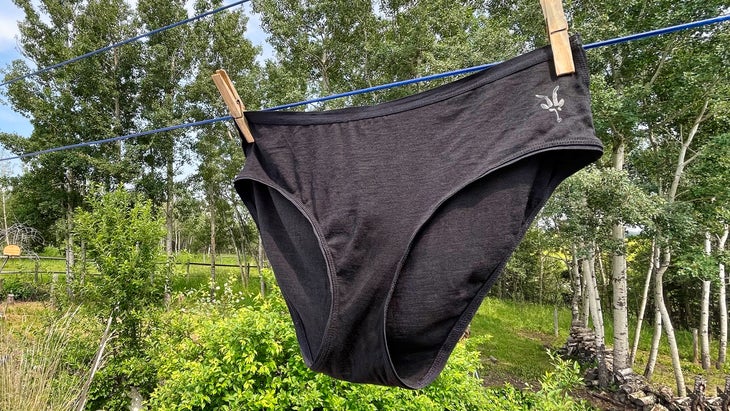 Material: 94 percent merino wool, 6 percent spandex
Natural fibers are the right choice for underwear, because bacteria is less likely to grow on them. Cotton is super soft, breathable, and good at wicking moisture, but the two main issues with cotton are that it retains a lot of that water (once wet, it stays wet), which can leave you feeling clammy, and it also loses its shape over time. This is where merino wool proves advantageous. I've never written a love letter to underwear before, but after wearing Ibex's Natural brief, I now understand why the company rightfully has its own group of dedicated superfans.
The Ibex product line is simple and honed-in, with staples that will take you from the trail to a night on the town. There's nothing overly flashy about the brand's garments, and this undergarment is no exception. It's extremely comfortable, lightweight, quick-drying and odor-resistant—everything you want in a good pair of undies.
Ibex's Natural brief doesn't feel as soft as cotton, but it's made of superfine merino wool, and once I've got it on, I can't even tell I'm wearing it. Neither high-rise nor bikini style, it sits a couple of inches below the belly button and provides full bum coverage—nothing fancy, just a classic fit. Because the fabric is slightly slick and has a little spandex to it, hiking or running shorts slide right over the brief, and there's no bunching; plus, the thin elastic waistband keeps it in place while you're moving. I've been wearing these undies in peak summer temperatures with no complaints. For overnight trips, you can definitely get a few days' wear out of them. Then just hand-wash them in cool water, hang them to dry, and they'll be ready to wear again by morning.
Ibex only sources mulesing-free wool, and it's transparent about its supply chain, so you can see where the wool comes from, who's making the garments, and the provider's list of certifications.
---
Ibex Balance Crop Bra ($70)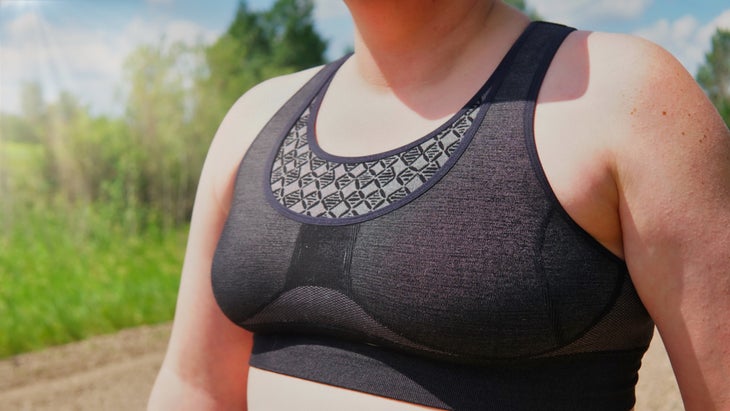 Material: 70 percent merino wool, 24 percent nylon, 6 percent spandex
I first started hiking in a merino wool sports bra when I became pregnant five years ago. The summer heat and humidity required that I change up my old ways if I was going to have any level of comfort. After years of wearing the Icebreaker Tiki bra, I made the switch to the Ibex Balance Crop bra—a step up in terms of support and technical design. This double-layer bra is seamless, which means you won't suffer from hot spots or pressure points, and it keeps the girls in place while I'm jumping, running, hiking, and working out. The two-inch band doesn't roll up, and the way the back straps fold over each other makes for a snug fit without any digging in. Various knit patterns throughout provide a mix of support and ventilation. It also looks great without a shirt.
If it's really hot where you live and you don't need two layers of support for your bouncing boobs, consider the pared-down Balance bra, which has the same top layer, ditches the second layer, and features a simplified back.
---
Swiftwick Pursuit One Ultralight Merino Wool Socks ($18)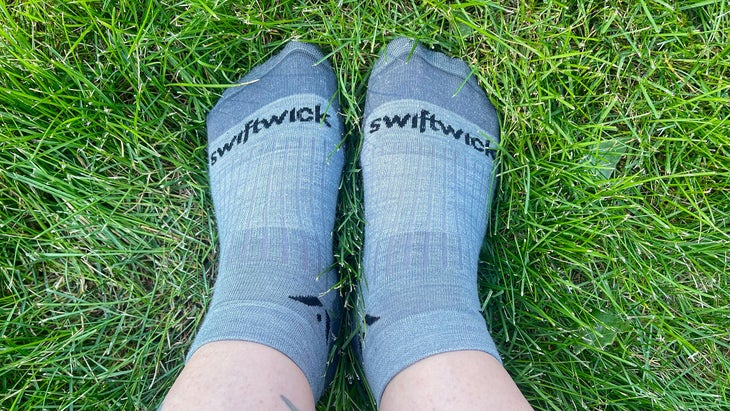 Material: 46 percent merino wool, 27 percent nylon, 18 percent olefin, 9 percent spandex
Swiftwick's Ultralight merino wool socks are the answer to hot, sweaty summer feet. Trust me, your dogs will thank you. Even when I've worn them in temperatures over 110 degrees, my feet have stayed dry and comfortable in my running and hiking shoes. I've tested dozens of pairs of merino wool socks in the field, and the Pursuit Ultralights are some of the most breathable, the result of channeled uppers (think: ventilated groves atop your foot) effective at dumping heat. Because they're primarily made of merino wool, they draw sweat away from the foot, preventing blisters from forming, and also help regulate temperature. On top of that excellent breathability, they have a seamless toe box to prevent rubbing, and the reinforced heels and toes provide durability to these high-wear areas. Other thoughtful details, like a more flexible weave at the top of the ankle and a Y-shaped heel, help make them comfortable inside footwear.
I've been wearing a version of the Pursuit Ones with a one-inch cuff height, but they're also available in four- and seven-inch cuff heights, as well as with no cuff.
---
Taking Care of Merino Wool Garments
If you're going to invest in quality merino wool, here are a couple of tips to keep your garments lasting longer.
When you first get a merino wool garment, you should wash it within the initial couple of wearings, or even before you wear it. This will help prevent it from pilling. At this point, it'll also feel a little softer against your skin, because the short fibers are either washed out or flat. After that, only wash the garment as needed—and keep in mind that washers and dryers can be tough on fabrics, so you'll reduce product's life span if you overdo it—and don't use bleach or fabric softeners. Next-to-skin garments can be washed every three to five wears; other pieces, every five to seven wears.
Merino wool's uneven surface allows water to penetrate very easily, and because the core of the fiber soaks up water, washing is a breeze. Cool or warm water is best, and a washing machine is better than hand washing, as you'll want to make sure any dirt and silt is removed—that debris can cause abrasions to the fabric and speed up deterioration. A pH-neutral detergent is ideal, but regular laundry soap still works just fine. It's also such a fast-drying fabric that you can lay it out flat or hang it to dry (or even tumble-dry it), and it will soon be ready for your next adventure.
Lead Photo: Photo: Steve Redmond
Trending on Outside Online