Indefinitely Wild
The Orvis Pro HD Insulated Hoodie Is My Go-To Jacket for Subzero Temperatures
Packable, reliable, unbelievably warm, and surprisingly affordable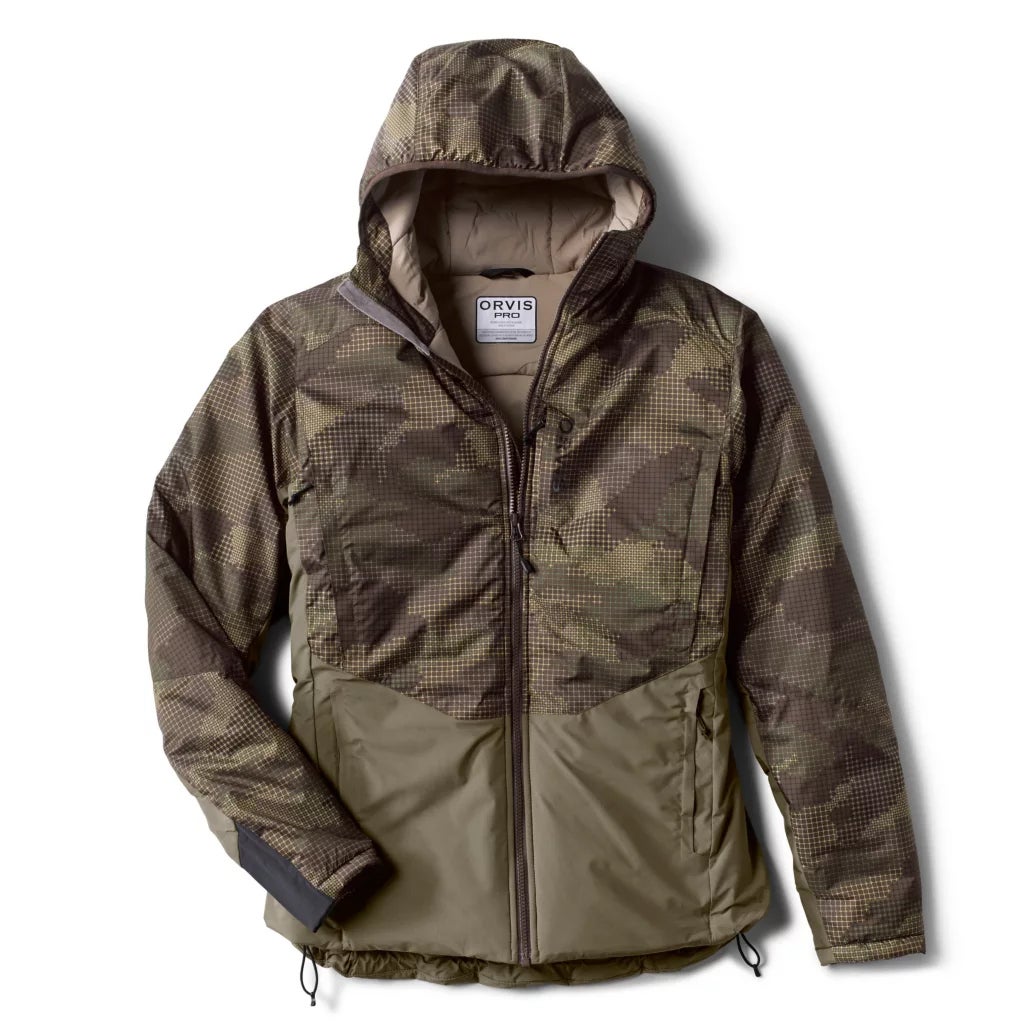 Heading out the door? Read this article on the new Outside+ app available now on iOS devices for members! Download the app.
There are lot of things a jacket needs to do to protect you from the cold, beyond providing insulation. Factors like fit, packability, weight, breathability, and weatherproofness matter almost as much as shear warmth. The Orvis Pro HD Insulated Hoodie has all that, and is absolutely stuffed full of insulation, too. When I need to be outside in sub-zero temperatures, this is the jacket I reach for.
Gear Fix
Sign up for our gear e-mail newsletter for in-depth reviews, first impressions, industry news, and pro DIY tips.

Last Christmas was a cold one at my family's cabin in northern Montana. Ambient temperatures reached as low as 34 below zero, while wind chills hit minus 45. Any sensible person would have stayed inside and enjoyed the fire, but my three dogs needed exercise, and with fresh mountain lion and moose tracks in the snow, they needed to be supervised. 

While most people would reach for one of those giant, knee-length parkas, I've always found that their bulk gets in my way. The large volume of down insulation they carry and that thick, canvas face material, keep snow off and wind out, and provide a lot of warmth. But they're so large and heavy that you could never hope to carry one in a backpack. 
Enter PrimaLoft Gold, a family of lofted synthetic insulations that trap a lot of air inside relatively slim dimensions. Most garments and sleeping bags that are made from PrimaLoft Gold use it to replicate the packability of down with material that stays warm when wet. 
The amount of synthetic insulation used in a garment is expressed in density—typically how many grams of a given material are used within a square meter. So a jacket said to carry 100 grams of a certain type of insulation doesn't weigh 100 grams total; it uses 100 grams of that insulation per square meter of coverage. In other words, as long as that insulation material remains the same, a jacket that uses 100 grams of it per square meter is going to be twice as warm as one that uses 50 grams. 
A typical puffy jacket made with PrimaLoft Gold, of the kind you'd wear skiing or take backpacking, is equipped with about 80 grams of insulation per square meter. That's enough to deliver a solid amount of warmth, in a slim, packable, lightweight jacket. It might weigh a little more than an equivalent ultralight down jacket, but it'll stay warm if it gets wet, and it won't be quite as thick.
But the Pro HD takes a different approach by packing as much PrimaLoft Gold onboard as possible—a full 170 grams per square meter. The result? It's as warm as wearing two of those typical ultralight synthetic puffies, just in one cohesive jacket that fits well, moves with you, and blocks wind and snow.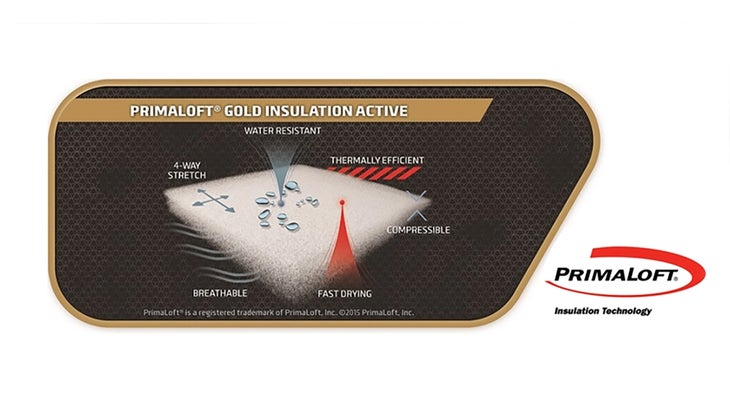 The inner face of the Pro HD is made from a very breathable, very thin, woven polyester material designed to wick moisture away from your body. Next comes that very thick, very dense layer of insulation. Inside the Orvis jacket you'll find PrimaLoft Gold Insulation Active, which like other varieties of Gold, weaves together kinky polyester fibers to trap air. Active's unique selling point is a proprietary process that locks the fibers in that weave together, preventing migration, and facilitating the use of lighter, more open, more breathable face fabrics. Active is also four-way stretch. Then, on the outside of the jacket, there's a thicker, more densely woven 20 Denier ripstop polyester face fabric that's able to block wind without the aid of a membrane, facilitating breathability. A Durable Water Repellant coating that sheds precipitation is the icing on the cake. 
The Pro HD feels heavier than expected thanks to that insulation density, but remains slimmer than most down puffies. It moves with your body, allowing Orvis to offer a trim fit, and works with your other layers to evacuate moisture. There's enough weather resistance here to totally cut wind. And, since you're presumably going to wear this thing in very cold temperatures, you're going to need that breathability a lot more than you would any ability to keep heavy rain out. 
Layered over 200-weight merino base layers, and an 80-gram Polartec Alpha mid-layer, the Pro HD kept me totally comfortable while hiking in minus 34 degrees. Plus, the Pro HD has one other major advantage: price. Big parkas capable of delivering this much warmth typically cost well over $1,000. This Orvis? It's only $329.