Indefinitely Wild
The Fjallraven Kebs Pants Are Damn Near Perfect
Both my girlfriend and I have basically lived in these versatile, tough pants for two months now, for all sorts of outdoor activities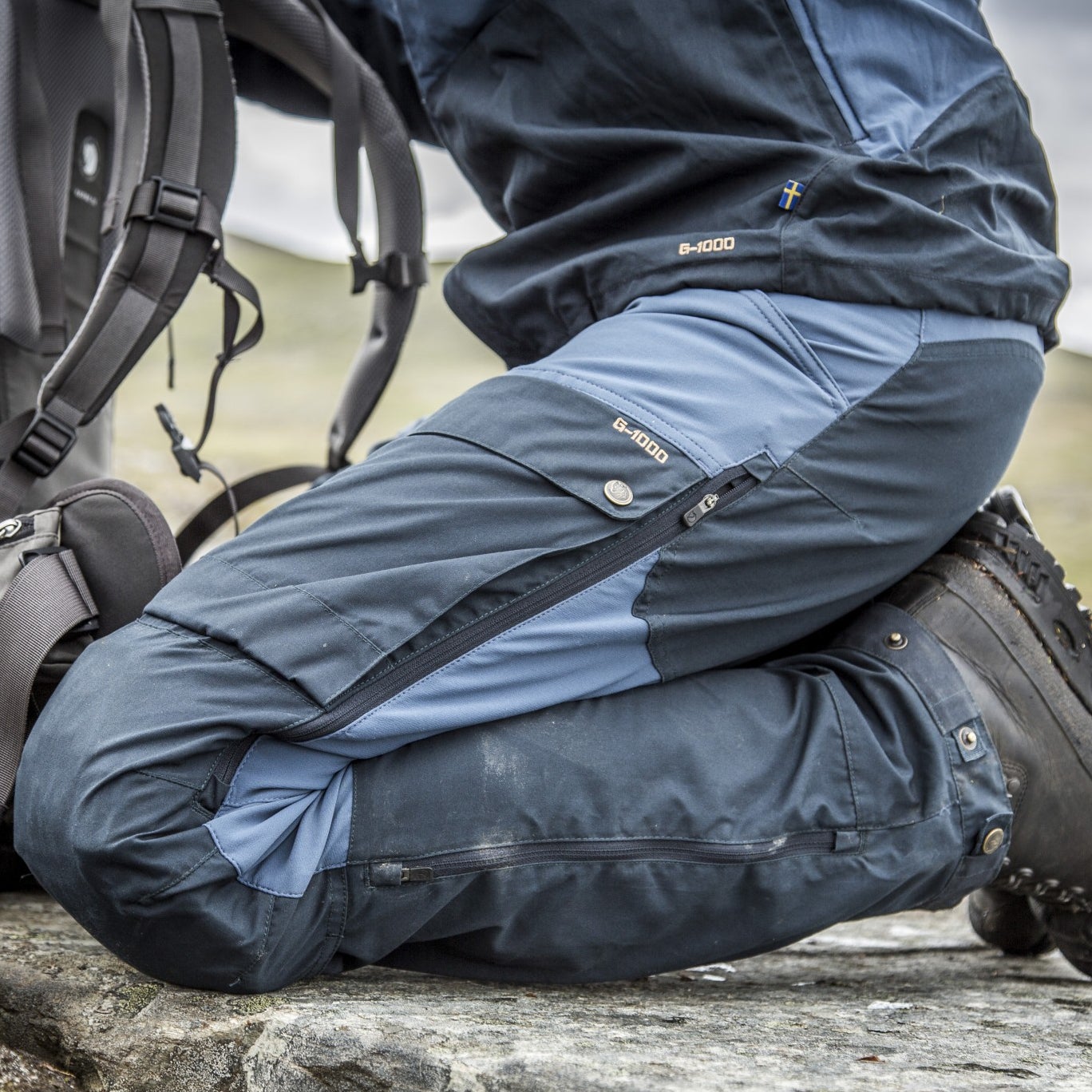 Heading out the door? Read this article on the new Outside+ app available now on iOS devices for members! Download the app.
While glassing a wolf pack on a bison kill in Yellowstone National Park two weeks ago, I stepped off the road and into thigh-deep snow for a better look. My girlfriend joined me, and we stood there for a good 10 minutes, until a passing snowmobile scared the animals off. Both of us were totally dry and comfortable the whole time, thanks to the Fjallraven Kebs.
Made from stretch polyamide with a more rugged woven material in high-impact areas, the Kebs are windproof, water resistant, hard wearing, and extremely versatile. Clever features expand their usefulness, making them applicable to virtually any outdoor activity. And they fit and look so good that you'll want to wear them inside, too. In short, the Kebs are the best pants I've ever worn.
The details are on point. Take the lace hooks. Inconspicuously tucked inside a cuff pocket, these little hooks clip your boot laces, keeping your pants pulled down and eliminating the need for a gaiter. The cuffs also hide a stretch strap spaced with metal snaps. Pull it around your boot top, then snap it shut to totally seal out the elements.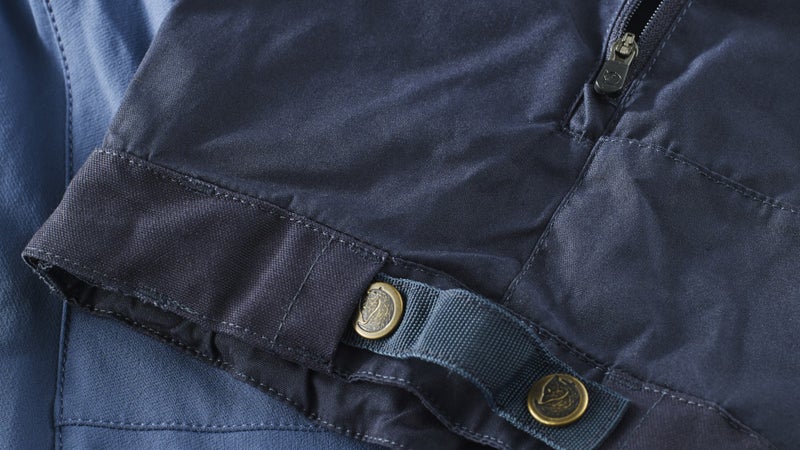 Back inside the truck, sitting down in a cramped jump seat, I was able to access the lens cloth, chapstick, and multitool clipped inside the Kebs's cargo pocket without awkwardly shifting around. Fjallraven mounts its cargo pockets on the front of the leg, rather than the side, to facilitate easy, seated access. Both of those cargo pockets close with a metal snap, while the left adds a zipper for more security. These compartments are also very deep: stuff you put in them will not fall out. There are no back pockets on the Kebs, as the ones up front handle storage needs. Plus, no pockets in back helps with fit and improves the look.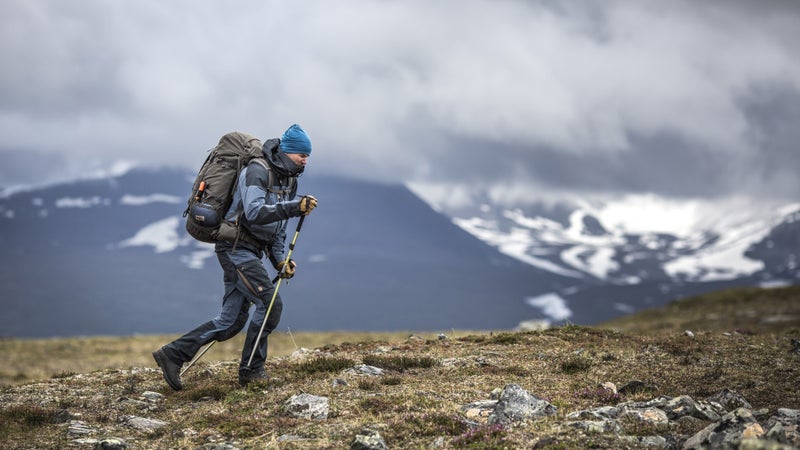 A technical pant, the Kebs are higher waisted than a pair of jeans, which again facilitates that freedom of movement (you can climb in them, no problem), and helps keep your base layers tucked in tightly.
Of course, none of these features would matter one bit if the fabrics were no good. The aforementioned polyamide is four-way stretch, and remarkably tough for such a thin material. But it's the G-1000 that covers the front of your legs from the thighs down, and the backs from the knees, that's the real star here. Constructed from a 65-percent poly, 35-percent cotton weave, the material is well-nigh tear-proof. The G-1000 is doubled-up on the Keb's knees, which makes this area relatively stiff and heavy, but the articulated cut helps keep movement pretty much unrestrained. 
Normally, cotton would be the worst possible choice for an outdoor fabric (as I extensively detailed here). To fix the material's propensity for soaking up retaining water, Fjallraven waxes it (its Greenland Wax is made from beeswax and paraffin). As Barbour has so famously demonstrated with its waxed-cotton motorcycle clothing, the process makes an already strong fabric even stronger. You have to reapply the wax coat semi-regularly, but when it's on, it works damn well.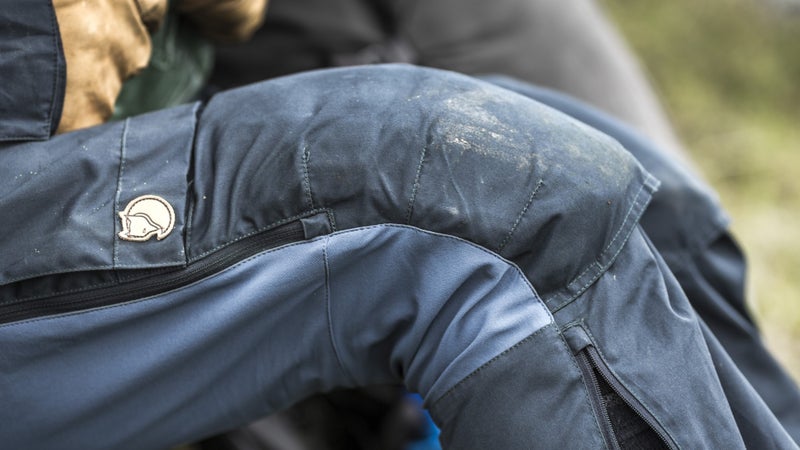 Fjallraven offers a pant, called the Vida Pro, made from 100 percent G-1000. It's strong and hard-wearing, and as such would make a awesome work pant. The Kebs, with their lighter materials, is best for active pursuits like hunting and hiking.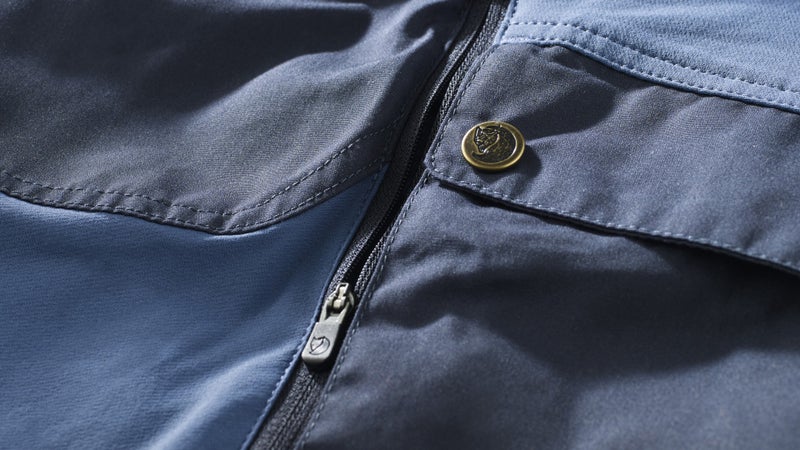 Note that all the merits I just described apply equally to the men's and women's versions. The materials are identical in my girlfriend's Kebs, and the fit is just as good, too. 
Now, I've pretty much lived in these pants for two months now. The coldest temperature I've worn them in was minus 26 degrees Fahrenheit, where they did fine paired with a heavy merino base layer. They've kept me dry in the rain and comfortable on my couch. This weekend, they're the only pants I'm going to take on an off-road trip through Death Valley. Heck, I might even wash them soon.