Plaid and Canvas: For the Love of Tweed
Tweed is everywhere—and that's a good thing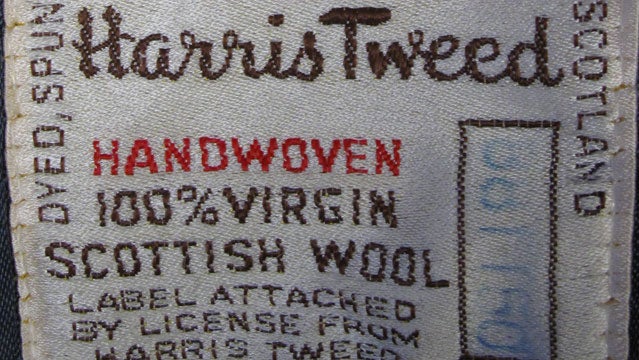 pdstahl/Flickr(Photo)
Heading out the door? Read this article on the new Outside+ app available now on iOS devices for members! Download the app.
Billy Childish's style and collected works have long meant a great deal to me. Childish gives the world art in every medium—music, painting, and writing—all in great quantities. Childish named one of his bands Thee Headcoats, titled one of his albums In Tweed We Trust, and has often been photographed in tweed sport coats. My personal style influenced a great deal by musicians, this, of course, made me want to buy a tweed jacket, and then another, and then another. Because, as I've learned, tweed is not only a wonderful fabric for the colder seasons, it's just so fun to wear.
Tweed probably isn't thought of as the most rock-and-roll option for a wardrobe; just trying to imagine Robert Plant swaggering around the stage in a tweed jacket sounds uncomfortable. While Fender, the most well-known amplifier manufacturer, had an amp that was generically referred to as the Fender tweed, it was actually varnished cotton twill, not tweed.
Although maybe not the best choice for aspiring rock stars, people tend to fall in love with tweed early. "Tweed works because it makes you look professional but not stuffy," says Daniel Ralston, co-host and producer of The Low Times podcast. Nine years after purchasing his brown Brooks Brothers sport coat, Ralston still loves to wear it with slim cut almost-khaki color jeans and dark brown Chelsea boots, saying, "It looks great with almost any color button-up." Ralston bought his tweed coat a few years before the fabric's recent resurgence.
Yes, tweed is having a moment. Harris Tweed, a type of tweed hand-woven on the Western Isles of Scotland, is now showing up on everything from IPad cases to a line of Clark's brogues and sneakers. You can buy a tweed Chicago Bulls snapback hat, or maybe you're obsessed with dressing like a Downton Abbey character, but as Eliza Scarborough of the Daily Mail said in a recent post: "Once associated with only out-of-touch country-dwellers and aristocratic fox-hunters, tweed has made an about-turn and become the domain of the A-lister. All the cool kids are wearing it now."
While some fashion blogs might be falling all over themselves for woolly shoes and wallets, as tends to be the case with any semi-popular thing, there is a symmetrical backlash. Derek Guy, blogger for menswear sites like Put This On and his own site Die, Workwear!, tweeted: "Stop putting Harris Tweed on anything but your sportcoat." Guy, who extols the virtues of well-made classic menswear better than most, doesn't have anything against Harris Tweed; he'd just rather the fabric be used for what it is known best. While I can't say I totally disagree (A goddamn tweed snapback? Please go away), there is another way to look at it.
TWEED IS HAVING A moment, sure, but in a lot of ways it's always been having one—especially in Great Britain. Harris Tweed, specifically, is so sought-after because, since before the days of the Industrial Revolution, it has been woven by hand. To be authentic Harris Tweed, the fabric must be woven on handlooms by the crafters in their cottages on the Western Isles of Scotland. The Harris Tweed Authority monitors the fabric and checks the quality. When and if they deem it to be satisfactory, the fabric gets "stamped" with the Harris Tweed Orb, it's ticket out of the mill—all according to the Harris Tweed Act of Parliament.
In current culture where authenticity is in vogue, Harris Tweed is, quite legally, as real as it gets. Terese Wilson of Harris Tweed Scotland Limited, a company whose tweed comes from the Stornoway Mill, the oldest producer of Harris Tweed in Scotland's Outer Hebrides since 1906, tells me that this latest round of tweed infatuation has "indeed helped our cause," while she is still "optimistic" that the business will continue to thrive no matter what may come.
Wilson has good reason to look on the bright side. While Harris Tweed itself might be part of our larger cultural fascination with authenticity, the fabric never really goes out of style. From Modernists to Mods, to businessmen and bankers, tweed has always been around. James Joyce had some small success in the early 1900s as a tweed salesman, importing the fabric from his native Ireland to Germany. To what degree the Ulysses author had success is disputed, but Joyce is just another link in a long line of European writers and intellectuals who helped create the impression that tweed is something that smart people wear. Images of fictional characters like Sherlock Holmes and Jim Dixon of the Kingsley Amis novel Lucky Jim and photos of authors like Mary McCarthy and Vladimir Nabokov come to mind as proof that tweed has long been the official fabric of literature.
And while men and women of letters have made up a good portion of the tweed business for in the years following the Second World War, Coco Chanel turned tweed into high fashion in 1958, and a few years later the Mod subculture of the 1960s (think The Who's Quadrophenia) helped to make the Houndstooth pattern, commonly created with tweed, popular again. It isn't always the fabric that changes; what evolves is the way people wear it. Yet in the case of tweed, you really can't go wrong with keeping it classic. Rockers like Billy Childish and Pulp's Jarvis Cocker have shown that over the years with their penchant for the fabric, and so have the dandies who mount vintage bicycles for the annual Tweed Run bicycle ride.
Guy's traditional-tweed views aren't without merit, though. Tweed, especially the Harris sort, is "hot" right now, and while that's something to be celebrated, it is a bit disconcerting to see it used on a pair of sneakers. The very mention of the fabric conjures up visions of weekend walks through the woods in November, or a winter evening sitting around a fireplace drinking scotch. But forcing tweed into contemporary style seems like a bit much. Tweed feels like it should have its own time and place (the colder months of the year), but really, tweed—Harris or other—should have its moment in the wider-culture's sun since it's such a marvelous and durable fabric that has such a great cultural history. My only hope is that we can give it the respect it deserves.
Jason Diamond lives in New York. He has a wife, a dog, two cats, and a Twitter account that can be found at @ImJasonDiamond.
Lead Photo: pdstahl/Flickr