Winter Layering for the Plus-Size Hiker
Yes, there are layers out there for you, and yes, they're good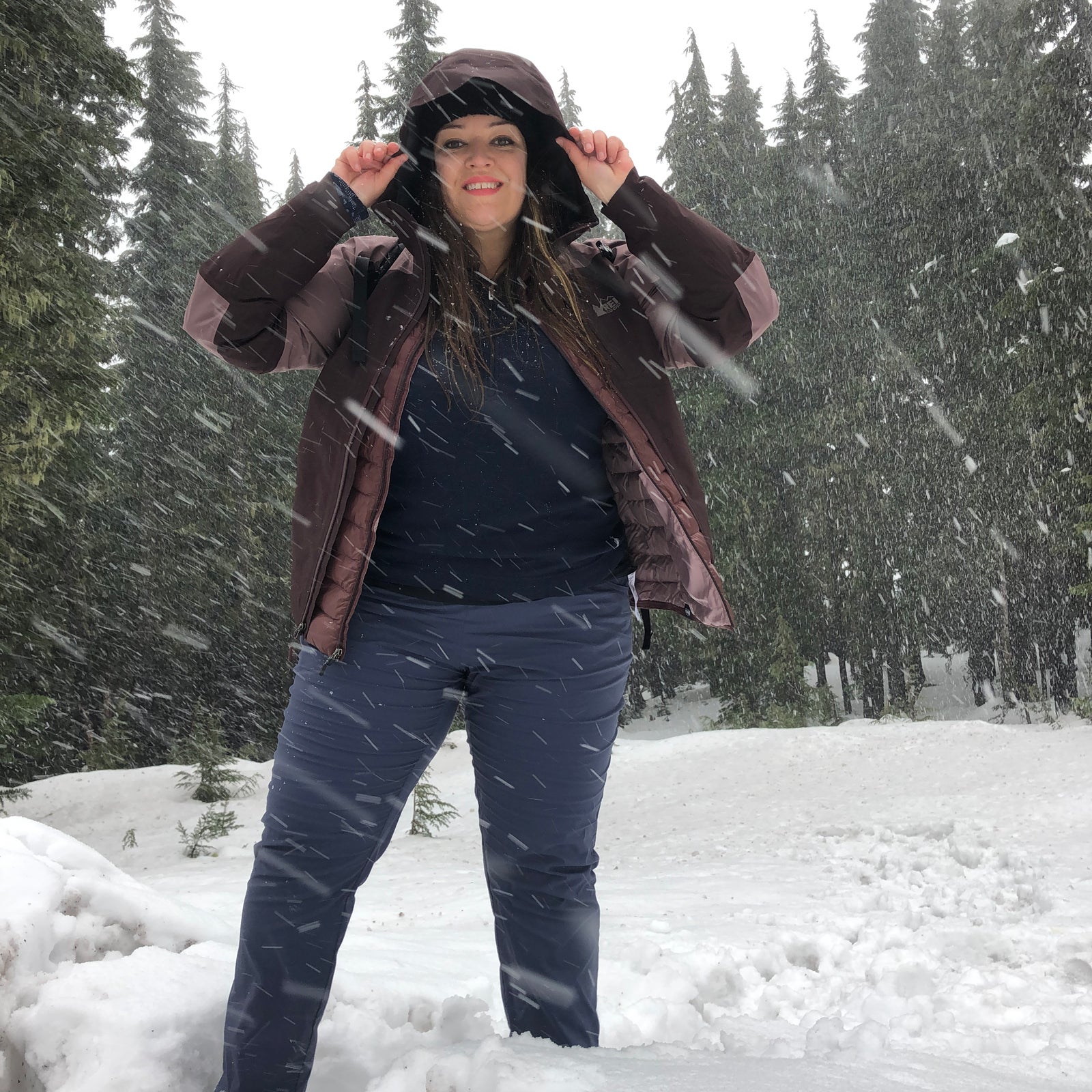 Courtesy Jenny Bruso(Photo)
Heading out the door? Read this article on the new Outside+ app available now on iOS devices for members! Download the app.
Jenny Bruso is the founder of Unlikely Hikers, an inclusive community highlighting the underrepresented outdoorsperson. Here, she'll share gear reviews for plus-size outdoor enthusiasts as well as her experiences battling stereotypes within the outdoor industry.
Being an out, proud, and loud-about-it fat hiker, I receive a lot of questions from other plus-size women and femmes (feminine-presenting people who don't necessarily identify as women), and most of the time it's about clothing. Where did you get your jacket? What would you wear snowshoeing? Does plus-size snow gear even exist?
Until recently, I dreaded these questions, because I didn't know how to answer them. I'd never worn good, functional, attractive plus-size winter wear, because I didn't see it in stores. The outdoor industry hasn't done enough to meet the needs of plus-size women and femmes. Many brands only offer larger sizes online, and many only up to a size 3X or a 22–24. All of that on top of the fact that technical gear is expensive and plus-size women and femmes are systematically paid less than our thinner peers.
As another winter approached, I couldn't stand the idea of wearing the same ugly, ill-fitting men's winter clothing I'd been wearing for the last few years. It makes me feel unattractive and less confident. No matter what size you are, you deserve gear that's functional and aesthetically pleasing. Things that fit. And layers!
I tested new plus-size offerings from Columbia, REI, and Smartwool on a recent trip to the Grand Canyon and northern Arizona, where temperatures dipped down to ten degrees. These options are now available in many stores, as opposed to only being available online, and sizing is more uniform (though note that not all of these items go above a size 3X).
How to Layer—Wait, What Is Layering?
I didn't even know what a base layer was until this year. Now I know that layering is about more than staying warm. Wearing the right materials helps regulate your comfort as your activity level or the weather changes. When you get sweaty and stop for a break or a snack, you can get cold fast. Worse, you run the risk of hypothermia, especially in windy conditions. And just in case some know-it-all outdoorist hasn't told you yet: no cotton! It clings when you sweat and doesn't dry as quickly as wool or synthetic materials, leaving you shivering in cold, soggy layers longer. Here are some more basic terminology and tips:
Base layer: A thin, lightweight, moisture-wicking layer between your skin and winter wear to keep you from steeping in your own sweat. Think long-sleeved tops and legging-style pants that conform to your body but aren't too tight or restrictive.
Midlayer: Clothing that holds your body heat in. What types of midlayer you choose, if any, are a little more dependent on weather conditions: How cold is it? How long will you be out? Think flannels, fleeces, wool sweaters, light jackets, and puffy vests.
Outer layer: Designed to keep the water and wind out. Think puffy coats and waterproof pants. The warmness level of puffy coats varies based on their fill. If it's not pouring rain, I prefer a rain-resistant pant, which is lighter and more breathable. Snow pants are too warm for me, but they're a good idea if you run cold or if you're participating in snow sports rather than hiking snowy trails.
Shell: A piece that shields you from rain, wind, and snow. A hooded waterproof jacket is essential. My jam? A puffy coat under a rainjacket, which are generally thin and only protect from wind and rain. Waterproof puffy coats also exist. Make sure your shell is big enough to fit over all your layers.
Accessories: I suggest wearing a knit cap long enough to cover your ears or a fleece-lined cold-weather headband. Waterproof gloves are a must. I prefer the kind that transition from mittens to fingerless gloves for dexterity. A Buff is great for face coverage, especially in the wind.
I rarely put on all of these things at the outset of a hike. Usually, I start out with my base layer, midlayer, rain-resistant pants or, if it's raining or snowing, a shell and rainpants. When I get moving, I heat up fast. I put on my top-half outer layers as I need them. Don't let yourself get soaked before putting them on!
Base Layers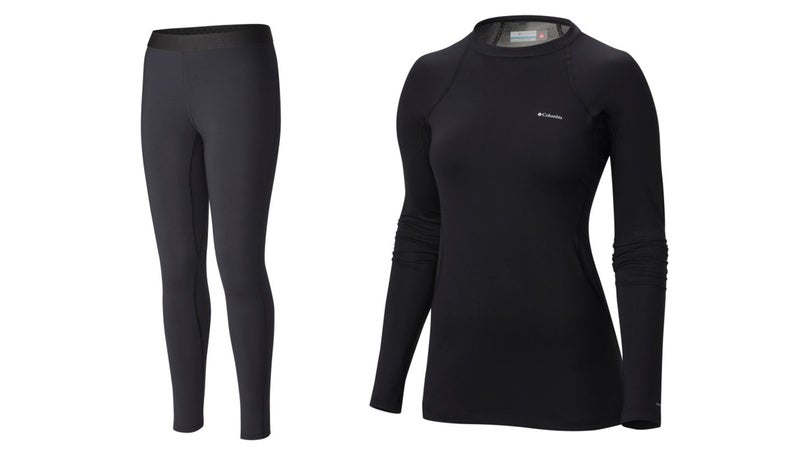 Columbia Midweight Stretch Long Sleeve Shirt and Tight ($65 each)
This set is true to size—and stretchy! I was certain the Omni-Heat thermal-reflective lining would be some sort of outer-space-looking gimmick, but it really does create a shield of breathable warmth. I was amazed at how toasty and comfortable I was walking for hours in 25-degree weather.
---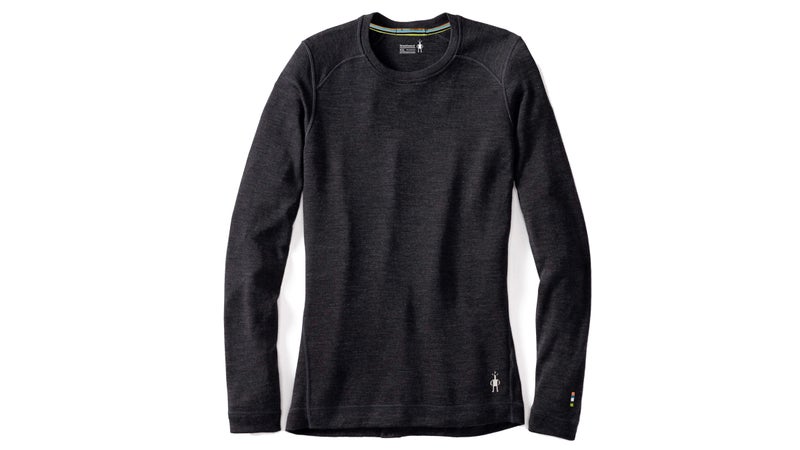 Smartwool 250 Base Layers ($95 and up)
I wanted to love these because they're so good looking and the 250-gram merino wool is soft, breathable, and odor resistant. However, the bottoms bear all the signs of the manufacturer sizing up from the original straight sizes—and that just doesn't cut it. They're too short-waisted for my round, high butt, and the waistband is a little too firm, so it folds over every time I sit down. It's not uncomfortable, but I don't like messing with it constantly. I will keep the tops, though; they fit beautifully, they look like they're expensive, and they make me feel like a fancy B.
---
Midlayers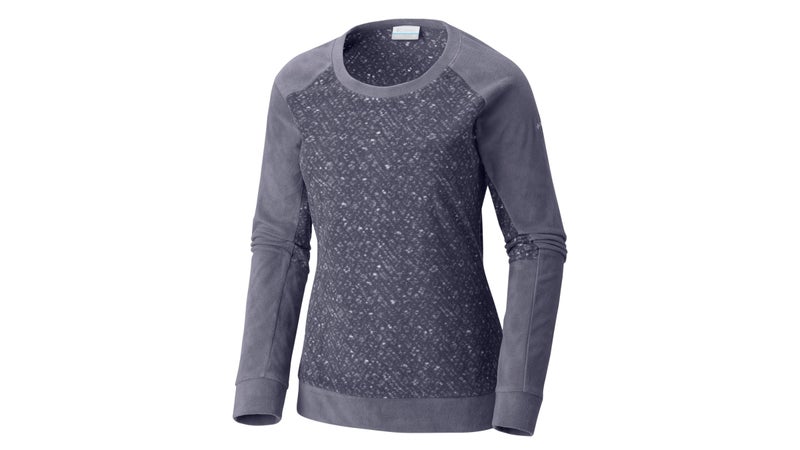 Columbia Glacial Crew Shirt ($40)
The throwback, classic style of the Glacial Crew shirt makes it one of my favorite pieces. It's cute enough to wear with street clothes, which is rare with function-first clothing, though I'd love to see it in funkier colors. While plus-size outdoor wear is clearly making leaps and bounds, the design and color options are still often far too muted. Believe it or not, we don't all want to hide behind our clothes! Regardless, I love this great-fitting, light microfleece shirt, because it keeps me perfectly warm without overheating.
Unavailable
---
REI Co-op 650 Down Vest ($55 and up)
Until I tried the REI Co-op 650 Down vest, I didn't understand puffy vests. (If you need the warmth of a puffy jacket, why would you wear one without sleeves?) Turns out, keeping your core warm radiates heat to the rest of your body without getting you overheated, and as a person who naturally runs hot, this is a game changer. Throwing this over a long-sleeved midlayer is about all the coverage I need while I'm hiking or snowshoeing, so I don't feel bound up in jackets. In extreme cold, wear it with a long-sleeved midlayer under a puffy and shell for maximum warmth.
Unavailable
---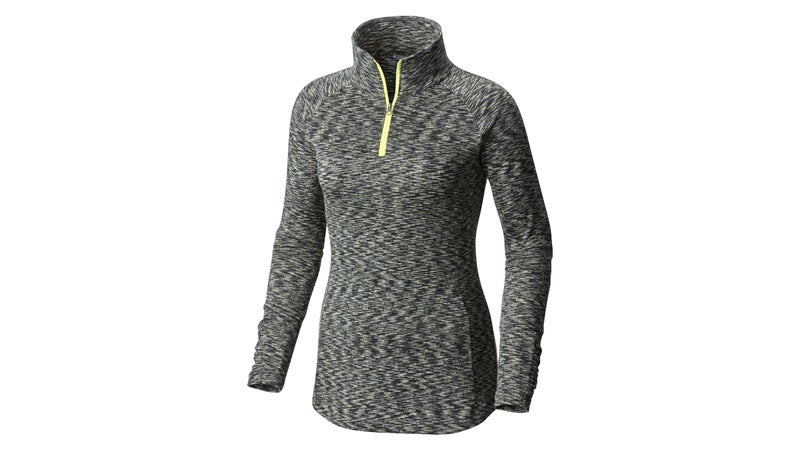 Columbia OuterSpaced III Half Zip Fleece ($50)
Superstretchy, wool-like (but really synthetic), and created with cute design details in many different colors, the OuterSpaced III Half Zip fleece is true to size, lightweight, and breathable. It could also be worn as a base layer. I'll take one of each, thank you!
Unavailable
---
Outer Layers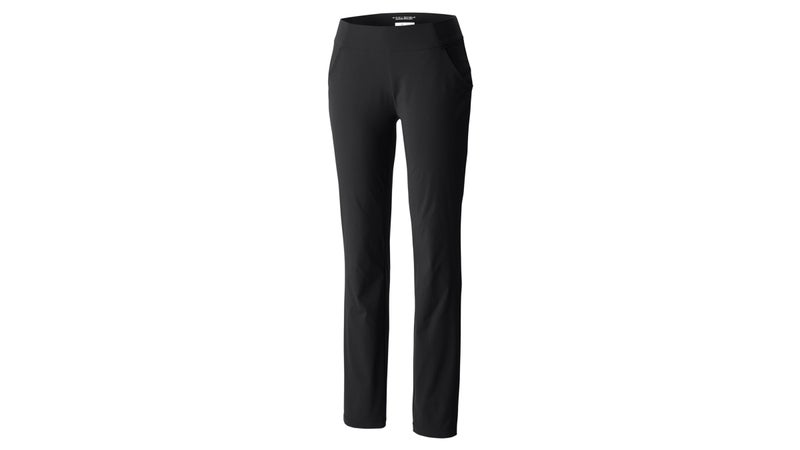 Columbia Anytime Casual Pull On Pant ($55)
Hi, these are my favorite. I didn't believe in anything other than leggings to hike in until I tried the Anytime Casual Pull On pant. Rain repelling, lightweight, and breathable, it also fits well over a base layer. Plus, it's not ugly and overly techy looking, like I'm about to pull an entire chainsaw out of my pocket. I can't say enough good things about it.
---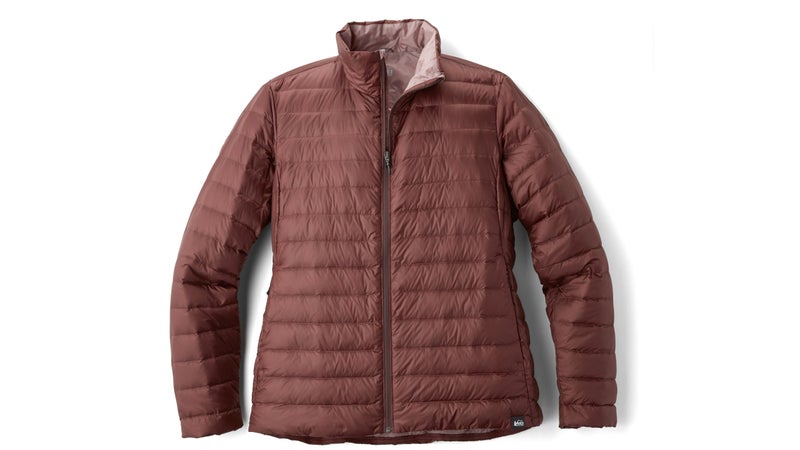 REI Co-Op 650 Down Jacket ($69 and up)
Like the vest, but with sleeves, this jacket is rain repelling and light, great on its own or over layers. Its classic style and good fit are suitable for most adventures.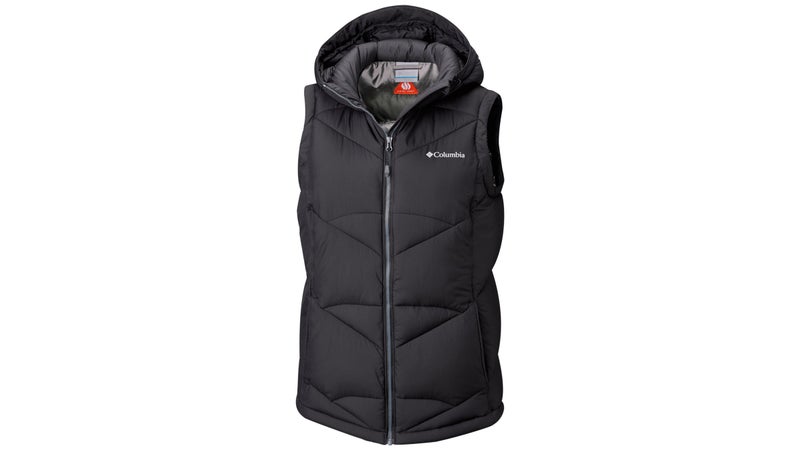 Columbia Pike Lake Hooded Vest ($130)
More of that Omni-Tech witchcraft, but superquilted and thick, the Columbia Pike Lake Hooded vest's synthetic fill means it dries fast in wet weather and doesn't decompress, which keeps you warm. It's too thick to be a midlayer, but it can be worn well over a lightweight down jacket. I love the hood and overall chicness of the design. This has become a go-to of mine.
Unavailable
---
Shells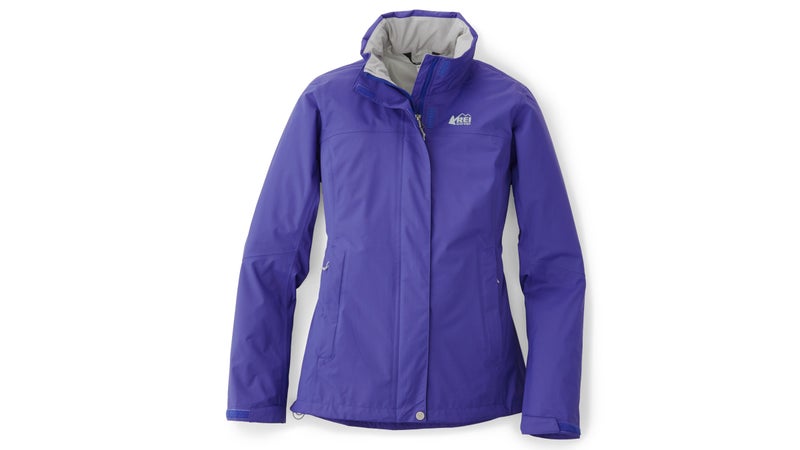 REI Co-Op Rainier Rain Jacket ($45 and up)
I could just say REI makes the best plus-size shells and stop here, but let's dig a little deeper. The Rainier rainjacket is your classic light-wind waterproof jacket. It comes in many different colors, including bright ones! I love the hidden collar underneath the hood for extra protection.
---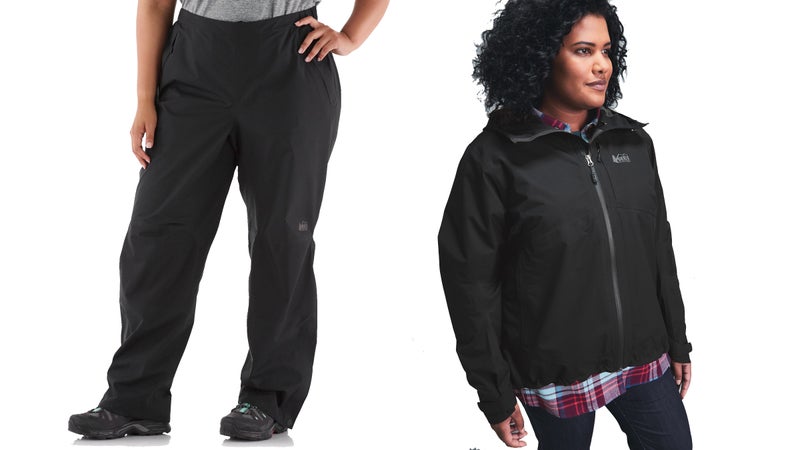 REI Co-Op XeroDry GTX Pants and Jacket ($95 and up each)
The real heroes of the rainjacket game are the XeroDry GTX pants and jacket. They are full-on function, with rain- and snow-proof cinchable wrists, ankles, hems, etc., for maximum protection. I feel so secure in these pieces (though not exactly attractive). The billowing, wide legs of the pants don't do anything for my figure, but it means I can wear them over a lot of layers, and this is a good thing. I feel like I can do anything in the Xero Dry GTX set. Sometimes, and I say this begrudgingly, function is a tad more important than fashion, especially when it comes to snowy conditions.
Lead Photo: Courtesy Jenny Bruso