PrimaLoft Active Evolve Is the New King of Midlayers
By biomimicking animal fur, gear created with this innovative insulation is as warm as a puffy jacket, more breathable than a fleece, and protects the wearer from bad weather, too
PrimaLoft
Heading out the door? Read this article on the new Outside+ app available now on iOS devices for members! Download the app.
A few weeks ago, I threw a lightweight hoodie over a synthetic T-shirt and started hiking up a mountain near my home in Bozeman, Montana. Temperatures were in the mid-forties when I set out, and a passing thunderstorm dropped them to the mid-thirties by the time I returned. The storm brought high winds and a brief but intense rain shower. Other than pulling up the hood to keep off the rain, I made no adjustments to my clothing system whatsoever, and I remained dry and comfortable. 
How? I was wearing a preproduction sample of Sitka's new Ambient hoodie ($279), which just became available to the public. Made from PrimaLoft Active Evolve, it's warmer than any other midlayer but doesn't sacrifice breathability—and it features a healthy amount of weather resistance. 
A midlayer's job is to provide active insulation. You wear one over your base layers, where it traps heat and evacuates moisture. On its own in fair weather, or layered under a shell in foul weather, a midlayer should keep you just warm enough while you're moving, working with your other layers to keep you dry. Once you stop, your midlayer provides extra warmth beneath your static insulation layer, typically a puffy jacket. In short, a midlayer should stay on your body all the time when it's cool or cold out. 
The real trick to a successful midlayer is breathability. When you start moving, your body temperature increases. If heat can't escape, you'll begin to sweat, and if moisture gathers in your clothing, you'll get cold when you come to a stop. But traditional midlayer fabrics—fleece and wool—struggle to breathe sufficiently, and as a result you usually take them off during periods of high activity. Without a breathable midlayer, you'll find yourself constantly adding and subtracting layers in pursuit of a level of comfort that remains elusive. 
That all changed with the development of Polartec Alpha. First created for Special Operations forces after 9/11, consumer brands began using Alpha in garments sold to the public in the past decade. The insulation's breathability is so impressive that you can just leave it on, even during intense exertion. And it offers as much warmth as a thick fleece or wool sweater when you come to a stop. Polartec found a way to weave lofted polyester fibers into a mesh chassis with an enormous amount of open space between them; these fibers trap air and provide insulation when you need it, but as soon as your body begins pushing a pressure differential between that trapped air and the outside environment, all of that heat and moisture can just disappear with virtually no impediment. 
John Barklow, Sitka's big-game product manager, says that while breathability is the same in both the PrimaLoft Active Evolve and Polartec Alpha, "I feel that Evolve operates in a broader temperature range."
Barklow designed the Ambient collection, and his experience is especially relevant because he was responsible for designing uniforms for Special Operations forces when Polartec Alpha was developed. It was his incorporation of the technology that made the uniforms successful. 
Barklow says he's particularly excited about PrimaLoft Active Evolve because it's available in a wide variety of weights. Whereas Alpha is available in thicknesses ranging from 60 to 100 grams per square meter (GSM), Polartec tells me that Active Evolve will come in anything from 75 to 250 GSM.
And though Active Evolve employs similarly lofted polyester fibers to Alpha, PrimaLoft borrowed a trick from the animal kingdom in order to add insulation without sacrificing breathability: "The Evolve Series was designed to behave like the winter coats of mammals," says Tara Maurer-Mackay, PrimaLoft's senior vice president of product strategy. "Animals don't dress or undress based on climate conditions or aerobic exertion. Rather, they have developed a natural barrier to trap body heat and regulate their body temperatures in cold and warm climates. The first coat is often dense underfur packed closely against the skin, like a warm base layer. This cozy coat is filled with air pockets that provide insulation. To keep moisture out, there is often a layer of oily, water-repellent guard hairs that provide extra thermal insulation. The Evolve Series biomimics this natural process."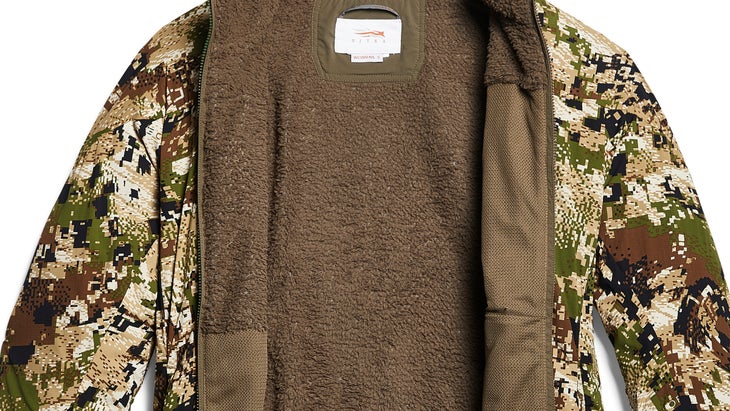 The recycled polyester fibers that make up Active Evolve are constructed in different deniers and lengths, which create natural highs and lows inside the loft. 
"Coarser high-denier fibers trap air for insulative properties and resiliency," says Maurer-Mackay. "Softer, finer denier fibers provide added warmth, protection, packability, and hand feel."
Says Barklow, "The idea is that by differing the lengths, you get warmth with less bulk but also don't have as many fibers in the way to block breathability."
Sitka is the first company to employ PrimaLoft Active Evolve in clothing available in the North American market. In addition to the 100-GSM Ambient hoodie, the brand also offers a 150-GSM Ambient jacket ($299), which is available in a women's version for the same price. Sitka, a hunting brand, is producing the Ambient collection in two camo patterns, in addition to plain colors that will be more appropriate for mainstream users and nonhunting activities. 
I've also been testing the thicker Ambient jacket. Whereas the lighter, 100-GSM hoodie feels about as warm as a thick fleece, the 150-GSM jacket has the warmth equivalent of a light puffy. The most remarkable thing about it is that I can't detect a difference in breathability between the two insulation weights. It hasn't really been cold enough to take full advantage of the 150-GSM insulation yet, but I'm looking forward to the warmth it will provide when temperatures drop this winter. 
All of the products in Sitka's Ambient collection are fitted with the same 20-denier, four-way-stretch, ripstop nylon face fabric, which is treated with a DWR coating. That offers enough protection to block some wind and rain, without sacrificing much in the way of breathability, and Active Evolve doesn't require the use of a liner face at all.
Both Maurer-Mackay and Barklow are excited for the nascent technology's future applications. The PrimaLoft executive tells me Active Evolve can also be used without a face fabric, for applications seeking to boost breathability even further (albeit at the expense of weather protection), while the Sitka designer says he already envisions employing it for vests, hats, pants, and gloves. Each of those items should be warmer at a given breathability level than ever before. 
Lead Photo: PrimaLoft