Indefinitely Wild
Finally, Down Insulation That's Genuinely Warm When Wet
PrimaLoft and Sitka have collaborated to make the material more reliable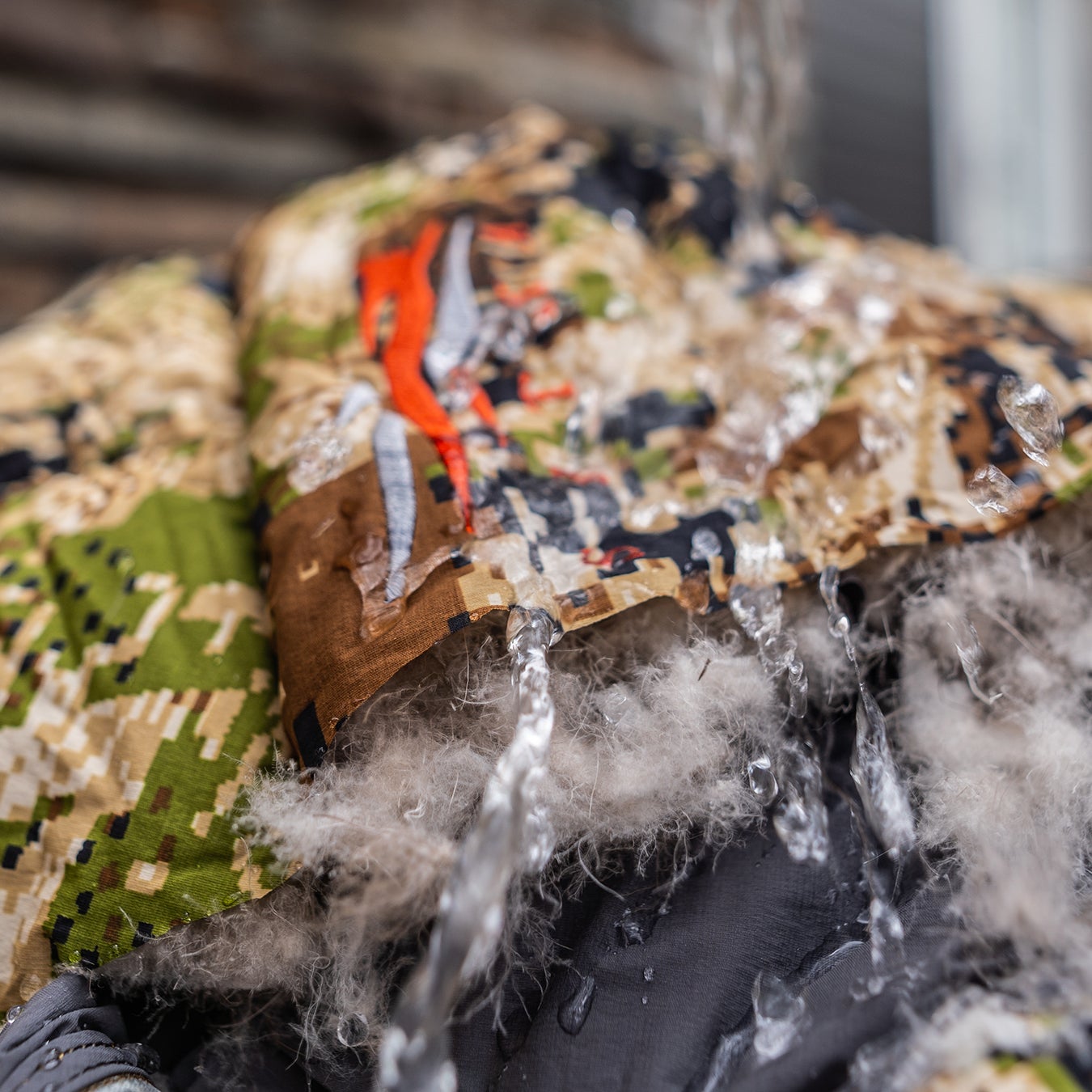 Heading out the door? Read this article on the new Outside+ app available now on iOS devices for members! Download the app.
Down offers an exceptional warmth-to-weight ratio and extreme level of compressibility. Those features have made it the go-to insulation for outdoors enthusiasts since it was first used in a jacket by an Australian climber 98 years ago. But down also has one major flaw: when it gets wet, it loses its ability to loft and provide insulation. So for years, the gear industry has been looking for a replacement.
Lofted synthetic insulation materials are capable of maintaining their structure when wet, but even with recent advancements, they've never been able to truly match both the compressibility and weight of the real deal. Water-repellent treatments applied to down clusters have had limited success at reducing the material's tendency to clump and lose loft when exposed to moisture. They've shifted the point at which down will clump but have not eliminated it entirely.
So what's the answer? A collaboration between Sitka, a Montana-based hunting brand, and PrimaLoft, the well-known maker of synthetic insulation materials, may have found one by adding a synthetic structure—they call it "scaffolding"—to high-quality goose down, forcing it to retain its loft even when wet. I've been testing a jacket and a pair of insulated pants made from the material for the past month. Throughout the spring bear-hunting season, they've provided the warmth and packability we've all learned to expect from normal down insulation. But even through periods of heavy rain, they remained lofty. Heavy rain will penetrate the shell fabric and can pass through to the wearer's skin, but it does not appear to otherwise impair the function of the clothing.
"Whether you're crossing a stream or encountering rain, PrimaLoft Gold Down Blend will keep you warm, even if you find yourself in wet conditions," says Vanessa Mason, PrimaLoft's senior vice president of engineering.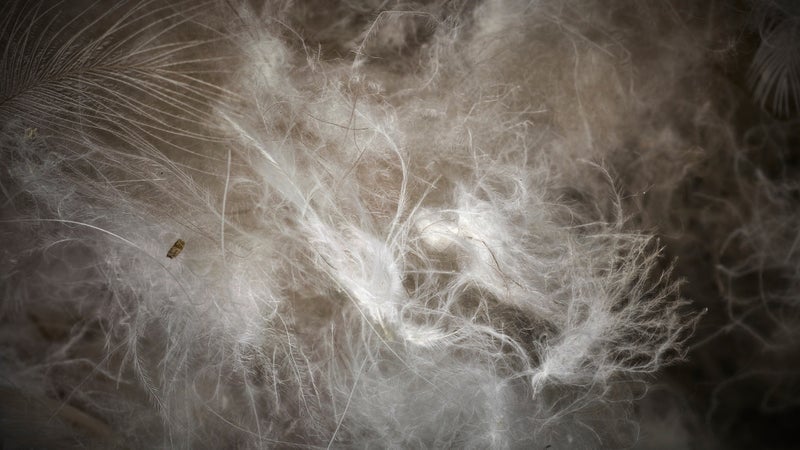 What's Down?
Before I get going on this new technology, it's worth revisiting the terminology involved.
Down: Down is a cluster, not a feather. If you think of a bird's feathers as a shell, keeping wind and water out, then down is the fluffy insulation material between the bird's skin and that shell. We use down the same way. We've all found pointy feathers poking out of down jackets, sleeping bags, quilts, and pillows, but that's because the way down is harvested leaves some feathers with the down material. The subsequent processing to remove those feathers is one of the determining factors in the quality of the end product. In this case, the down employed in the unique blend created for Sitka by PrimaLoft is 93 percent down and 7 percent feathers. That's very good; cheaper down insulation will typically have a higher feather percentage, but it's rare to see that number made public.
Fill Power: This is the volume of space that one ounce of down is capable of lofting into. A higher fill power will not necessarily be warmer, but because you can use less of it to fill a given volume, it will be lighter and enable a garment made using it to compress into a smaller package. In this case, PrimaLoft and Sitka employ a 900-fill-power down in the blend. So one ounce will loft into 900 cubic inches. The two companies experimented with a 1,000-fill-power down but found it cost prohibitive. Previous down-blend materials created by PrimaLoft have used lower fill-power materials, but they haven't been as light or as packable. Down can come from both ducks and geese; because geese are larger, they also produce larger down clusters, and larger clusters create higher fill-power numbers. The down included in this blend comes from geese.
DWR: A durable water-repellant coating is a treatment that can be applied both to down and to a garment's face fabric, which can keep water from soaking into the fabric or cluster. There's been a lot of improvement in DWR chemicals in recent years, reducing their environmental impact and expanding their effectiveness. Materials treated with DWR will be water-resistant—capable of shedding light precipitation—but not waterproof. They are not capable of keeping water out during very heavy precipitation, submersion, or even long-term exposure to moisture, such as a garment might experience while being worn through long-duration, high-exertion activities, particularly inside a a clothing system with limited breathability. In such cases, even DWR-treated down tends to clump; garments using it will lose their ability to insulate.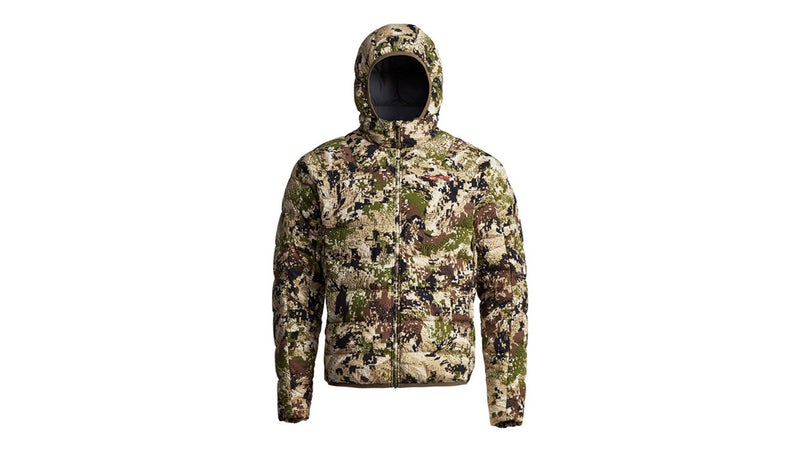 Who's Involved? 
Both PrimaLoft and John Barklow, Sitka's big-game project manager, have been trying to solve the issue of moisture and insulation for decades.
PrimaLoft was founded in the 1980s in response to the U.S. military's search for an alternative to down that could remain warm when wet. In 1985, PrimaLoft patented a material called synthetic down, which would eventually be renamed PrimaLoft One. It was first employed in a civilian jacket by L.L.Bean in 1989.
After training Special Operations forces in outdoor survival, Barklow began working in clothing design following the 9/11 terror attacks and collaborating with Rick Elder (who now runs Beyond Clothing) to create the original protective combat uniform—a system of synthetic layers designed to help soldiers remain comfortable and safe while undergoing high-output activities in cold, wet weather.
In a way, this product represents the culmination of both parties' efforts: everything that's good about down, plus the ability to reliably work when wet.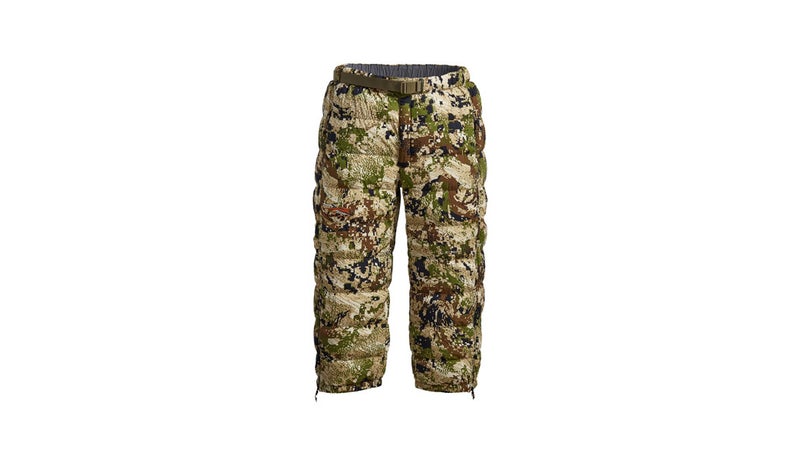 The End Result
This isn't the first time PrimaLoft has combined down and synthetic insulation. In 2013, the company released a blend that was 70 percent 750-fill down and 30 percent polyester fibers. It kept wearers warm, even when saturated with sweat or precipitation, but it didn't truly match the packability or weight of a pure down insulation. Sitka was seeking a no-compromise product, so with Barklow's input, PrimaLoft increased the down content to 80 percent and utilized a higher-fill-power down treated with a DWR coating.
That lighter, fluffier down is now supported by just enough synthetic fibers to force it to loft, even when it doesn't want to. The result is an insulation that genuinely retains its ability to insulate when soaked through with sweat, precipitation, or, in my testing, pouring water on it from a bucket and dunking it in a sink. In fact, I've been unable to create conditions that result in clumping.
This is particularly important, because the insulation can be used in the lifesaving rewarming drill that Barklow invented during his time as a Special Operations forces trainer, which is designed to help an individual drag their body out of hypothermic conditions with nothing but exercise and clothing capable of quickly drying. In less dire conditions, it means that wearers can simply don an item of clothing made from the blend over wet clothes and expect the heat generated by wearing it to help dry those saturated clothes. That hasn't been possible with down before, because the moisture moving outward from the wearer's body would instead saturate the down, eliminating its ability to insulate and leaving you wet and cold.
"This is going to keep on delivering warmth, even when other downs will fail," says Barklow. He's used the material in two products: the Kelvin Lite Down jacket, and the Kelvin Lite Down 3/4 pant. But he didn't stop there. The jacket actually foregoes the down blend under its arms and in the lower-back area in favor of a pure PrimaLoft Gold synthetic insulation. The pants do the same in the panels that cover your butt.
Using PrimaLoft Gold Down Blend across all parts of the jacket and pants would add cost and decrease performance. In areas of the jacket and pants that are typically compressed while being worn, down insulation wouldn't provide warmth. So sticking with less compressible insulation in these areas enables the garments to provide insulation where the weight of your arms, a pack's hipbelt, or simply sitting would eliminate the benefits of down.
Those insulation materials are contained in a very light 20-denier nylon face fabric equipped with two-way stretch. The stretch isn't there to add freedom of movement but rather a level of durability that defies the system's light weight. If you catch it on a branch or a rock, it will stretch rather than tear.
Both the Sitka jacket and pants feel as light, warm, and packable as normal high-quality, ultralight down items. What they offer is increased reliability. And because you can count on them to work no matter the conditions, the real innovation here is that they enable you to carry fewer pieces and less weight as a result.
"Weight is critical, but you don't want to compromise your safety for weight," says Barklow. "In a worst-case scenario, this will continue to retain loft and continue to be warm."