Sally Bergesen's Crusade to Change the Running Industry
The Oiselle founder knows her company is much smaller than the behemoths. But that doesn't mean she's scared to take them on—in politics, or in fashion.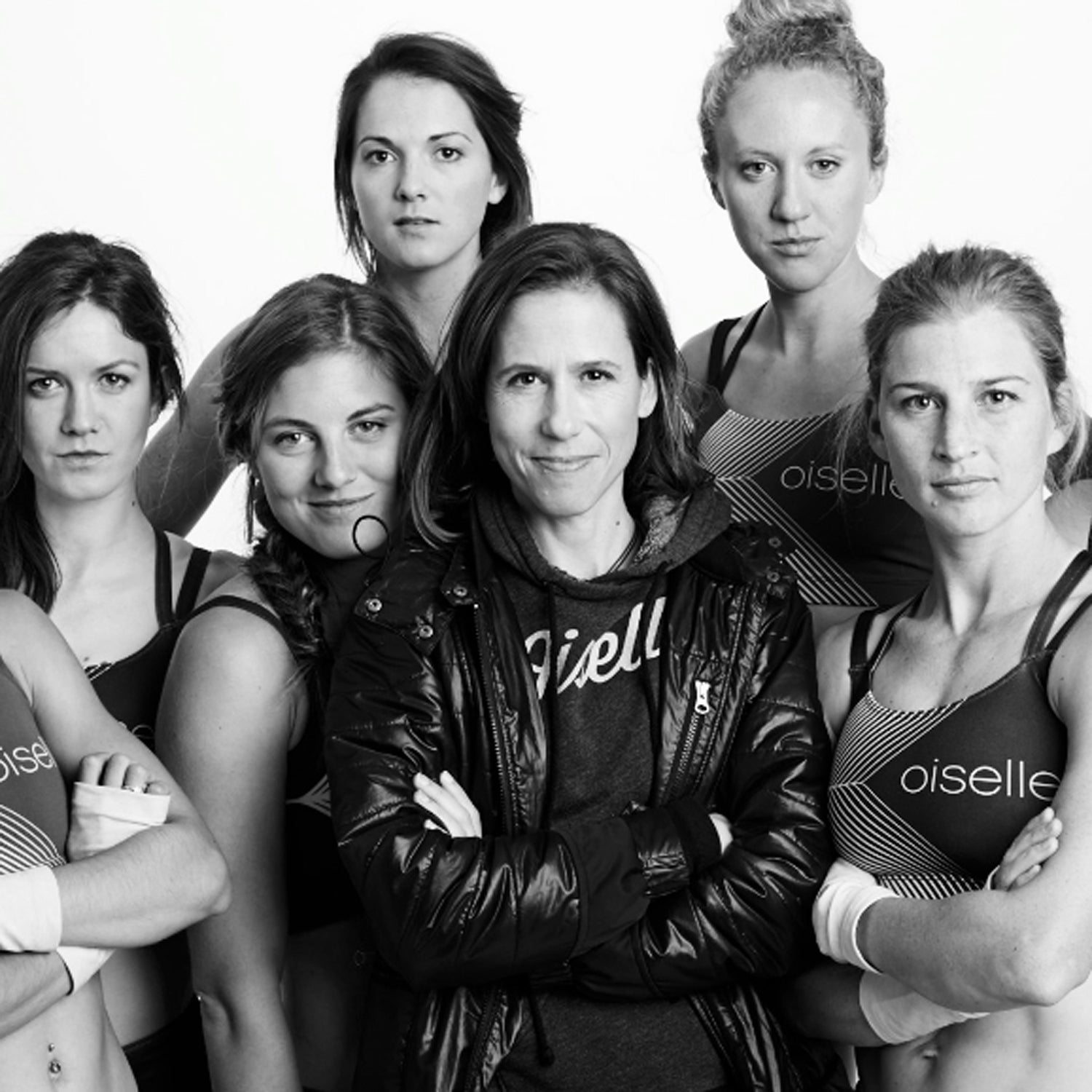 Courtesy of Sally Bergensen(Photo)
Heading out the door? Read this article on the new Outside+ app available now on iOS devices for members! Download the app.
In 2007, Seattle-based Oiselle was an up-and-coming women's running apparel brand winning customers for its sophisticated looks and functional cuts. Now, it's become a political campaign for change in a pro running system that industry insiders and athletes believe is broken—and founder Sally Bergesen is leading the charge.
Bergesen founded Oiselle in 2007 following a stint as a brand consultant and her own rise as a competitive age-group runner (her marathon PR is a 2:59). "I just thought there was something wrong with running shoe companies making women's running apparel," she says. "I wanted more, and I knew that women wanted more from their clothes than what they were being offered."
Women seeking clothes that transition easily from workout to everyday living took notice, particularly after Oiselle crashed New York Fashion Week in 2013, and again this year when Bergesen put on a fashion show headlined by Olympian Kara Goucher and 5K-specialist Lauren Fleshman. "The fashion show in New York was my ultimate way of saying that functional clothes that you can run a 5K or the Olympics in can look fantastic," Bergesen says, "and women should and can expect it."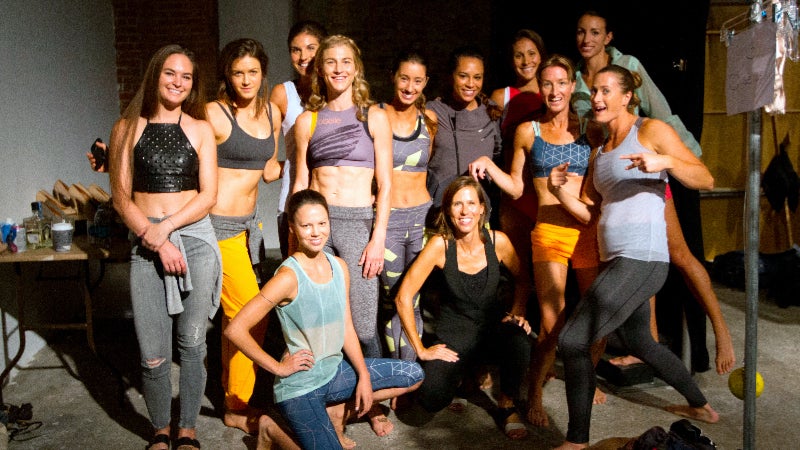 A few weeks later, Bergesen got into a tussle with USA Track and Field (USATF) for altering the photo of the U.S. women's 4×1500 meter relay team from the IAAF World Relays Championships. In the photo, she swapped out the Nike swoosh on Kate Grace's racing uniform for Oiselle's bird-in-flight, since Oiselle sponsors Grace. She also swapped the Nike logos on the other runners for the logos of their respective sponsors, Brooks and New Balance.
The move was meant to show how USATF limits lucrative sponsorship opportunities for pro runners by forcing them to race in gear from Nike which, together with one other sponsor, Bergesen writes on her blog, funds over half of the USATF budget. Because USATF does not allow runners to promote non-Nike sponsors like Oiselle, Brooks, and New Balance at races, companies have a difficult time seeing a return on investment in runner sponsorship. The result: elites must scrounge for money elsewhere while fitting in their training. And they must settle for suboptimal contracts.
"Traditional contracts with athletes suck. They're 20-plus pages long. They can involve retroactive pay cuts if performance or appearance goals aren't met. Some sponsors even consider a female athlete having a baby as an injury, as something negative," Bergesen says. "These contracts often reward the wrong things: racing through injuries, a hyper-focus on results, and forbidding athletes to race at marathons sponsored by a competitor, which it makes it more difficult for the sport to generate interest in rivalries or bring together an elite field to chase American or world records. I'm fighting the one-dimensional view of athletes that says 'win or else.'"
"Some sponsors even consider a female athlete having a baby as an injury, as something negative," Bergesen says. "I'm fighting the one-dimensional view of athletes that says 'win or else.'"
In contrast, Oiselle's contract is one page long. "We're more interested in letting our athletes express themselves as women, moms—human beings. Results are only part of their value to us as a brand," Bergesen says.
Thanks to her fearlessness and inclusiveness, Bergesen was able to convince Kara Goucher to leave Nike after 12 years and run for Oiselle as she trains for the marathon at the 2016 Olympics in Rio.
With top runners like Goucher, Fleshman, Grace now on Oiselle's roster—and those headline-grabbing fashion shows—Oiselle is taking off. Bergesen points to Oiselle's Flock program as evidence the company is tapping into a customer base that the larger companies can only dream about. For $100, members of the Flock get a special racing shirt, bag, free shipping on all orders and put $25 toward Oiselle's Emerging Athlete Fund to help pay race fees and travel expenses for their elite running team. "The first 200 slots in the Flock sold out in an hour. The next 250 slots were gone in 15 minutes," Bergesen says. "That's great, but even better is seeing Flock members from the same city connect with each other and become running buddies."
Now with 16 employees, Oiselle will hit nearly $10 million in revenue this year. But Bergesen says that's just the beginning. In 2015, she expects Oiselle to grow thanks to the continued success of its outerwear line, the expansion of a swimwear line introduced in 2014 ("The suits are designed for athletic women going on vacation," she explains), and the expansion of the Flock.
Sure, $10 million pales in comparison to Nike's projected revenues of $28 billion to $30 billion. But that doesn't mean Bergesen's scared to take them on—in politics, or in fashion. When asked whether Oiselle will ever launch a shoe or deviate from its running roots, Bergesen says "I see us transitioning into an athletic apparel company with something for every woman who trains and competes, and with shoes, it's not a matter of if we'll do them, but when."
Bergesen's Tip for Fitting Training into a Busy Life
"A successful training plan for a half-marathon or marathon is going to require long runs or hard workouts of 1.5 hours or more," Bergesen says. "What's worked for me is to block out a set amount of time for a totally sanctioned, everyone-knows-about-it long workout on a specific weekday morning. Knowing that I have already set that time aside for a hard or long effort motivates me the rest of the week to squeeze in quick runs at lunch, before work, and early on Sunday mornings. For some reason, fitting in the rest of my training on those days becomes much easier. Over time, exercise transcends being another thing on your to-do list. It becomes a lifestyle."
Lead Photo: Courtesy of Sally Bergensen